Discover more from Ekalavyas | Basketball
Welcome to Ekalavyas, the pioneering publication dedicated to unearthing the world of international basketball, from an Indian perspective!
Over 3,000 subscribers
USAB's Don Showalter conducts 3x3 clinic for Indian Coaches
USAB's veteran Youth Basketball Coach Don Showalter conducted a one hour 3x3 Progression clinic for Indian Basketball Coaches & Players. The session was powered by Dribble Academy, with Ekalavyas as media partner.
About usa basketball (USAB) coach don showalter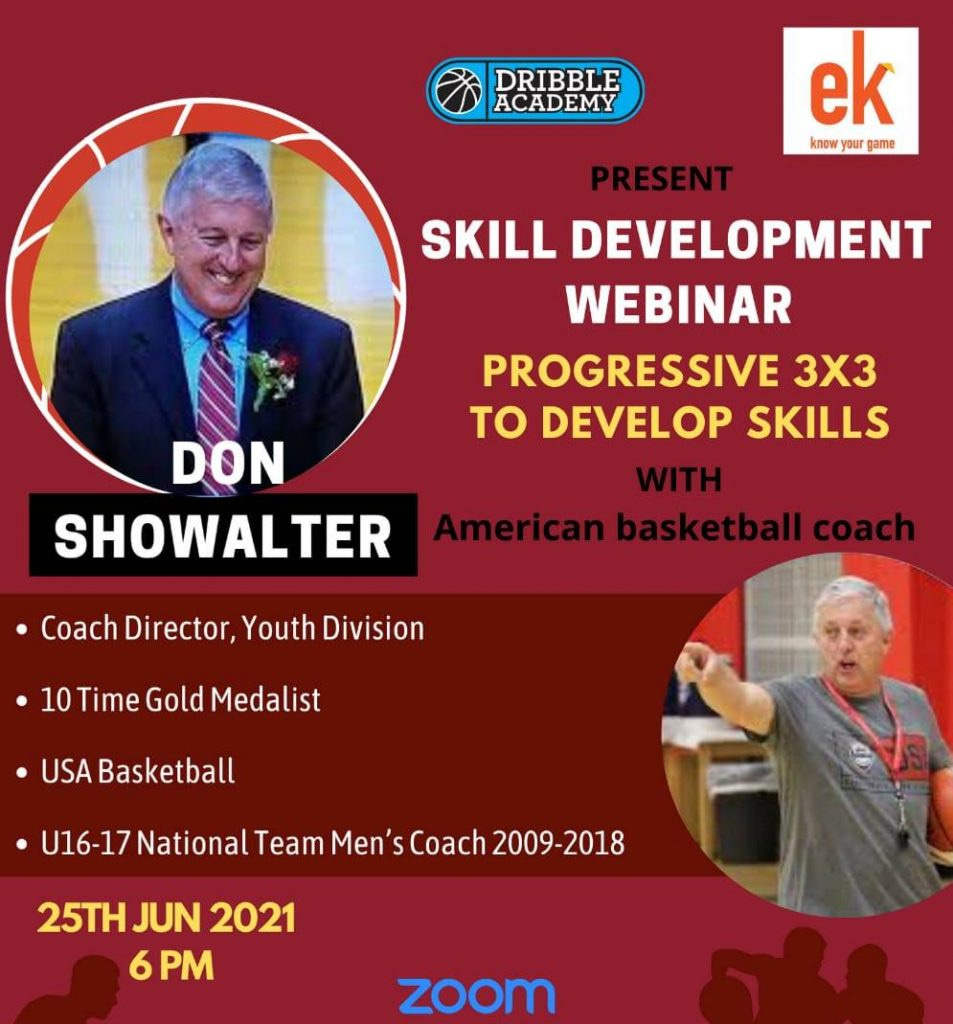 Coach Don Showalter is a 10-time gold medalist and has coached the U16-17 USA National Men's team from 2009-2018. He is currently the Coach Director, Youth Division for USA Basketball. Showalter has been a High School Coach for 42 years and has compiled a perfect 62-0 team helming the USA National U16-17 team. You can read more about him here.
"3x3 helps with 5x5"
During the Zoom session which saw 50+ attendees and was moderated by Dribble Academy's Founder Pradyot Voleti, Coach Showalter highlighted the advantages of playing 3x3 and how it translates into a 5x5 game.
"3x3 is a great opportunity to coach both offensively and defensively. It allows players more ball touches, increases skill level and accountability, as players can't 'hide' like they sometimes do in 5x5," Coach Don Sholwater explained.
usab Tips for India
Coach Showalter highlighted that Indian coaches can get licensed on USAB.com and get access to its coaching curriculum ranging from introductory level to advanced.
"We want countries like India to be good at basketball. Compared to 5-10 years ago, players we see in other countries are getting better skilled at a younger age," Coach Showalter said, highlighting the increased competition faced by USAB.
Answering a participant coach's question, Coach Showalter mentioned that three things needed for India to elevate itself among the top three teams in Asia: 1) Develop Shooters; 2) Decision making while Passing; 3) Find Players who know how to compete.
Specifically in the context of coaching youth players, Coach Showalter stressed the need to get players in the 7-8 age group to "love the game".
"To develop a strong national team at age 16, you have to start between ages 7-10," Showalter advised.