Discover more from Ekalavyas | Basketball
Welcome to Ekalavyas, the pioneering publication dedicated to unearthing the world of international basketball, from an Indian perspective!
Over 3,000 subscribers
India gets its first FIBA Level 1 certified basketball!
Nivia Pro Touch 2.0 becomes first made-in-India basketball to get highest category FIBA approval, which means that it can officially be used in international competitions.
Made In India, NIVIA brand has recently been awarded FIBA Level 1 approval for its microfiber laminated NIVIA Pro Touch 2.0 Basketball.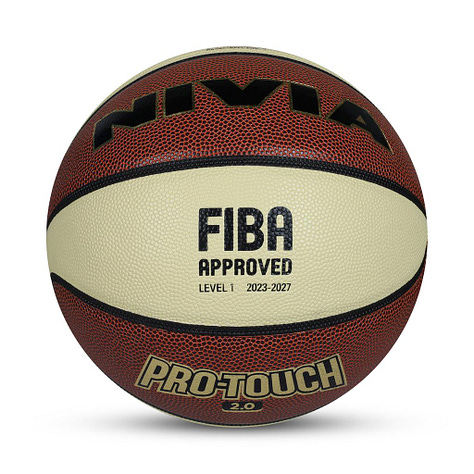 FIBA Level 1 approval is the highest rating given by Fédération Internationale de Basketball (FIBA), Switzerland, to the equipment that qualifies for use at the top World Championships.
FIBA is the ultimate governing body for the game of Basketball in the world.  All Olympic events, World Championships, Asian Championships, and other international competitions are held under its governing.
NIVIA Pro Touch 2.0 Basketballs were sent to the FIBA-approved laboratory in Scotland, UK where they were tested under the most stringent norms set by FIBA. NIVIA successfully passed these tests to qualify for Level 1 approval, which makes these Made in India basketballs eligible for play at the highest level of International Basketball competition, anywhere in the world.
Previously, NIVIA already had Level 2 approval for its Top Grip 3.0 rubber basketballs.
These basketballs are produced at the most modern manufacturing set up based in Jalandhar, Punjab.
NIVIA is recognized as one of the premium Sports balls manufacturers in the world, also producing Footballs approved by FIFA.
NIVIA's association with Basketball Federation of India goes back to 1960s when National Basketball Championships officially started using NIVIA Leather Hand stitched basketballs.
Ekalavyas (Basketball_India) on Instagram: "Quick visit to Nivia HQ earlier this year. 🛒: 🏀🎽👟 🤩🤩 🎵: Get On It
Musician: Figure and Groove
.
.
.
#MakeInIndia
#AtmanirbharBharat
"
The brand has been associated with the promotion of the game of basketball at the grassroots level in India for more than 50 years now.