Discover more from Ekalavyas | Basketball
Welcome to Ekalavyas, the pioneering publication dedicated to unearthing the world of international basketball, from an Indian perspective!
Over 3,000 subscribers
It's World Cup fever and the prestigious Paris Saint-Germain Academy kicks off in Gurgaon with free training sessions!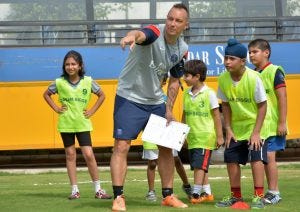 Gurgaon, 5th July 2014: To celebrate the World Cup and Indian kids' passion for the beautiful game, Paris Saint-Germain Academy India is staging free training sessions at Shiv Nadar School Gurgaon this week-end.
Just a few hours after Paris Saint-Germain stars Mautidi, Cabaye, Silva and Luis played on the biggest World scene, kids from Gurgaon had an opportunity to train like their idols. They took part in an array of typical exercises and themed games designed to develop various football skills such as passing, dribbling, shooting, moving the ball forward as a team etc.
Indeed, Paris Saint-Germain Academy India uses the same advanced training methodologies and technical tools developed at the club's elite academy in Paris, and follows the same positive game philosophy.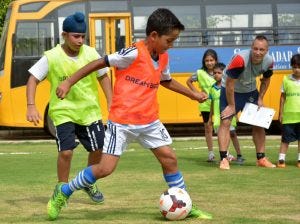 aid Rajesh Mehrotra, Director, Sports Roots & Paris Saint-Germain Academy India"We aim to transform the grass roots sports landscape in India by delivering rich and impactful experiences to Indian kids at their doorsteps. We are determined to bring the 'best in class' sports training methodologies and skills to India and the Paris Saint-Germain Academy program is one of the best in the world."
The Paris Saint-Germain Academy's year-long "Champions School" program will start at Shiv Nadar School Gurgaon on 14th July. The program, which includes two training sessions per week and a match on week-ends, is open to kids aged 6 to 15.  Kids will be placed in groups of 12 to 16 according to their age and level. Each group will have a dedicated coach, trained to the Paris Saint-Germain's methodology by French Technical Director Sacha Lizambard, who will supervise all training sessions.
Parents interested in this program can find information at www.psgfootballacademy.in .