Discover more from Ekalavyas | Basketball
Welcome to Ekalavyas, the pioneering publication dedicated to unearthing the world of international basketball, from an Indian perspective!
Over 3,000 subscribers
Vishesh Bhriguvanshi: Indian Basketball's Special One
[Originally published on NBA.COM, as part of its 'Local Heroes' series, around January 2017.]
Never has a name been more apt. Vishesh. That's Hindi for 'Special'.
When it comes to basketball, the special ones are those who hustle after every loose ball, dominate each possession and have an uncanny knack of always making the right play. They leave records behind, stop numbers from defining them, go beyond the call of duty and always emerge victorious.
When they walk down the court with the ball, you sense something vishesh is going to happen.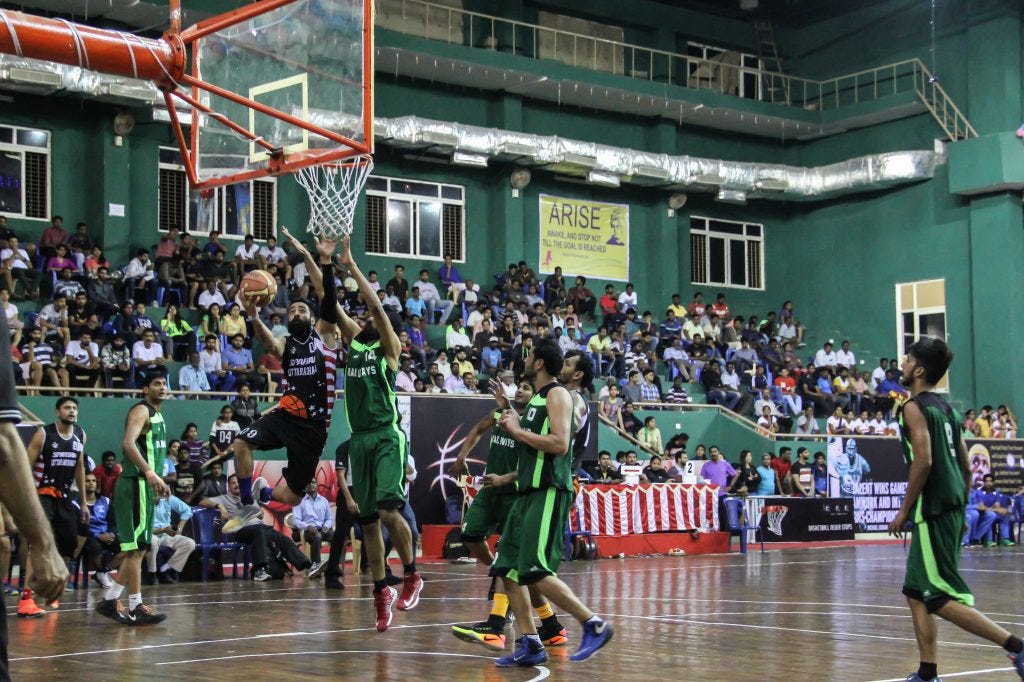 Representing Uttarakhand in the National Championships, Vishesh Bhriguvanshi is seen executing one of his trademark drives to the rim against Railways.
Vishesh Bhriguvanshi was born and brought up in India's heartland of Uttar Pradesh (UP), the nation's most populous and chaotic State. The skinny 12-year-old used to follow his brother, Vibhor, to the basketball courts of Udai Pratap College in Varanasi every evening.
"The first few days when I started playing with my elder brother and his friends, it was a weird feeling for me," said Bhriguvanshi. Within weeks, he competed in the Varanasi U-13 district meet, and soon developed a liking towards the sport. So much so, that on days he could not hoop, he felt like something was amiss.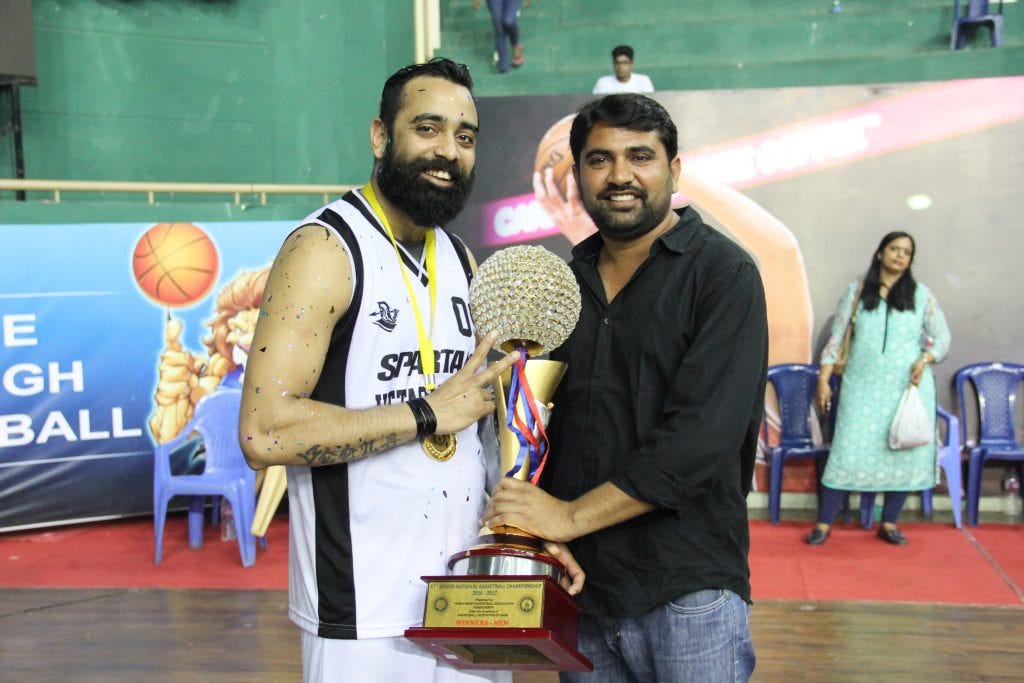 Vishesh Bhriguvanshi began playing basketball inspired by the achievements of his elder brother Vibhor.
His now famed "court presence" and intuitive feel for the game didn't occur by chance. "It's not how people think, everything didn't happen overnight. I gradually learnt how things worked in a team. I studied how others played and understood how I play. I put in hours, not because I was asked to but because it became a habit."
"Life became basketball."
Within a year of playing basketball, Vishesh Bhriguvanshi represented his district and state in 2000. He kept developing exponentially and six years later, at age 17, bagged himself a spot on the Senior Indian team.
This stupendous achievement ensured that even before having given his class 10 board examinations — the first 'test' of any Indian kid's academic aptitude—he had his family convinced that sports was his calling. His elder brother's early success only assured everyone that the youngest Bhriguvanshi would follow suit.
"My father was a lecturer and my mother was a principal, so naturally there was pressure to perform academically. But then again I had other things in mind," he says.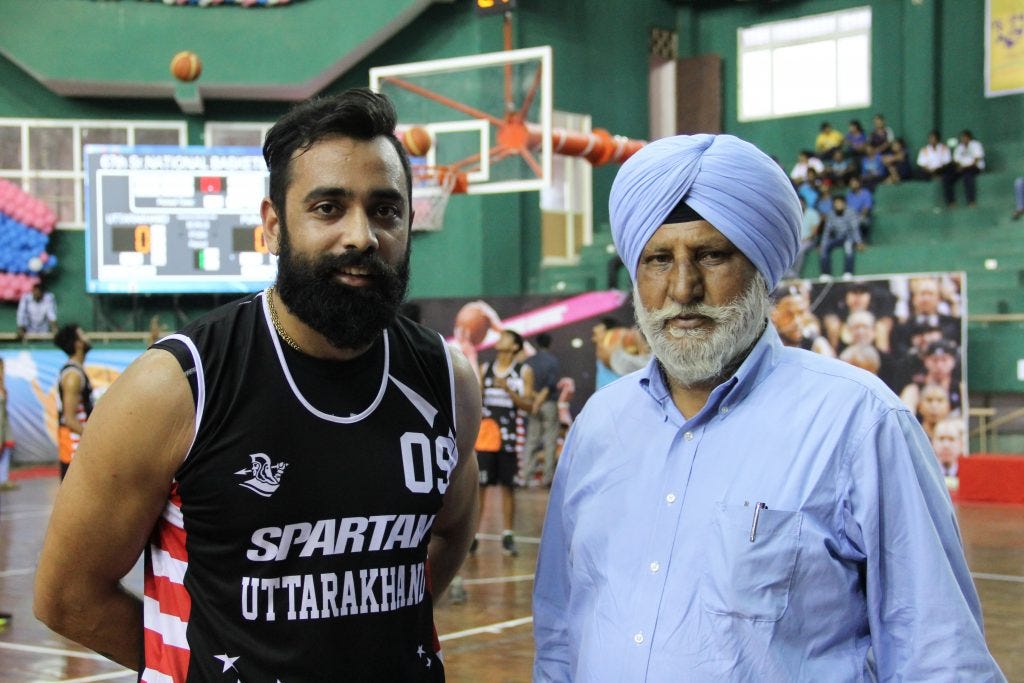 Vishesh Bhriguvanshi with his first Coach Amarjeet Singh.
Sports Authority of India's Amarjeet Singh was Bhriguvanshi's first coach, who taught him the basics and provided similar guidance to many other future international stars from Varanasi like Trideep Rai and the 'Singh Sisters'. "After Amarjeet sir I was fortunate to be guided by Harjinder sir who kept a close watch on my mistakes."
It wasn't necessarily all smooth sailing. Despite his UP state team's first and only gold at the U-19 Junior Nationals in 2006, Bhriguvanshi was omitted from the Indian team for the Asian Championship games in Kazakhstan.  The disappointment of getting cut angered and frustrated him, a far cry from his current 'Captain Cool' persona.
"Learning basketball is a process. In your formal coaching you learn to dribble, pass and shoot but I learnt something greater than that, through absorbing the knowledge and mindset of Trideep bhai. I admired him and his game sense and I was really fortunate to have him around during practice in Varanasi. The composure and focus that you see when you see on court, I learnt from him."
"Starting early on the senior team exposed me to a variety of situations. Playing with the older players helped me mold myself and focus my energy only on the game. Soon I realized that anger and frustration had no place on the basketball court."
Since starting off on the Indian team as a rookie, the 26-year-old shooting guard has come a long way in leading India to memorable victories over Angola, China and Philippines.
"As a kid I liked to go around and travel with friends even if it was just within the city, but thanks to basketball, I have gone to places I never thought I would."
"I think I have another 5-6 years [left in the game] but I'll play for my country as long as my body supports me. When the day comes where I'll be given a spot just because of my name, I'll quit."
*
When you envision a player of Vishesh Bhriguvanshi's calibre, one would imagine a proud and arrogant star who prefers to stay reserved and aloof. But while the 6ft 4 in bearded playmaker is a sizeable presence on court, he is also one of the simplest and humblest human beings off it.
The importance of the Varanasi veteran in India Basketball's scheme of things cannot be overstated. He adds an X-factor to a side that is otherwise disciplined yet not particularly creative. He provides the team with the mental stability and resolve to go beyond the ordinary. His willingness to share the ball and get others involved is something of a rarity in today's 'me-first' sporting world. His unselfishness underscores his innate appreciation of basketball as a 'team game' first and foremost. Of course, when the time does come to take over, Bhriguvanshi reminds everyone just who the 'Special One' of Indian basketball really is.
As legacies go, it won't be a stretch to say that Vishesh Bhriguvanshi's playing style and impact rivals that of LeBron James. Little surprise then that India's emperor idolizes Cleveland's King.