Discover more from Ekalavyas | Basketball
Welcome to Ekalavyas, the pioneering publication dedicated to unearthing the world of international basketball, from an Indian perspective!
Over 3,000 subscribers
Vibhor Bhriguvanshi: Not just the 'other' Bhriguvanshi
[Originally published on NBA.COM, as part of its 'Local Heroes' series, around June 2017.]
Coach (noun): An instructor or trainer in sport.
The Oxford dictionary is impassive. It fails to capture the full gamut of emotion this seemingly innocuous five letter word can evoke. As sportspersons, we all know the value a coach holds in our development. A coach's importance and duties go beyond just the usual instructing and training of a budding athlete. "Amarjeet (Singh) sir is my idol. His demeanour and grace inspired me to become a coach as well," says 29-year-old Vibhor Bhriguvanshi over phone from Varanasi. The "Amarjeet sir" he refers to is none other than the famous Sports Authority of India (SAI) coach who revolutionised grassroots basketball in the ancient city of Varanasi, churning out international level talents like Trideep Rai, the 'Singh Sisters' and a certain other Bhriguvanshi whom Vibhor knows only too well.
The 'missing' piece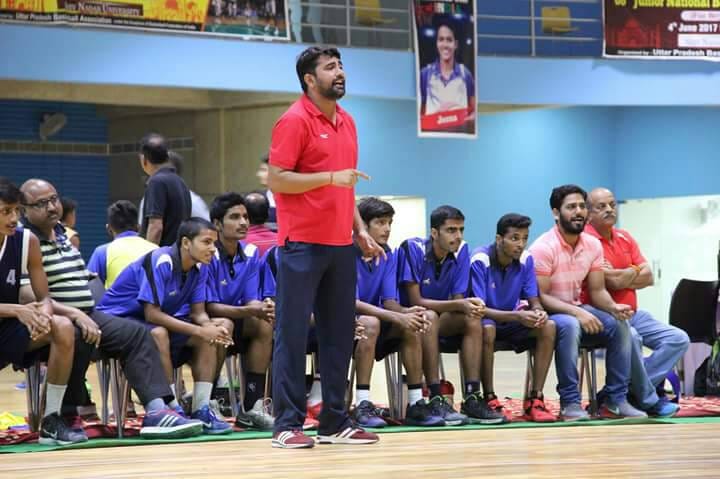 Vibhor Bhriguvanshi at the 68th Junior National Championships in Noida. Image credits - Basketball Federation of India
Now a senior figure in the basketball coaching circles of Uttar Pradesh, the elder brother of super star Vishesh Bhriguvanshi, started his journey at age 13 at the famous Udai Pratap College in Varanasi. "We lived in the college campus itself as our father was a biology lecturer there. The basketball court was very close to our home." Being rather tall for his age, Vibhor was coaxed by coach Amarjeet to pick up hoops. Naturally, the elder brother was not going to embark on this journey alone. "We were very mischievous as kids which is why our father instructed me to take Vishesh along for practises as well. He believed it would help us remain fit and become disciplined."
The more they played, the more the two Bhriguvanshis grew excited about this fast-paced sport. "When we started playing we were surrounded by extremely high calibre players. Priyanka and Divya Singh (the elder 2 of the famous 5 Singh Sisters), Amit Singh, Dilip Kumar and Trideep Rai were few of our seniors. I have learnt a lot by observing them." Vibhor worked hard, day in and day out, to impress Coach Amarjeet. He would often hone his craft with his senior and mentor Trideep Rai. "Both me and Vishesh looked up to Trideep bhaiyya. His composure and humility were major influencers on our attitude towards the game." In 2003, Vibhor represented Uttar Pradesh at the youth nationals but continued to feel that something was amiss. However, his love for the game drove him to keep playing.
Switching over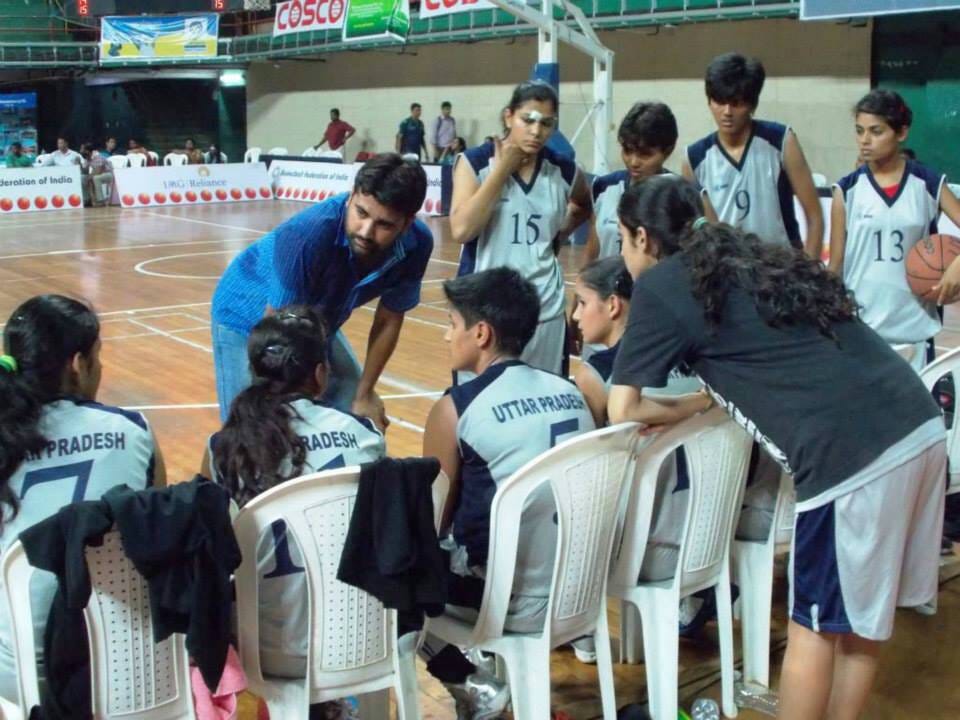 In a huddle during a timeout. Image credits - Vibhor Bhriguvanshi
In 2005, due to the sudden unavailability of Amarjeet Singh, Vibhor filled in as the coach for the boys' under-13 Varanasi squad at the inter-district championships. Under his guidance, his team overcame all odds to beat Meerut by two points and emerge as winners of the tournament.
He had finally found the missing piece! The thrill of this coaching experience was exactly what he longed for. "Deep down I always knew I wanted to be like Amarjeet sir. Finally, I decided to stop playing and picked up coaching to continue contributing to the game."
Vibhor went on to complete his Bachelors and Masters in Physical Education from Banaras Hindu University and then pursued his Diploma in Sports Coaching from Netaji Subhas National Institute of Sports (NSNIS), Patiala. During this period, he worked under the able guidance of well-known coach Harjinder Singh who took him under his wings and showed him the tricks of the trade. "After Amarjeet sir, Harjinder sir has had the biggest influence on my coaching career. A lot of what I teach children today are things I picked up from him as his assistant." In 2007, Vibhor made his debut as a full-time coach at the National Basketball School League for Boys organised by the Punjab Basketball Association in Khanna, Punjab. "We lost in the finals but I'm still very proud of the silver medal I won in my debut tournament."
In 2011, soon after his return from NSIS Patiala, Vibhor was handed the reins of the Uttar Pradesh (UP) women's team participating at the Senior National Championship. "I was extremely lucky to have seniors who believed in my ability and handed me such a big responsibility in the early days of my coaching career." From that moment on, there was no looking back. Vibhor grew from strength to strength, guiding the UP junior (U18) girls to a bronze finish in 2014; the youth (U16) boys team to a silver medal in 2016; and earlier this year as the assistant coach, he helped UP girls secure their highest ever finish–a historic 2nd place - at the recently concluded Junior Nationals in Noida.
Chasing bigger dreams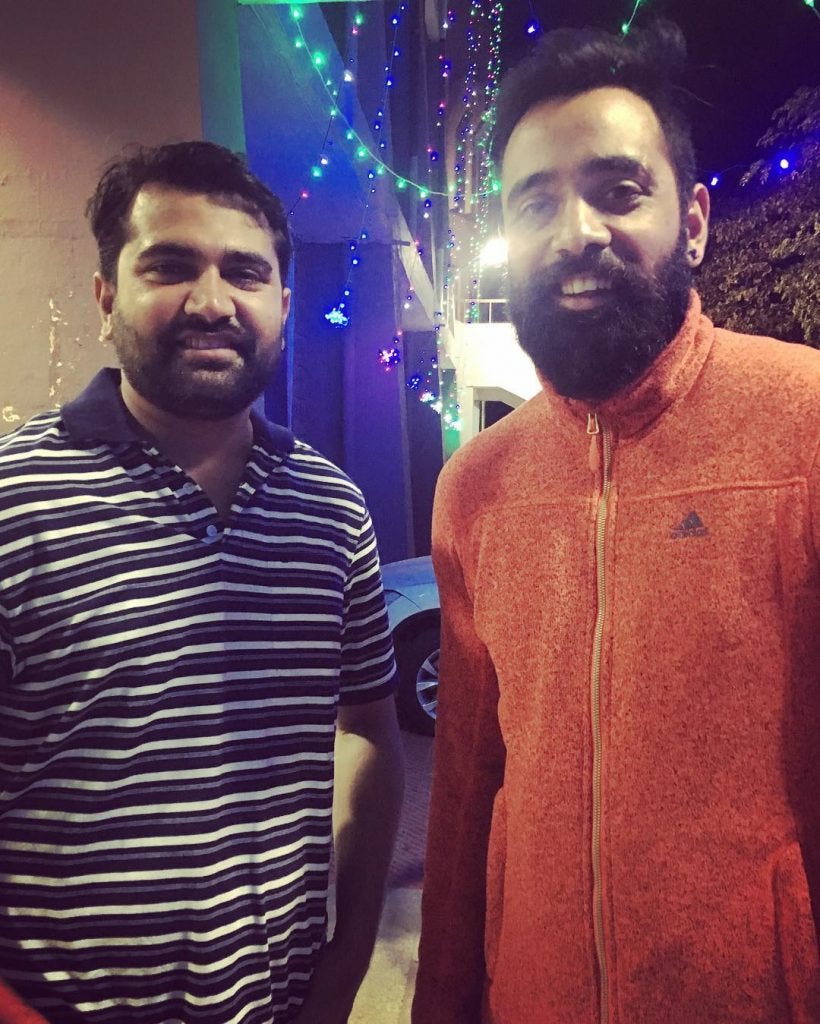 With Vishesh. Image credits - Basketball Federation of India
Behind every successful sportsperson is a dedicated support system and the Bhriguvanshi brothers are no exception. "Despite being strict academicians, our parents always supported Vishesh and me in our sporting endeavours. They wanted us to pursue what we were passionate about and work hard for it." He goes on to add, "Our entire family is extremely proud of Vishesh. It is a matter of pride for us that the Bhriguvanshi name is a part of Indian basketball history. We always knew he was destined for big things."
The elder Bhriguvanshi too aspires to represent his country as coach. "It is my dream to coach the Indian basketball team at an international tournament and I'm going to work extremely hard to make it a reality." On being asked of the possibility of coaching his own brother at the international level, he responds chuckling, "Well, that is yet another big dream in itself."