Discover more from Ekalavyas | Basketball
Welcome to Ekalavyas, the pioneering publication dedicated to unearthing the world of international basketball, from an Indian perspective!
Over 3,000 subscribers
M S Venkataraman- A Lifelong Love For Basketball
[Originally published on NBA.COM, as part of its 'Local Heroes' series, around February 2017.]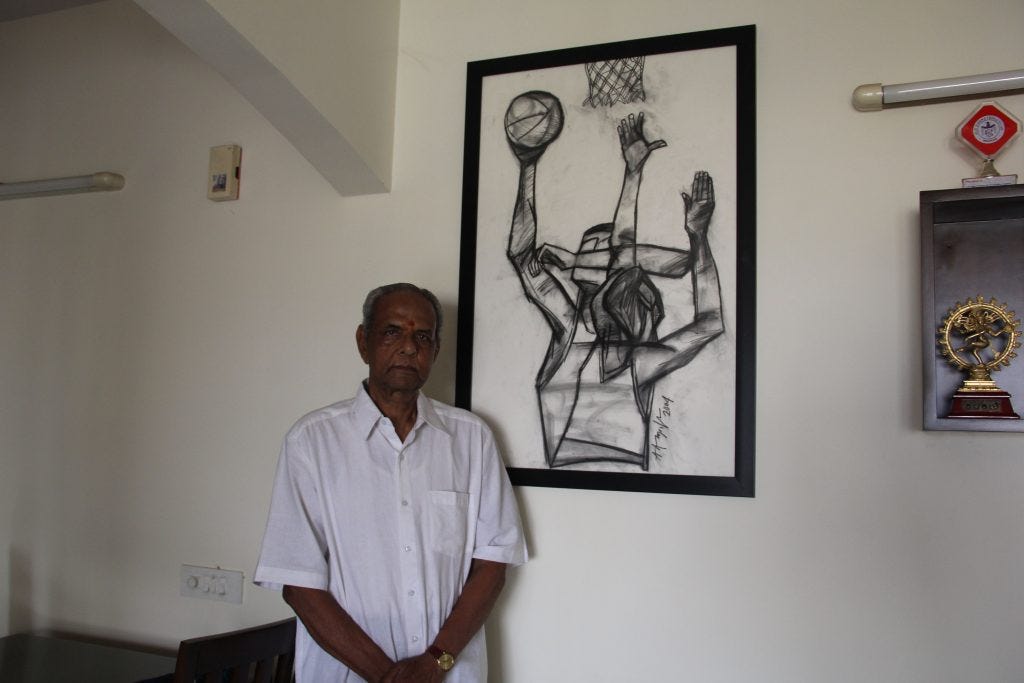 M S Venkataraman at his home in Bengaluru.
His cream shirt is spotless and crisp, the veshti an impeccable white. A brown tilak is streaked across his forehead like a meteor hurtling through space. His lanky near 6-foot frame is imposing and the grey strands of his hair instinctively command a respectful deference. But it is the eyes that really capture my attention. Clear, piercing and youthful, ensconced behind non-fussy, thick plastic brown framed glasses that are still so popular among our older generations.
M S Venkataraman greets me with a smile and firm handshake after I ring the doorbell to his 11th floor apartment in suburban Bengaluru. His house is airy and clean, sparsely yet practically furnished. There are two paintings mounted on one of the living room walls by the renowned Tamil artist K M Adimoolam. One's of a jump ball, while the second is a black and white sketch of a post play.
I loved this house already.
"You shouldn't get me talking about basketball," Venkataraman says as we settle down. "People have warned me that once I start I never stop."
Baller Since India's independence
Born in Mannargudi in Tamil Nadu, Venkataraman grew up in Malleshwaram, Bengaluru. He was introduced to basketball at age 13 in 1948.
"We started off playing barefoot on mud courts. In those days the captain himself used to be the coach. There were no jumpshots, just the two-handed 'set shot'. A layup was known simply as 'under basket'. Two players usually stayed in the defensive half throughout. The matches ended with scorelines reading just 14 or 16 total points," Venkataraman rattles off, even getting up from his couch to animatedly demonstrate the two-handed 'set shot'.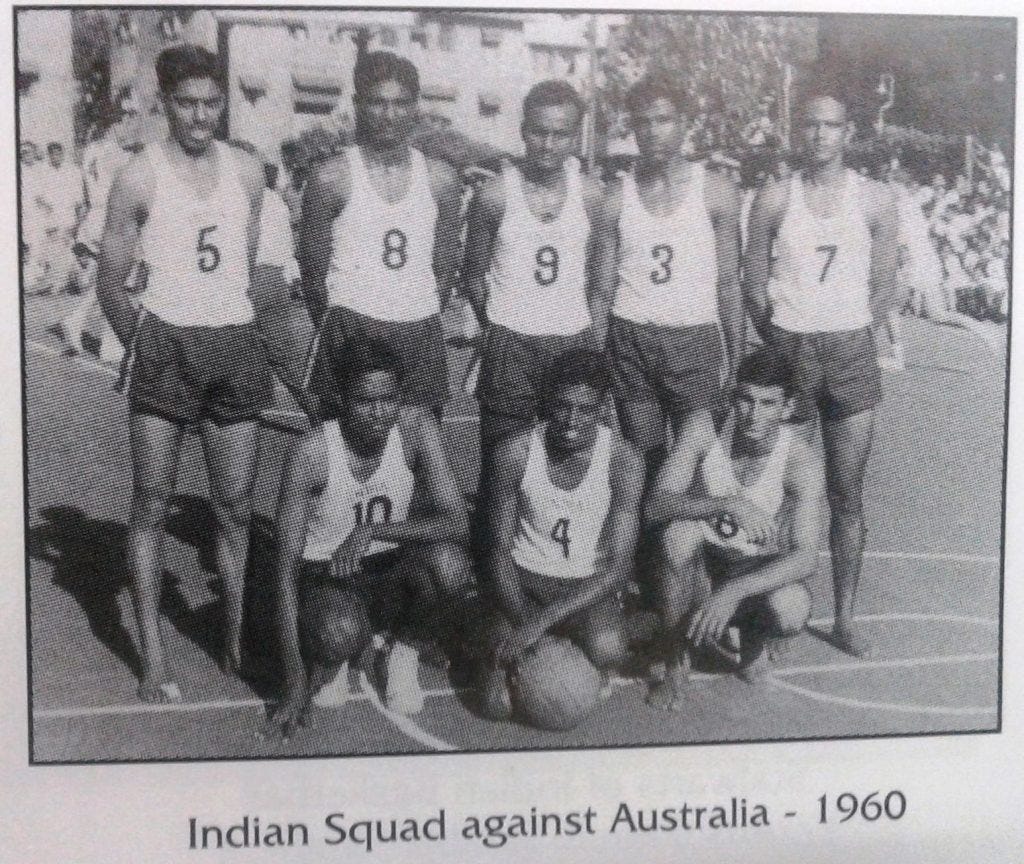 M S Venkataraman (standing far right) with the rest of the Indian squad which took on Australia in 1960
After finishing his schooling in Bengaluru, Venkataraman moved to Chennai and joined the Loyola College, captaining both the college as well as the combined Madras University team in 1954.
Back then, in the entire erstwhile state of Madras (now Tamil Nadu), there was only one tournament each year. This prompted a 20-year-old Venkataraman to launch the Ace Basketball Club, under which he started Chennai's first league tournament featuring 10 teams.
Player-Administrator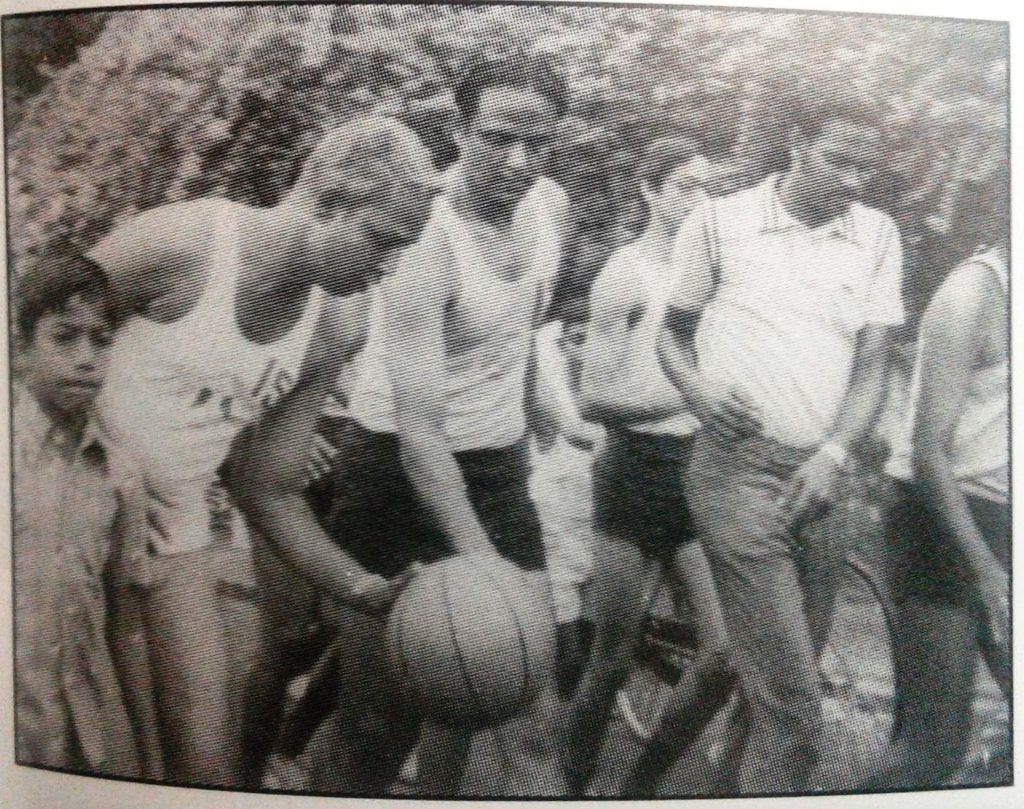 M S Venkataraman (centre) during a promotional 'Dribblathon' event in Chennai back in 1979, said to be India's first such event.
Venkataraman went onto become one of the youngest members of the newly formed Tamil Nadu State Basketball Association. Simultaneously, he continued playing, developing into a reliable centre and representing the State team between 1954 to 1961. He was even named among Indian basketball's top 20 All-Star players in 1956 and '59 by the Basketball Federation of India.
At the 1959 Senior National basketball championship in Chennai, Venkataraman played a dual role of a player-administrator. "The 1959 Championship was the first ever with ticketing. We put up banners along the beach and charged 5 to 10 rupees per ticket, but still had as many as 4000 people turn up for the finale," Venkataraman recalls. This is a startling revelation, considering that virtually all of India's present-day tournaments are 'entry free' yet struggle to attract decent crowds.
Post the Championship, Venkataraman represented India in a friendly fixture against Australia in 1960, a game that featured future Arjuna Awardee and one of India's finest point guards Abbas Moontasir. Five years later, during his stint with the Army, he captained the Western Command basketball team that was headlined by arguably Indian basketball's greatest scorer Khushi Ram.
Tryst With The Basketball Gods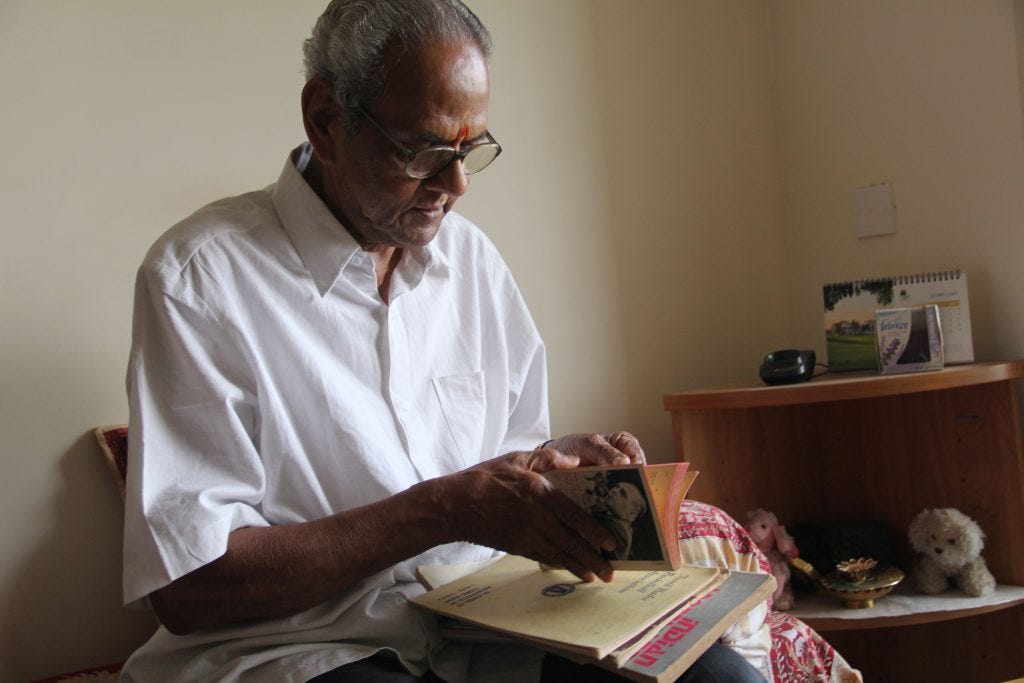 Venkataraman flipping through his autographed copy of Red Auerbach's 'Basketball for the Player, the Fan and Coach'
By 1978, 'Venky', as he was now widely known, was elected Secretary of the powerful Tamil Nadu State Basketball Association.
"I spearheaded a number of initiatives, from issuing ID cards to players, establishing a calendar for All India tournaments to avoid overlap, sending inspection teams to local tournaments before granting them recognition, amending our Association bye-laws to ensure merit based affiliation of clubs, to starting India's first-ever 'Dribblathon' (a promotional event where a series of basketball players dribble the ball in relay fashion across a pre-determined distance)."
He was then named the manager of the Indian women's team for the 1982 Asian Games in New Delhi, and from 1984-86, was a member of Basketball Federation of India's prestigious national selection committee.
And it wasn't just India's basketball trajectory that aligned with Venkarataman's personal journey. In 1982 he was invited for a World Coaches Seminar in New Orleans where he witnessed Michael Jordan hit THE game-winning shot for North Carolina that sealed the NCAA National Championship.  He even made it a point to visit basketball's Mecca, the Naismith Memorial Basketball Hall of Fame in Springfield, Massachusetts.
During his US visit, Venkataraman had networked enough to ensure he kept receiving, through 'sea mail', boxes of the latest Converse sneakers and media guides from the NBA. He even has a rare autographed copy of Red Auerbach's bestselling classic Basketball for the Player, the Fan and Coach. ("I had lost my first copy so I wrote a letter to the Celtics organization and asked for an autographed version. Luckily they obliged.")
A Life Well Lived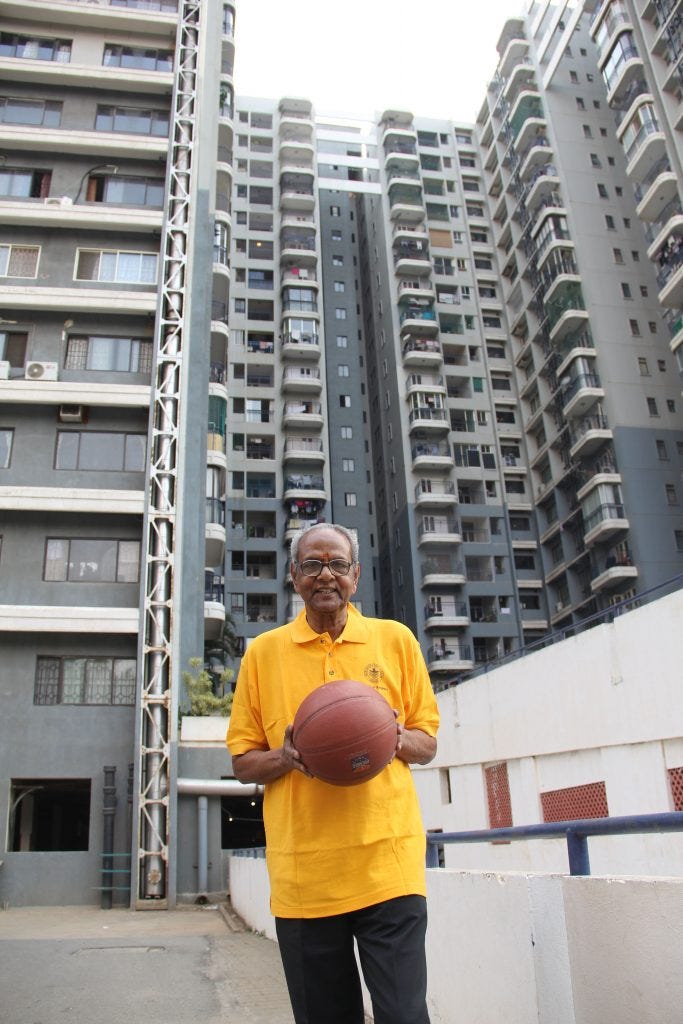 It's now been over two hours since Venkataraman and I began our interview. I can hear his wife in the kitchen setting up lunch. As I bid him farewell and head back home, I can't help but ponder over how time stops for no one. When Venkataraman began playing basketball, India had only just attained independence. Nearly 70 years later his love for the game is still intact. He hasn't "outgrown it", despite his friends and family predicting otherwise.
One of the questions we often ask ourselves is: 'Does my life have meaning?' It's a query filled with foreboding, trepidation, and perhaps even regret, when we are unsure if what we are seeing ahead is light or a continuing labyrinth.
For true fans of basketball in India, M S Venkataraman's life has had meaning. Lots of it.