Discover more from Ekalavyas | Basketball
Welcome to Ekalavyas, the pioneering publication dedicated to unearthing the world of international basketball, from an Indian perspective!
Over 3,000 subscribers
UP teams shine with big wins on Day 3 of the 68th Junior National Basketball Championship
Noida, 6th June 2017:  While things continue to remain hot outdoors, the indoor stadium at Shiv Nadar University also continued to heat up as we completed Day 3 of the 68th Junior National Basketball Championship.
On the morning of Day 3, defending champions Karnataka maintained a perfect record with a win against Delhi 45-37. A strong first quarter (23-7) set the tone for Karnataka who cruised to the win, despite not having the services of forward Snigddha, who suffered a minor injury yesterday. Kerala girls also picked up a comfortable 48-28 win against Gujarat.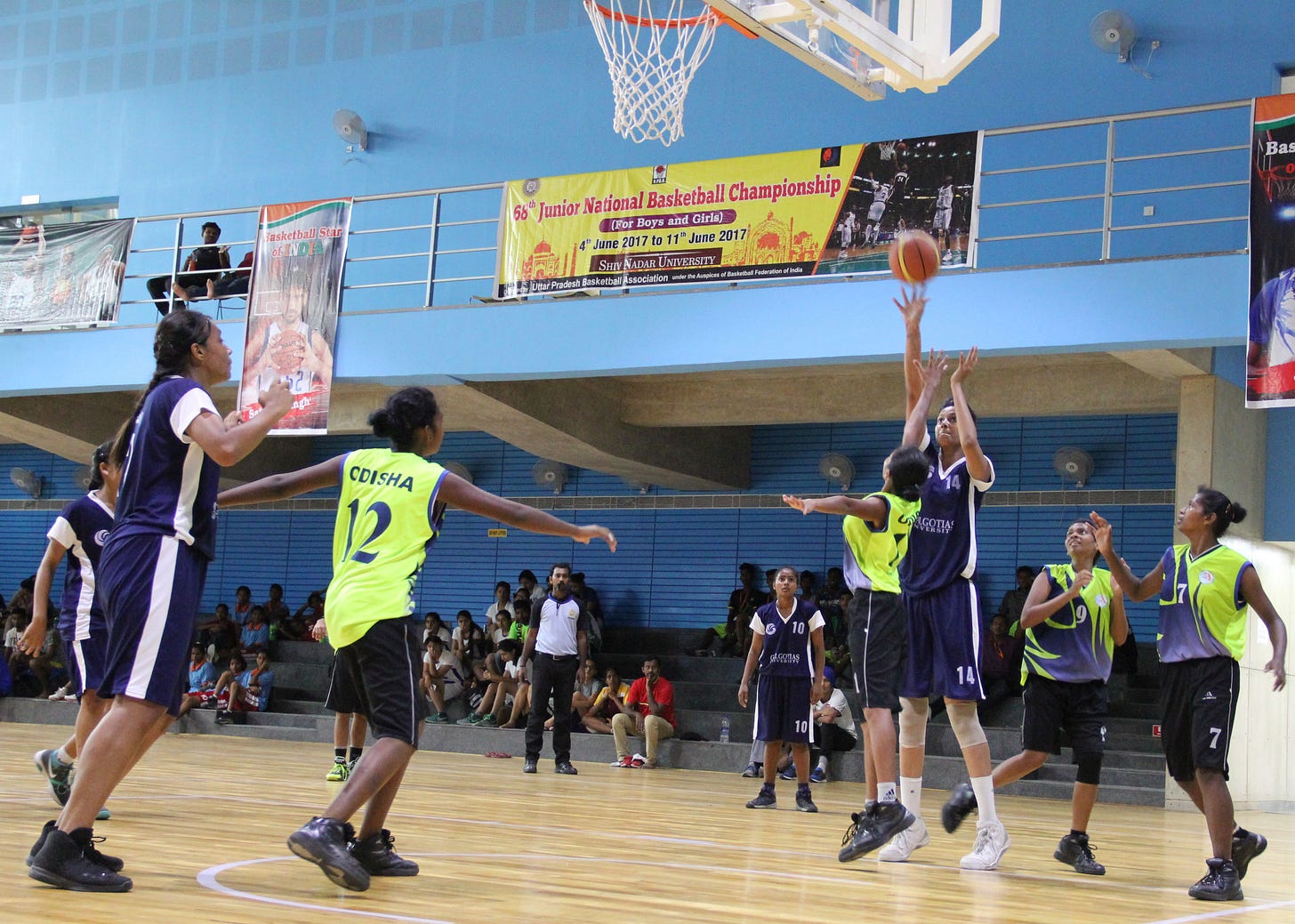 UP centre Pallavi Sharma makes full use of her height against Odisha. Image credits: Basketball Federation of India
The Uttar Pradesh girls continued to shine in their home court. Shreyasi (17 points) and Vaishnavi (14 points) ensured a 19-2 start to the game, which ended in a 47-20 win for UP against the Odisha girls. Both the girls' and boys' teams of Andhra Pradesh and West Bengal registered victories today, while the Madhya Pradesh boys overcame Himachal Pradesh in a 71-58 win.
Later in the day, the Tamil Nadu girls continued their undefeated run with a 79-44 blowout win against Punjab. TN point guard Nishanthi handled her team's offense well, creating open shots for her teammates and top scoring herself with 19 points. The Tamil Nadu boys game against Haryana, on the other hand, was a much closer affair. Haryana's shots were falling in the first half  as they created a double-digit lead entering halftime. TN were still adjusting to playing without their star guard P. Baladhaneshwar, whose poise and leadership were sorely missed in the TN backcourt. But the defending champs stepped up in the second half, clamping down on the defensive end and creating offense through defense. Their full court press flustered Haryana, who lost momentum and let TN back into the game. TN gained the lead in the final minutes and held off Haryana to close on a 76-72 win.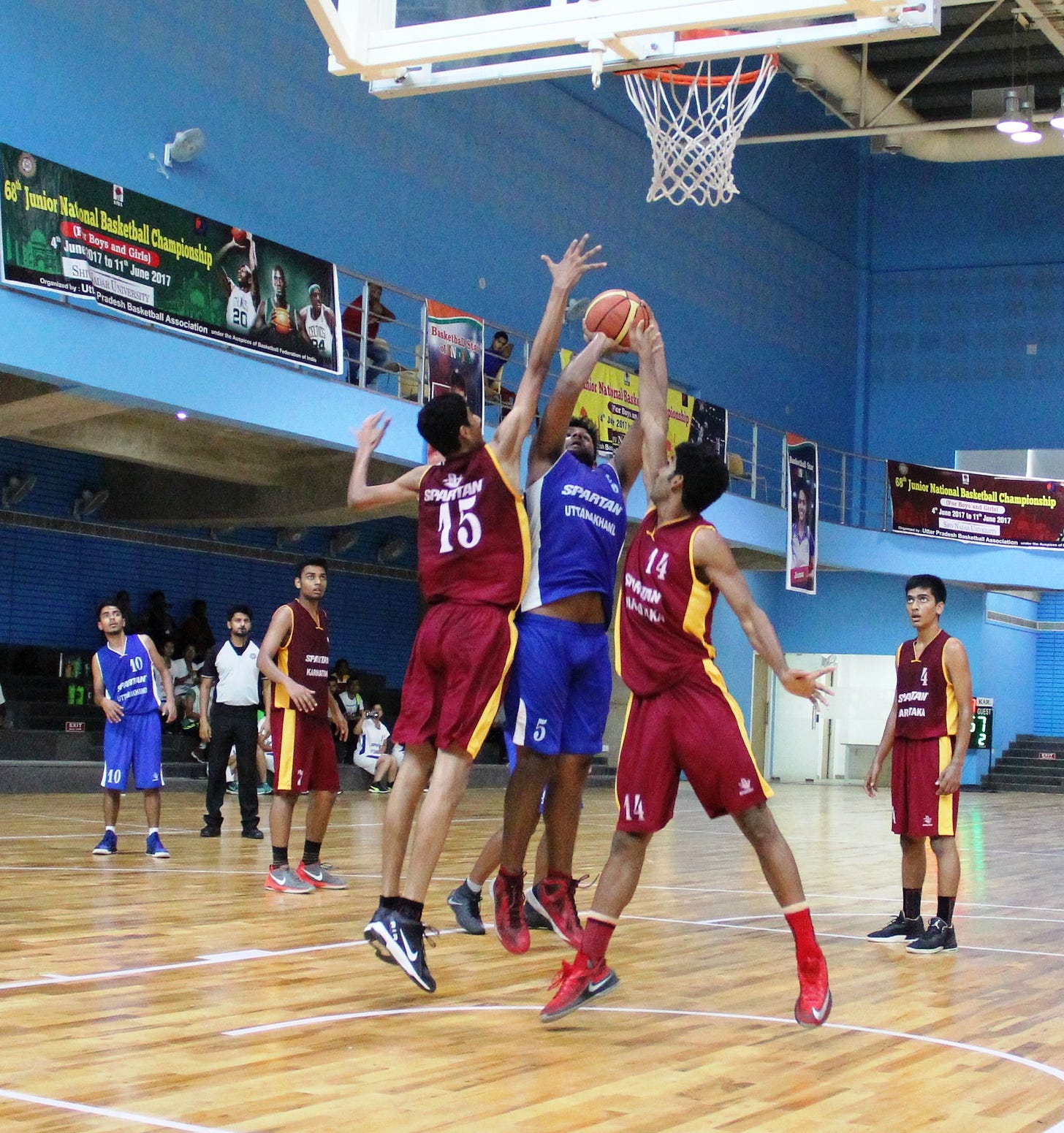 Saksham of Uttarakhand being closely guarded by Prajwal and Pratyansh of Karnataka in their Level 2 Group E league match which Karnataka won. Image credits: Basketball Federation of India
Karnataka boys moved closer in the quest to jump to Level 1 with a win against a relentless Uttarakhand team. After exchanging leads for most of the game, Karnataka managed to maintain sneak ahead late in the third quarter. Karnataka centre Pratyanshu was the game changer, shutting the rim on the defensive end and also pouring in 24 points. Uttarakhand ended up suffering a 77-69 loss.
Favourites Kerala boys took on underdogs Chandigarh, who have always given the heavyweights a tough fight. Despite being heavily undersized, Chandigarh surprised Kerala in the first half making a lot of tough shots in the paint along with knocking down their 3-pointers. But Kerala remained within striking distance, and their offensive firepower showed in the second half. Amal Reghu top scored once again for Kerala with 36 points, as Kerala pulled away in the fourth to clinch a 92-82 win to remain unconquered.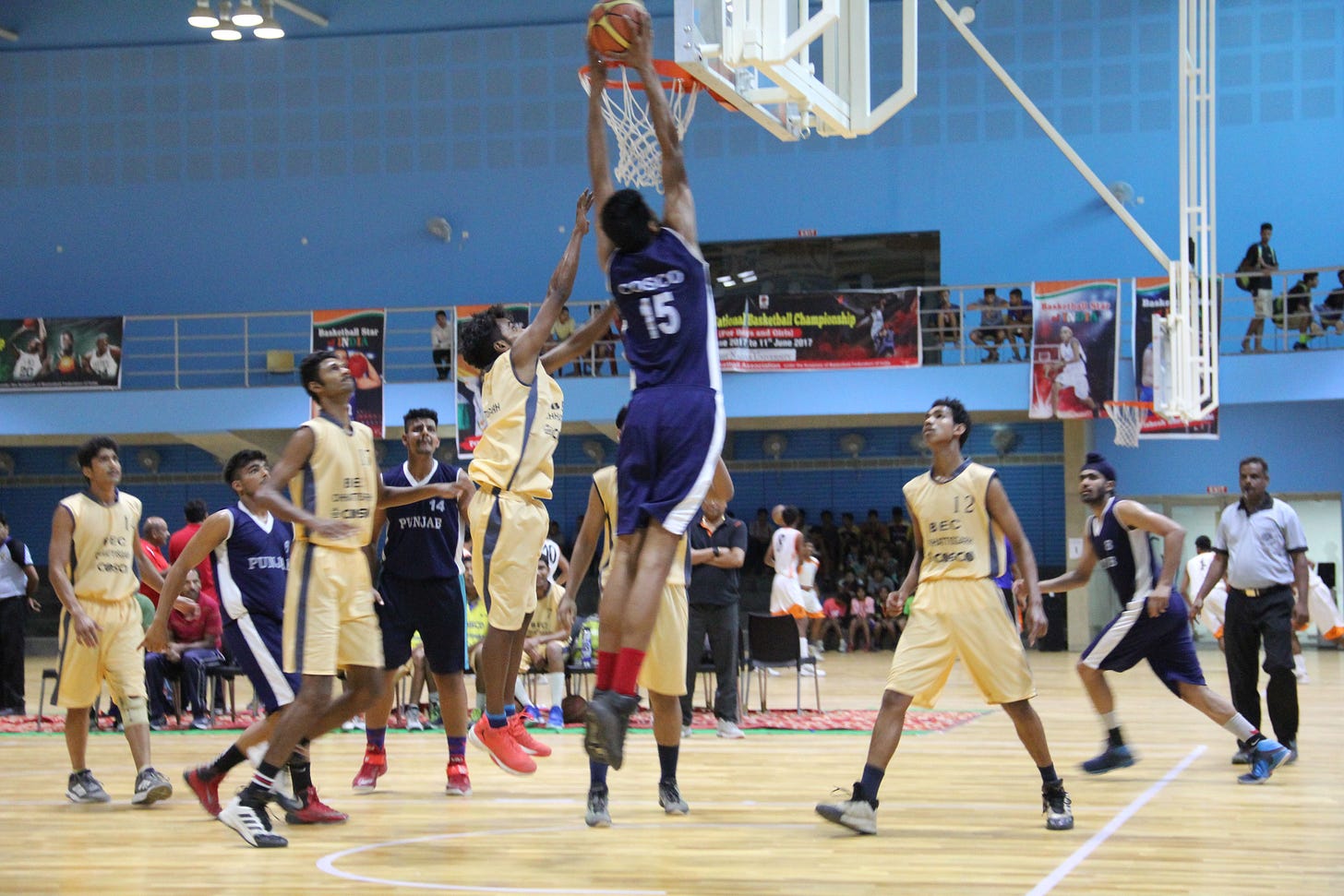 Princepal Singh of Punjab about to dunk against Chhattisgarh. Image credits: Basketball Federation of India
Following the success of their girls team, the UP boys added further cheer for the home fans with a 79-52 win against Gujarat. Akshay Sharma exploded for 38 points for Uttar Pradesh. The Punjab boys also made short work of Chhattisgarh, stamping their authority as one of the teams to watch out for this tournament. Most of Punjab's offense came through their big men Swapnil Sharma (16  points) and Princepal Singh (18 points), who were too big to contain for the small Chhattisgarh team. Punjab sauntered to a 75-42 win, cementing their spot at the top of the group.
Results from 6
th
June 2017 till 7 pm
Women:
Level 1
Group A
Kerala (Jayalakshmi 8, Lithra 5, Sreekala 5, Aneesha 5) bt Gujarat (Tavleen 12, Ria 7) 48-28 (16-9, 9-3, 11-6, 12-10)

Karnataka (Sanjana Ramesh 18, Harshitha 14, Chandana G. 7) bt Delhi (Meena 16, Sushantika 10) 45-37 (23-7, 9-11, 4-9, 9-10)
Group B
Tamil Nadu (M. Nishanthi 19, S. Pushpa 14, N. Mridhula 9) bt Punjab (Aakarshan 9, Rajandeep 8, Gagandeep 6) 79-44 (18-13, 24-10, 19-11, 18-10)
Level 2
Group D
Uttar Pradesh (Shreyasi 17, Vaishnavi 14) bt Odisha (Lipramayee 7, Ambika 6) 47-20 (19-2, 11-11, 10-5, 7-2)
Group E
West Bengal (Paromita 29, Babita Das 16) bt Telangana (Nashita Amira 14, R. Jyothi 10, G. Sandhya 10) 77-45 (31-15, 12-6, 18-13, 16-11)
Group F
Andhra Pradesh (Vyshnavi 16, Susmitha 10, N. Padmavathi 8, Uma Maheshwari 8) bt Uttarakhand (Srishti 10) 50-19 (6-4, 14-4, 14-2, 16-9)
Men:
Level 1
Group A
Tamil Nadu (Arvind KM 20, Sanjai RS 16, Sheldin Roshan 16) bt Haryana (Rinku 33, Manu Bhardwaj 24) 76-72 (11-26, 19-17, 24-19, 22-10)

Punjab (Princepal Singh 18, Swapnil Sharma 16, KG Singh 14) bt Chhattisgarh (Salim Ali 14, Anurag Debey 11) 75-42 (24-12, 25-4, 10-18, 16-8)
Group B
Kerala (Amal Reghu 36, JJ Georges 21, M. Shiras 18) bt Chandigarh (Amir 31, Anuj 28) 92-82 (18-19, 19-25, 28-24, 27-14)
Level 2
Group C
Madhya Pradesh (Yugesh 18, Puneet 14, Rituraj 10) bt Himachal Pradesh (Jatin 15, Sahil 10, Akshay 10, Namneet 10) 71-58 (24-8, 10-16, 11-16, 26-18)
Group D
West Bengal (Gopal 22, Vinod 19, Saddam 17) bt Jharkhand (Ashwini 28, Ranjan Singh 15, Rahul 11) 85-67 (29-19, 18-11, 16-21, 22-16)

Uttar Pradesh (Akshay Sharma 38, P. Mishra 15, Bhagyansh Gulati 11) bt Gujarat (Karan P. 20, Harsh Shan 11) 79-52 (21-12, 21-13, 20-18, 17-9)
Group E
Karnataka (Pratyansh 24, Dev Mishra 20, Vishal 16) bt Uttarakhand (Riyanshu 22, Sarthak 17, Shiv 10, Nishant 10) 77-69 (22-12, 17-16, 18-21, 20-20)

Bihar (Sukran 17, Gopal 13) bt Tripura (Mohit 19, Sachin 16) 62-43 (12-17, 22-9, 15-6, 13-11)
Group F
Andhra Pradesh (AS Pavan 25, N. Md. Haroon 17, V. Naga Durga 16, SS Krishna 12) bt Odisha (Sarat 21, Suresh 20, Srikanta 14) 88-74 (24-26, 24-18, 22-20, 18-10)

Goa (Shaun 27, Brandon 16) bt Puducherry (S. Satyavanan 28, M. Navneetha 11, VS Lavan 11) 69-61 (13-26, 20-16, 15-10, 21-9)