Discover more from Ekalavyas | Basketball
Welcome to Ekalavyas, the pioneering publication dedicated to unearthing the world of international basketball, from an Indian perspective!
Over 3,000 subscribers
TN, UP girls & Punjab, Kerala boys through to the finale of the 68th Junior Nationals
Noida, 10th June 2017: Knockout action continued on Day 7 at the 68th Junior National Basketball Championship underway at the Shiv Nadar University. The afternoon session saw the much awaited semifinal round tip off, with 5 to 10 classification matches too being played through the day.
Semis 1: Tamil Nadu girls bt Karnataka 60-47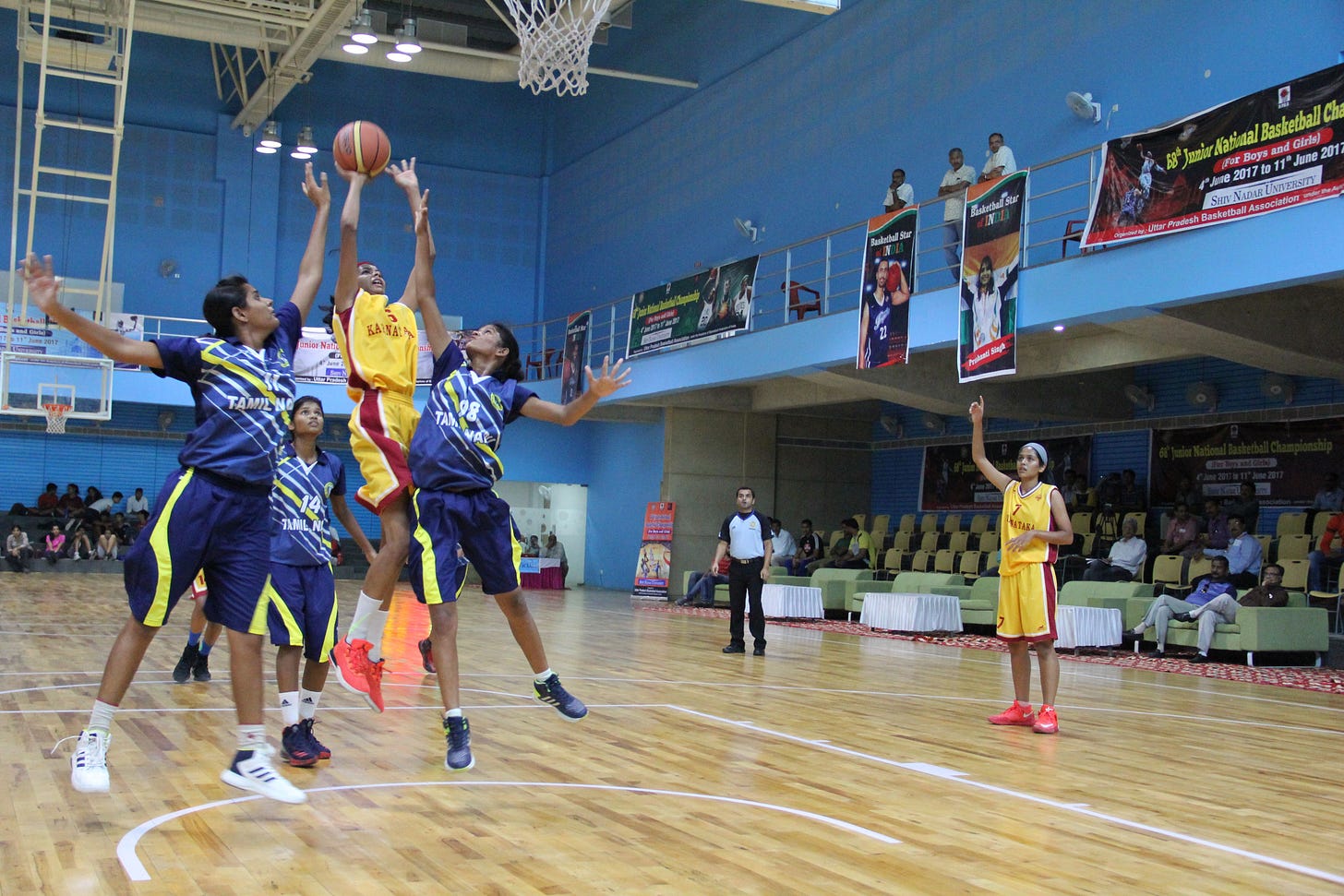 Sanjana Ramesh of Karnataka (in yellow) fought hard, but couldnt prevent a semifinals loss to Tamil Nadu. Image credits: Basketball Federation of India
In the first semifinals, Tamil Nadu put together two dominant scoring runs at the start of the first and third quarter, to seal the deal against an injury ridden Karnataka side. With both of Karnataka's primary bigs Sanjana Ramesh and Snigddha not playing at 100%, Tamil Nadu was able to control the paint against their southern neighbours.  The TN offence was well oiled and they patiently moved the ball from side to side forcing Karnataka to guard both sides of the floor.
At halftime, Tamil Nadu led 30-24, before putting together a fabulous 15-3 run in the first five minutes of the third quarter. Karnataka shooting guard Aastha Vartak hit back to back threes to make it 35-50 going into the fourth, but by then TN was well and truly in control right up to the final whistle.
Semis 2: Punjab boys bt Tamil Nadu 70-54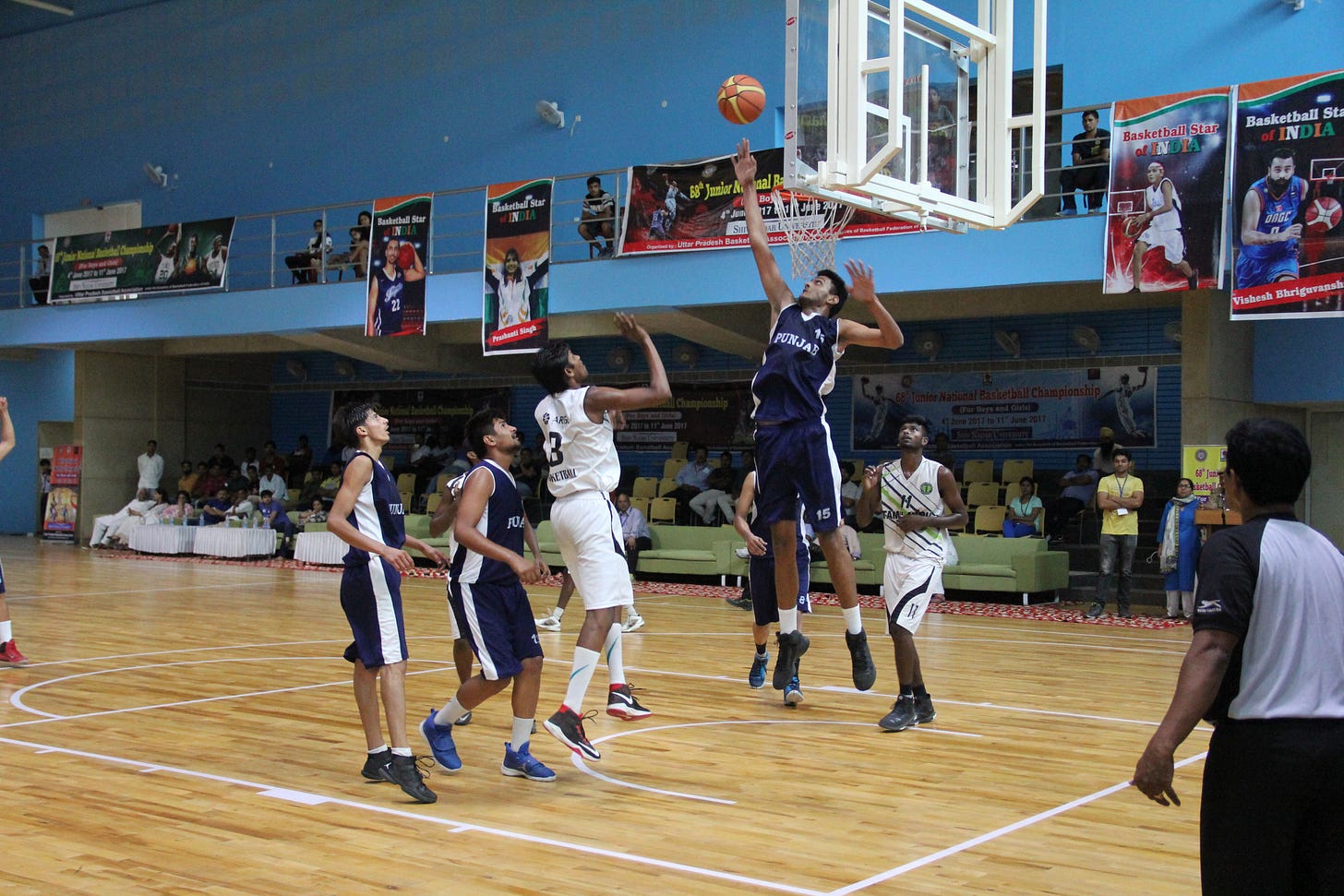 Punjab centre Princepal Singh was dominant in the paint against Tamil Nadu during the semifinals. Image credits: Basketball Federation of India
Showing steady improvement since the Youth National Championship last year, Punjab's 6ft 10 centre Princepal Singh made this semifinal his own, with an impactful double double. TN centre Sheldin Rashan had his hands full trying to contain Princepal, who was able to receive the ball deep inside the paint and cause maximum destruction. A buzzer beater at halftime from Punjab underlined the fact that the momentum was well and truly with the northerners going into the second half.
Forward Mandeep Singh of Punjab too put up a superlative effort on both ends of the floor. He was able to dribble penetrate repeatedly, while also being a pest on defence. Mandeep too had a double double of 18 points and 13 rebounds, not to mention 5 momentum shifting steals. His performance arguably even outshone Palpreet's dominance down low.
Princepal's size at times made TN second guess their drives into the paint and settle for rushed mid range jumpers. In Q3, tempers flared for Princepal who was taken out of the game by his coach, with 3 fouls. In his absence, Punjab's other starters Gurwinder Singh and Kanwar Gurbaz Singh stepped up with double digit scoring of their own.
At the start of Q4, TN made another run to bring themselves with 8 points of Punjab with 7:10 left. But that was just the wakeup call that Punjab needed, as they clamped down on the defensive end yet again, and closed out the 70-45 win.
But in the final analysis, the undersized TN had only itself to blame as it was guilty of missing numerous easy layups in transition. Had they converted on these attempts, the final result might have been something different.
Semis 3: Uttar Pradesh girls bt Kerala 75-61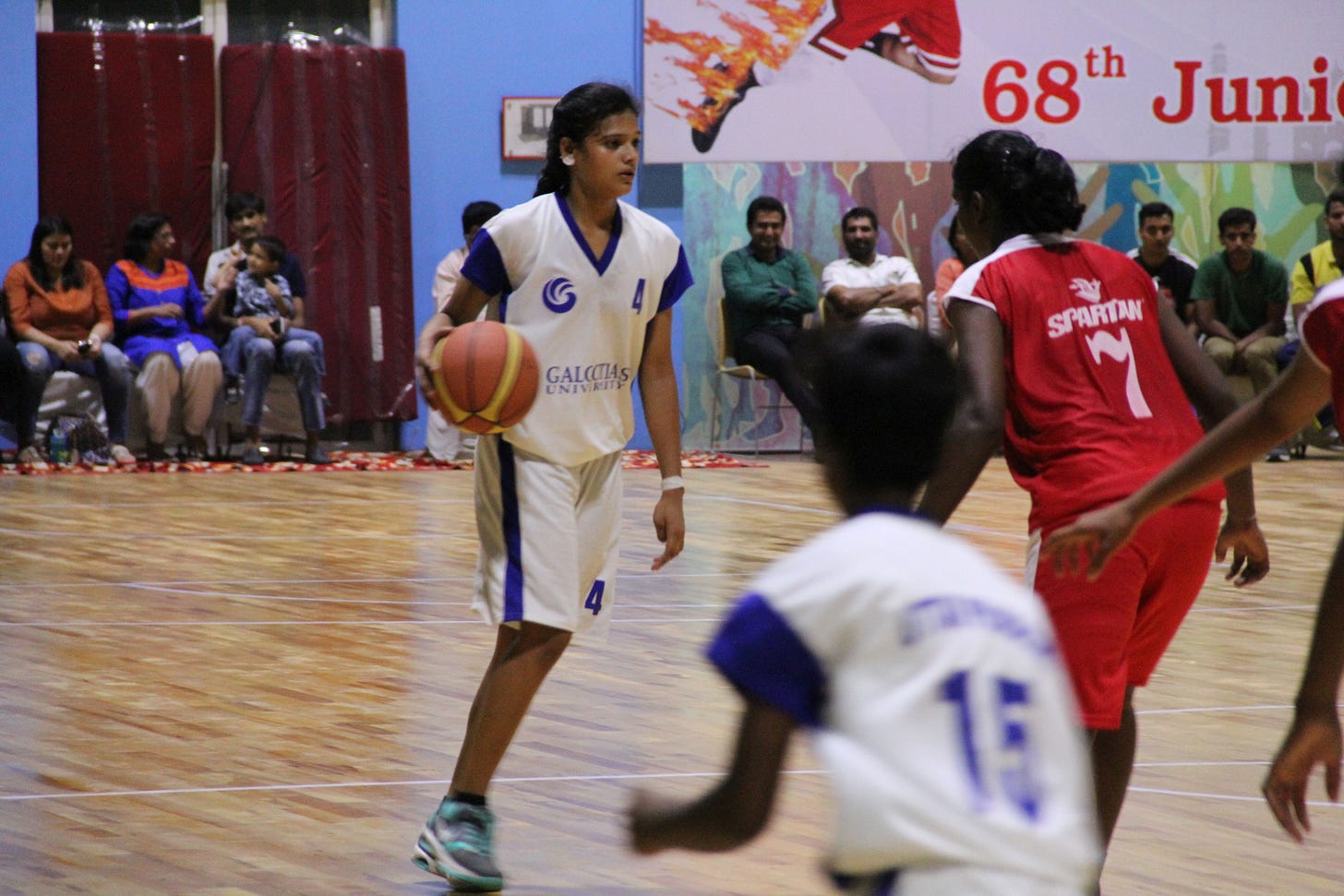 Forward Vaishnavi Yadav of UP was at her dominant best in the semis win over Kerala. Image credits: Basketball Federation of India
Hosts Uttar Pradesh have been a revelation in these Junior Nationals, beating one opponent after another in their relentless journey from lower Level 2 right up to the final four. Against talented Kerala, they would face their toughest challenge yet. But UP proved well and truly up to the task to book their maiden trip to the finale of the Junior National Basketball Championship. This is the first time in its history that UP junior women are reaching the finals.
Leading for more than 33 minutes in the game, Uttar Pradesh ran a beautifully choreographed offense and defence. Forwards Kavya Dwivedi and Reena Patil were especially superb on the offensive glass, grabbing 12 rebounds and more importantly, giving UP additional shot opportunities. Their effort contributed in UP being able to put up 77 field goal attempts as against Kerala's 62.
Kerala's star forward Sreekala, who otherwise easily scores in the high twenties, was restricted to 15 points by UP guard Shreyasi Vats, who had 15 points of her own.   But the most notable performance of the night came from none other than youth India player Vaishnavi Yadav. Yadav seems to relish the big occasion and tonight brought out her full repertoire of offensive moves. From behind the back dribbles at full flight, spin moves, drives into the paint and step back threes off the dribble in isolation, Yadav could do no wrong. With 41 points, 11 rebounds, 5 steals and 6 assists, Yadav was the difference between the two sides. It now remains to be seen what the finals can bring out of her.
Semis 4: Kerala boys bt Rajasthan 92-86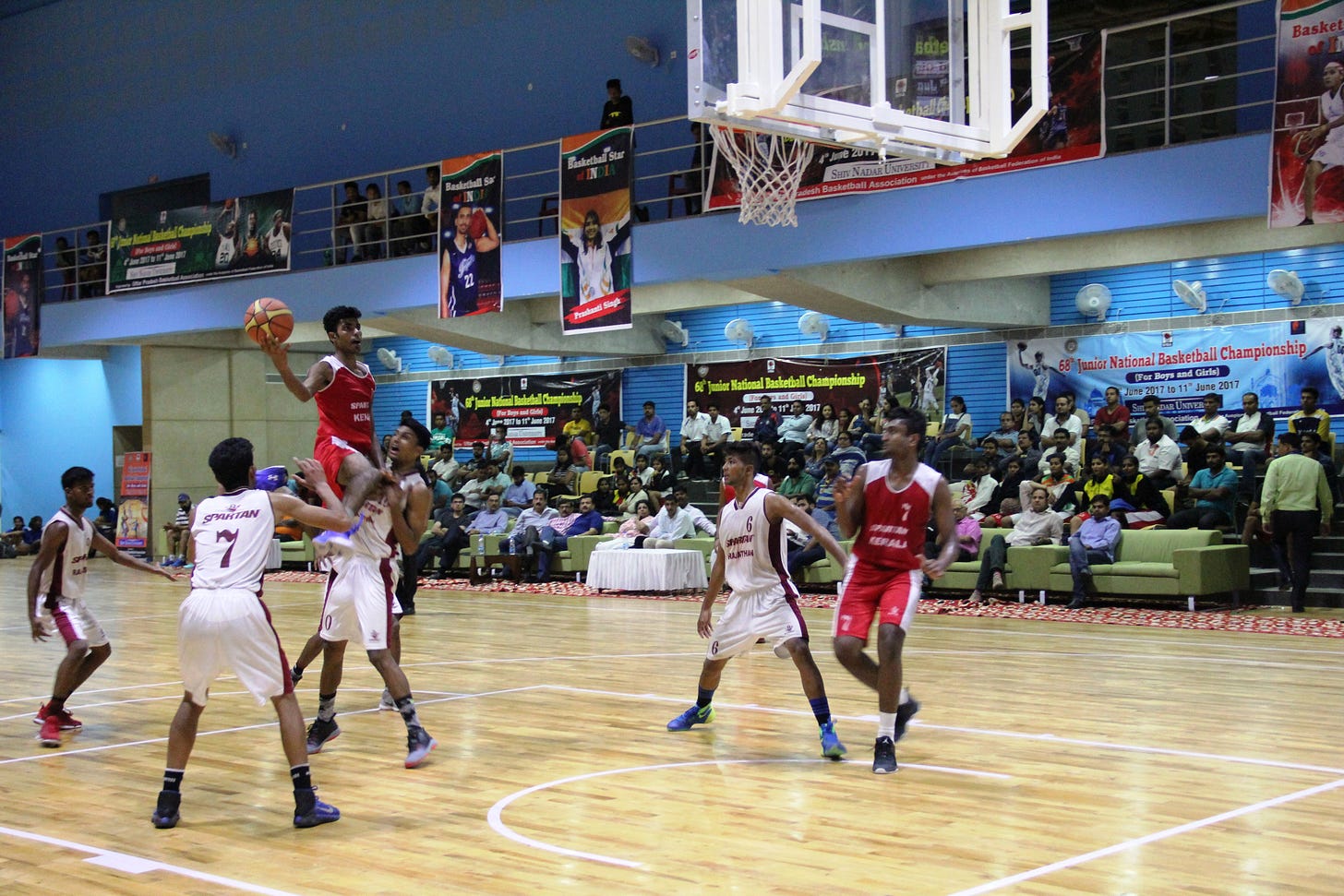 Kerala forward Amal Reghu shone in the clutch to take his side past Rajasthan in the boys semifinals. Image credits: Basketball Federation of India
Kerala boys showed nerves of steel to come back from behind and beat Rajasthan in the most exciting semifinals of the night. Trailing early in the fourth quarter, it appeared that all the momentum was shifting Rajasthan's way, before Kerala's Amal Reghu brought his team roaring back in the final few minutes.
Back and forth action was seen right from the opening tip off, as Rajasthan was able to negate the size advantage of Kerala through its stirring speed in counter attacks. Rajasthan had 27 second chance points against Kerala's 16 and four of its players scored in double digits. But like Kerala has shown in earlier matches, its ability to be consistent right through four quarters and stick to its game plan, rattled its opponent into crucial mistakes down the stretch. Within minutes, Kerala had converted a six deficit into a double digit lead and Rajasthan were left wondering as to how they had ended up so near yet so far.
Results from 10
th
June 2017
Women:
Semifinals
Tamil Nadu (M Nishanthi 23, S Pushpa 14, J Ishwarya 10) bt Karnataka (Sanjana Ramesh 20, Harshitha K 11) 60-47 (16-8, 14-16, 20-11, 10-12)

Uttar Pradesh (Vaishnavi Yadav 41, Shreyasi Vats 15, Shivani Gupta 10) bt Kerala (Sreekala R 15, Aneesha Cleetus 13, Jayalakshmi VJ 9) 75-61 (16-9, 22-27, 19-14, 18-11)
Classification for 5th & 6th Places
Chhattisgarh (Gulabsha Ali 31, Megha Singh 21) bt Punjab (Sakshi Sharma 23, Prabhjot Kaur 23) 78-58 (17-19, 20-9, 21-12, 20-18)
Classification for 7th & 8th Places
Maharashtra (Shruti Sherigar 21, Shreya Dandekar 10) bt Madhya Pradesh (Namrata Hooda 23, Shruti B 8) 73-52 (16-15, 24-5, 11-16, 22-16)
Classification for 5th to 8th Places
Chhattisgarh (Gulabsha Ali 36, Megha Singh 11) bt Maharashtra (Shruti Sherigar 19, Sakshi Kotian 14) 75-49 (25-10, 20-8, 16-20, 14-11)

Punjab (Sakshi Sharma 14, Prabhjot Kaur 14, Rajandeep Kaur 12) bt Madhya Pradesh (Vanshita Goswami 17) 48-47 (6-11, 12-13, 16-8, 14-15)
Classification for 9th & 10th Places
Gujarat (Hetushree Sorathiya 13, Ria Dubey 12) bt Rajasthan (Yashika Singhal 11, Kanika Singh Rajawat 8) 53-41 (20-7, 13-19, 18-8, 2-7)
Men:
Semifinals
Punjab (Mandeep Singh 18, Princepal Singh 15, Kanwar Gurbaz Singh 12, Gurwinder Singh 11) bt Tamil Nadu (Shanmugam M 21, Praveen Kumar 8, Sheldin Rashan 8) 70-54 (16-11, 19-15, 18-15, 17-13)

Kerala (Amal Reghu 35, Joshua George 29, Md Shiraj 10) bt Rajasthan (Sumeet Kumar 25, Rajeev Kumar 24, Ashish Trivedi 17, Abbas Ali 11) 92-86 (21-15, 12-23, 33-29, 26-19)
Classification for 5th & 6th Places
Haryana (Naveen Kumar 35, Rinku 30, Sachin 12) bt Maharashtra (Faisal Khan 26, Danish Qureshi 25, Hitesh Bapna 13) 99-94 (33-18, 8-12, 10-22, 24-23, 24-19)
Classification for 7th & 8th Places
Delhi (Aditya Singh 22, Manik Hooda 19) bt Chandigarh (Amit Hooda 21, Amit Kumar 11) 60-53 (19-4, 15-13, 10-16, 16-20)
Classification for 5th to 8th Places
Haryana (Sachin 26, Abhimanyu 15, Rinku 14) bt Chandigarh (Anuj Soni 19, Amit 18, Rahul 12) 70-66 (19-21, 17-14, 19-18, 15-13)

Maharashtra (Faisal Khan 17, Hitesh Bapna 10, Danish Qureshi 7) Delhi (Nitish Beniwal 12, Manik Hooda 9, Aditya Singh 9) 60-45 (16-15, 18-10, 13-12, 13-8)
Classification for 9th & 10th Places
Uttar Pradesh (Prasun Mishra 14, Shivendra Pandey 12, Amit Singh 10, Bhagyansh Gulati 10) bt Madhya Pradesh (Yogesh Jadoun 15, Vishwjeet Choudhary 12) 72-39 (23-10, 16-8, 14-13, 18-8)