Discover more from Ekalavyas | Basketball
Welcome to Ekalavyas, the pioneering publication dedicated to unearthing the world of international basketball, from an Indian perspective!
Over 3,000 subscribers
TN girls and Punjab boys crowned champs of the 34th Youth Nationals
Hyderabad, 8th July 2017:  Tamil Nadu girls and Punjab boys have been crowned champions of the 34th Youth National Basketball Championship for Boys and Girls got underway at the Indoor Stadium, Gachibowli in Hyderabad.
The Championship was organized by the Hyderabad District Basketball Association under the aegis of the Telangana Basketball Association and the Basketball Federation of India.
Final Standings
Standings Girls Boys 1 Tamil Nadu Punjab 2 Karnataka Madhya Pradesh 3 Kerala Andhra Pradesh 4 Uttar Pradesh Haryana 5 Chhattisgarh Uttar Pradesh 6 Punjab Kerala 7 Maharashtra Karnataka 8 Madhya Pradesh Tamil Nadu 9 Haryana Maharashtra 10 West Bengal Rajasthan
Prize & Souvenir Distribution ceremony
For the prize and souvenir distribution ceremony, Shri G Kishan Reddy (MLA & Floor Leader, BJLP, Telangana) was the chief guest and Dr V Ragothaman was the guest of honour.
Shri M Rajender Reddy, President, Telangana Basketball Association, released the Championship souvenir.
The top three teams received trophies and medals. Individual players were also awarded in the following two categories:
Most Valuable Player: Girls- Sanjana Ramesh, Karnataka; Boys- Princepal Singh, Punjab

Most Promising Player: Girls- Arya Sreeramaneni, Telangana; Boys- Divyaraj Singh Rathore, Madhya Pradesh

Special Best Player Awards conferred by Ms P Padmaja, former Railways player

Girls- Monica Jayaseeli, Tamil Nadu (In the memory of Smt Anbumani, Ms Padmaja's mother)

Boys- A Sai Pavan Kumar, Andhra Pradesh (in the memory of Ms Padmaja's former Coach and mentor, the late Shri TVSN Prasad, former General Secretary of Andhra Pradesh Basketball Association (APBA) and Executive Member of the BFI).
Tamil Nadu bt Kerala 70-53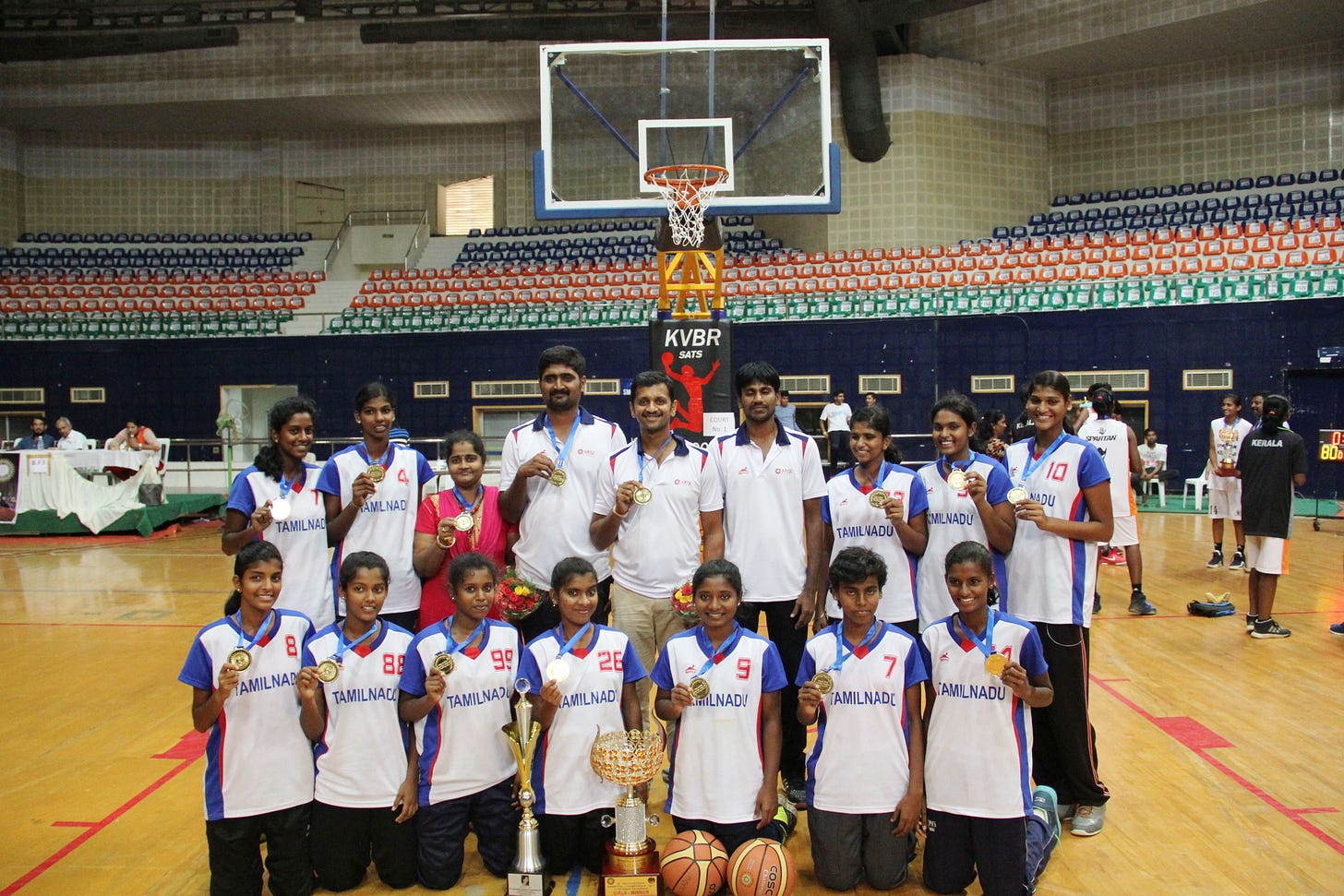 Girls Winners - Tamil Nadu. Image credits: Basketball Federation of India
The two undefeated teams from the league phase finally faced off in the summit clash earlier this afternoon.
Karnataka girls started off well taking an early lead. Karnataka centre Sanjana Ramesh made her intentions clear with a big block on rival centre Pushpa. Karnataka guard Grishma then followed with a  lovely left hand in and out hesitation drive then ended up with the perfect running left hand floater, while back up guard Nidhi Chaudhari followed with a three of her own. But soon things evened out as TN sized Karnataka's zone defence and began regularly beating them to the basket. TN also got going in transition and the scores at the end of the first quarter read 18-14 in favour of TN.
The second quarter began with Tamil Nadu Coach R Delhi Raj constantly urging his team to play faster knowing that Karnataka was fielding a bigger, slower line up. His players responded with a flurry of baskets in the paint as they raked up a 25-14 lead. Karnataka continued to hurt from a lack of transition defence and soon TN's lead had ballooned to 37-23 at halftime.
Sanjana Ramesh, who would be named MVP of the Championship, did a great job defensively with 6 blocks and 19 rebounds, but was contained to just 9 points offensively. With Sanjana being closely guarded, it was left to her teammates to contribute. However, Reshma Ramesh's 16 points and Anagha Nagarajan's 10 paled in comparison to Tamil Nadu's duo of Monica Jayaseeli (24 points) and Pushpa (20 points). Pushpa, in particular, stood out for her defence on Sanjana and her 11 offensive rebounds led to multiple key second chance opportunities.
Punjab bt Madhya Pradesh 80-77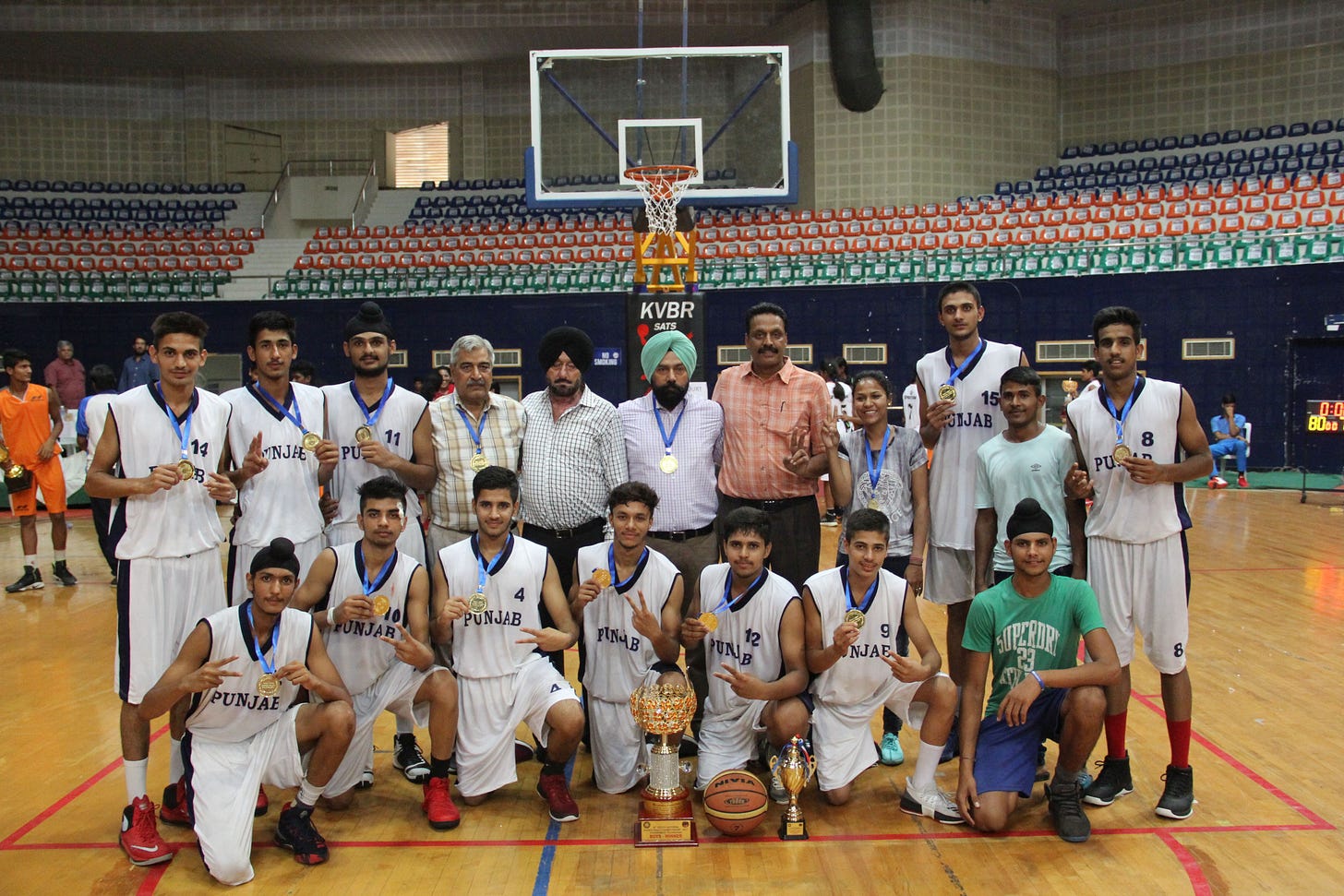 Boys Winners - Punjab. Image credits: Basketball Federation of India
What was expected to be a fairly one sided contest turned into an exciting cliffhanger. Madhya Pradesh, having come up all the way from lower Level 2 to reach the finals, have been playing inspired basketball. Today they were literally facing their biggest challenge yet in the form of Punjab centre Princepal Singh. Standing at 6ft 10.5 inches, Princepal has been dominating all past opponents. So MP Coach Kulvinder Singh needed to think out of the box to contain the teenage giant who has improved leaps and bounds after joining the NBA Academy, Noida and is already the best player in the U18 circuit.
The MP team is a unique line up in the sense that it comprises all guards and forwards with no real centre to match Princepal. Aware of these limitations, Coach Kulvinder made his team to play an up-tempo offence and take Princepal's size out of the equation. His wards responded beautifully with multiple fast break points. Against a set half court offense, guard Divyaraj Singh Rathore and forward Amit Singh Chauhan were able to convert on some tough high arcing floaters and baseline jumpers so that by the end of the first quarter, MP was trailing only by 1 point, 18-19.
In the second quarter, Divyaraj hit a couple of big threes, with MP simultaneously double teaming Princepal on defence. Princepal kept making the right play of identifying the double teams and dishing it out to his teammates on the perimeter. But guard Rajan and Akashdeep were unable to get going initially despite getting wide open looks. Now MP led 29-23 and the temperamental Princepal began showing signs of frustration. Late in Q2, Punjab's role players finally showed some form with Akashdeep hitting two back to back threes to take Punjab back up 33-30. The teams then traded buckets right up to the halftime buzzer, with Punjab leading 38-37, going into the third quarter.
Entering Q3, MP starter Amit Singh got fouled out within the first 5 minutes. His unfazed teammates stuck to their guns and kept drawing out Princepal to the perimeter and scoring in the paint. Punjab then started routing its offence through forward Harsimranjit who responded with some big baskets around the hoop.
Late in the fourth quarter, the scores were 73-75 with MP in the lead, before yet another MP starter, Shunit Singh too got fouled out. Punjab point guard Mani Singh, who had been largely ineffective till this point then made two big freethrows to give his team a two point lead. On the other end Udayveer Yadav countered with an acrobatic finish that tied the game at 77-77 with around 20 seconds remaining. On the other end, Princepal got fouled and converted both his clutch freethrows to take his side back up by two.  MP were unable to score in the ensuing possession as Mani Singh closed out the 80-77 win with another made freethrow.
Results from Day 8 (8
th
July 2017)
Girls
Finals
Tamil Nadu (Monica Jayaseeli 23, Pushpa 20, Pavithra 12) bt Karnataka (Reshma Ramesh 18, Anagha Nagarajan 10, Sanjana Ramesh 9) 70-53 [18-14, 19-9, 16-14, 17-16]
3-4 Place Match
Kerala (An Mariya Johny 17, Ann Mary Zachariah 16) bt Uttar Pradesh (Vrinda Garg 10, Tripti Singh 9) 58-47 [16-7, 9-7, 17-13, 16-20]
Boys
Finals
Punjab (Princepal Singh 25, Rajan 18, Harsimranjit Singh 16, Akashdeep Sharma 12) bt Madhya Pradesh (Divyaraj Singh Rathore 28, Udayveer Yadav 20, Mani Thakur 8) 80-77 [19-18, 19-19, 20-21, 22-19]
3-4 Place Match
Andhra Pradesh (A Sai Pavan 21, S V V Sai Krishna 17, M Mani Kanta 11) bt Haryana (Anil 20, Mukesh 17, Kapil Mor 17) 72-68 [15-16, 14-21, 25-11, 18-20]