Discover more from Ekalavyas | Basketball
Welcome to Ekalavyas, the pioneering publication dedicated to unearthing the world of international basketball, from an Indian perspective!
Over 3,000 subscribers
Team ONGC all set to participate in the FIBA Asia Champions Cup 2017
The FIBA Asia Champions Cup 2017, Asia's premier basketball club competition, will take place in Chenzhou-Hunan, China from 22-30 September.

Ten (10) Asian clubs will participate in this event, including teams from China, Chinese Taipei, Japan, Lebanon, Palestine, Iran, India, Thailand, Kazakhstan and UAE.

ONGC is in Group B alongside Al Riyadi - Lebanon , Al Ahli - Dubai, China Kashgar, Taipei Dacin Tigers. The top four (4) teams in each group will advance to the Quarter-Finals.

ONGC team will be opening their campaign against the Taipei Dacin Tigers on 22nd September at 1430 local time(1200 IST).

China Kashgar are the defending champions of the FIBA Asia Champions Cup.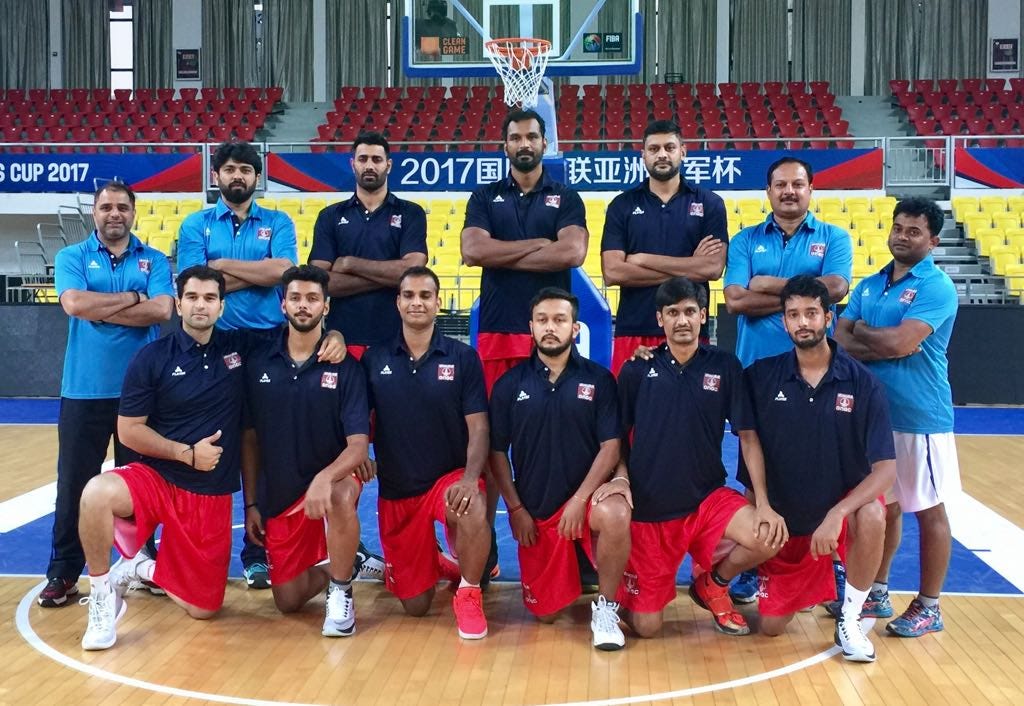 The ONGC roster in China for the FIBA Asia Champions Cup 2017. Image credits: Basketball Federation of India Bengaluru/Chenzhou, 21st September 2017: Team ONGC is all set to participate in the FIBA Asia Champions Cup 2017, which will be held from 22-30 September at the Chenzhou Sports Complex, Chenzhou, Hunan, China. The ONGC team will be lead by the veteran Indian wingman Vishesh Bhriguvanshi alongside a few other significant experienced players like Yadwinder Singh, Muraleekrishna Ravindran, Arjun Singh and Riyaz Uddin. The team will surely miss its star Centre Amritpal Singh who is currently playing for the Sydney Kings in the NBL. The rest of the team comprises  Mohit Bhandari, Vinay Dabas, Anoop Mukkanniyil, Abhishek Rai and Udaibhan Singh Rawat. ONGC will be opening their campaign against the Taipei Dacin Tigers on 22nd September at 1430 local time(1200 IST) followed by games against China Kashgar(24th September 1930 local time/1700 IST), Al Riyadi (25th September 2130 local time/1900 IST) and Al Ahli (26th September 1430 local time/1200 IST). ONGC were drawn into Group B together with Al Ahli of UAE, Al Riyadi of Lebanon, Dacin Tigers of Chinese Taipei and defending champions China Kashgar. The top four teams in each group will move on to the knockout Quarter-Finals, where the winners will advance to the Semi-Finals. The winners of the Semi-Finals will compete for the FIBA Asia Champions Cup 2017 crown in the Final. ONGC fell short of making it past the group phase in last year's Champions Cup, losing all their three games, but they are aiming for a higher finish this time around. For further updates and news, you can also check the official event website: www.fiba.basketball/asiachampionscup/2017  
ONGC India roster for FIBA Asia Champions Cup 2017
Jersey No. Family Name(s) / Last Name First Name(s) / Given Name Date of Birth (dd/mm/yyyy) Place of Birth (City and State) Height (cm) (ft & inches) Weight (kg) Position 4 RAI Abhishek 16/12/1995 Varanasi U.P. 186(6'1") 74 G 8 MUKKANNIYIL Anoop 30/05/1986 Kozhikode Kerela 198(6'5") 96 C 9 BHRIGUVANSHI Vishesh 13/09/1991 Varanasi U.P. 192(6'3") 91 SG 10 SINGH Yadwinwer 30/12/1986 Rasulpur Khurd Haryana 198(6'5") 94 PF 11 BHANDARI Mohit 22/11/1981 Bhilwara Rajasthan 186(6'1") 66 SG 13 UDDIN Riyaz 22/06/1981 Bhopal M.P. 186(6'1") 88 PG 14 RAVINDRAN Muraleekrishna 25/02/1979 Karuvatta Cereal 203(6'6.6") 112 C 24 DABAS Vinay 12/07/1990 Kanjhawala Delhi 186(6'1") 84 G 88 SINGH Arjun 08/06/1992 Varanasi U.P. 186(6'1") 73 PG 99 RAWAT Udaibhan Singh 06/05/1991 Haldwani Uttarakhand 174(5'7") 76 PG
Team Manager Mr. Vikas TOMAR Coach Mr. Trideep RAI Assistant Coach Mr. Dinesh KUMAR Official Dr. Raj Kumar DUBEY Physiotherapist Mr. Aftab AHMED