Discover more from Ekalavyas | Basketball
Welcome to Ekalavyas, the pioneering publication dedicated to unearthing the world of international basketball, from an Indian perspective!
Over 3,000 subscribers
Team India all set to take on Jordan and Lebanon for the FIBA World Cup Qualifiers at home in Sree Kanteerava Stadium, Bengaluru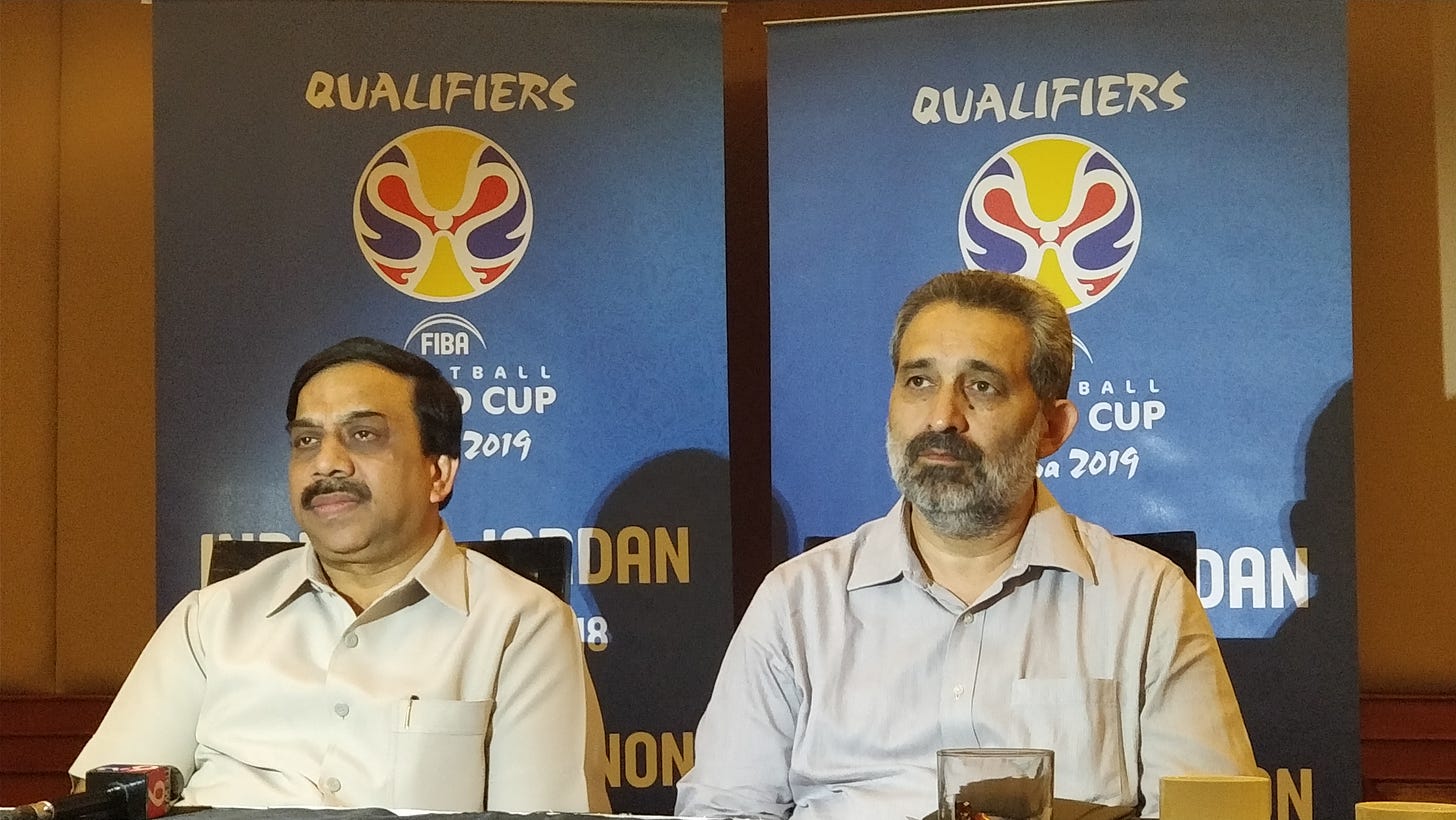 Basketball Federation of India President Mr. K Govindaraj and Secretary General Mr. Chander Mukhi Sharma at the press conference. Image credits: Basketball Federation of India
Bengaluru, 17th February 2018: Preparations for the prestigious FIBA World Cup Asian Qualifiers window-2 are in full swing. At a press conference this afternoon at Bengaluru, BFI President K. Govindaraj and Secretary General Chander Mukhi Sharma provided the details of FIBA's event for the upcoming matches.
India was drawn in Group C for the First Round of the 2019 World Cup's Asian Qualifiers, along with Syria, Lebanon, and Jordan.
India's first two qualifying games were against Lebanon which India lost 72-107 on November 23, 2017, in Lebanon. India lost 57-74 to Syria in Bengaluru on November 26, 2017.
Now India meets Jordan on Feb 23, 2018 and faces Lebanon on February 26, 2018, both matches being played at the Sri Kanteerava Indoor Stadium in Bengaluru.
India plays Syria in Syria on June 28, 2018, and meet Jordan in Jordan on July 1, 2018, to complete their first round fixtures.
All four teams in group C have played two matches. Jordan has won both while Lebanon and Syria have lost one and won one match each. India has lost both games so far.
Free entry for everyone for both the games
" After looking at the enthusiasm of the fans in the previous events we have decided to open up the gates for all the basketball fans. Providing free entry will be a great opportunity for all the school children in Bangalore to witness basketball played on the highest level." - K Govindaraj
The city of Bengaluru has now hosted three international FIBA events in the last calendar year. Just like the Women's Asia Cup and the window-1 FIBA World Cup Qualifier game against Syria which drew huge crowds, it is expected that the upcoming matches too will be a big boost not just for the city but also the state of Karnataka and the country.
BFI President K Govindaraj after looking at the enthusiasm of the fans in the previous events has decided to open up the gates for all the basketball fans in Bengaluru and from all over India.
Full support provided to the Indian team
To qualify for the Second Round, India has to finish amongst the top three of their group.  It is still not over for India as they remain in contention what with four more games in hand. Results of other matches will also have a bearing no doubt. But we can perform better and hope to finish among the top three.
Jordan FIBA World rank 43, Asia No 7.
Lebanon FIBA World rank 54, Asia No 9.
India FIBA World rank is 64, Asia No 11.
Syria FIBA World rank is 93, Asia No 16.
If you consider rankings, India has a realistic chance of making the second round.
The Second Round will be held between September 2018 to February 2019. Each group will have six teams and should we qualify, we will have to finish among the top three from each group of six will qualify for the 2019 World Championship in China to be held during August/September 2019 with the best fourth-placed team (both groups included). The top seven teams will make it to China.
Jordan and Lebanon have some exciting players in their line-up. Both matches will be very exciting from the spectators' point of view.
The National Coaching Camp in preparation for both the games has been going on since 1st February at Sree Kanteerava Stadium in Bengaluru. Out of a total of 35 campers, the final roster of 12 players for the World Cup Qualifiers was announced yesterday based on a two-day long selection trials procedure held on 15th and 16th February.
Team India Roster:
Sr. No                     NAME         STATE Position 1 Ravi Bhardwaj Chandigarh F 2 Arvind Arumugam Karnataka F 3 Satnam Singh Punjab C 4 Arshpreet Singh Bhullar Punjab G/F 5 A Aravind Tamil Nadu F/C 6 P Akilan Tamil Nadu PG 7 J Justin Tamil Nadu G 8 P Jeevanantham Tamil Nadu F 9 Yadwinder Singh Uttarakhand F 10 Joginder Singh Services PG 11 Amritpal Singh Australia / Punjab C 12 Amjyot Singh USA / Punjab F
Please note that Lovneet Singh Atwal from Indian Railways will be replacing Akilan Pari of Tamil Nadu for the game against Lebanon on 26th February.

Head Coach: Rajinder Singh, Assistant Coaches: GRL Prasad and H Lalding Sanga .