Discover more from Ekalavyas | Basketball
Welcome to Ekalavyas, the pioneering publication dedicated to unearthing the world of international basketball, from an Indian perspective!
Over 3,000 subscribers
Team India set to depart for Australia in preparation for the 2018 Commonwealth Games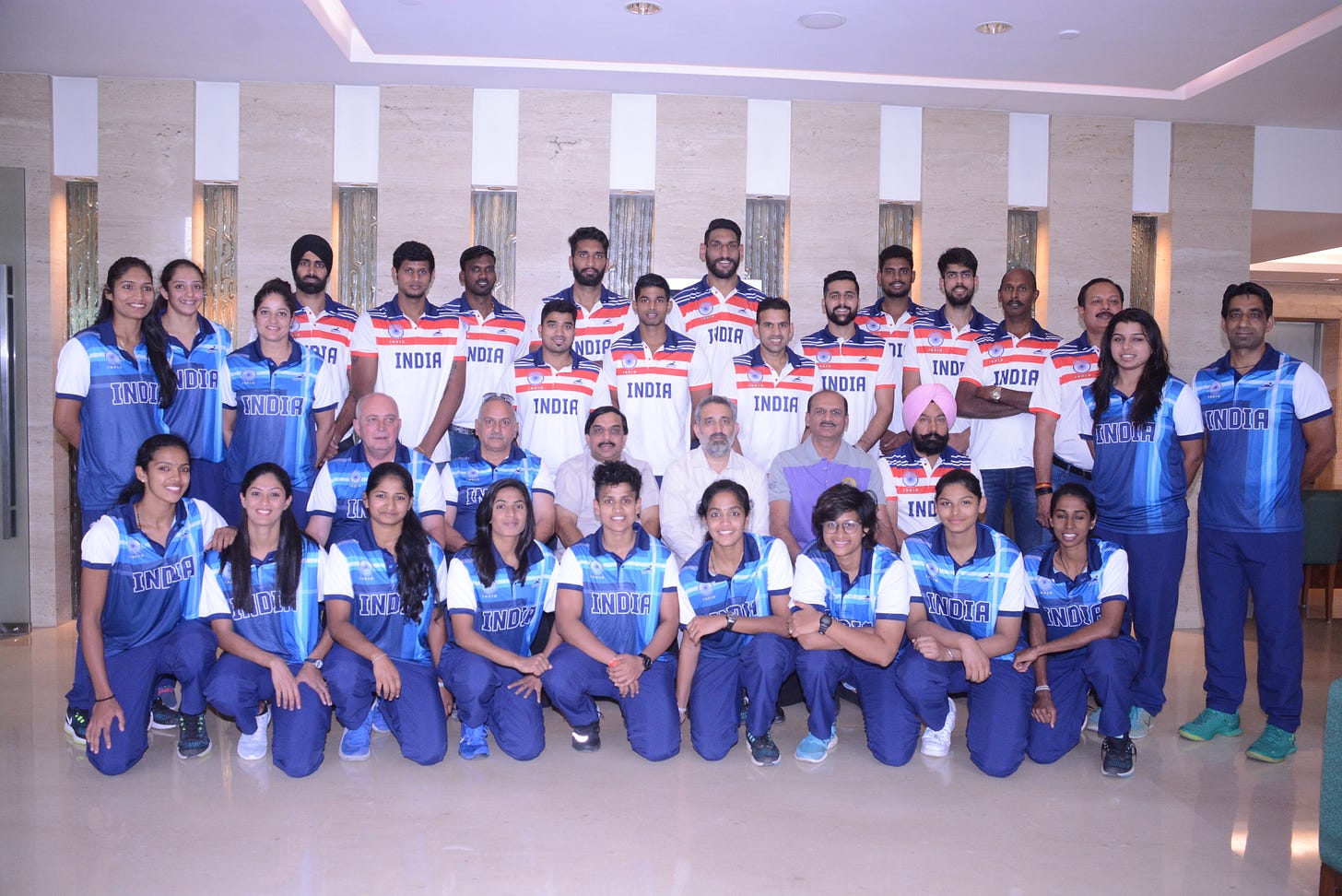 Team India's basketball contingent for the 2018 Commonwealth Games. Image credits: Basketball Federation of India
Bengaluru, 12th March 2018: The Indian Men and Women Basketball Teams will depart for Australia in preparation for the Gold Coast 2018 Commonwealth Games on Monday(12/03/2018) morning being held in Gold Coast, Queensland, Australia from 4th to 15 April 2018. The Gold Coast 2018 Commonwealth Games (GC2018) will welcome more than 6,600 athletes and team officials from 70 Commonwealth nations and territories to the Gold Coast and event cities Brisbane, Cairns, and Townsville, to share in the celebration of sport, entertainment, and culture. The largest sporting event to be staged in Australia this decade, GC2018 will feature the largest integrated sports program in Commonwealth Games history, comprising 18 sports and seven para-sports.
The Indian basketball contingent will arrive in Gold Coast three weeks ahead of the start of the main event. Indian players will be on a exposers trip in the Runaway Bay Super Sports Centre where they will continue their training that was previously going on at the Sree Kanteerava Indoor Stadium, Bengaluru, India since 1st February 2018. This will be only the second time since 2006 that basketball is a part of the commonwealth games again.
Yadwinder Singh was announced as captain of the Men's Team, he is the only player for India who will be playing in his second Commonwealth Games. Shireen Limaye was selected as the captain of the Women's Team. The Men's Team is in Pool B alongside England, Cameroon and Scotland whereas the Women's Team are in Pool B alongside New Zealand, Jamaica, and Malaysia.
Preliminary Round:
Men's Team Schedule:
India Vs Jamaica (5th April, Townsville)

India Vs England (7th April, Townsville)

India Vs Scotland (8th April, Townsville)
Women's Team Schedule:
India Vs Jamaica (5th April, Cairns)

India Vs Malaysia (7th April, Cairns)

India Vs New Zealand (8th April, Cairns)
The final rosters for both the Teams are:
INDIAN SR. WOMEN' S TEAM – CWG 2018
Sr. No. NAMES STATE Position 1 Shruti Menon IR SG/SF 2 Madhu Kumari IR PG 3 Navaneetha PU IR PF 4 R Rajapriyadarshini IR C 5 Raspreet Sidhu Delhi SG 6 Bhandavya HM Karnataka SG 7 Grima Merlin Varghese Kerala SG 8 Anjana PG Kerala SF 9 Jeena Scaria Kerala PF 10 Shireen Limaye Maharashtra SF 11 Anmolpreet Kaur Japan / Punjab C 12 Barkha Sonkar USA / Uttar Pradesh PG 13 Zoran Visic (Head Coach) 14 Shiba Maggon (Coach) 15 Ranjan Sharma (Physiotherapist) 16 Ajay Sud (Manager)
INDIAN SR. MEN' S TEAM – CWG 2018
Sr. No. NAMES STATE Position 1 Ravi Bhardwaj Chandigarh F 2 Arvind Arumugam Karnataka F 3 Satnam Singh Punjab C 4 Arshpreet Singh Bhullar Punjab G/F 5 A Aravind Tamil Nadu F/C 6 P Akilan Tamil Nadu PG 7 J Justin G Tamil Nadu G 8 P Jeevanantham Tamil Nadu F 9 Yadwinder Singh Uttarakhand F 10 Joginder Singh Services PG 11 Amritpal Singh Australia / Punjab C 12 Amjyot Singh USA / Punjab F 13 Rajinder Singh (Head Coach) 14 GRL Prasad (Head Coach) 15 Rajkumar Dubey (Physiotherapist) 16 Shakti Singh Gohil (Manager)