Discover more from Ekalavyas | Basketball
Welcome to Ekalavyas, the pioneering publication dedicated to unearthing the world of international basketball, from an Indian perspective!
Over 3,000 subscribers
Tamil Nadu girls and Punjab boys crowned champions at the 68th Junior Nationals
Noida, 11th June 2017: The 68th Junior National Basketball Championship has concluded at Shiv Nadar University, with Tamil Nadu girls and Punjab boys being crowned champions.
The winners received Rs 1,00,000/-, first runners up received Rs 75,000/- while the second runners up got Rs 50,000/-, from Chief Guest Archana Ramasundaram, DG of the Sashastra Seema Bal (SSB). Mr Chander Mukhi Sharma, Secretary General of the Basketball Federation of India, Dr Mrs Seema Sharma, President, UP Basketball Association (UPBA); Mr Alok Sharma, Additional Director General, Sashastra Seema Bal and patron of the UPBA and Mr Bhupendra Shahi, Hon. Secretary, UPBA.
Finals 1: Tamil Nadu girls bt Uttar Pradesh 69-63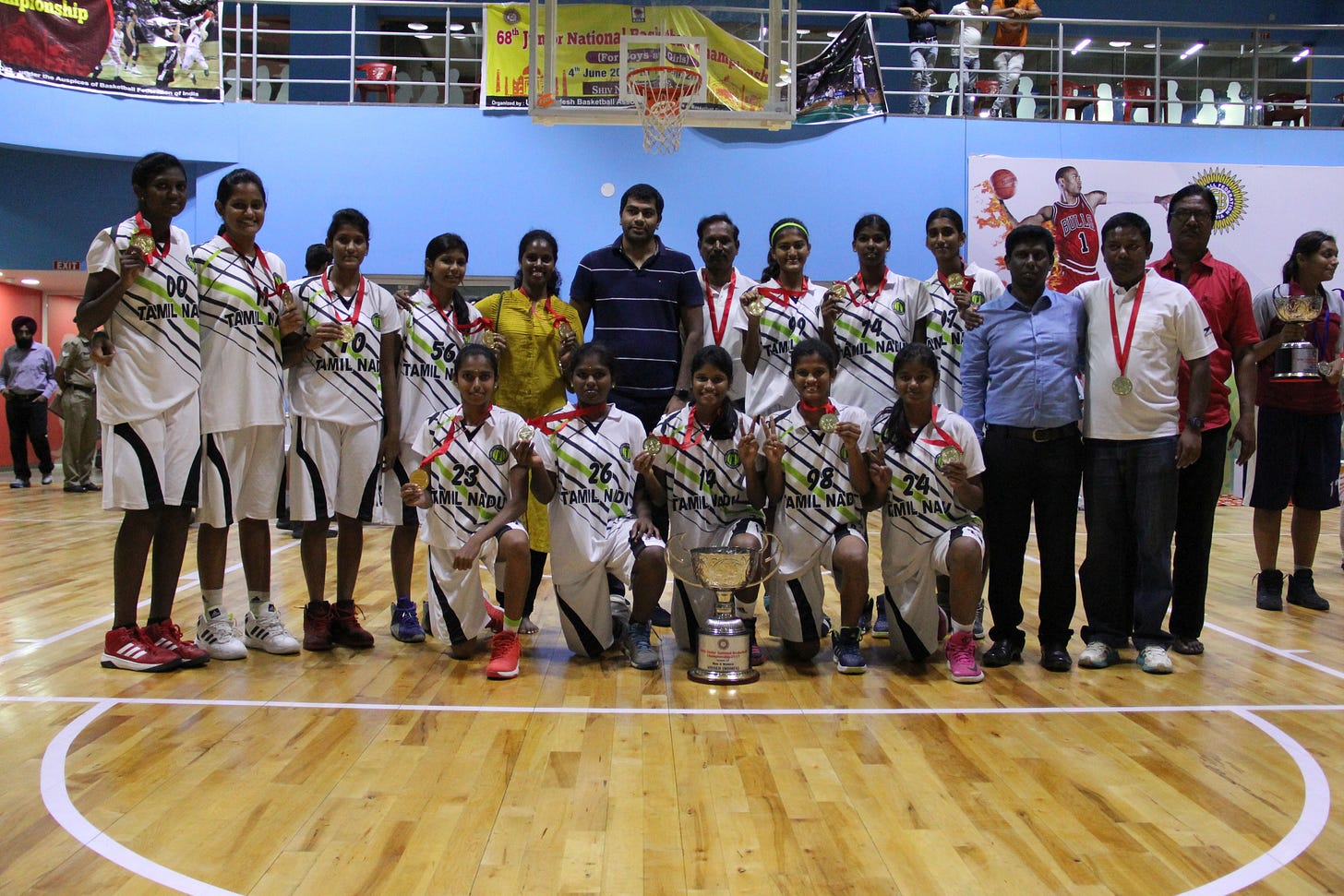 Junior women's champs Tamil Nadu. Image credits: Basketball Federation of India
Having created history by reaching the finale for the first time ever, Uttar Pradesh junior women seemed to continue from where they left off in the semis. Scorching hot in the first five minutes, UP showcased its full offensive repertoire. Initially guard Shreyasi Vats got two impossible hook shots to sail through the net, which was then inevitably followed by international scoring forward Vaishnavi Yadav taking over with some penetrating drives and a step back three. UP led early, and defensively, did a great job getting bodies on Tamil Nadu's starting centre S Pushpa. With Pushpa constantly double teamed down low, it was left to international forward Srishti Suren to capitalize as she got some mid range jumpers to fall. At the end of the first quarter, Uttar Pradesh held a 20-16 lead.
The second quarter saw sloppy play from both teams as they turned the ball over repeatedly. Tamil Nadu's international point guard M Nishanthi was guilty of missing easy layups. UP took advantage, as Vaishnavi continued her blistering pace of scoring, including a awe-inspiring baseline eurostep finishing with a smart left hand layup. By halftime, UP had doubled its lead to 8 points, 34-26.
The error prone TN side finally got into a rhythm post the halftime break. With its defence clamping down, UP was unable to score on repeated possessions and a three pointer by TN's Amritha tied the game at 36 all. TN centre Pushpa followed that up with her own offensive onslaught, finally breaking free from the shackles imposed on her by rival forwards Kavya Dwivedi and Reena Patel. At the end of the third quarter the tide had turned as it was Tamil Nadu which now led 46-43. UP had been restricted to just 9 points in the entire period.
With the final 10 minutes to go, it was anybody's game, as rival point guards Nishanthi of TN and Shivani Gupta of UP traded threes. UP decided to substitute the taller Reena Patel for the smaller Aditi Singh, and that's when things started to go downhill for the hosts. Despite Aditi's best efforts, TN centre Pushpa was too much to handle for her, as TN started collecting multiple offensive rebounds. This in turn led to second chance opportunities as Nishanthi and Amritha knocked down shots from beyond the arc to make it a 9 point game with 40 seconds left. Even for a talented scorer like UP's Vaishnavi Yadav, that lead turned out to be too much to overturn, as UP fell marginally short in the end.
Finals 2: Punjab boys bt Kerala 100-82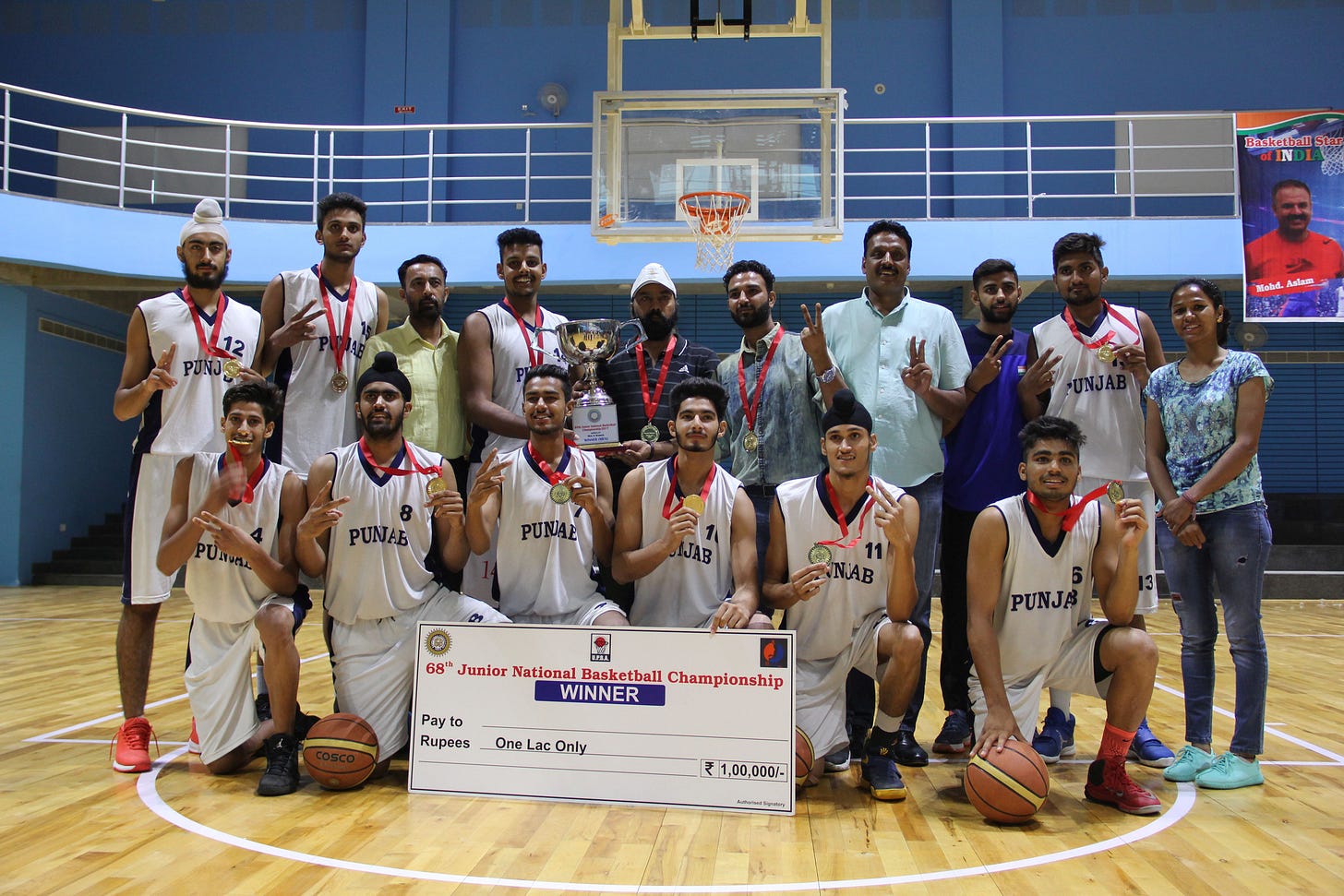 Junior men's champs Punjab. Image credits: Basketball Federation of India
In a much anticipated finale, the two strongest junior men's teams faced off for the ultimate prize of being crowned national champions. This game featured elite matchups across multiple positions, notably, shooting guard (Punjab's Kanwar Gurbaz Sandhu vs Amal Reghu), small forward (Mandeep Singh vs Joshua George), power forward (Swapnil Sharma vs Md Shiraj) and centre (Princepal Singh vs Sejin Mathew.
Kerala captain Md Shiraj started strong, scoring the first 8 points for his team. On the other end Mandeep returned the favour, as Punjab quickly raced to an 18-8 lead. Down in the post, the wiry leaper Sejin was making his presence felt against the 6ft 10 inch giant Princepal posting a mammoth block that pumped him up and antagonised Princepal in equal measure.
While Princepal was momentarily taken out at the start of the second quarter, his teammates continued to score with ease, building a 35-20 point lead midway through Q2. With Swapnil having limited impact against Shiraj, backup forward Vinay Sharma played some valuables minutes scoring 7 points in quick time. Punjab led 42-22 with a little over three minutes remaining for halftime, and Kerala needed to make drastic alterations on the defensive end in order to make this a fighting contest. Sensing just this, Kerala Coach Sandeep made his players switch to a full court press defence which paid immediate dividends. Punjab were rushed into numerous turnovers as Kerala closed out the final few minutes of the second quarter on a 13-0 run to trail 35-42 going into halftime.
But as Q3 began, it was clear that Kerala had lost all its steam, as Punjab regained full control of proceedings. With Kerala's half court offence stuttering, it was forced to overly rely on the individual hustle and determination of forward Joshua George. While Joshua battled hard, his one man effort did little to contain Mandeep on the other end. Mandeep, along with point guard Gurwinder ran the pick and roll with centre Princepal Singh, to perfection. The play resulted in either open looks for Gurwinder, driving lanes for Mandeep or else a chance for Princepal to score in the paint or from the line.
As the match neared the final buzzer, Punjab just ran away with it, touching 100 points for good measure.
Results from 11
th
June 2017
Women:
Finals
Tamil Nadu (S Pushpa 25, M Nishanthi 15, T Darshini 10) bt Uttar Pradesh (Vaishnavi Yadav 41, Shivani Gupta 9) 69-63 (16-20, 10-14, 20-9, 23-20)
Classification for 3rd & 4th Places
Kerala (Sreekala R 42) bt Karnataka (Sanjana Ramesh 12, Aishwarya VB 11) 68-52 (10-9, 22-18, 21-18, 15-17)
Men:
Finals
Punjab (Mandeep Singh 33, Gurwinder Singh 27, Princepal Singh 12) bt Kerala (Md Shiraj 22, Joshua George 20, Amal Reghu 16, Sejin Mathew 14) 100-82 (22-12, 20-23, 29-21, 29-26)
Classification for 3rd & 4th Places
Rajasthan (Rajeev Kumar 36, Ashish Trivedi 15, Sumeet Kumar 12) bt Tamil Nadu (Sheldin Rashan 18, Arvind Kumar M 16, Shanmugam M 13) 75-68 (18-18, 11, 24, 20-12, 26-14)
Final Standings
Standings Junior Women Junior Men 1 Tamil Nadu Punjab 2 Uttar Pradesh Kerala 3 Kerala Rajasthan 4 Karnataka Tamil Nadu 5 Chhattisgarh Haryana 6 Punjab Maharashtra 7 Maharashtra Delhi 8 Madhya Pradesh Chandigarh 9 Gujarat Uttar Pradesh 10 Rajasthan Madhya Pradesh