Discover more from Ekalavyas | Basketball
Welcome to Ekalavyas, the pioneering publication dedicated to unearthing the world of international basketball, from an Indian perspective!
Over 3,000 subscribers
Star studded Streetball League all set for auction night
Mumbai: 21st July, 2019: Streetball League is a first of its kind semi pro 3 on 3 basketball tournament in India. The idea behind the league comes from brothers and youth icons Rannvijay Singha & Harman Singha who are keen to make basketball the next big thing.
The owners of the teams in this league are known celebrities like actress and former Miss India Esha Gupta, dancer & choreographer Melvin Louis, Sana Khan, comedian Gursimran Khamba, former Miss India Universe Simran Kaur Mundi, MTV VJs Varun Sood & Divya Aggarwal and few other entrepreneurs.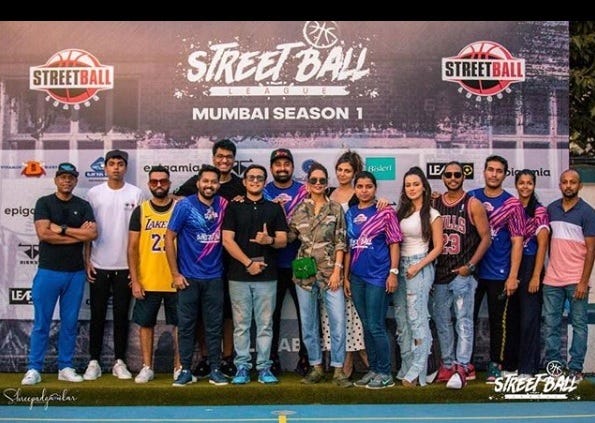 The Streetball League boasts of multiple well known celebrity owners and popular influencers such as Rannvijay Singha, comedian Gursimran Khamba, actor Esha Gupta, dancer Melvin Louis etc. Image via Streetball League's Instagram account.
The league has 12 men's teams and 4 women's teams. The format of the game is new and exciting, where the matches are of 24 minutes each divided in two halves with a new entry called "the clutch time" where the score gets doubled in the last two minutes in both halves.
Each team has seven players with one All Star player that the owner choses. Some of the biggest names in Indian basketball have already signed up, FIBA India Rank 1 Dhruv Barman being one of them.
All Star players have already been chosen and the remaining players on the squad will be picked through an action scheduled for later tonight.
https://www.instagram.com/p/Bx2kbz2HnUh/
"Basketball runs in my veins, both my parents were players of high caliber, learning a sport young was an integral part of growing up and I was lucky enough to always enjoy and play the game, Streetball is our way of spreading the love and joy of this game to all the youngsters out there," says Harman Singha.
The basketball movement in India has got new wings through the street ball league, at Leap Pro Sports we are proud to structure new innovative platforms in various sports and take them across India, says Pranav Premnarayen, Director of the League and also of Leap Pro Sports, the sports management company that has helped conceptualize the league.
"I dreamt of playing in the NBA since I was a child, I captained my college team to multiple championships and represented Delhi in the Nationals, due to the lack of infrastructure I couldn't pursue my love for the game further. Streetball is my way of making sure the new generation has the right platform to blossom from a player to a champion," Rannvijay Singha