Discover more from Ekalavyas | Basketball
Welcome to Ekalavyas, the pioneering publication dedicated to unearthing the world of international basketball, from an Indian perspective!
Over 3,000 subscribers
"I've been embraced as an Indian woman," Sonia Raman, first Indian Origin Female NBA Coach
Boston based Sonia Raman is a newly appointed Assistant Coach with NBA team Memphis Grizzlies ahead of the 2020-21 NBA Season.

Ms Raman is the first female NBA assistant coach of Indian origin, following in the footsteps of Vin Bhavnani (Oklahoma City Thunder) and Roy Rana (Sacramento Kings).

Ms Raman appeared as a guest on the season finale of Patel & Kumar talkshow on Youtube, on Thursday, 15th October.

This was Ms Raman's first Indian media appearance after securing the Grizzlies' Assistant Coaching position earlier this September.

Ms Raman was joined by Grizzlies Head Coach Taylor Jenkins on the Patel & Kumar talkshow, which is India's first and only Live NBA talkshow on Youtube.
Mumbai/San Antonio/Boston/Memphis, 16th October 2020: After Kamala Harris being named the Democrats' Vice Presidential nominee, Indian origin women in the US continue to make headlines.
Last month, Massachusetts Institute of Technology (MIT) women's basketball head coach Sonia Raman was announced as an assistant head coach of NBA team Memphis Grizzlies.
https://www.instagram.com/p/CFA2VcYMl0q/
Ms Raman was born and brought up in the US, but her parents hail from Nagpur (mother) and Chennai (father) and emigrated to the US after college. Currently based out of the Boston area, Ms Raman is a lawyer by degree and the "all-time winningest coach" in MIT's history. She joins a dynamic and talented young Memphis Grizzlies team that almost made it to the 2020 Playoffs despite competing in the stacked  Western Conference.
Yesterday, Ms Raman accompanied Grizzlies Head Coach Taylor Jenkins on the Patel & Kumar NBA talkshow and spoke in detail about her Indian roots and how it has helped her achieve the unique milestone of becoming the first Indian origin female coach in the NBA, and the third overall, after Vin Bhavnani (Oklahoma City Thunder) and Roy Rana (Sacramento Kings).
"My parents are both born in India. I have huge family [in India] on the extended family side, tons of aunties and uncles. Everybody is along for this ride and already asking when's the season going to start and how do I watch Grizzlies games. We do have basketball fans in the family… they are all in. They are so excited."
"[In terms of] My Indian heritage, growing up in the States obviously it is a little different in terms of being able to absorb that and have it around me, so most of that [my Indian heritage] comes from my parents- in terms of culture and food… [Being the first female Indian origin coach in the NBA] is exciting and the opportunities are certainly there for Indian Americans in the profession. It is a matter of choosing if you want to go into that as a profession or not. I am fortunate that I feel that there have been no barriers in that way. I also feel like I have been very much embraced as an Indian woman, whether as a player or as a coach. I do feel really lucky in that way."
When asked about how Ms Raman's Indian roots have shaped her both professionally and personally, she replied, "The culture and what my parents bring to me..that is my Indian heritage. Certainly the work ethic that my parents have shaped me with..as immigrants to the US..just seeing how hard they worked my whole life and still do… has been my inspiration for how I approach everything I approach. [In terms of what influenced me] I think it is much more family than necessarily literally Indian heritage..but I think those two things obviously go hand in hand because that [my family] is my Indian heritage…I think there is a respect for others…the work ethic that I mentioned….I think those are probably what shaped me the most. "
Ms Raman also replied to pre-recorded audience questions from female members of the Indian basketball community looking to follow in her footsteps. "Always be a student of the game… Network, access and opportunity are the resources that help accelerate your career."
On a lighter note, Ms Raman spoke about how she has been using the COVID lockdown period to master Indian dishes like alu chole/channa masala, bhel, chaat and masala dosa.
Watch Ms Raman's full interview:
[youtube]https://www.youtube.com/watch?v=C1Yo1OB8D9g&feature=youtu.be&t=3439[/youtube]
You can read more about Sonia Raman here.
About the Patel & Kumar NBA Talkshow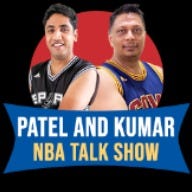 The Patel & Kumar NBA Talkshow is India's first and only Live NBA talkshow on Youtube, co-produced by Patel Pick & Roll Sports and Ekalavyas Consultancy Pvt Ltd. Launched during the NBA restart, 12 episodes have aired so far every Thursday at 7pm IST. Co-hosted by Shivam Patel (from San Antonio, USA) and Vinod Muthukumar (from Mumbai, India), #PatelAndKumar aims to be a candid and conversational take on all things NBA, with a distinct Indian 'tadka' (touch). Previous guests include Charu Sharma, Beau Estes and Coach Nick from popular Youtube channel BballBreakdown, among others.  Watch all episodes here.