Discover more from Ekalavyas | Basketball
Welcome to Ekalavyas, the pioneering publication dedicated to unearthing the world of international basketball, from an Indian perspective!
Over 3,000 subscribers
Six teams through to the quarterfinals; Telangana sides knocked out on day 3 of the 34th Youth Nationals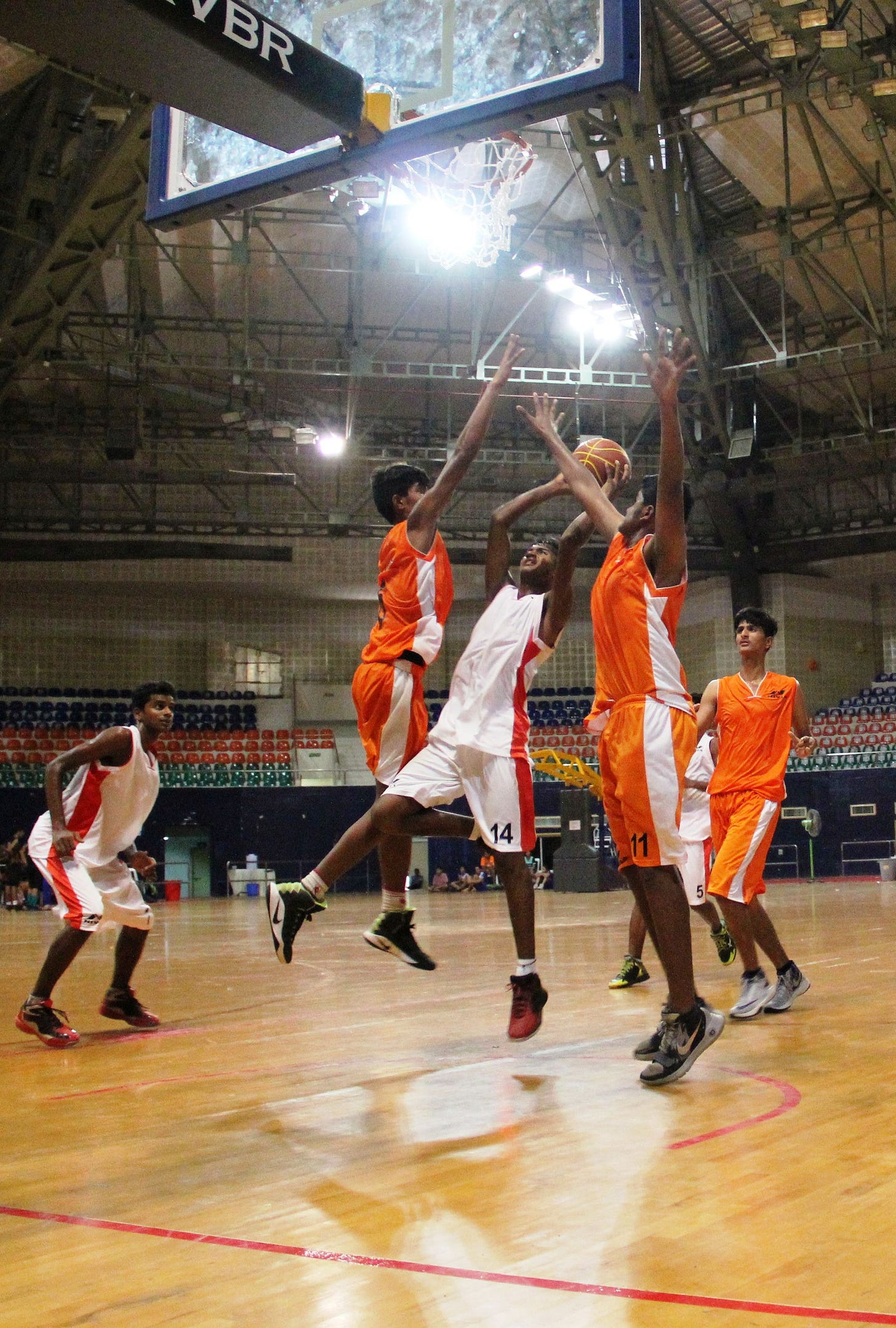 M Manikantha of Andhra Pradesh drives hard against Telangana. Image credits: Basketball Federation of India
Hyderabad, 3rd July 2017:  The 34th Youth National Basketball Championship for Boys and Girls witnessed Day 3 today at the Indoor Stadium, Gachibowli in Hyderabad.
The Championship is being organized by the Hyderabad District Basketball Association under the aegis of the Telangana Basketball Association and the Basketball Federation of India.
MP, Karnataka and Kerala girls through to the quarters
In girls' Level 1 Group A games, Madhya Pradesh girls (2-0) continued to impress, with back to back wins against Rajasthan yesterday and against Maharashtra today. Rajvi Desai of MP was especially prolific, scoring 38 points in the close 62-57 win that has already guaranteed them a spot in the quarterfinals. Maharashtra meanwhile has gone 1-1. Both teams still have two league matches left to be played. In another Level 1 league match, bottom placed Punjab rallied to beat Rajasthan 50-18 and stay in the hunt for a spot in the pre-quarterfinals.
Meanwhile in girls' Group B, Karnataka continued to steamroll past varied opponents. This time it was Uttar Pradesh at its mercy as the two 'Rameshes' of Karnataka, Reshma and Sanjana had 36 points between them in the 59-40 win. The 3-0 team from the south will be looking to top its Group as it takes on Gujarat tomorrow. Kerala girls (2-1) had an easy day as well, beating Gujarat 39-21 and setting up a finale league clash against Chhattisgarh (currently 1-1) on 5th July.
Kerala, UP and Maharashtra progress
The relatively shorter Kerala boys' team showed that size doesn't matter as they more than made up for it with their hustle and intensity. After beating Haryana 85-75 late last evening, Kerala outclassed Delhi today in an intensely fought encounter. Kerala (2-0) is assured of a spot in the final 8, while Delhi (0-3) is one loss away from an inglorious league stage exit.
In boys' Level 1 Group B, Uttar Pradesh beat Maharashtra 61-59 in an exciting back and forth game. Both teams — UP with a 2-0 record and Maharashtra which is 2-1 — are guaranteed of spots in the knockouts.
Delhi girls and AP boys knockout Telangana teams
From Level 2, Delhi girls (3-0) dashed the hopes of Telangana, and are now one step away from progressing to the pre-quarterfinals. Telangana has been knocked out of the competition after finishing 2nd in their group. West Bengal girls have topped Group D beating Jammu & Kashmir 30-14.
In Level 2 boys, neighbours Andhra Pradesh's full court defense proved too much to handle for Telangana, who fell 47-94. This was a must win game for both teams in order to stay in contention for the knockout rounds, and now Andhra Pradesh has topped Group F and will face West Bengal (the Group C topper) for a spot in the pre-quarterfinals.
Results from Day 3 (3
rd
July 2017) until 6:30 pm
Girls
Level 1
Group A
Madhya Pradesh (Rajvi Desai 38, Asmat Kaur 8) bt Maharashtra (Siya Deodhar 12, Suzanne Pinto 11, Khushi Dongre 8) 62-57 [14-18, 13-8, 14-16, 21-15]

Punjab (Radha Rani 20, Heena 10) bt Rajasthan (Shataksh Rathore 8, Ankita M 7) 50-18 [18-8, 9-2, 16-4, 7-4]
Group B
Karnataka (Reshma Ramesh 18, Sanjana Ramesh 18) bt Uttar Pradesh (Vartika Kushwaha 18, Vrinda Garg 11) 59-40 [10-10, 10-12, 26-11, 13-7]

Kerala (Ann Mary Zachariah 13, Sumra Stanly 11) bt Gujarat (Tanisha Shah 8) 39-21 [14-4, 12-3, 6-9, 7-5]
Level 2
Group D
Chandigarh (Kamaljit Kaur 9) bt Uttarakhand (Rupali Dhanta 8) 24-11 [4-2, 5-0, 3-7, 12-2]

West Bengal (Jyothi Routh 7, Liza Deb 6) bt Jammu & Kashmir (Chitreshi Gupta 5) 30-14 [13-4, 3-0, 10-0, 4-8]
Group E
Delhi (Khushi Ahlawat 12, Bharti 10) bt Jharkhand (Soni Kumari 11) 48-22 [14-8, 16-1, 6-3, 12-10]

Delhi (Vanshita Singh 25, Bharti 13) bt Telangana (D Devi Reddy 13, K Jyothi 11) 71-52 [21-14, 16-12, 11-10, 23-16]
Group F
Andhra Pradesh (P Satya Sai Sushmita 12, A Surya Kamla Kumari 10, K Sudha Madhvi 8) bt Puducherry (Venus Gloriya 8, Rasika S 6) 52-19 [16-4, 8-3, 6-7, 22-5]
Boys
Level 1
Group A
Kerala (Jerom Prince 15, Abhishek Joseph 13, Tom Jose 11) bt Delhi (Nitish Beniwal 29, Sanskar Nagpal 13) 70-63 [13-17, 13-18, 26-16, 18-12]
Group B
Uttar Pradesh (Priyhanshu 17, Aniket Singh 13, Krishnakant Singh 10) bt Maharashtra (Tanay Thatte 24, Kamlesh Rajbhar 12, Pritish Kokate 10) 61-59 [16-11, 12-11, 14-11, 19-26]
Level 2
Group C
West Bengal (Amarendra Nayak 26, Avijit Monikar 18) bt Chandigarh (Jaskaran Brar 18, Manpreet Singh 8) 56-40 [10-6, 12-9, 22-7, 12-18]

Himachal Pradesh (Manmohan Singh 19, Sahil Chandel 11) bt Jammu & Kashmir (Harithik Choudhary 8) 72-22 [25-4, 20-9, 19-5, 8-4]
Group D
Bihar (Bhupendra Bahadur 17, Dharmendar Kumar 12) bt Uttarakhand (Ansh Saini 19) 53-39 [12-14, 21-7, 10-4, 10-14]

Jharkhand (Munna Sharma 16, Sushant Deep 15, Deepak Barnwal 8) bt Gujarat () 52-49 [9-11, 18-9, 9-10, 16-19]
Group E
Madhya Pradesh (Divyaraj Singh Rathore 20, Udayveer Yadav 16) bt Assam (Salew Kadete 17) 61-43 [8-13, 18-10, 15-13, 20-7]
Group F
Goa (Jeshua Pinto 21, Primamsji Triparthi 7) bt Puducherry (Dharun Anand 5) 46-12 [14-3, 4-3, 11-5, 17-1]

Andhra Pradesh (M Mani 34, A Sai Pavan 22, V Sai Ganesh 10) bt Telangana (Rithwik Thammareddy 15, Vighneshwar Upadhyay 13, Vinay Kothari 12) 94-47 [18-5, 20-10, 17-16, 29-11]
Pending Results from Day 2 (3
rd
July 2017) after 7:00 pm
Girls
Level 1
Group A
Madhya Pradesh (Rajvi Desai 17, Ruchi Patel 15, Kashivi Khandelwal 9) bt Rajasthan (Ankita Mandia 11, Shataksh Rathore 9) 63-36 [18-9, 14-16, 19-8, 12-3]
Boys
Level 1
Group A
Kerala (Tom Jose 21, Abhishek Joseph 17, Jerom Prince 11) bt Haryana (Mukesh 23, Anil 17, Gaurav 13) 85-75 [21-17, 26-17, 14-21, 24-20]
Level 2
Group C
West Bengal (Avijit Monikar 22, Amarendra Nayak 21) bt Himachal Pradesh (Kabeer 14, Abhay Dhadwal 14) 66-48 [18-8, 10-10, 18-19, 20-11]
Group D
Jharkhand (Sushant Deep 17, Varun Raipat 11) bt Uttarakhand (Arin Singh 15, Ansh Saini 8) 57-25 [10-2, 10-6, 11-11, 26-6]