Discover more from Ekalavyas | Basketball
Welcome to Ekalavyas, the pioneering publication dedicated to unearthing the world of international basketball, from an Indian perspective!
Over 3,000 subscribers
Satnam Singh Fails Dope Test: Everything we know so far
Last night, the story of Satnam Singh, Indian basketball's most recognisable face, failing a dope test broke in mainstream media. This is an unfortunate newsbreak that is developing as we speak. Based on primary and secondary sources, here's what we know so far:
What happened
In the National Anti-Doping Agency (NADA)'s monthly e-newsletter published on 6th December, basketball player Satnam Singh's name was listed among the 34 sportspersons to have been provisionally suspended for 'Anti Doping Rule Violation'. Satnam's provisional suspension was dated 19/11/2019 and his violation occurred 'Out of competition'.
PUNISHMENT IF FOUND GUILTY
If found guilty, the 23-year-old Satnam could face a maximum ban of four years by virtue of being a first time offender.
WHAT MEDIA REPORTS SAY
The above is the only information made available by NADA, but media reports go on to add that Satnam had infact failed a urine test that was conducted at the Sports Authority of India (SAI) campus in Bengaluru, during the Indian national team camp in preparation for the ongoing 13th South Asian Games underway in Nepal.
Media reports go on to add that Satnam's 'A' sample was tested positive for an unconfirmed substance. Thereafter by a letter to Basketball Federation of India (BFI) dated 1/12/2019, Satnam is said to have withdrawn from the South Asian Games 'due to personal reasons'.
https://www.instagram.com/p/B5zHzHLHExZ/
SATNAM's response
As per a statement reported to have been released to the media by Satnam's management team, Satnam has denied and disputed the charges. The statement quotes Satnam as saying that he "was and remains a clean competitor" who has always played basketball "fairly".
As per the said statement, Satnam also wishes to clarify that media reports "about Mr. Bhamara being provisionally suspended by NADA are misleading and that it is Mr. Bhamara who has voluntarily accepted the provisional suspension vide his communications to NADA."
WHAT'S NEXT FOR SATNAM
The media statement issued by Satnam's management team goes on to say that Satnam received a notice from NADA on 11/11/2019 that he had failed the dope test for a prohibited substance and that "Mr Bhamara is disputing the said charge and has requested a hearing before the NADA Anti-Doping Disciplinary Panel (ADDP) in order to put forth his case."
As of now only the 'A' sample testing has been done, and as per procedure Satnam has the right to request for a 'B' sample testing. However, it is being reported that Satnam is preferring not to go for 'B' sample testing but instead will be directly appealing for a hearing before NADA's ADDP.
It is expected that Satnam will plead that he had consumed the prohibited substance inadvertently. Satnam's management team has expressed a hope that the case before ADDP will be adjudicated within a period of ninety days "from the date of conclusion of result management process, as is mandated under the NADA Anti-Doping Rules, 2015."
BFI's disturbing administrative lapse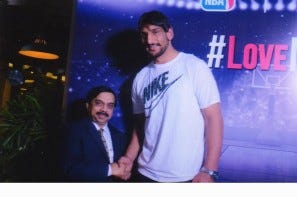 2016 File photo of Satnam Singh with BFI President K Govindaraj
Another angle that may merit its own line of investigation is why, even as late as 02/12/2019, Satnam seems to have been officially part of the Indian national squad for the South Asian Games despite NADA already having placed Satnam in the provisionally suspended sportspersons category almost two weeks prior. As per Satnam's own statement (that he received a notice from NADA on 11th November) as well as NADA's own newsletter that is in public domain (which states that Satnam's provisional suspension began on 19th November), it is unclear why, if at all, BFI still included Satnam in the Indian roster.
"I am not aware of this issue and I will be able to attend office only on December 15," BFI Secretary General Chander Mukhi Sharma was quoted as saying to PTI. When pressed further as to how BFI could not know about this issue despite the provisional suspension being handed on 19th November, Sharma has been quoted as saying: "The letter from the NADA (to the BFI) must have come in a sealed envelope and I have not seen it. So, I don't know the prohibited substance found in the player's sample. Otherwise, the player himself must be having the letter from the NADA and he must be knowing it."
"We have no suspicion that Bhamara may be taking substances. He simply told us in a letter that he was having some personal problems and so he will not take part in the South Asian Games."
From the above statements, a disturbing conclusion may be drawn that BFI seems to have relied completely on Satnam's assertions that he was withdrawing from the team for personal reasons, without doing its own due diligence, which in this case simply meant opening of a sealed letter addressed to BFI.