Discover more from Ekalavyas | Basketball
Welcome to Ekalavyas, the pioneering publication dedicated to unearthing the world of international basketball, from an Indian perspective!
Over 3,000 subscribers
When Sathya Sai Baba met the Harlem Globetrotters in Puttaparthi
Late spiritual leader Sathya Sai Baba interacted with the Harlem Globetrotters when the latter performed at the inauguration of the Sathya Sai International Sports Centre.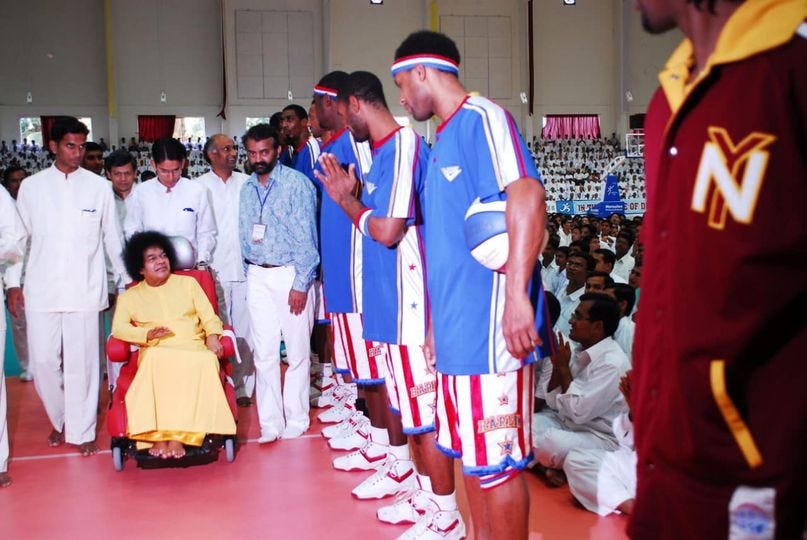 Image courtesy: Anil Kumar
The following is a first-hand account shared by basketball promoter Anil Kumar, as part of our 'Humans of Basketball' series:
Looking back 15 years ago on 23rd November, I had a lifetime oppurtunity to spend some historical moments with Satya Sai Baba on his 80th Birthday.
On his invitation, we had brought the legendary Harlem Globetrotters - the world famous American Basketball entertainers - to Puttaparthi to perform as part of the Inauguration of the Satya Sai International Sports Centre on the occasion of his 80th Birthday Celebrations. Before a packed stadium, the event was enjoyed by one and all.
It also reminds me of how, along with my colleagues Ranjit & Kuriakose, we were lucky to have a closed door private session with Saibaba himself for almost 45 minutes wherein the visionary closely interacted with us expressing various dimensions about education, healthcare and water and also the role of sports in human development.
On that occasion, it was my first visit to Puttaparthi and it was honestly & shockingly embarrassing to be called first by Sai Baba himself as soon as he arrived for his private interaction sessions overlooking the VIPs waiting (former Maharashtra CM Vilasrao Deshmukh & his wife were waiting at his door to see him apart from the former Union Finance Minister Yaswant Sinha).
Well of course - the VIP in us was thanks to the Harlem Globetrotters ! All said and done, there was an aura in him apart from his magical moments. Memories galore !!!
This is a picture of myself introducing the Harlem Globetrotters Team at the start of the event to him. Time really flies - it's 15 years ago. Being a lifetime event, thought I should share."
***
If you've come this far…
Appeal to our readers: Ekalavyas is India's first and only basketball media company. We are not foreign-funded, nor investor-backed. Your support and encouragement have got us this far. We now need your financial assistance to ensure we can keep providing you timely, accurate and important information. Please contribute via https://www.instamojo.com/@ekalavyas​ 🙏🏾. We are accepting contributions as low as Rs. 9/- (excluding a small processing fee charged by the payment gateway provider). Thank you for playing a part in keeping media independent and objective!
Ekalavyas now on Clubhouse! Join us for live audio conversations by following the 'Sports India Basketball' Club.
Ekalavyas now on Telegram! Stay up-to-date on all the breaking news around Indian Basketball, by subscribing to the EkBallIndia Telegram Channel.