Discover more from Ekalavyas | Basketball
Welcome to Ekalavyas, the pioneering publication dedicated to unearthing the world of international basketball, from an Indian perspective!
Over 3,000 subscribers
Red Bull India 3x3 Tournament 'Half Court' tips off on 3rd April
Red Bull India 3x3 Tournament 'Half Court' to be held between April 3rd and May 29th, across 8 qualifying rounds, featuring categories for both Men and Women.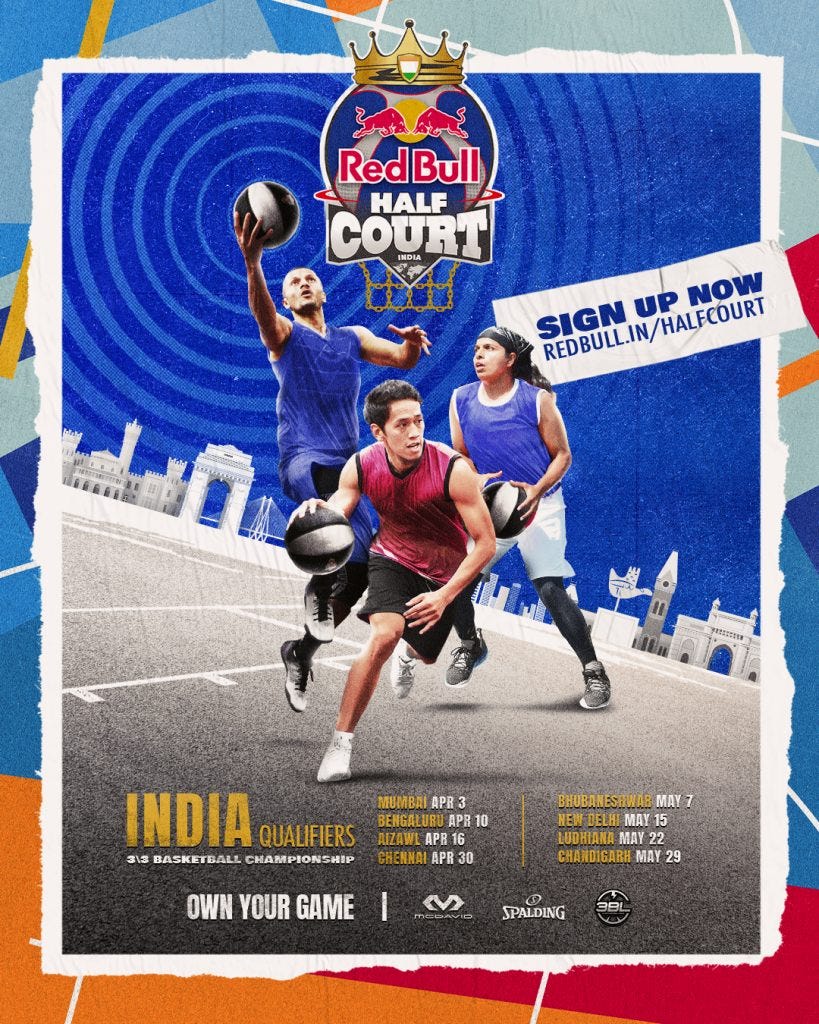 The tournament will follow standard 3x3 basketball rules set by FIBA. The top teams from each city qualifier will progress to the national final where they will compete to become the Red Bull Half Court India Champions. The national winners will get a chance to travel to Egypt in September to represent India in the global finals.
About Red Bull Half Court
From January through September 2022, an expected 20,000 ballers in 29 countries face off in their communities to earn a spot at the World Final in Cairo, Egypt (Sept. 28th – Oct. 2nd). Teams advance by winning games, but there's also a unique Red Bull twist to the game: the Own the Court bonus, which is awarded to the team in each group that has scored the most points cumulatively across the games. This means that even if you don't win the most games, you still might make it through.
The tournament was was formerly known as Red Bull Reign.
Red Bull India 3x3 Qualifiers Schedule:
City Categories Date Venue Mumbai Men & Women 03-Apr-22 Fr. Agnel School, Sector 9, Vashi Bangalore Men & Women 10-Apr-22 St. Claret PU College, Jalahalli Aizawl Men 16-Apr-22 Hawla Indoor Stadium, Republic Vengthlang Chennai Men & Women 30-Apr-22 Santhome Hr. Sec. School, Mylapore Bhubaneshwar Men 07-May-22 Sports Complex, Unit 1 (Bapuji Nagar) New Delhi Men 15-May-22 Ramjas School, RK Puram Ludhiana Men 22-May-22 Guru Nanak Stadium Civil Lines Chandigarh Men & Women 29-May-22 Shri Guru Gobind Singh College, Sector 26
National Finals will take place on 12th June.
True to authentic streetball culture, the tournament is alive with music, art, entertainment and fashion. In 2021, 11 courts in seven countries were renovated and transformed by street artists, all in coordination with the communities. More courts will be renewed this year, and when the tournament is over, the revitalized playgrounds remain for locals to enjoy.
Get your game on. Sign up now and lead your team to the World Final!  redbull.in/halfcourt