Discover more from Ekalavyas | Basketball
Welcome to Ekalavyas, the pioneering publication dedicated to unearthing the world of international basketball, from an Indian perspective!
Over 3,000 subscribers
Rebounding woes cost India dear against Saudi Arabia
Rebounding woes see India fall 61-80 to hosts Saudi Arabia. India now faces a do-or-die situation against Palestine tomorrow, to keep its FIBA Asia Cup qualification chances alive. 
Rebounding battle won by saudi arabia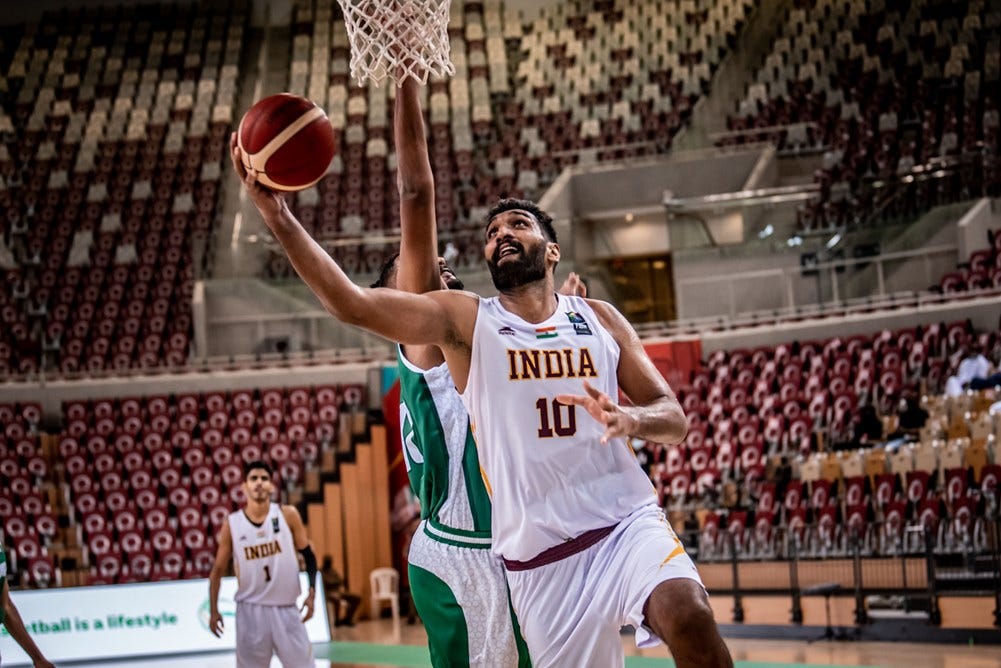 Amritpal Singh in action for India. All Images credit - FIBA.com
Playing with only one rusty true centre in Amritpal Singh, India conceded a whopping 32-48 rebounding advantage to Saudi Arabia. This in turn led to Saudi Arabia's 46-18 scoring advantage in the paint, as well as a 17-6 second-chance points differential.
Amritpal's movements seemed laboured as he struggled to get up and down the court. Meanwhile, his Saudi counterpart Mohammed Alsuwailem, finished with a 16 pts 12 reb double double, at a whopping +32 efficiency.
India's big guns fail to fire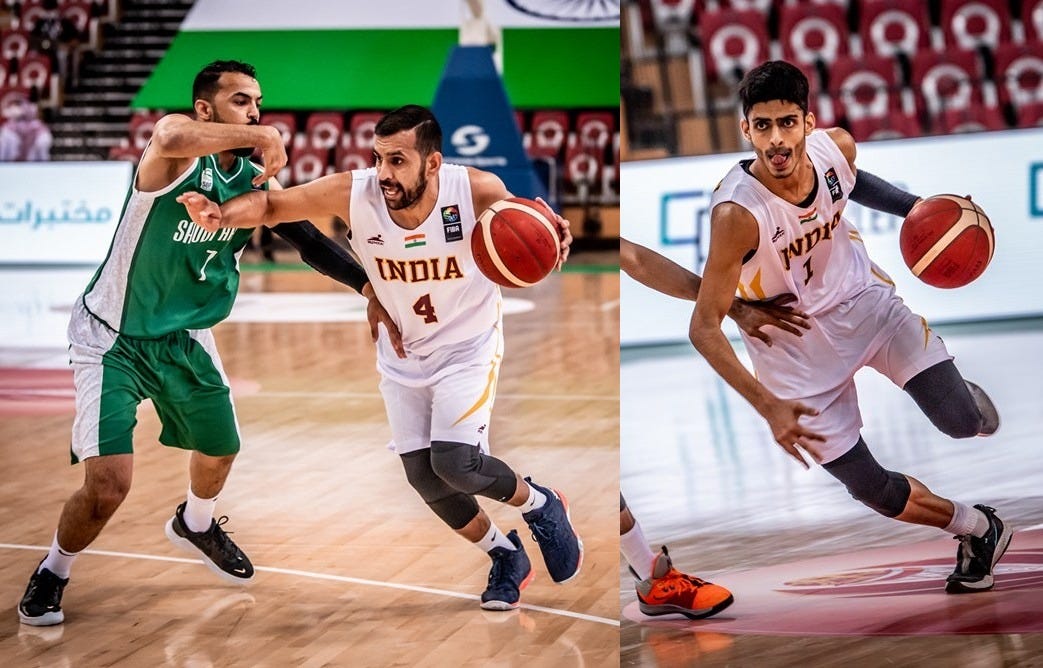 Bench players Joginder Singh (left) and Sahaij Sekhon stepped up for India.
India was let down by its primary offensive scorers. Amjyot Singh (2 pts), captain Vishesh Bhriguvanshi (6 pts) and Muin Bek (8 pts) failed to live up to their double-digit average scoring pedigree. Seasoned forward Aravind Annadurai (2 pts in nearly 10 mins) and Jagdeep Singh (scoreless in almost 11 minutes) too were way below par.
With India's first offense not showing up, backup point guards Joginder Singh Saharan (17 pts) and Sahaij Sekhon (15 pts) did their best. Their entry saw India reduce an 8-20 first-quarter deficit to 30-36 at halftime. India managed to bring it within three, 37-40 early in the third quarter, before Saudi Arabia regained its composure to go on another of its scoring runs. 
Young 6ft 8'' power forward Prashant Singh Rawat impressed with his energy and activity on the defensive end. Curiously, he did not get many playing minutes in the second half, with Coach Veselin Matic opting to trust the seniors to mount an unlikely comeback. Sadly, that was not to be.
Pranav Prince Injury; Palestine Next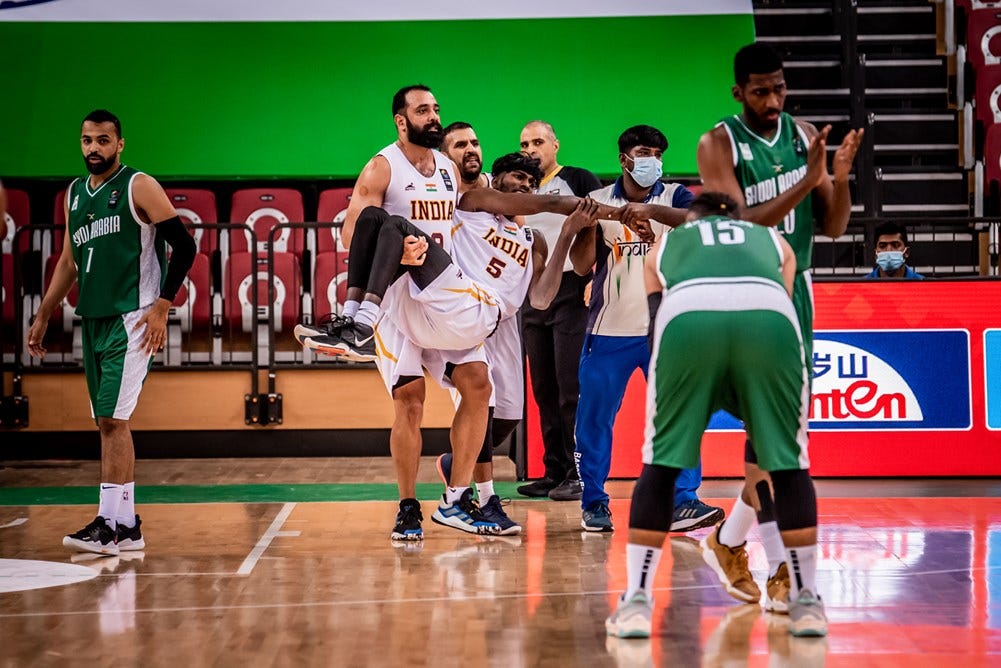 To make matters worse, after playing less than two minutes late in the first quarter, young guard Pranav Prince suffered a scary fall while attempting to grab a defensive rebound. He had to be carried off the court by Bhriguvanshi. In the post-match press conference Coach Matic confirmed that Prince would be undergoing surgery later tonight and will not return to the active roster.
It was later revealed that Pranav had broken the bone in his right forearm, and that the surgery was a success.
India next faces Palestine tomorrow (Saturday, 21st August, 8:45pm) in a final do-or-die battle to keep its Asia Cup qualification hopes alive. The game will be live-streamed on FIBA's Youtube Channel here.
Additionally, Ekalavyas will be providing live audio commentary, on Clubhouse app here.
***
If you've come this far…
Appeal to our readers: Ekalavyas is India's first and only basketball media company. We are not foreign-funded, nor investor-backed. Your support and encouragement have got us this far. We now need your financial assistance to ensure we can keep providing you timely, accurate and important information. Please contribute via https://www.instamojo.com/@ekalavyas​ 🙏🏾. We are accepting contributions as low as Rs. 9/- (excluding a small processing fee charged by the payment gateway provider). Thank you for playing a part in keeping media independent and objective!
Ekalavyas now on Clubhouse! Join us for live audio conversations by following the 'Sports India Basketball' Club.
Ekalavyas now on Telegram! Stay up-to-date on all the breaking news around Indian Basketball, by subscribing to the EkBallIndia Telegram Channel.