Discover more from Ekalavyas | Basketball
Welcome to Ekalavyas, the pioneering publication dedicated to unearthing the world of international basketball, from an Indian perspective!
Over 3,000 subscribers
Princepal Singh becomes first Indian to win NBA Silverware
Princepal Singh, as a member of 2021 Last Vegas NBA Summer League Champion team Sacramento Kings, also made his NBA scoring debut in the final seconds of the title game.
Princepal Singh, NBA Summer League Champion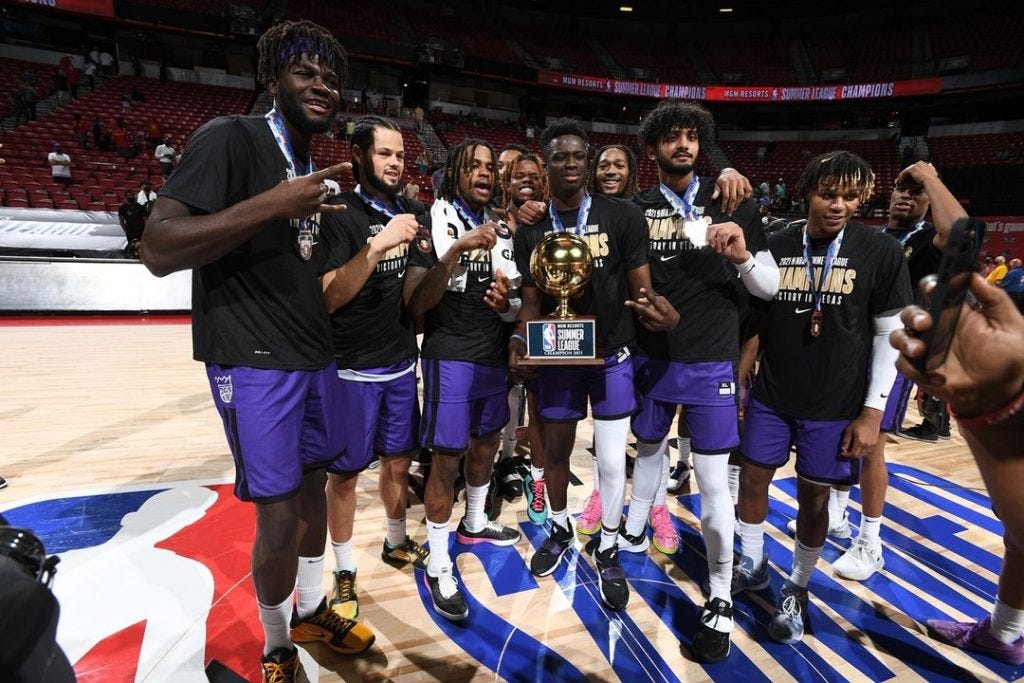 Princepal Singh (third from right). Image credit: NBA India Instagram.
He may not have got great minutes, but Princepal Singh, the 6ft 9'' 20-year-old power forward from Firozpur, Punjab, continues to march on in the annals of Indian basketball history.
The former NBA Academy alum and Indian national team representative has become the first Indian to be part of an NBA-winning franchise at any level (Summer League, G-League, NBA Major League).
This was the second title for Sacramento King in the Summer League, which showcases the top draft picks as well as other hopefuls aiming for a secure roster spot in any of the 30 NBA franchises.
Princepal makes his NBA Summer League Scoring Debut
Princepal, who, didnt get any playing minutes through the California Summer League Classic, and in the first game of the Las Vegas NBA Summer League, finally saw 1:22 mins of action in the Kings' second game, a blowout win over the Washington Wizards. He would sit out again for the remaining two seeding games, before playing nearly four minutes till the final buzzer of the title game against Boston Celtics.
Singh, who could be seen actively cheering his team from the sidelines, went stat-less in his first appearance against the Wizards. Against the Celtics though, he could be seen actively setting screens, rolling to the basket, and defensively protecting the rim and even grabbing the record.
But it was the final scoring possession for the Kings that would be the cherry-on-top for Princepal Singh. With the Kings bench already celebrating an impending title triumph on the sidelines, Singh scored in the paint off a pick-and-roll play, for his first NBA points.
https://www.instagram.com/p/CSsycklhy0r/?utm_medium=copy_link
What's next for Princepal Singh?
Princepal has now become the third Indian after Satnam Singh (G-League & Summer League) and Amjyot Singh (G-League) to score at any NBA level.
It remains to be seen if his performances were good enough to catch the eye of any G-League scout ahead of the 2021-22 NBA season. If not, we could see the power forward return to India or else try his luck with other foreign leagues.
***
If you've come this far…
Appeal to our readers: Ekalavyas is India's first and only basketball media company. We are not foreign-funded, nor investor-backed. Your support and encouragement have got us this far. We now need your financial assistance to ensure we can keep providing you timely, accurate and important information. Please contribute via https://www.instamojo.com/@ekalavyas​ 🙏🏾. We are accepting contributions as low as Rs. 9/- (excluding a small processing fee charged by the payment gateway provider). Thank you for playing a part in keeping media independent and objective!
Ekalavyas now on Clubhouse! Join us for live audio conversations by following the 'Sports India Basketball' Club.
Ekalavyas now on Telegram! Stay up-to-date on all the breaking news around Indian Basketball, by subscribing to the EkBallIndia Telegram Channel.