Discover more from Ekalavyas | Basketball
Welcome to Ekalavyas, the pioneering publication dedicated to unearthing the world of international basketball, from an Indian perspective!
Over 3,000 subscribers
India vs Lebanon: Can 'Young Cagers' exceed expectations?
The last time India vs Lebanon faced off in Nov '20, Group toppers Lebanon dominated en route to a 115-60 win. Can India make it a more even contest this time around?
India vs Lebanon - Previous Head to Head Recap
[youtube]https://youtu.be/RFR-4THmGYw[/youtube]
Barring 29 seconds early in the first quarter, Lebanon led virtually from start to finish. Lebanon and India are two Asian teams with contrasting trajectories. While 'The Cedars' are aiming to enter the top 5 teams in Asia-Oceania, the 'Young Cagers' have suffered a reversal of fortunes in recent years, much of it owed to domestic administrative issues beyond its control.
That said, an Indian line-up bolstered by a morale-boosting last gasp win over Iraq, and the return of key veterans, will be keen to put up an improved show this time around.
INDIA's KEYS TO THE GAME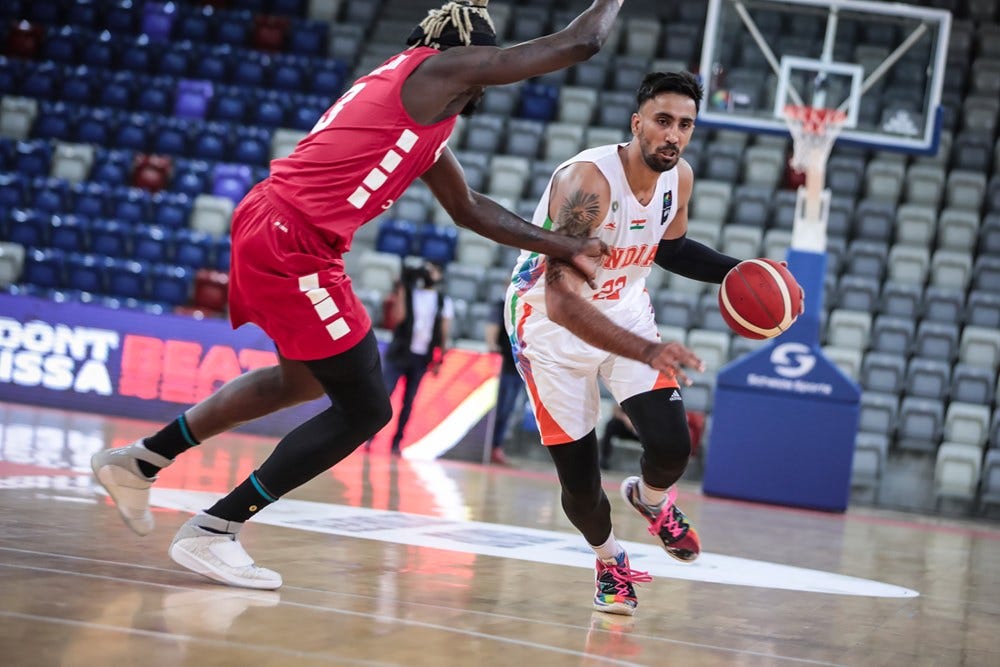 Amjyot Singh for India vs Lebanon 2021 FIBA Asia Cup Qualifiers. Amjyot was India's most efficient player in this game. Image: FIBA.com
Surviving the Paint Battle: India is missing the services of its starting centre Amritpal Singh (besides Satnam Singh, who, for all his deficiencies was undoubtedly a sizable presence around the rim). PF/C Princepal Singh too is unavailable due to his G-League commitments. In their absence, the task of window cleaning and rim protection comes down to the PFs Aravind Annadurai & Amjyot Singh. The duo are more than capable defenders at their position. But if there was ever a time for a breakout game by inexperienced centres Vivek Goti & Amaan Sandhu, it would be today's game

Getting Open Looks: Previous opponent Iraq seemed to have done little to no homework on India's roster. Consistent outside shooters Amjyot Singh, Muin Bek Hafeez and the streaky Joginder Singh Saharan were given wide-open looks, which they willingly converted. With Lebanon, India would do well to not expect such laxity, especially considering that the last time these two teams faced off, India was a lowly 4/22 from beyond the arc. At 20.4 APG (top five among all times), India has been moving the ball well and will be keen to test if it can maintain this assists average against The Cedars.

Containing Lebanon's #1 ranked offense: Lebanon averages 99.6 PPG, which is the highest in these Qualifiers. Meanwhile, India has never scored beyond 94 in a single game, and averages 74.8 PPG, a full 25 points fewer than Lebanon. In other words, the 73rd ranked India will have to be near perfect on both ends of the floor to have any shot at upsetting the 58-WR Lebanon.
India vs Lebanon tips off at 7:30 pm IST today (i.e. Monday, 22nd February). The game will be live-streamed on FIBA's Youtube Channel and the FIBA Asia Cup Facebook page. Additionally, fans can also tune in for free via signing up on the LiveBasketballTV website/app.
***
If you've come this far…
Appeal to our readers: Ekalavyas is India's first and only basketball media company. We are not foreign-funded, nor investor-backed. Your support and encouragement have got us this far. We now need your financial assistance to ensure we can keep providing you timely, accurate and important information. Please contribute via https://www.instamojo.com/@ekalavyas​ 🙏🏾. We are accepting contributions as low as Rs. 9/- (excluding a small processing fee charged by the payment gateway provider). Thank you for playing a part in keeping media independent and objective!