Discover more from Ekalavyas | Basketball
Welcome to Ekalavyas, the pioneering publication dedicated to unearthing the world of international basketball, from an Indian perspective!
Over 3,000 subscribers
Phoenix Suns' No. 4 pick Josh Jackson: the next Kawhi Leonard?
Twenty year old Josh Jackson is a 6'8'' small forward who hails from Michigan, and played college basketball in Kansas. The whispers had him pinned as a possible no. 1 pick, but a lot of teams saw him as an enigmatic, often emotional prospect. Despite that, there is no doubt that Jackson boasts explosiveness in abundance, has the handles and vision to play in the backcourt, and has the size to compete on the glass. We caught up with Josh Jackson at a post-draft interview organized by Cisco: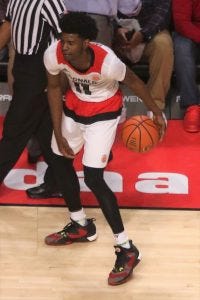 Q: How excited are you to come into the Phoenix Suns, with a lot of developing talent? What do you think you can contribute to the team?
A: I'm really excited about coming in. I think one of the things I bring is versatility. If you watch today's NBA games, versatility is key: being able to guard multiple positions. Those players are really important, players who can play different positions.
Q: How do you think your personality meshes with the other guys on a young, exciting Suns team?
A: I think the guys on that team are really hungry and want to win games. They've got the same competitive drive that I got. A lot of people already know I'm really competitive, and I think that competitive spirit will rub off on a lot of other guys on the team, and we can turn that into something special.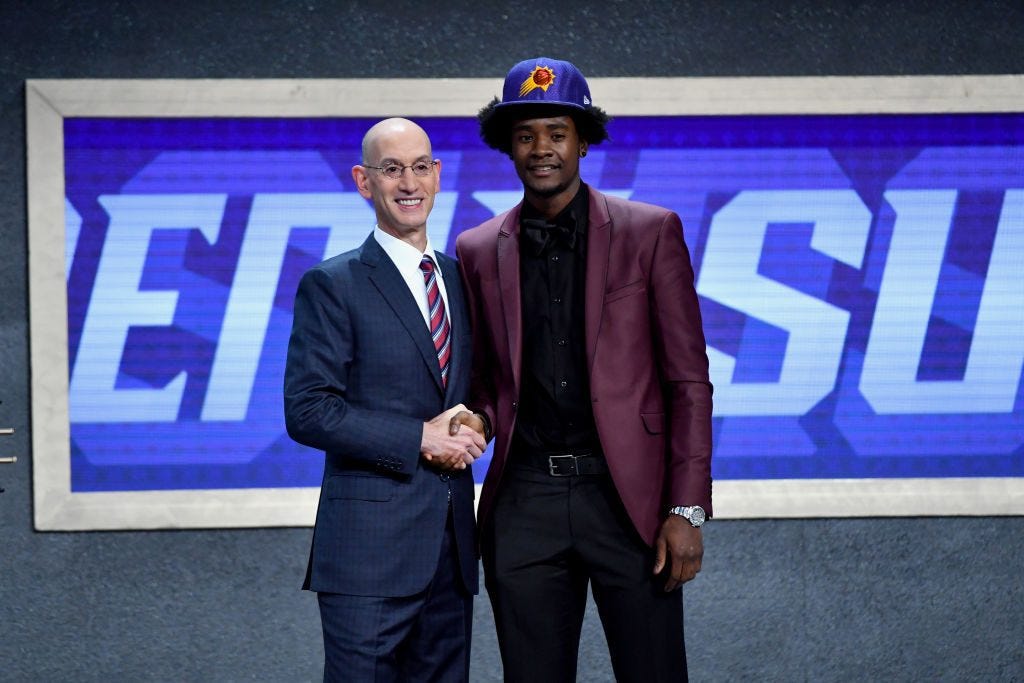 BROOKLYN, NY - JUNE 22: Josh Jackson smiles with Adam Silver after being selected fourth overall by the Phoenix Suns in the 2017 NBA Draft on June 22, 2017 at Barclays Center in Brooklyn, New York. (Photo by Jesse D. Garrabrant/NBAE via Getty Images)
Q: What separates you from the other talent in the Draft?
A: I'm more versatile than every player in the Draft, because I have had to guard pretty much any position on the floor except 5. I showed that one year in Kansas I was out of position all year, playing the 4, which is not my natural position, but I made it work.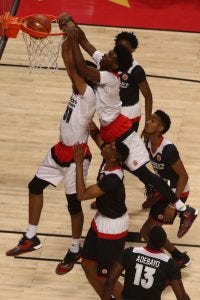 Josh Jackson with the put-back dunk during the McDonald's All American game.
Q: Who is one player you have idolized growing up, and aspired to emulate in the NBA?
A: When I was growing up, when I was really a little kid, I used to watch a lot of Allen Iverson and I used to want to be him, like really, really bad. And I felt like.. he made me feel like tall players just weren't it: I wanted to be short. I prayed to God that I did not grow up to be tall because I wanted to be like Allen Iverson. And I started growing, and felt like, you know, I could be a special player. I started watching players like Tracy McGrady, started watching Kobe Bryant, and I fell in love with their game and I learned a lot just watching them.
Q: Which player in the NBA right now do you think you are most similar to?
A: Right now, in the NBA, I would probably say I'm closest in comparison to Kawhi Leonard. Just because, I've watched him and he plays on both end of the floor: great defender, great offensive player. Not a great shooter, but not a bad shooter by any means, so I feel like we're kind of similar.