Discover more from Ekalavyas | Basketball
Welcome to Ekalavyas, the pioneering publication dedicated to unearthing the world of international basketball, from an Indian perspective!
Over 3,000 subscribers
Nikola Jokic wins 2020-21 NBA MVP Award
Nikola Jokic has become the first Serbian NBA MVP; the first Denver Nuggets MVP; and the first centre to win MVP since Shaquille O'Neal in 2000.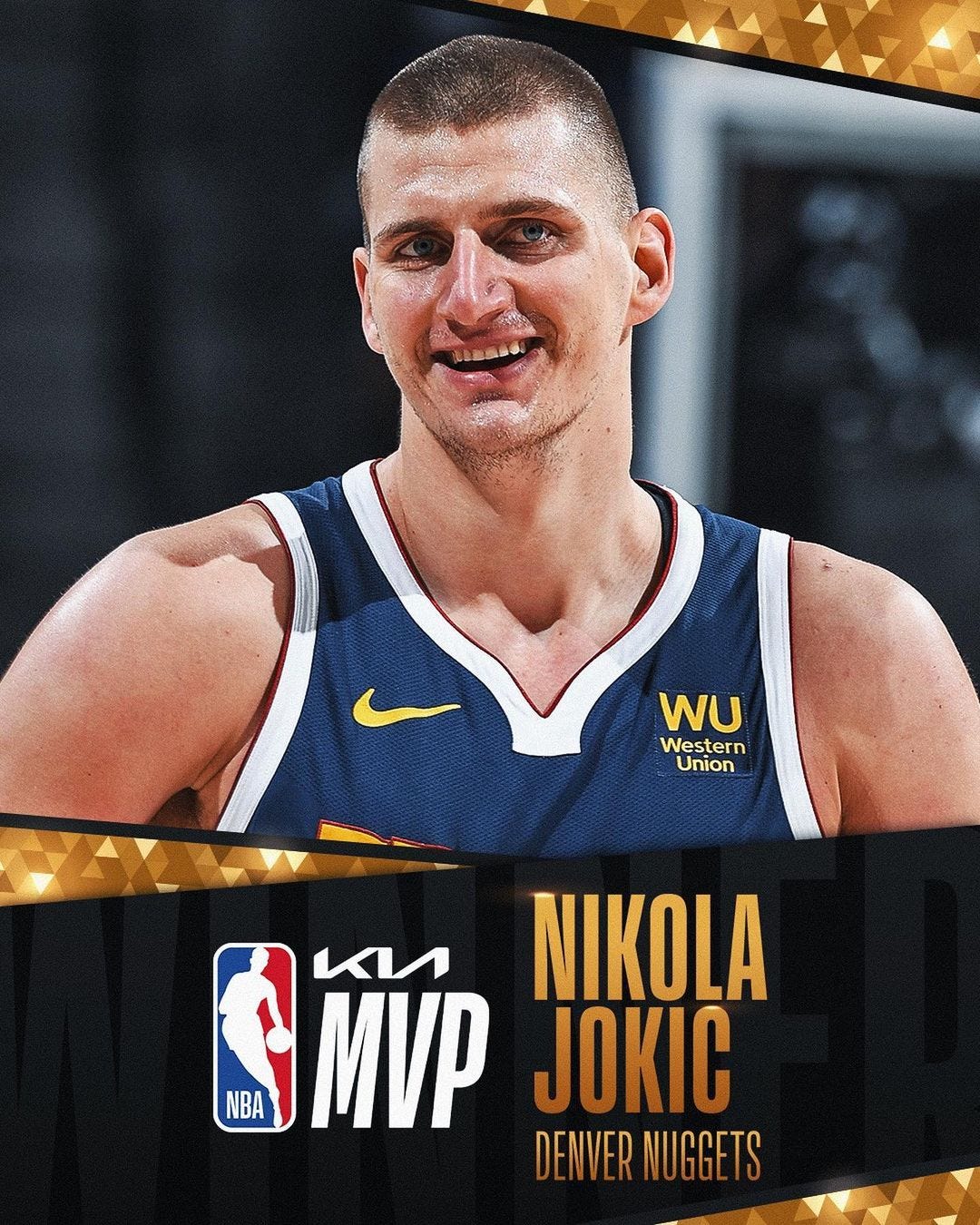 Image credits: NBA Instagram.
NEW YORK, June 8, 2021 – Denver Nuggets center Nikola Jokic is the recipient of the Maurice Podoloff Trophy as the 2020-21 Kia NBA Most Valuable Player, the NBA announced today.
With the first Kia NBA MVP Award of his career, Nikola Jokic becomes the first player to earn the honor as a member of the Nuggets.  He is also the first player from Serbia to be selected as the NBA MVP and joins Dirk Nowitzki (Germany) and Giannis Antetokounmpo (Greece) as MVP winners from Europe.
A second-round pick selected 41st overall by Denver in the 2014 NBA Draft, Nikola Jokic is the lowest-drafted player to be named NBA MVP with the exception of three-time MVP Moses Malone, who was not selected in the NBA Draft.  The previous lowest-drafted players to win the award were two-time MVPs Antetokounmpo and Steve Nash, both selected with the 15th overall pick in their respective drafts.
Nikola Jokic received 91 first-place votes and earned 971 total points from a global panel of 100 sportswriters and broadcasters as well as the Kia NBA Most Valuable Player Award fan vote, making for 101 ballots.  Philadelphia 76ers center Joel Embiid (586 points) finished in second place, followed by Golden State Warriors guard Stephen Curry (453 points) in third place, Milwaukee Bucks forward Antetokounmpo (348 points) in fourth place and Phoenix Suns guard Chris Paul (139 points) in fifth place.
Players received 10 points for each first-place vote, seven points for each second-place vote, five points for each third-place vote, three points for each fourth-place vote and one point for each fifth-place vote.
About Nikola Jokic
https://www.instagram.com/p/CP4Of6hAvEv/
In his sixth NBA season, Nikola Jokic played all 72 games and averaged a career-high 26.4 points, 10.9 rebounds, a career-high 8.4 assists and 1.32 steals in 34.8 minutes.  With his season averages, Nikola Jokić ranked 12th in the NBA in points, ninth in rebounds, sixth in assists and 22nd in steals.  He is the third player in NBA history to average at least 26.0 points, 10.0 rebounds and 8.0 assists in a season, joining Oscar Robertson and Russell Westbrook.
Nikola Jokic made an NBA-leading 732 field goals and shot 56.6 percent from the field, 38.8 percent from three-point range and a career-high 86.8 percent from the free throw line.  He led the NBA in double-doubles with 60 and ranked second in triple-doubles with 16.  Jokić set single-game career highs in points with 50 (vs. the Sacramento Kings on Feb. 6); rebounds with 22 (vs. the Suns on Jan. 23); assists with 18 (vs. the Rockets on Dec. 28); and steals with seven (vs. the Brooklyn Nets on Jan. 12).
Behind Nikola Jokic, Denver posted a 47-25 record and earned the third seed in the Western Conference for the 2021 NBA Playoffs.  The Nuggets finished with the fifth-highest single-season winning percentage in franchise history (.653).
An NBA All-Star selection for the third consecutive season, Nikola Jokić was named the Kia NBA Western Conference Player of the Month twice (December/January and March) and the NBA Western Conference Player of the Week three times (Weeks 5, 6 and 13).
Nikola Jokic, 26, has played all six of his NBA seasons with Denver, averaging 18.5 points, 9.8 rebounds and 6.0 assists in 453 career games.  This season, he broke the franchise records for career double-doubles and triple-doubles.  He also became the first Nuggets player to start an NBA All-Star Game since 2011.
***
If you've come this far…
Appeal to our readers: Ekalavyas is India's first and only basketball media company. We are not foreign-funded, nor investor-backed. Your support and encouragement have got us this far. We now need your financial assistance to ensure we can keep providing you timely, accurate and important information. Please contribute via https://www.instamojo.com/@ekalavyas​ 🙏🏾. We are accepting contributions as low as Rs. 9/- (excluding a small processing fee charged by the payment gateway provider). Thank you for playing a part in keeping media independent and objective!