Discover more from Ekalavyas | Basketball
Welcome to Ekalavyas, the pioneering publication dedicated to unearthing the world of international basketball, from an Indian perspective!
Over 3,000 subscribers
NBA launches first NBA basketball school in Delhi
NBA Basketball Schools Open to Young Male and Female Players; Top Players at Each Basketball School will have Opportunity to attend NBA Academies

First School was Launched in Mumbai on April 7th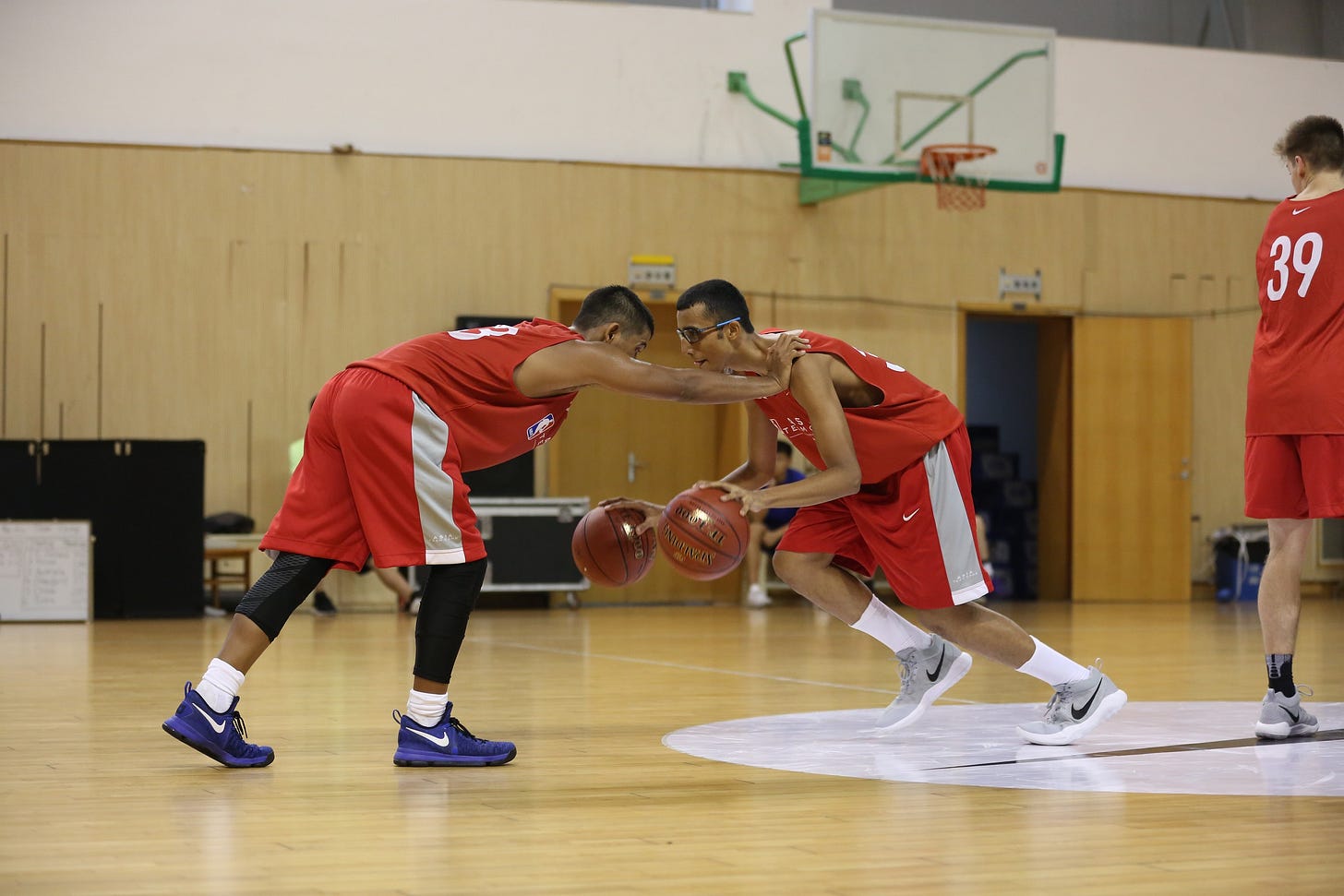 NBA Academy India's Preshit Pawar going through skills session the Asia Pacific Camp in China. Image credits: NBA India
Delhi, Jun 30, 2017 – The National Basketball Association (NBA) today announced the launch of its first NBA Basketball School in Delhi, a network of tuition-based basketball development programs around the world open to international male and female players ages 6-18. Apeejay School, Seikh Sarai, is the first center in Delhi for NBA Basketball School.
The first NBA Basketball School globally was launched in Mumbai in April, as part of a multiyear agreement with India On Track (IOT), one of India's leading sports management, marketing and development companies. Additional NBA Basketball Schools will be launched in India and around the world in the coming months.
The new initiative adds an additional layer to the NBA's existing basketball development efforts, including the Jr. NBA, Basketball without Borders (BWB) and NBA Academies.
The Jr. NBA, the league's global youth basketball participation program for boys and girls, will help identify young players who have the talent to attend NBA Basketball Schools. From there, the top players at each NBA Basketball School will have the opportunity to be selected to attend NBA Academies, the league's network of elite basketball training centers around the world to develop top international male and female prospects. Registration to attend the NBA Basketball School in Mumbai is now open at indiaontrack.nba.com.
Each NBA Basketball School will feature year-long, tuition-based programs open to international male and female players ages 6-18.  The NBA Basketball School curriculum, which is designed to help players, parents, coaches and organizations better understand the process of improvement, has been developed by the NBA's Elite Basketball Development team in consultation with current and former NBA coaches, former NBA players, and player development experts. The comprehensive curriculum covers on court training, strength and conditioning, and basketball education for young players ages 6-18 and will be implemented by local coaches working directly with the NBA's International Basketball Operations staff around the world.
The NBA Basketball School in Mumbai and now in Delhi builds on the NBA's existing basketball and youth development initiatives in India. The Reliance Foundation Jr. NBA program has reached more than 3.5 million youth and trained more than 3,000 physical education instructors nationwide since its launch in 2013. In November 2016, the NBA announced its plan to launch NBA Academy India, an elite basketball training center in Delhi National Capital Region (NCR) for the top male and female prospects from throughout India. NBA Academy India, the first of its kind in the country, opened in May.