Discover more from Ekalavyas | Basketball
Welcome to Ekalavyas, the pioneering publication dedicated to unearthing the world of international basketball, from an Indian perspective!
Over 3,000 subscribers
NBA and Basketball Australia officially open the NBA Global Academy for top prospects from outside the U.S.
The NBA Global Academy to Host First-Ever NBA Academy Games for Prospects from Academies in Africa, Australia, China and India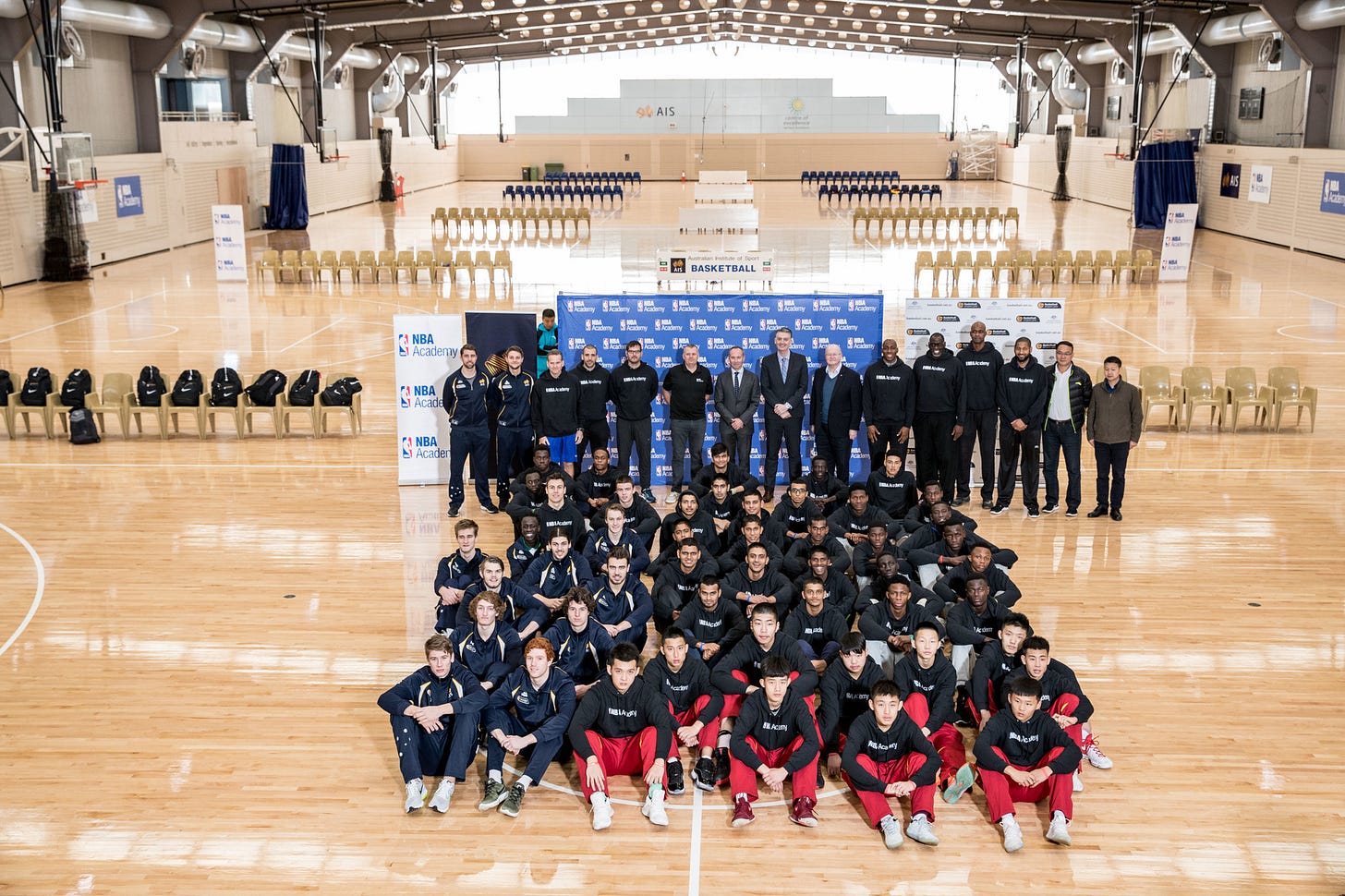 NBA Vice President, International Basketball Operations & Head of Elite Basketball, Brooks Meek; Basketball Australia CEO Anthony Moore; and Australian Institute of Sport Director Matt Favier are joined by NBA Academies prospects at the official opening of The NBA Global Academy in Canberra, Australia (Credit: NBAE/Getty Images)
Melbourne and New York, June 23, 2017 – The National Basketball Association (NBA) and Basketball Australia (BA) today announced the official opening of The NBA Global Academy, an elite basketball training center at BA's Centre of Excellence at the Australian Institute of Sport in Canberra. The NBA Global Academy will serve as the NBA's hub for top male and female prospects from outside the United States.
As part of today's announcement, the NBA and BA also announced that the first-ever NBA Academy Games will begin tomorrow and run through June 30 at The NBA Global Academy. The series of exhibition games will include prospects from The NBA Global Academy, NBA Academies in Africa, China and India, along with a team from BA's Centre of Excellence and local Australian youth teams.
"Basketball Australia is delighted to partner in this venture, which will enable our world-class coaches and athletes to share their knowledge with the NBA," said Basketball Australia Chief Executive Officer, Anthony Moore. "Our Centre of Excellence has an incredible track record of producing athletes who can compete on the international stage. We are honoured to be hosting The NBA Global Academy and helping to develop promising young talent from around the world."
"The NBA Global Academy, the league's sixth international elite training center, will provide scholarships and training for top international prospects," said NBA Vice President, International Basketball Operations & Head of Elite Basketball, Brooks Meek.  "Basketball Australia's internationally recognized coaches have successfully developed top prospects for many decades. We're looking forward to working with BA on this initiative and conducting the first NBA Academy Games."
In addition to exhibition games between the academies and local Australian teams, The NBA Academy Games will feature academy coaches leading the prospects through a variety of activities on and off the court, including movement efficiency, positional skill development, and daily life skills seminars focusing on health, leadership and communication.
The NBA Global Academy will employ a holistic, 360-degree approach to player development with focuses on education, leadership, character development and life skills. As part of the program, the students will compete against top competition throughout the year and will have an opportunity to be selected for travel teams that play in international tournaments and exhibition games.
The official opening of The NBA Global Academy follows the launch of academies in Hangzhou, Jinan and Urumqi, China; Thies, Senegal; and Delhi National Capital Region (NCR), India. NBA Academies include educational development for top international male and female prospects and mark the NBA's most significant investment in elite player development. The initiative exposes elite prospects to NBA-level coaching, facilities and competition and provides a global framework for elite prospects to maximize their success.
The NBA Global Academy will take advantage of BA's Centre of Excellence location at the world-renowned Australian Institute of Sport (AIS). The AIS campus in Canberra is home to world-class, elite high-performance facilities and leading sports practitioners in the fields of sports science, sports medicine and coaching. AIS is a world leader in high performance and is the flagship of the Australian Sports Commission, the Australian Government's sports agency.
Basketball Australia previously supported the NBA and FIBA's Basketball without Borders (BWB) Asia camp, which was held in Australia for the first time at Dandenong Basketball Stadium in Melbourne in June 2016.