Discover more from Ekalavyas | Basketball
Welcome to Ekalavyas, the pioneering publication dedicated to unearthing the world of international basketball, from an Indian perspective!
Over 3,000 subscribers
NBA Academy India sees 5 new joinees in 2023
Unlike 2022, full fledged tryouts were not conducted this year, since the number of available spots were low
It is being reliably learnt that five new players - Kushal Singh (Karnataka), Mirthun Vel Dhanasekar (Tamil Nadu), Lokesh Kumar Sharma (Rajasthan), Sahibjit Singh Bhullar (Punjab) and Samar Pratap (Bihar) - have joined NBA Academy, Greater Noida for the academic year 2023-24.
These players have replaced the hugely successful outgoing quartet of Kushal Singh and Harsh Dagar (both from Uttar Pradesh), Lokendra Singh and Jaideep Rathore (both from Rajasthan) - that competed in the FIBA U18 3x3 World Cup last month, and also led India to a historic top 5 finish in the 2022 FIBA U16 Asian Championship.
Unlike last year where 11 players were chosen, a full-fledged ACG-NBA Jump selection tryout was not held this time - due to the limited open spots in the Academy.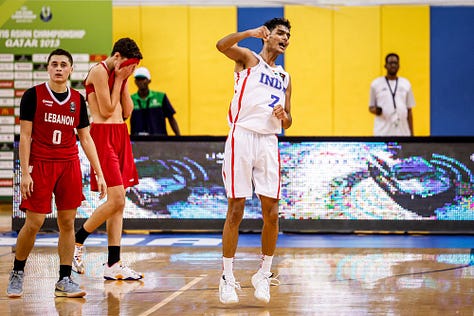 How were these 5 players selected?
While Dhanasekar, Lokesh Kumar Sharma and Sahebjit Singh Bhullar have represented India at the U16 level, Karnataka's Kushal Singh is reported to have impressed during the Bengaluru leg of the Jr NBA 3x3 competition held earlier this year. Meanwhile, Bihar's Samar Pratap was identified through NBA Academy's scouting program.
These five players were selected after a two-day 'closed door' tryouts held at NBA Academy India within the Jaypee Greens Integrated Sports Complex, Greater Noida on September 1 and 2.
More info about the selected players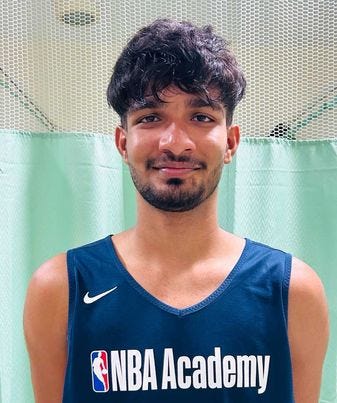 Mirthun Vel Dhanasekar is a 16-year-old 5ft 10'' point guard from Tamil Nadu, who averaged 6.5 points, 2.8 assists and 2.5 rebounds in the 2023 FIBA U16 Asian Championship.

Sahibjit Singh Bhullar is a 17-year-old 6ft 6'' power forward from Punjab, who was part of the Indian team that finished a historic 5th in the 2022 FIBA U16 Asian Championship.

Lokesh Kumar Sharma is a 16-year-old 6ft 2'' small forward from Rajasthan, who averaged 17 points, 7 rebounds and 2.8 assists in the 2023 FIBA U16 Asian Championship.

Samar Pratap is a 17-year-old 6ft 2'' combo guard from Patna and represented Bihar at the 37th U16 National Basketball Championships 2022, in Indore, Madhya Pradesh, held from December 21 to 27.

Kushal Singh is a 14-year-old 5ft 11'' guard who captained the Karnataka U13 State team at the 47th Sub Junior National Basketball Championship 2022 from November 14 to 21 in Kangra, Himachal Pradesh. Singh is a product of the National Sports Club, Mysuru.