Discover more from Ekalavyas | Basketball
Welcome to Ekalavyas, the pioneering publication dedicated to unearthing the world of international basketball, from an Indian perspective!
Over 3,000 subscribers
Nav Bhatia: From Toronto Raptors Superfan to Hall of Famer
Nav Bhatia, the Toronto Raptors Superfan who was recently honoured by the Naismith Memorial Hall of Fame, joined the Patel & Kumar NBA Talkshow last week.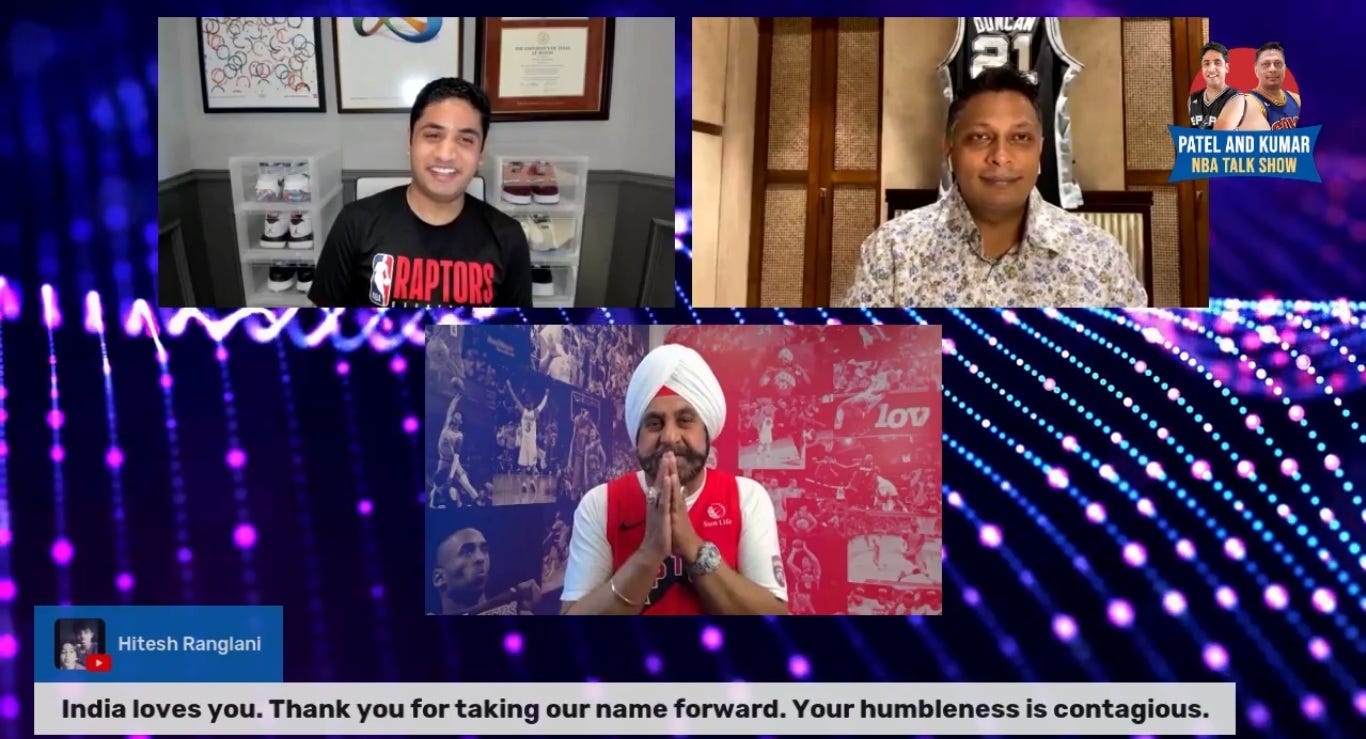 Nav Bhatia, Toronto Raptors Superfan joins the Patel & Kumar NBA Talkshow, after getting honoured by the Naismith Memorial Basketball Hall of Fame. Speaking on becoming the first NBA superfan to be recognized by the Hall of Fame, Nav Bhatia pointed to his turban and said, "What an inclusive League they (NBA) are for giving an opportunity to a guy who doesn't look like a normal fan you know...but here I am now with God's grace in the Hall of Fame!"
"I thought my manager was pulling my leg, making a fool of me....I kept on pinching myself 'Is this true? Am I among these legends?'"
Nav's Superfan Gallery section in the Naismith Memorial Hall of Fame includes a replica of his Championship ring received after the 2019 Toronto Raptors' title-winning run (he is the first Superfan to receive an official Championship ring), his 'Superfan' jersey, his Raptors 'A-12' seat (on which Nav Bhatia has faithfully sat through every Raptors home game right since 1995), and his white turban with a red band that Nav wore while serving as the honorary Parade Marshall after the 2019 Championship. Nav also spoke about moving to Canada from New Delhi, India, in 1984, in the aftermath of the anti-Sikh riots. You can watch the full interview here: [youtube]https://youtu.be/67i8NzNZpQU[/youtube] About the Patel & Kumar NBA Talkshow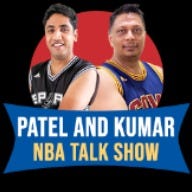 Ekalavyas presents the 'Patel & Kumar NBA Talkshow' powered by Patel Pick & Roll Sports is India's first and only primetime NBA talkshow on Youtube. Currently in its second season, the 'P&K' Show enjoyed a pathbreaking debut season, documenting the 2019-20 NBA Bubble Play-in tournament, Playoffs & Finals.
Co-hosted by Shivam Patel (from San Antonio, USA) and Vinod Muthukumar (from Mumbai, India), #PatelAndKumar is a joint Indo-US production that aims to be a candid and conversational take on all things NBA, with a distinct Indian 'tadka' (touch). Previous guests include Grizzlies Coaches Taylor Jenkins & Sonia Raman, 'Voice of NBA Top 10' Beau 'GOAT-mentator' Estes and Coach Nick from the viral Youtube channel BballBreakdown, among others. Watch all episodes here.