Discover more from Ekalavyas | Basketball
Welcome to Ekalavyas, the pioneering publication dedicated to unearthing the world of international basketball, from an Indian perspective!
Over 3,000 subscribers
National CBSE Basketball U17 Title for Shanthal Jyothi Public School
Noida, December 5th 2017 :   ShanthalJyothi Public School, Muttom, Idukki District, Kerala defeated Delhi Public School, Rajnandgaon, Chhattisgarh, 79-75 and won the final in an evenly poised final match at the National CBSE Basketball Championship 2017 in the Under 17 Boys category at JBM Global School, in Noida, Uttar Pradesh.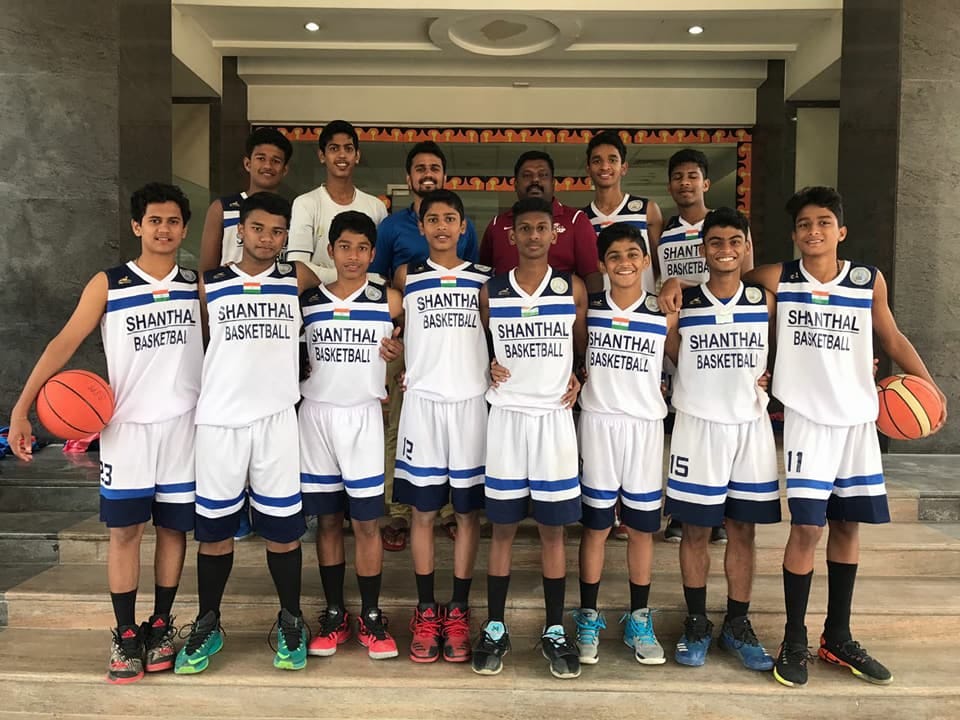 Shanthaljyothi boys team that won the championship. Image credits : Kerala Basketball Association
This was the first time the CBSE had introduced U17 division and had both U19 and U17 divisions.
This historical feat achieved by ShanthalJyothi trained by Dr Prince K Mattom, incidentally a FIBA commissioner and Secretary of Kerala Basketball Association in a match which went on to an extra time thriller .
Kerala started with a 19-12 lead in the first quarter but ended the first half trailing 27-33.  Third quarter saw kerala team come back and take a 46-40 lead but the DPS fought it back again and ended the regular time with score of 66-66 before giving Shanthaljyothi, Kerala a 79-75 victory.
Tom Jose  was the leading scorer for Shanthal with 36 points and was well assisted by Jordy Jais with 19 points and Rohan Thomas scored 10 points.
This was the First ever title by a Kerala Team in a National CBSE Basketball Championship.
The shanthaljyothi, Kerala, Champions qualified to the Nationals as Winner of the Cluster 10 & 11 [Kerala & Lakshadeep Cluster]
Road to the Final
The Kerala Team came in to the final defeating  Bal Bharathi School, SGH Margh with the score  of 75-46  and  in Quarter final defeated Army Public School, Allahabad 31-12. In Pre quarter, they defeated Millennium School, Dubai 36-13
24 Champion teams which includes Winners and Runners up from around 9 Gulf Countries who are affiliated to the CBSE Board were divided in to 8 Groups and the winners from each group was qualified for the Knock out Stage
Shanthal qualified to the Knock out stage as champions from group G consisting of Vivek Public School, Chandigargh, Rishikul Senior Secondary School
Team Shanthal Jyothi:
Tony Benny[Captain], Tom Jose, Jordy Jais, Rohan Thomas, Noyal Jose, Alan Pious, Ashique T A, Nikhil Thomas, Alwin Jose, Rony Benny, Harikrishnan V and Albin Tom, coached by Dr Prince K Matto and managed by Allan C Jose
The prizes were distributed by Mr. Gurudutt Arora, the Managing Director of JBM Global School, Dr. Upma Arora, the Principal of JBM Global School and by Mr. Ravidutt, the CBSE Observer.
Detailed Scores Final
Shantha Jyothi Muttam(Tom Jose 36,Jordy Jais,19,Rohan Thomas10) bt  Delhi Public School Rajnandgaon, Chhattisgarh( Sandeep 30,Pamkaj22); 79-75