Discover more from Ekalavyas | Basketball
Welcome to Ekalavyas, the pioneering publication dedicated to unearthing the world of international basketball, from an Indian perspective!
Over 3,000 subscribers
MSL Season 3 - Action from weeks 2 and 3

Image credits: Mizoram Super League
The season 3 of the Mizoram Super League (MSL) – India's first professional basketball league, tipped off on 21st March 2017 at the Khatla Indoor Stadium, Mizoram. Weeks 2 and 3 saw further additions to the squads in a bid to bolster their chances of winning the league.
Signings and arrivals
Newly promoted Chanmari Hollow signed UBA Champion and former India international Jagdeep Singh Bains. This signing was the team's second and final interstate player signing.

Mission Veng Vikings signed foreign player Ronald March, who featured for the Delhi Capitals in the United Basketball Alliance.

Defending champions Khatla TBL announced the signing of India international Vishesh Bhriguvanshi and foreign player Chris Solomon, who featured for the Bengaluru Beast in the United Basketball Alliance.
Game 5
Lalrina Renthlei dunks the ball on the break and becomes the first ever Mizo player to dunk in the MSL. Image credits: Mizoram Super League
Chanmari Hollow 68 (Jagdeep Bains 19 pts, 9 reb; Mohit Bhadu 14 pts, 3 reb) bt. Mission Veng Vikings 67 (Lalrina Renthlei 24 pts, 5 reb; Kimkima Sailo 15 pts, 5 reb)
In a game that went down to the wire, newly promoted Chanmari Hollow pulled off their second upset victory of the tournament by defeating the Mission Veng Vikings 68-67. The squad's newest addition, former India international Jagdeep Bains' inspirational play made the difference for Chanmari Hollow. Bains' 19 points and 9 rebounds coupled with 6 assists was well supported by front court partner Mohit Bhadu's 14 points. For the Vikings, Lalrina continued to impress by dropping 24 points and grabbing 5 boards. He also made the most notable play of the game by stealing the ball off a cross pass and dunking it on the fast-break. The first ever dunk by a Mizo player in the MSL!
Game 6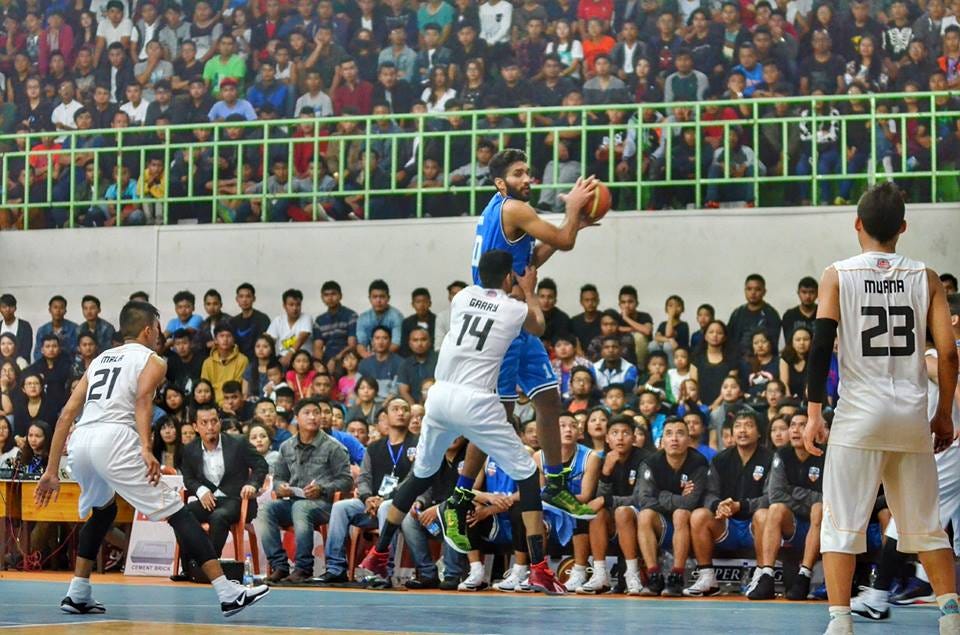 Amritpal Singh secures the ball against Garry Gill. Image credits: Mizoram Super League
Zarkawt BCA 67 (Dennis 16 pts, 9 reb; Yadwinder Singh 15 pts, 3 reb) bt. Khatla TBL 51 (Mapuia 18 pts; Garry Gill 15 pts, 12 reb)
In a rematch of last year's final, defending champions Khatla TBL, who were without their recent signings, fell to Zarkawt BCA, who have now emerged as the title favourites. Star forwards and deadly duo, Amritpal Singh and Yadwinder Singh continued to dominate the opposition forwards and imposed their will throughout the game. Amritpal threw down some monstrous dunks on his way to a cool 12 points and 9 rebounds while Yadwinder Singh scored 15 points. Dennis scored a team high 16 points for the Zarkawt BCA in what was a complete team performance. For Khatla TBL, Mapuia top scored with 18 points while Garry Gill got his double-double with 15 points and 12 rebounds. However, the most notable stat of the night belonged to the young point guard Zonuna of Zarkawt BCA who got 7 steals!
Game 7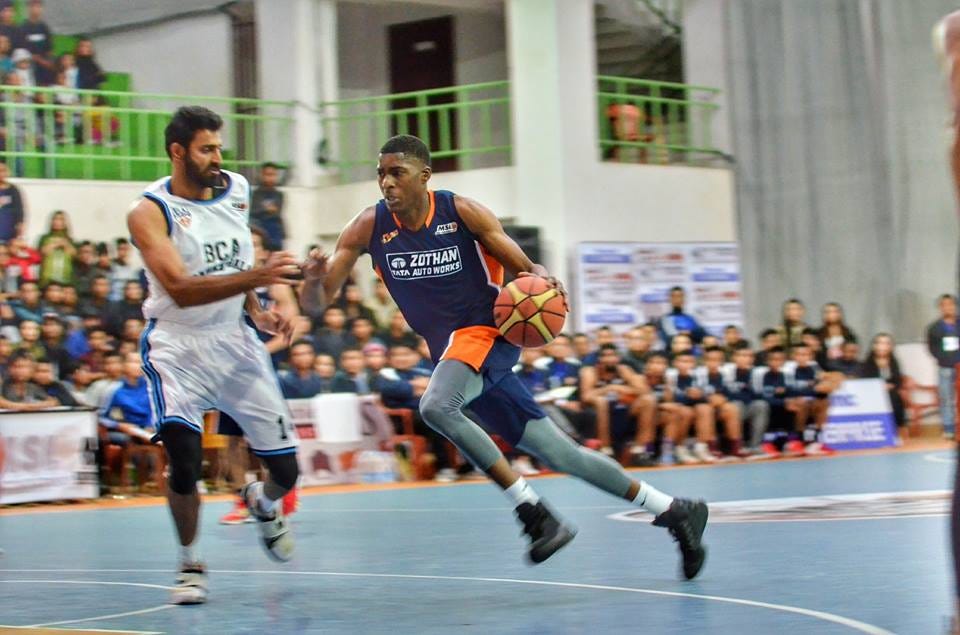 Ronald March top scored for the Mission Veng Vikings with 22 points including 4 straight 3 pointers. Image credits: Mizoram Super League
Zarkawt BCA 69 (Amritpal Singh 18 pts, 15 rebs; Zonuna 15 pts, 6 reb) bt. Mission Veng Vikings 57 (Ronald March 22 pts, 6 reb; Moses 16 pts, 7 reb)
In yet another dominating performance by team India star Amritpal, Zarkawt BCA continued their winning streak by thumping Mission Veng Vikings 69-57. Vikings forward India international Rikin Pethani was no match for Amritpal Singh who scored 18 points and grabbed 15 rebounds and led his troops to victory. For the Vikings, Ronald March was the only positive in what was otherwise a match to forget. He scored a game high 22 points including a stretch of 4 straight 3 pointers.
Game 8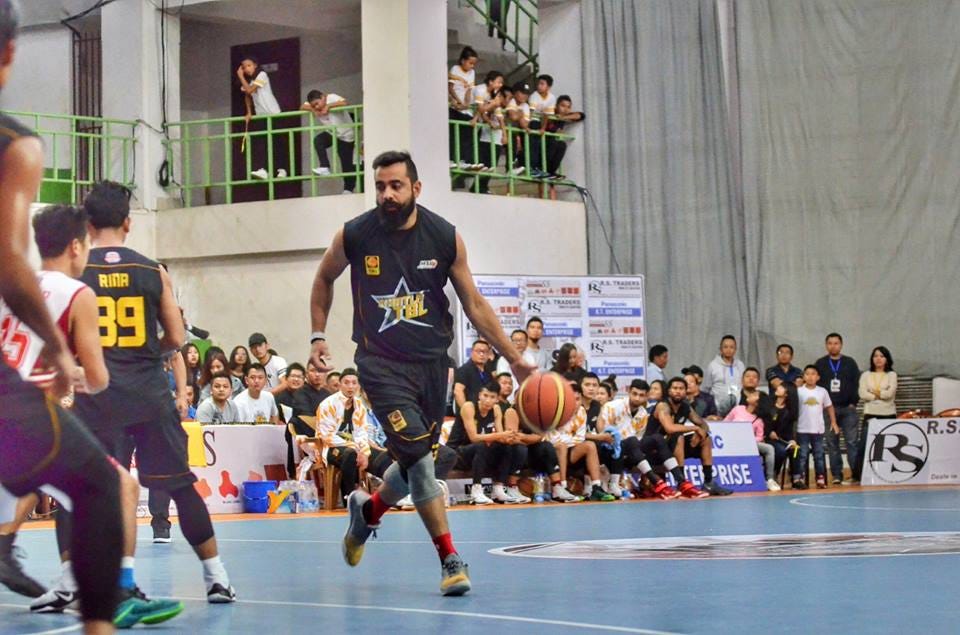 Vishesh Bhriguvanshi looks to make a move to the basket. Image credits: Mizoram Super League
Khatla TBL 80 (Garry Gill 20 pts, 6 reb; Vishesh Bhriguvanshi 13 pts, 3 reb) bt. Zarkawt Serpents 64 (Khuma 18 pts, 3 reb; Kanipi Shiv 11pts, 3 reb)
Now at full-strength, Khatla TBL thumped Zarkawt Serpents (80-64) who had no answer to the experience and talent of their opposition. Garry Gill top scored for the defending champions with 20 points, while India international Vishesh Bhriguvanshi controlled the tempo and scored 13 points and foreign player Chris Solomon dropped 10 points. For the Serpents, youngster Khuma scored 18 points and grabbed 3 rebounds.
Game 9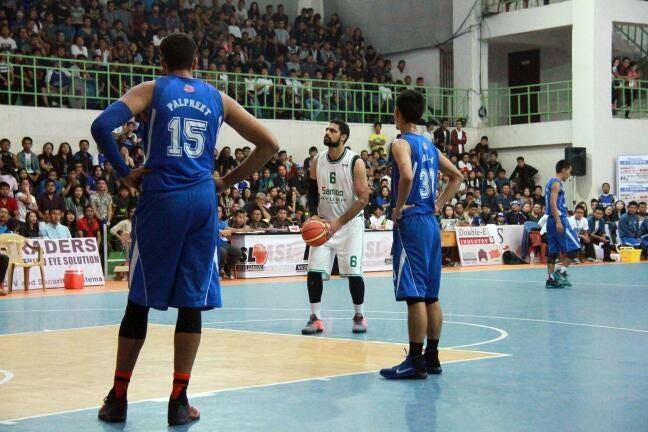 Jagdeep Singh Bains looks to convert his free throw attempt. Image credits: Mizoram Super League
Tuikual South 87 (Amjyot Singh 22 pts, 4 reb; Palpreet Brar 15 pts, 6 reb) bt. Chanmari Hollow 80 (Jagdeep Bains 30 pts, 6 reb; Nunpuia 18 pts, 6 reb)
An inspirational performance by India international Jagdeep Bains was not enough to carry Chanmari Hollow over the hump as they fell to the powerhouse Tuikual South, 87-80. For Tuikual, Amjyot and Palpreet had yet another strong outing with 22 points and 15 points respectively as they continue to make a compelling case for their team to be considered as the title favourite. However, the story of the match was 16 missed free throws by Chanmari Hollow that proved to be the difference as they ended up with a loss
News from around the league
Congratulations to veteran MSL player Lalrina Renthlei who tied the knot with Atei. We wish them a very happy and successful married life.

Our heart-felt condolence to the family members and loved ones of Michael M Sailoa who recently passed away. May his soul rest in peace.
For more such updates on the MSL, make sure to follow us on Facebook, Instagram and Twitter.