Discover more from Ekalavyas | Basketball
Welcome to Ekalavyas, the pioneering publication dedicated to unearthing the world of international basketball, from an Indian perspective!
Over 3,000 subscribers
Moment Marketing in Indian Sports: Foul or Fair Play?
Moment Marketing in Sports rarely makes the headlines, especially in non-cricket sports. But with brands riding on the coattails of success of India's 'finally famous' Olympic athletes, we could be looking at an inflection point for sports marketing in India.
What is Moment Marketing?
As the phrase suggests, Moment Marketing implies cashing in on a trending moment, to directly or indirectly promote your brand's messaging. This is done through topical or tongue-in-cheek memes, graphics, ads or tweets that ride on an already hot topic or subject. The famous 'Amul Girl' ads are a classic example.
What's the Issue?
In fact, Amul was among the over dozen brands that congratulated Sindhu through its cartoon, besides notable names like Pan Bahar, Kotak Mahindra Bank, Happydent maker Perfetti Van Melle and Vicks-maker P&G, as reported in Business Standard.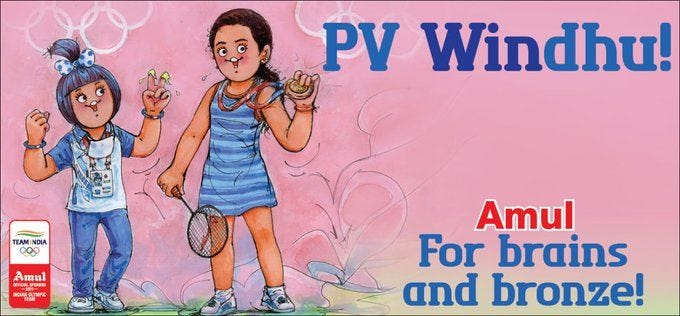 These brands either directly used Sindhu's name (in the case of Happydent), image (in the case of Pan Bahar), likeness (in case of Amul above) or else her silhouette (Kotak Mahindra).
As reported in Business Insider last week, Sindhu's management company Baseline Ventures has already issued notices to over 20 brands seeking damages of INR 5 crore each.
is 'brand-wagoning' a foul?
Sindhu's management team is fairly claiming that these brands are belatedly latching on to the hard-earned success of these athletes, without supporting them through sponsorships, endorsement fees, or incentives/perks. Others in Sindhu's support argue if brands would have taken such liberties had the celebrity been a superstar cricketer like Virat Kohli or MS Dhoni.
Baseline Ventures' Managing Director & Co-Founder Tuhin Mishra has also highlighted how Rule 40 of the Olympic Charter prohibits "athletes' own sponsors to associate for a specific period during the Olympics if they are not sponsors of Olympics or National Team".
can't brands 'celebrate' olympic triumphs?
On the flipside, arguments are being made to allow leeway for simple congratulatory messages. A similar action three years ago by Baseline on behalf of cricketer Prithvi Shaw, reportedly came to naught.
Especially when it comes to Amul, considering the historicity of its topical cartoon, a case can also be made that such commercial speech ought to fall within the protection of Article 19 (1) (a) i.e. freedom of speech & expression. If individuals or media companies can celebrate an Indian Olympian's success (which is hard to come by), then why should brands or corporates be denied the same right?
FLAWED APPROACH?
A further wrinkle stems from how, unlike in the West, sporting celebrities in India reportedly don't protect their 'personal or unique nuances' under the Trade Marks Act. Unlike copyright protection which exists automatically, protection under Trade Marks only arises if there is prior registration.
This is especially relevant since the cease and desist notices that Baseline Ventures has reportedly sent to these allegedly infringing brands invoke section 27 of the Trade Marks Act, 1999.
As reported in Business Standard, other legal options include criminal action under the IPC (for counterfeiting a property mark) or approaching the Advertising Standards Council of India.
Finally, Sindhu's aggressive approach also raises the question as to what remedies, if at all, other Olympic medalists, notably golden-boy Neeraj Chopra, are considering, to tackle similar questionable 'brand-wagoning' practices.
***
If you found this article insightful...
Support Ekalavyas: You can contribute via https://www.instamojo.com/@ekalavyas​ 🙏🏾. We are accepting contributions as low as Rs. 9/- (excluding a small processing fee charged by the payment gateway provider). 
Ekalavyas now on Clubhouse! Join us for live audio conversations by following the 'Sports India Basketball' Club.
Ekalavyas now on Telegram! Stay up-to-date on all the breaking news around Indian Basketball, by subscribing to the EkBallIndia Telegram Channel.