Discover more from Ekalavyas | Basketball
Welcome to Ekalavyas, the pioneering publication dedicated to unearthing the world of international basketball, from an Indian perspective!
Over 3,000 subscribers
Mizoram Super League: Season 3 - Action from week 1

The season 3 of the Mizoram Super League (MSL) – India's first professional basketball league, tipped off on 21st March, 2017 at the Khatla Indoor Stadium. Week 1 saw a total of 4 matches.
Game 1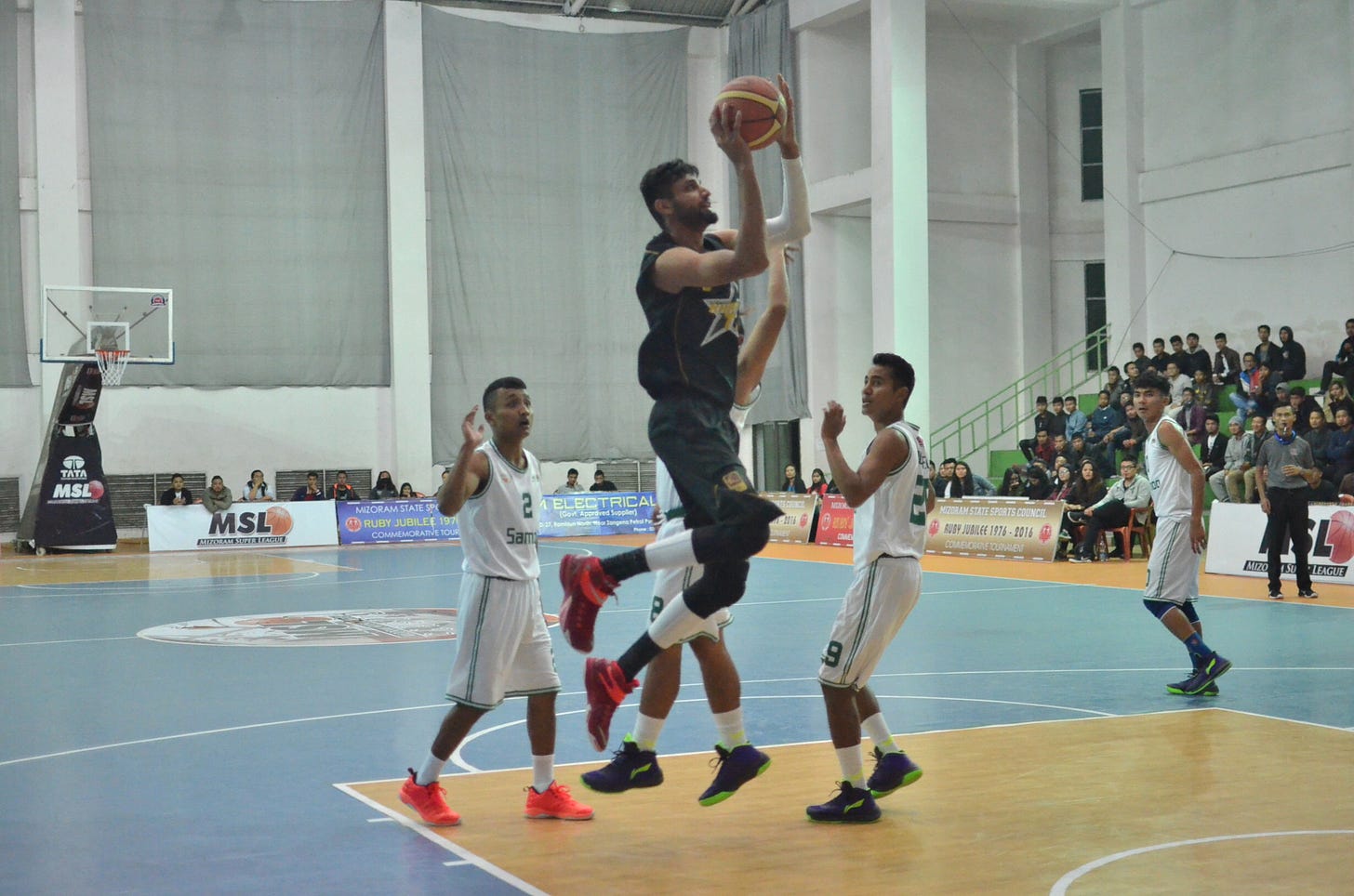 Garry Gill of Khatla TBL scored 29 points and secured 14 rebounds to ensure a two point victory over newly promoted Chamari Hollow. Image credits: Mizoram Super League
Khatla TBL 69 (Gurvinder Gill 29 pts,14 reb) bt. Chanmari Hollow 67 (Vanlalthazuala 21 pts, 8 reb)
Defending champions Khatla TBL escaped with a narrow victory against the newly promoted Chanmari Hollow. Khatla TBL was carried by their marquee player Gurvinder Gill who dominated the opposition big men throughout the game. He was ably supported by his team Vanlalnunsanga who scored 13 points. For Chanmari Hollow, their marquee player Mohit Bhadu had a rather quiet game with 9 points and 12 rebounds. The offensive load was carried by Vanlalthazuala who scored 21 points and secured 8 boards.
Signings and arrivals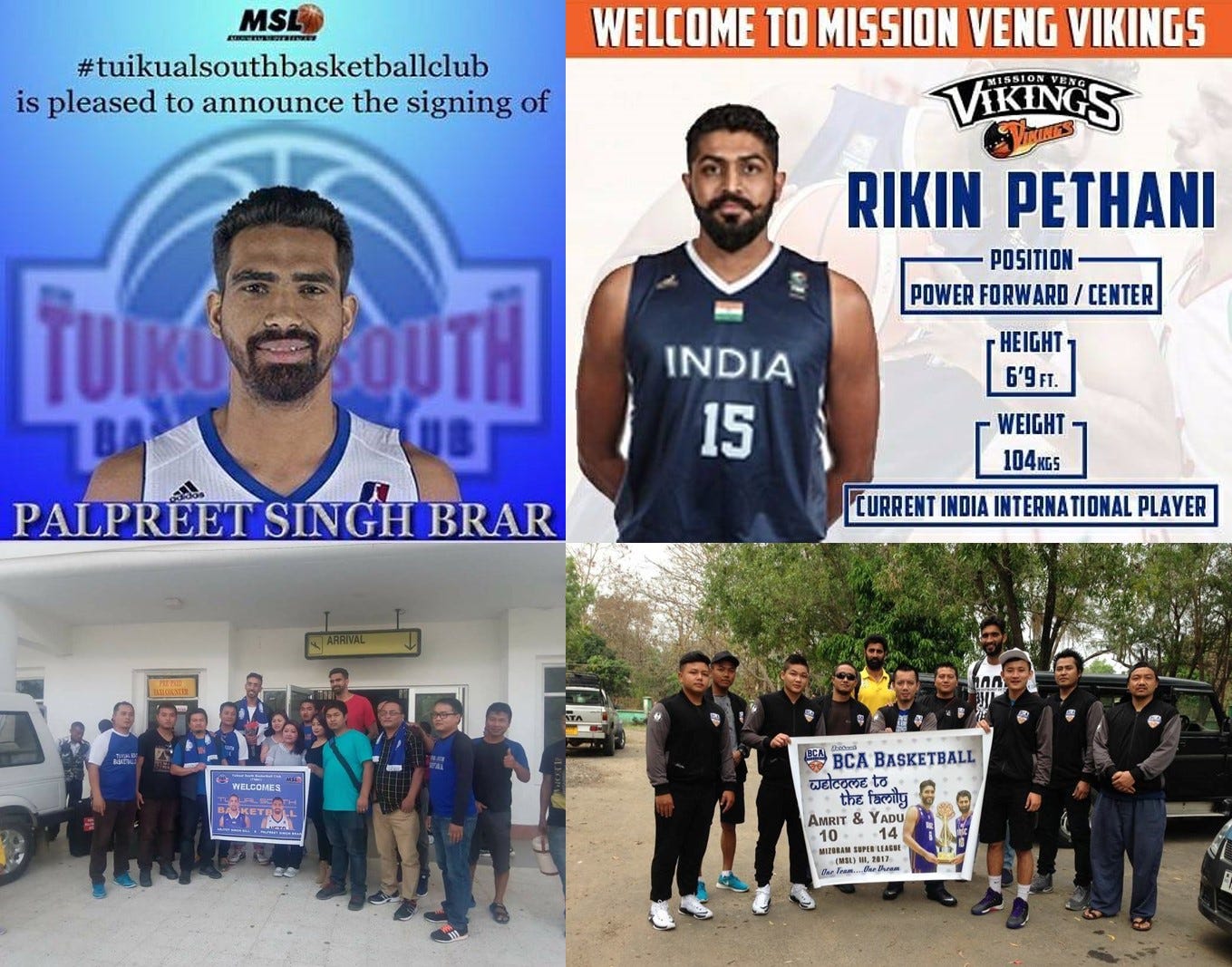 Signing and arrivals during week 1 of the MSL Season 3. Image credits: Mizoram Super League
As the week progressed, teams announced the signings and arrivals of their marquee players. 1) Tuikual South announced the signing of former NBA D League draftee and champion of UBA Season 4, Palpreet Singh Brar 2) Mission Veng Vikings announced the signing of India international forward Rikin Pethani 3) India internationals Amjyot Singh and Palpreet Singh Brar arrived to play for their team Tuikual South 4) Zarkawt BCA announced the arrival of their front court duo, India internationals Yadwinder Singh and Amritpal Singh, who arrived after helping their ONGC team secure the 33rd Federation Cup
Game 2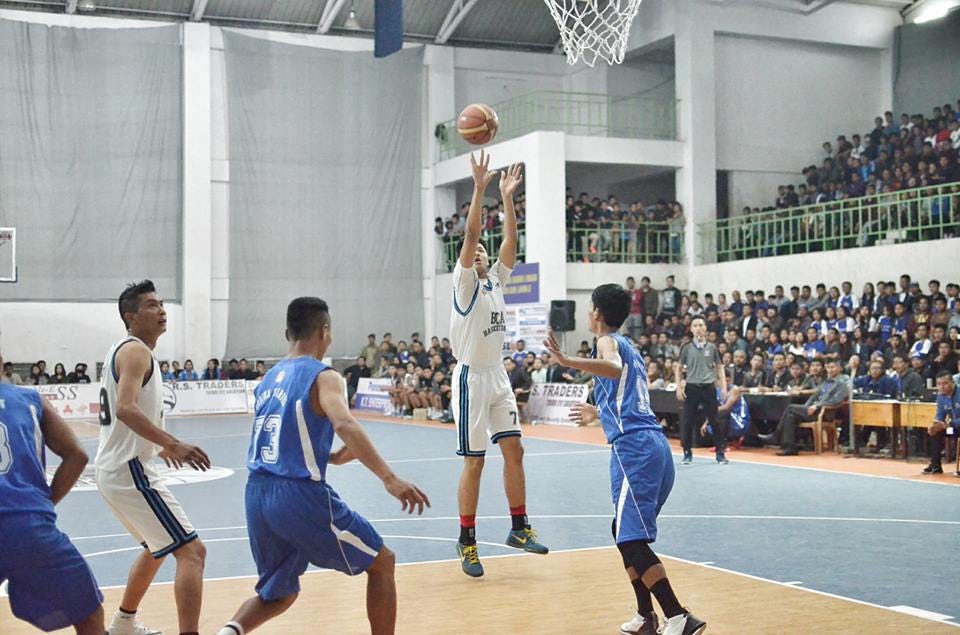 Matthew Sailo of Zarkawt BCA scored 22 points in the comeback victory over Tuikual South. Image credits: Mizoram Super League
Zarkawt BCA 89 (Matthew Sailo 22 pts; Zonunsanga 15 pts, 11 ast) bt. Tuikual South 87 (Amjyot Singh 26 pts, 9 reb; Palpreet Singh 18 pts, 6 reb)
In a major upset, Zarkawt BCA stunned the favourites Tuikual South by fighting hard and securing a comeback victory. The two-headed dragon of Amjyot Singh and Palpreet Singh was just not enough to down the spirits of the resilient Zarkawt BCA who were without their marquee players Yadwinder Singh and Amritpal Singh. Their comeback was led by back-up centre Matthew Sailo who scored 22 points (including 4 three pointers) and their point guard Zonunsanga who scored 15 points and dished out 11 assists.
Game 3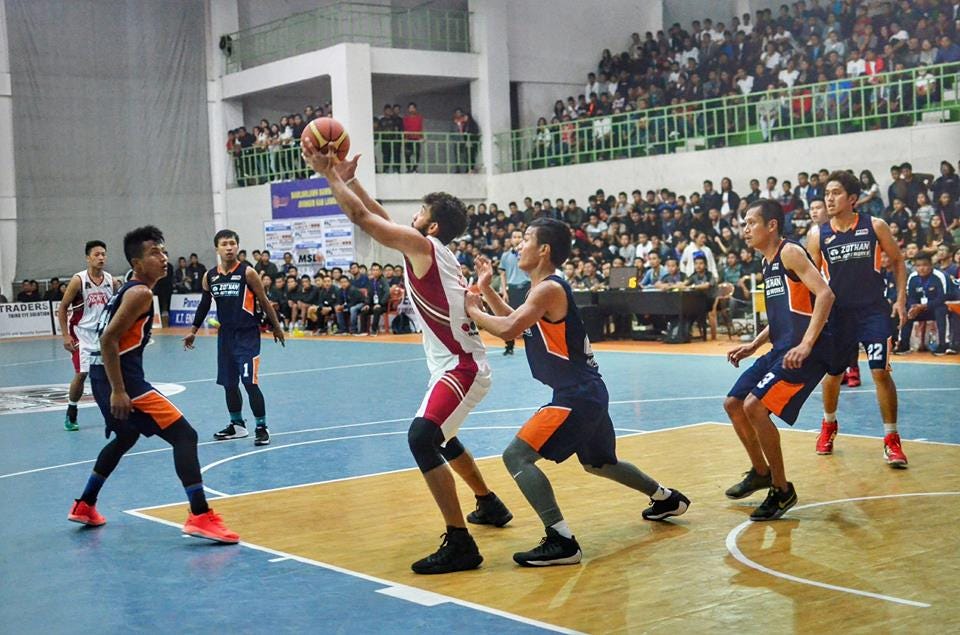 Sahil Sharma of Zarkawt Serpents posts up on his defender. Image credits: Mizoram Super League
Mission Veng Vikings 67 (Michael 23 pts; Lalrina 12 pts, 11 reb) bt. Zarkawt Serpents 66 (Lalramropuia 20 pts; Sahil Sharma 18 pts, 7 reb)
In what was another nail biter, Mission Veng Vikings, who were without their star forward Rikin Pethani, opened their account for the season with a come-back victory over Zarkawt Serpents. For the Vikings, Michael scored 23 points while Lalrina had a double-double of 12 points and 11 rebounds. For Zarkawt, Lalramropuia scored 20 points and Sahil Sharma scored 18 points to go along with his 7 rebounds.
Game 4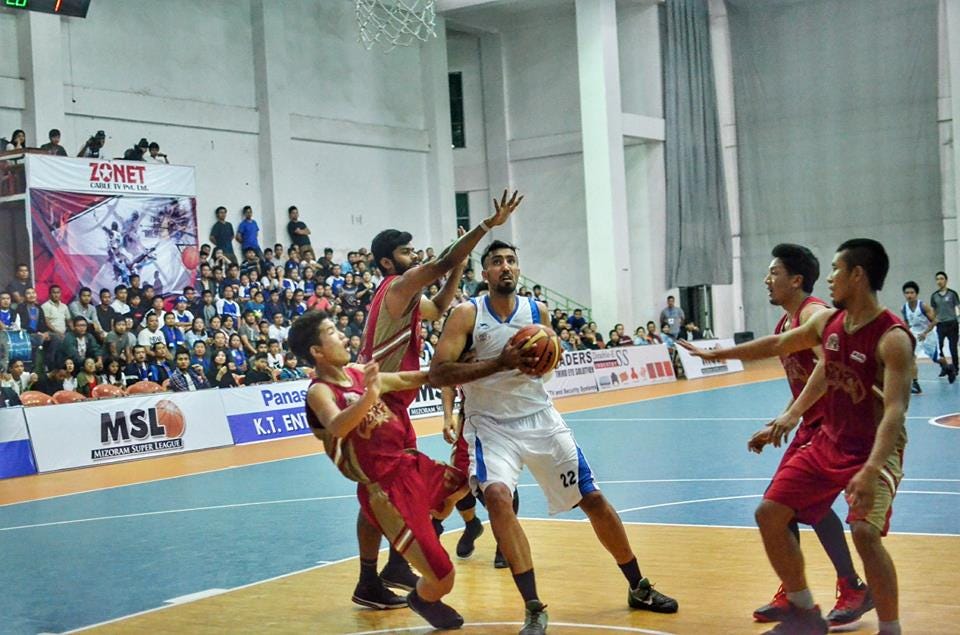 Amjyot Singh went on a scoring rampage and scored 27 points and secured 12 rebounds as his Tuikual South side blew out Zarkawt Serpents. Image credits: Mizoram Super League
Tuikual South 86 (Amjyot Singh 27 pts, 12 reb; Zodinthara 20 pts) bt. Zarkawt Serpents 62 (Sahil Sharma 12 pts, 9 reb)
After being on the wrong side of an upset the last time, a statement victory was exactly what Tuikual South needed. On the back of their star forward Amjyot Singh, Tuikual South routed the Zarkawt Serpents 86-62. Amjyot went on a scoring rampage (27 points) and was supported by his team- mate Zodinthara who dropped 20 points of his own. For the Serpents, Sahil Sharma put up 12 points and secured 9 boards, who have now lost two in a row.
For more such updates on the MSL, make sure to follow us on Facebook, Instagram and Twitter.