Discover more from Ekalavyas | Basketball
Welcome to Ekalavyas, the pioneering publication dedicated to unearthing the world of international basketball, from an Indian perspective!
Over 3,000 subscribers
Mizoram: Indian Basketball's Neverland
(A version of this feature was originally published in Nation of Sport in May 2018, as 'Mizoram Super League: The Rise of Basketball in the North East')
For the longest time I have been on a hunt for hoops nirvana. An oasis where I can finally be the basketball geek I was always meant to be. Surrounded by fellow geeks. Kind of like that school for X-Men. After all passionate basketball fans in India are considered mutants- weirdos with a disease that needs treatment: "Hey, have you tried writing about cricket instead?"
Being a travelling basketball writer, the above poser has always flummoxed me.
It's like asking a fish if it has tried climbing a tree.
My family acquaintances were worried after all: How will you make money?
While I grinned and deflected, this seemingly well-intentioned query was actually tearing me up from inside.
Why am I doing what I do?
I needed reaffirmation, and my answer would lie eastwards, in India's remotest state of Mizoram.
Looking East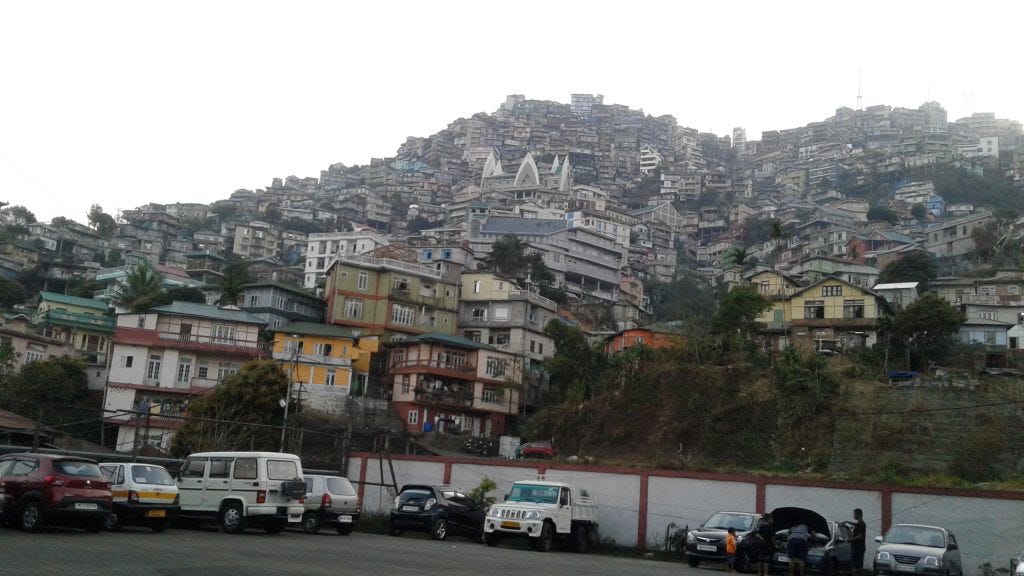 Aizawl, Mizoram
North East India has always enthralled me because it seems so different from the rest of the country. The people, the culture, the topography, couture and the cuisine. So earlier this March, I packed my bags and flew from Bengaluru to Guwahati. From Guwahati, a three hour bus ride to Shillong. From Shillong, another 17 hours to Aizawl. It was a back-breaking and tiring journey across hilly terrain, on narrow, dusty, crumbling roads.
The capital city of Mizoram was situated on a steep ridge bursting with houses haphazardly on top of each other.
"Aizawl is weird that way dude," an aspiring local filmmaker acquaintance of mine, Raymond Colney, would later tell me. "Usually people construct houses in the valleys. Here they built them on top of the hills to prevent attacks from rival tribes/kingdoms."
You could see the region was poor. A series of medical stores and tiny restaurants serving momos and alu parathas seemed to be the only commercial establishments to speak of.
From the local bus stand, I took a white Maruti 800 cab. The driver was a skinny young chap with funny teeth wearing a Dwayne Wade Miami Heat T-shirt.
He didn't speak a word of English or Hindi.
"Only Mizo."
We inched our way into the heart of the city. Our cab joined a series of other identical Maruti 800s that were in perfect alignment one behind the other. Meanwhile, scooters and bikes whizzed past on the inner lanes. Despite the bumper-to-bumper traffic, there was an eerie quiet thanks to a no-honking policy voluntarily followed by the people of Aizawl.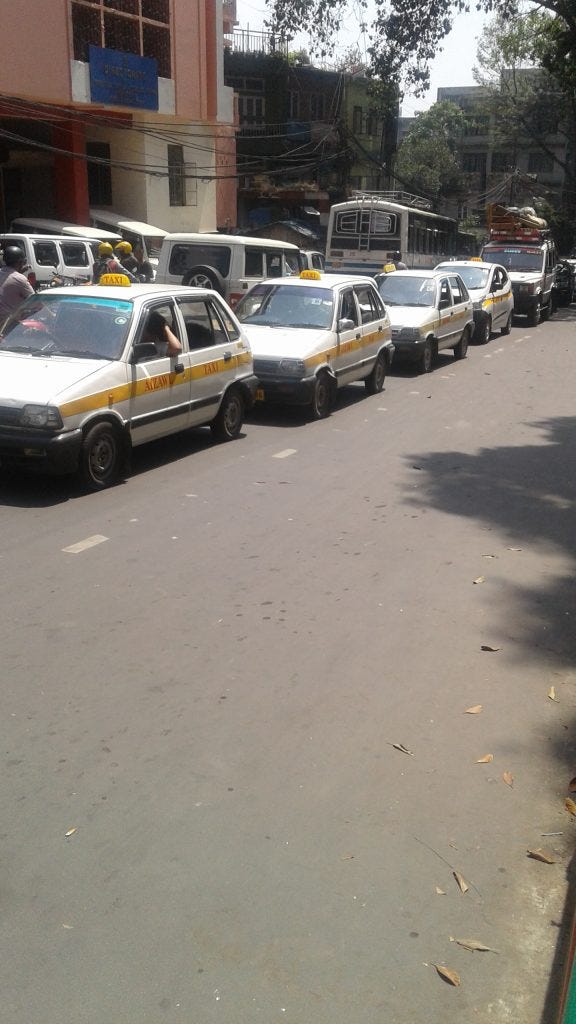 Aizawl is renowned for its lane discipline and 'no honking' in traffic
The cabbie broke the silence.
"You want smoke?"
"Naah man I don't smoke."
"You want girls?"
I guffawed.
"Just take me to Zarkawt."
Lalrina Renthlei, a star in the local Mizoram Super League, had hooked me up with a friend who would help me find budget accommodation in the bustling Zarkawt market area. I found Koko manning his Samsung electronics store.
"So how do you know Lalrina?" Koko asked me.
"Through social media. I saw his dunk videos on Instagram." The 6ft Lalrina is the first and only Mizo player to register an in-game dunk in the Mizoram Super League ('MSL'). In a region where the average height is around 5ft 5", and where even in basketball circles 6ft is considered tall, dunking is still a big deal.
"So what do you plan to achieve through writing this story?"
"To bring more awareness about the basketball culture in Mizoram, to other parts of India. So that guys like Lalrina aren't ignored anymore."
"So you play basketball too?" I countered.
"Yes. But nowhere close to Lalrina's level."
All this while, we kept walking up and down the narrow bylanes radiating from the Zarkawt Traffic Point Circle. Young men, children and women carrying their babies in colourful cloth sheets securely wrapped around their backs, kept swarming around us. I checked into a hotel with a stunning view of the valley, and despite the generous stains of brown paan on the once white walls of my room, felt settled in.
Mutual admiration society
The next day, I was picked up by Lalrina, the reigning MVP of the MSL. He was smartly dressed in a well fitting black shirt, grey trousers and black Oxford leather shoes. We were meeting each other for the first time after numerous Whatsapp and Instagram messages over the weeks prior.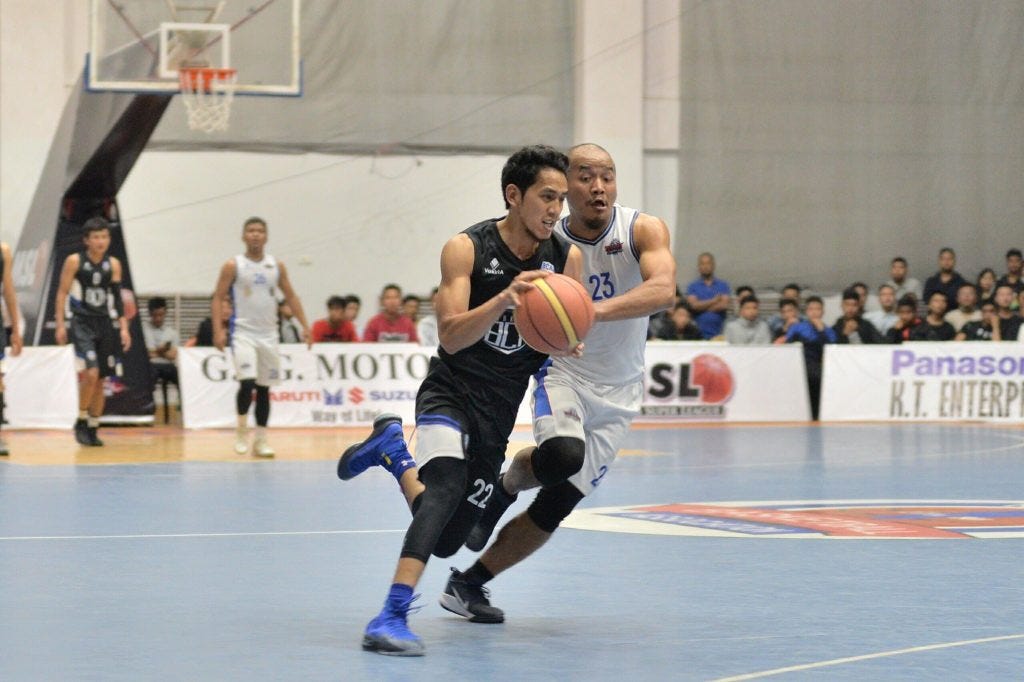 Mizoram's Star Player Lalrina Renthlei in action. Image credit Mizoram Super League
"Come, let me take you out to lunch," Lalrina said. "I want you to meet someone."
We went to Hotel Regency, one of the fancier establishments in the city with the standard effects of marbled floors, golden chandeliers, shiny elevator doors and sharply dressed staff that mark any self respecting hotel.
"This hotel is actually owned by Malsawm Tluanga, who also owns our team the Zarkawt BCA," Lalrina explained as we sat down at one of the tables.
Soon we were joined by another well dressed man in a maroon sports jacket and shiny black shoes, about 5ft 8'' tall, with crew cut hair.
It was H Laldinsanga, the "father of Mizoram Basketball."
By now, I was feeling distinctly unfashionable in my staple of well worn jeans, Quechua hiking boots and an ancient polo t-shirt that hadn't left my side since high school. One central thought kept running through my head: The entire north east seems to have its style game on point.
A local legend, Laldinsanga was and remains the only player from the north east to have ever made it to the Indian national team. Still only 33, Laldinsanga, popularly known as "Mapuia" locally and "Sanga" to the rest of us, is already a FIBA certified Level III coach and had just finished a stint as the assistant coach of the Indian national men's team. He is still considered one of the best players in the MSL, having won the MVP title back in Season 1.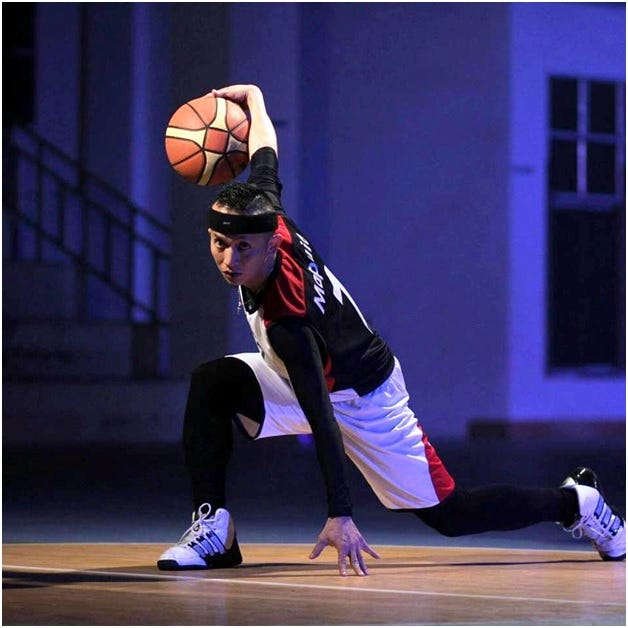 Mizoram's superstar and MVP of the 1st edition of the Mizoram Super League, H Laldinsanga. Image credit: Laldinsanga's Facebook page.
A once teammate and mentor of Lalrina, this year, Sanga's MSL team Khatla TBL had just been knocked out in the semifinals by Zarkawt. But when Sanga joined us there was no trace of rivalry between him and the 27-year-old Lalrina.
"He is still the quickest player in Mizoram," Lalrina told me simply and reverentially.
"We need more exposure, Gopal," began Sanga without much small talk. "Mizo players here are tired of playing each other. We need better quality opponents."
Mizoram has had a start-stop relationship when it comes to competing against the rest of India. Lack of funding makes it hard for teams from the State to participate regularly in the national championships. If they do, then it is usually at the sub-junior (u13), youth (u16) and junior (u18) levels, that too only in the men's division.
While Mizoram is able to hold its own at the age group levels, it struggles to stay competitive at the senior level due to its distinct height disadvantage. This makes it difficult for their best individual players to get noticed, as BFI's non-proactive selection committee generally focuses only on players from the top 8-10 teams.
"We have no dearth of ball handling skills in Mizoram and our players are definitely ready to take on the challenge of representing India, at least at the guard positions. But such aspirations are snubbed at the Senior National Championships due to our State's dismal performances," confirmed Malsawm Tluanga, the President of the Mizoram Basketball Association and the Chairman of the MSL Board. "If Zonal Championships could be organised by the BFI in future, this would certainly put our players at par to compete for a place in the National Camps being conducted and thus promote the dreams of Mizo basketballers even further."
When it comes to exposure, the situation becomes even more difficult considering the remoteness of Mizoram. As I had personally experienced, travelling by road is a nightmarish affair. The only other option is flying- which is naturally expensive and with limited connectivity. Aizawl's Lengpui airport itself is a good hour and a half away from the city after winding past some dense forests and across the green Tlawng river.
"It is cheaper for us to go to Thailand actually, than say Delhi or Bengaluru," Sanga told me with a tired smile as we parted ways.
Lalrina was keen on taking me to his local court, the place "where it all began."
Mizoram: Indian Basketball's Oasis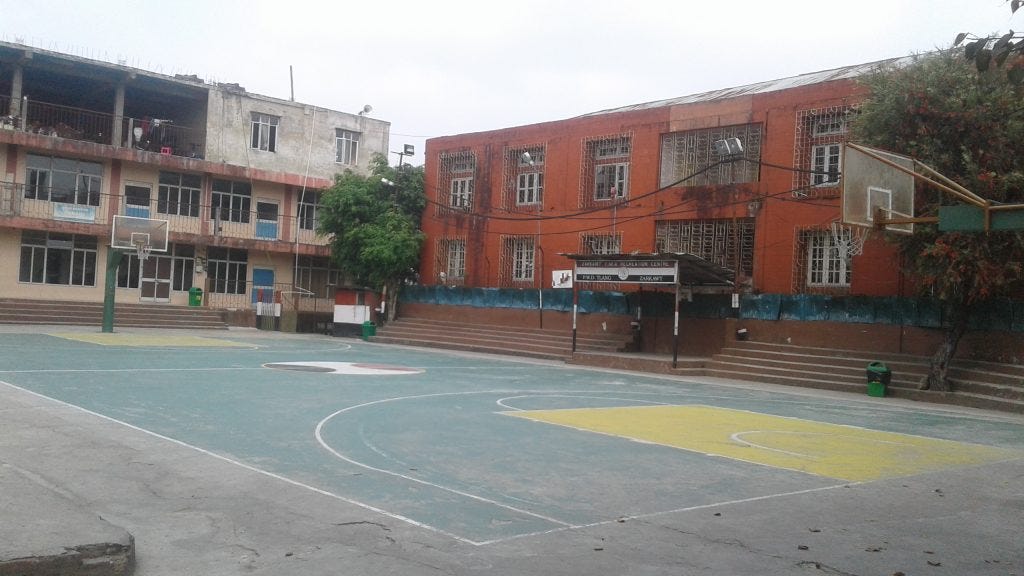 Where basketball "began" in Mizoram: The Zarkawt Young Mizo Association Recreation Centre
As Lalrina and I left the hotel, I began pondering over the peculiarity of Mizoram's geographical location.
Mizoram shares over 800kms of international borders with Myanmar and Bangladesh on the East and West respectively, significantly more than the length of its domestic borders with neighbouring Assam, Manipur and Tripura. As per the Forest Survey of India Report 2017, over 86% of the state is covered by forests, the highest among any of India's 29 states and 7 Union Territories.
Entering Mizoram itself requires a special Inner Line Permit (ILP)- a document that comes with a small fee and explicitly mandates a maximum continuous period of stay not exceeding seven days.
These factors make Mizoram hard to reach even from the other six north eastern states, let alone from any other part of India. In fact when I had told some of my friends from other parts of the north east that I planned to visit Aizawl, they had expressed unabashed surprise: "No one goes there dude."
"Back in the British era, the McMohan line was used to demarcate the areas of north east which are under Britain's de jure control. These were areas that Britain claimed sovereignty over, but had no way of actually patrolling because of their remoteness. So the concept of the ILP was introduced to anyone who wished to travel to the sensitive eastern parts of these states that border China and Myanmar," Merwyn Coutinho, the co-founder of the award winning Batti Project and a long term resident of the North East, had explained to me.
Ironically, it is the same remoteness that makes basketball thrive in Mizoram. It forces Mizos to look inwards to keep themselves engaged and active.
Mizoram also happens to be a devout Church state.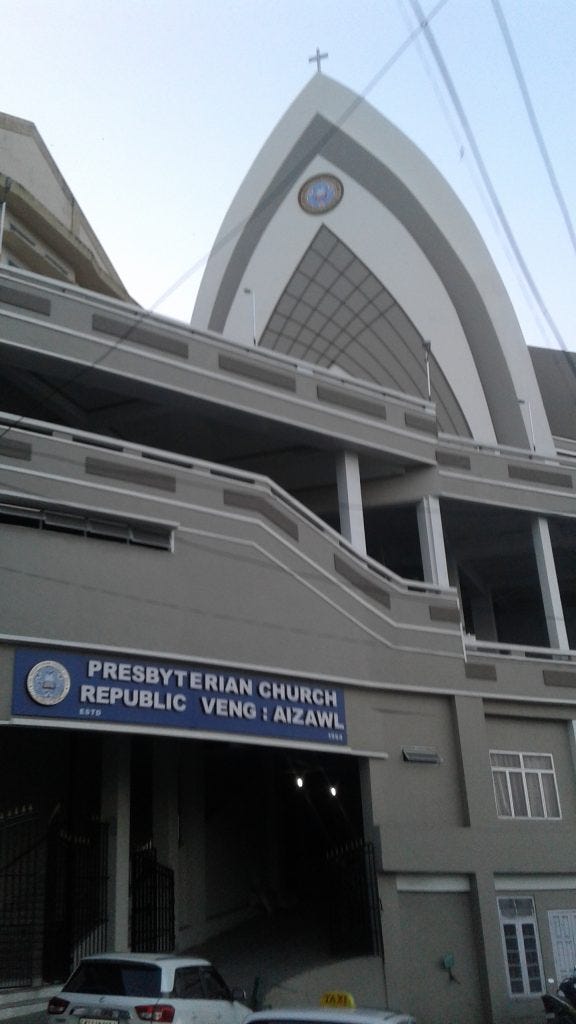 Local community churches such as these have played a big role in supporting sporting activities in Mizoram.
As per the 2011 Census, 87% of the population is Christian. Each neighbourhood had its own fraternity with strains of gospel music that could be heard every night from the local community churches. Individual households make regular monetary 'offerings' which is then used for a multitude of social causes, including heroin de-addiction, construction of local churches, schools and recreation centres.
One of these rec centres is the Zarkawt Young Mizo Association Recreation Centre.
It was where Lalrina was taking me. The place where "basketball began in Mizoram."
Lalrina and I walked towards the entrance of the YMA Rec Centre and found the iron gate seemingly locked. Through the bars, I could see a teal coloured court with the restricted areas under the rims painted canary yellow. There was a striking red brick building on one side of the court. The floor had innumerable cracks indicating that it must have seen numerous footfalls over the years, ever since it was opened to the public in 1994.
"Inter-locality matches here draw much larger crowds than even the MSL," Lalrina said, as he was soon stopped by a fan who excitedly shouted out in Mizo:
"Lalrina, Engtikah nge in khelh leh dawn?" (When is your next game?)
"Tomorrow evening."
The Hawla Indoor Stadium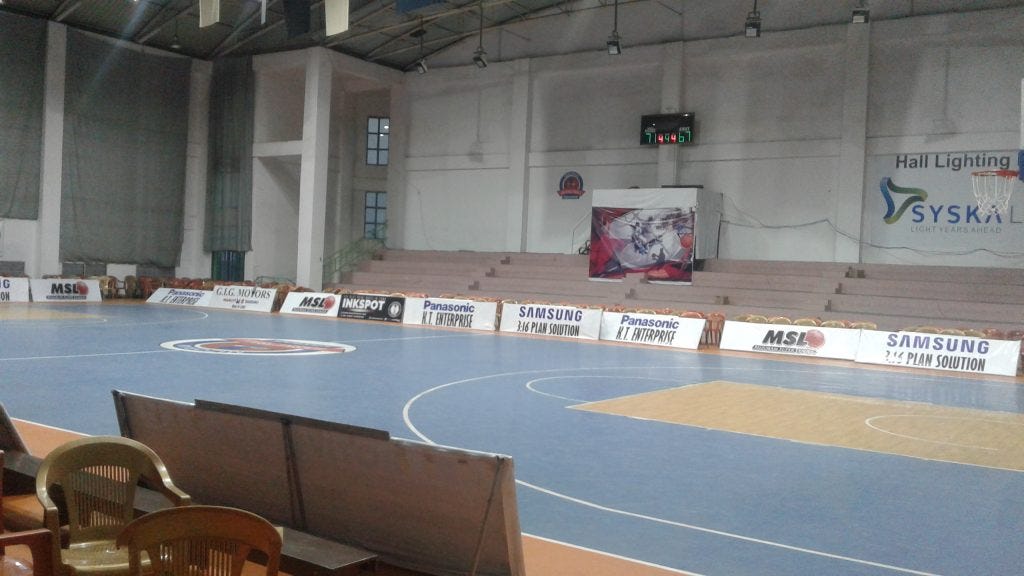 I had scheduled my Mizoram trip so as to catch the MSL Season 4 finale. The best of three Championship series would see Zarkawt BC take on Tuikual South. The venue was the Hawla Indoor Stadium, a new facility in the Republic Vengthlang suburb of Aizawl. Capable of seating around 2500 spectators, it was constructed in 2012 at a cost of approx. seven crores by the Mizoram State Sports Council (MSSC), which is an autonomous body under the Directorate of Sports & Youth Services, Govt. Of Mizoram.
The indoor stadium, which also houses facilities for martial arts, cue sports and table tennis, has been a boon for athletes in the state.
Mizoram has a strong culture of sports with football being numero uno. The issue of lack of height which restricts Mizoram's basketball team at the senior national level is no hindrance when it comes to football. In fact Aizawl FC won the I-League last season and recent national teams have fielded at least six players from the state.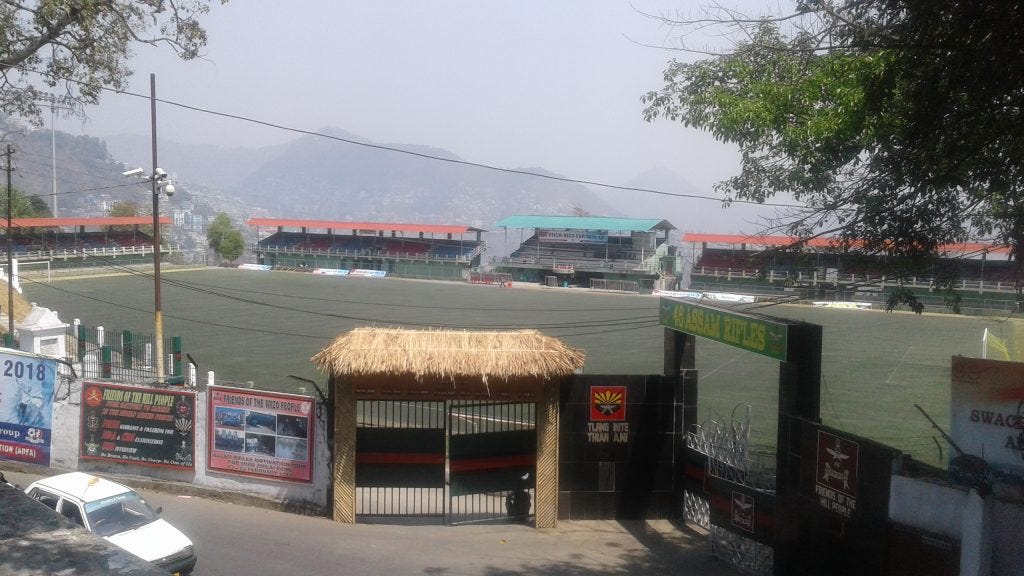 A football stadium in Aizawl, Mizoram. Football is by far the most popular sport in Mizoram, but basketball may also be catching up.
"Although football is the dominant game here in Mizoram, we are seeing a quick transition that the youth (12-50 year olds) are showing towards basketball, ever since the inception of the MSL four years ago," Tluanga said.
MSL is in fact India's first pro basketball league. A little-known fact, but while most people think that United Basketball Alliance (UBA) is the first pro league in India started in 2015, it was in fact MSL which began a year earlier. Games are broadcast on the local Zonet Cable Network, which also doubles up as one of the main sponsors of the MSL.
The MSL has provided some much-needed temporary financial respite to local players, with salaries ranging from 20,000/- to 1,80,000/- rupees.
Private jobs are hard to come by in the North East, and Mizoram itself is no exception. While Lalrina, whose father had passed away when he was just 13 years old, manages to make some money off his online sneaker store, others like Laldinsanga work in the many departments of the state government.
Lalrina's own wife is a finance consultant in the Directorate of Health and Family Welfare Department. Lalrina's story is quite fascinating to say the least. He started off playing snooker and became the first player from Mizoram to be crowned the Junior National Snooker champion in 2011. He has even represented the country, notably at the 2012 World U-21 Snooker Championship in China, where he reached the quarterfinals. An active basketballer since his younger days, Lalrina got serious about the sport after the launch of the MSL.
By now, Lalrina had brought me to Hawla and I took a moment to absorb the venue. The bright blue rubber floor was empty. The practice for the day was done and the Zarkawt players were in a huddle on one side. I stood at the centre of the court and looked all around me. I could almost hear the chants and screams and see the excited and screaming faces that I had only seen on Youtube videos so far.
I couldn't wait for tip off the next day between Zarkawt BC and Tiukual South.
Finale Begins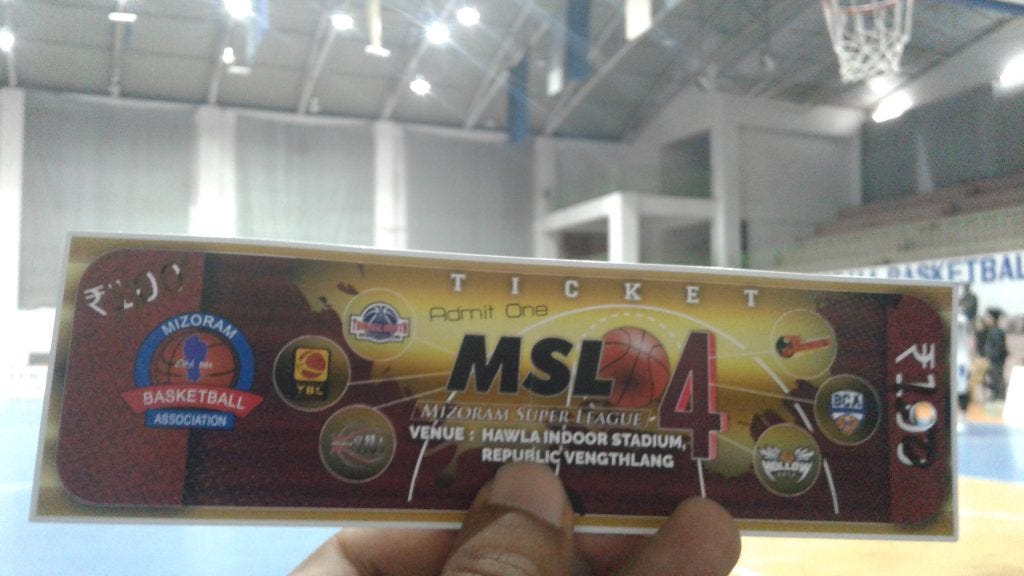 The next day I returned to Hawla in a bike taxi, helmed by a kid who said he was 18 but looked suspiciously like he was 14. The 15 minute ride was quite spectacular, along steeply descending winding roads that we navigated with the engine switched off. Around me on either side, I could see houses precariously balanced on wooden poles. Most had colourful flower pots and rhododendron shrubs in the balcony.
I could already see a bunch of people waiting outside the stadium.
"Reach early, so that you can buy tickets in time," Lalrina had warned me.
Tickets may not sound like a big deal, but when it comes to basketball events in India, they are still a novelty. The only other tournament that I knew had tickets was the Ramu Memorial Tournament in Matunga, Mumbai which hasn't been held in recent years. It is usual to see empty stands at most basketball events including national championships. Even the seats that are occupied are in fact players from other teams which have already been knocked out.
Not here in Mizoram though.
People were entering the stadium in droves- entire families across three generations walking in clusters. Some of them carrying drums, others empty plastic bottles, banners and flags.
I too joined the melee with Raymond Colney by my side, who kept greeting people around us as we sat down on white plastic chairs behind the rim.
The two teams entered the court and warmed up with jumpers and layups.
I was excited to see the level of play at the MSL. This season, unlike the previous two, foreign players and India internationals were missing because of budget constraints. Until last season, prominent names from the Indian national team like Vishesh Bhriguvanshi, Amritpal Singh, Amjyot Singh and Pratham Singh, had built up quite a strong local following.
As Game 1 tipped off, it was obvious soon enough that Zarkawt BC were the ballers, and Tiukual South were the brawlers.
[video width="1280" height="720" mp4="http://ekalavyas.com/wp-content/uploads/2023/03/13_2.mp4"][/video]
The match was intense with the packed stadium divided into two sides- one for the home team (Zarkawt) and the other for the away side (Tiukual). The two were the last franchises standing after a three months long affair, that began with over 80 teams in Division III, that were whittled down gradually across higher divisions, before the final eight at the premier MSL. This was the same model that had served Mizoram so well with its football league.
The halftime whistle sounded and perfectly choreographed hip top dancing crews came onto the floor. Zarkawt was leading by a comfortable 21 points. In the second half, despite Tiukual fighting on aggressively in the backdrop of their fans screaming "Defence, Defence," Zarkawt closed out the game 75-68. Lalrina had proved his mettle, marshalling his side to perfection, posting a near triple double, with some great defensive work to boot.
The one constant that had marked both teams was the pace at which the game was played. With height at a premium —there was only one player who was 6ft 5'' — emphasis was on speed. This had been some of the most breakneck basketball I had witnessed in a long while.
Leaving the stadium that night, I could see glittering lights all around me on the surrounding ridges. It seemed like a perfect sign off to a lit first game of a Championship series.
Practicality over Patriotism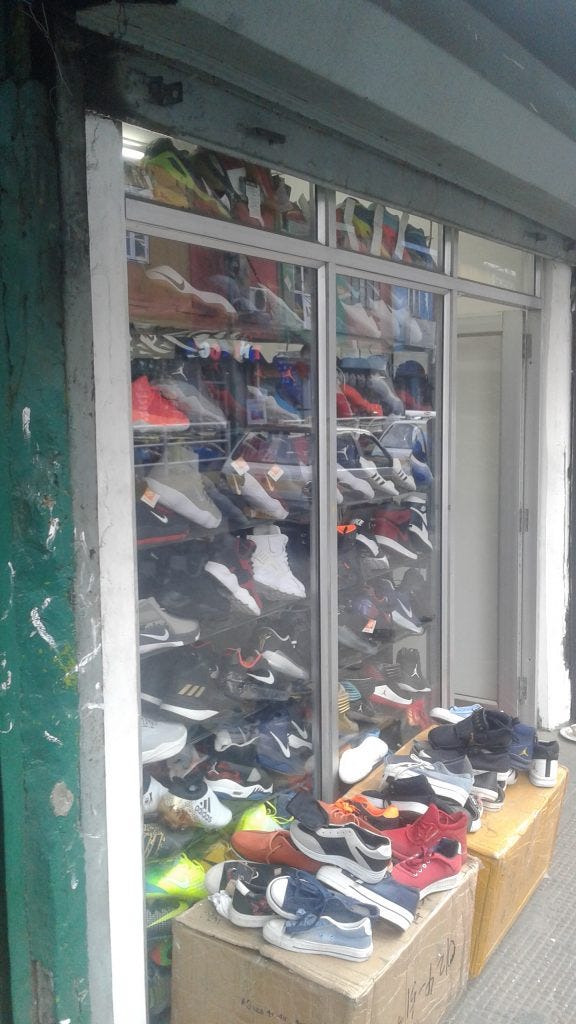 Storefront in Aizawl selling 'first copy' basketball sneakers, many of which come from China.
I walked back towards my hotel along the Bada Bazaar, stopping at a bunch of shoe centres on the way. Air Jordans were stacked up against the glass windows. Inside, there were jerseys lined up on hangers against the wall- Irving, Curry, James, Wade and Durant.
A lady wearing the traditional Mizo attire of a white shirt and a checked black skirt was sitting nonchalantly in the corner.
"How much for these jerseys?"
"1000 rupees each."
"And the shoes?"
"Anywhere between 2000-4000 rupees for a 'first copy'."
Wow. I knew that authentic NBA merchandise retails at around 4000 rupees for jerseys and upto 20000 for Air Jordans.
I then went to another shop further down the road. This one had a row of Manchester United, Arsenal and Liverpool jerseys, but not a lot of basketball gear.
"We can order basketball merchandise if you like. But bulk orders only."
"Where will you get it from?"
"There's a friend of mine who visits China every few months and gets them for cheap from there."
"But won't India be cheaper without the customs and import duties?"
"The quality of Chinese products is better. See...," the store owner made me feel the fabric of a basketball jersey from China and another one from India. The one from China was smoother and lighter, while the 'Made in India' one already sported a few wrinkles even without having been worn once.
*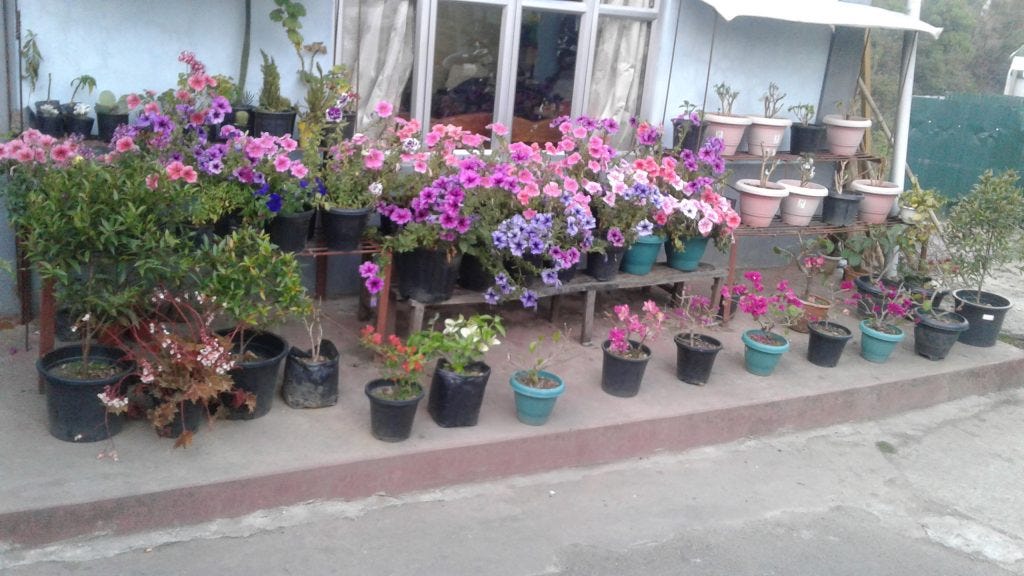 Colourful flower gardens like these are a common sight outside homes in Aizawl.
Returning to the stadium for Game 2, I knew it would need a miracle for Tiukual to alter its fortunes.
Even the State's Chief Minister was in attendance today. Not coincidentally, his grandson was the centre for Zarkawt.
The lights had been turned off before the do or die game and immediately the crowds switched on their cell phones. It almost had the vibe of a rock concert.
Zarkawt easily won Game 2, sweeping the Championship series. They had returned as MSL champs after having fought off relegation just two years prior.
Immediately after the game, out of nowhere, white Championship t-shirts, obviously inspired by the NBA, were worn by the winning squad.
As I joined the spectators milling out of the venue, I faintly wondered if I would get to see a repeat of the stabbing instances from last year, when drunken fans from rival clubs went at it.
"Gopal wait ok, we have to celebrate!" Lalrina shouted out as he saw me leave. I turned back to see him mobbed by fans, half-heartedly trying to resist requests for selfies.
Later that night I joined the team at their owner's bungalow for a celebration dinner.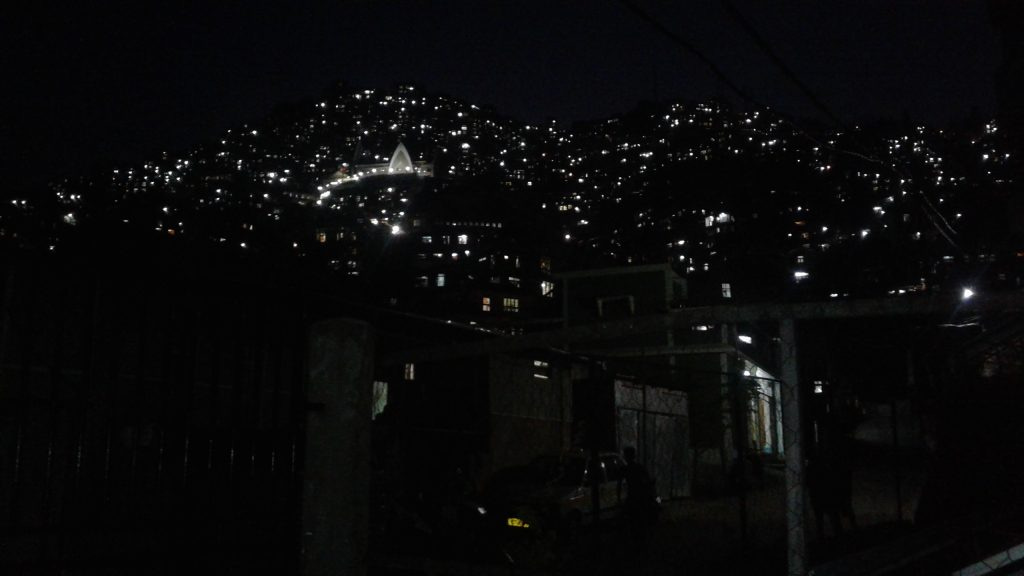 The glittering lights of Mizoram's capital Aizawl at night.
The entire squad sat in the living room. On the mantle was a series of Zarkawt BC trophies from past seasons. In the adjacent dining room, a table was covered with heaps of chicken fried rice, momos, chopsuey and a spicy dip.
I was the only outsider and for the first time in my life, I felt quite exotic. For a moment I even wondered if I was the only Tamilian to have travelled this far north east. I now got a sense of what north easterners probably felt like in "mainland India". The thought made me squirm in guilt.
The coach stood up to say grace.
He gave a speech in Mizo which kept getting interrupted by laughs and solemn teary eyed moments, so I assumed it was a reflection of the roller coaster journey that the team must have gone through over the last three months.
Amen. The group began heading to grab plates and one of the assistant coaches pulled me aside, just as I was getting ready to dig into some momos.
"What do you think of our game? Compared to the rest of the country?"
"I think you guys are on the right track."
"But we are struggling man. We don't know how to get better."
It was true. What next for the MSL? What next for its players? As I got to interact with other members of the squad, I got a better idea of the nature of this struggle. Their veteran starting power forward was in fact a sound engineer with All India Radio, while another was a young recruit with the Assam Rifles. A few others were in college, and would probably "move away" from basketball if they didn't get any professional playing opportunities.
But tonight was a night of celebration, and to momentarily put prospective worrying on hold.
The party raged on till four in the morning, and I had been converted into the team mascot. "You stayed in a hotel in Zarkawt, so Zarkawt BC is your home team! Remind us to give you a team jersey," I was told as we headed out for some early morning grub. Shops were already opening, as I sat down by the roadside waiting for a plate of hot puri chole and weirdly enough, a glass of milk.  A well mannered fluffy brown dog dutifully lay down next to my feet waiting to be scratched behind its ears.
Being in the easternmost corner of the country I knew it would be light in under an hour. And as I called it a night, I couldn't help but wonder if the north east was in fact ahead of the rest of India in more ways than one.
A Tall Future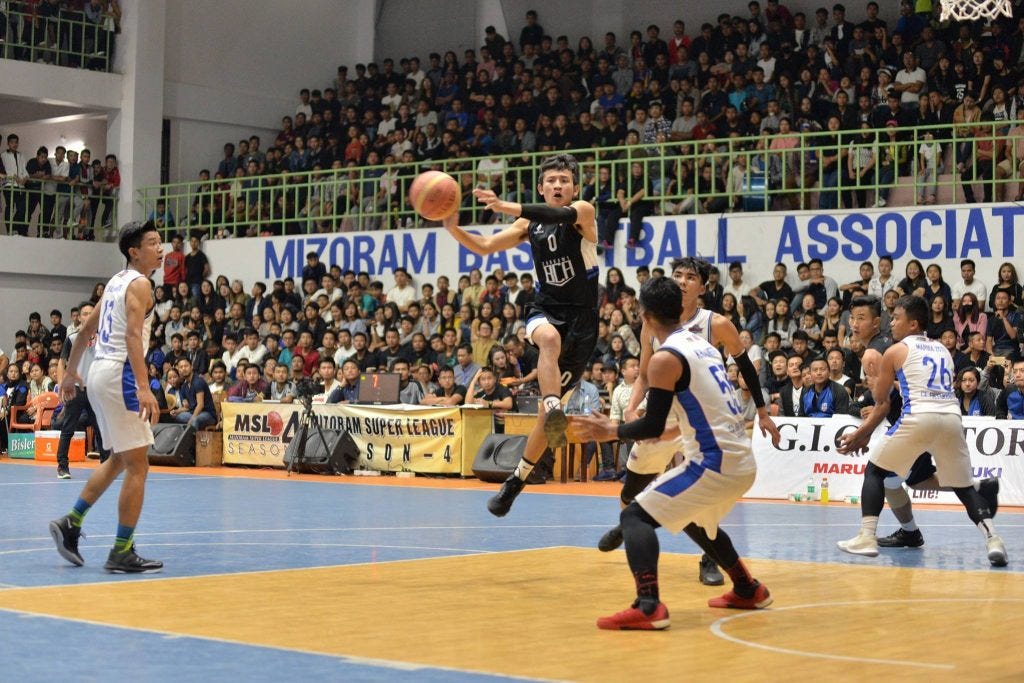 The next morning naturally began late, as Lalrina and I made our way back to the stadium to check out the Reliance Foundation Junior NBA programme. Started as a way to introduce young kids to the sport, the Junior NBA is the first brush that kids have with the global brand that is the NBA.
We reached the stadium at 11 in the morning and saw some bleary eyed Zarkawt BC officials who were on duty since early morning.
Almost 400 kids were present and most of them sporting one NBA jersey or another. (Something told me most of them were 'first copies'.)
In Mizoram, the influence of the NBA is paramount. Unlike other parts of India where it was more likely for kids to be introduced to basketball first before becoming NBA fans, in Mizoram, the NBA culture is ingrained in society.
NBA India's Senior Director of Operations Scott Flemming was at his imposing and booming best at the centre of the facility as he watched over kids working on the layup and shooting stations. The former Indian national men's team coach was pleasantly surprised by the talent on hand.
"It is exciting to see the passion and love for basketball that kids have here," Flemming said. "The future of basketball in Mizoram appears very bright. I have already identified a few players that have the potential to join our NBA India Academy in Greater Noida."
*
My weeklong sojourn at this hidden home of hoops was coming to an end. It was time to return to 'mainland' India- where politics, nepotism and a seemingly unrelenting flurry of frustrating missed opportunities would again subsume the joy of pure, unadulterated basketball that I had just witnessed.
But I had seen enough to feel optimistic again and tackle any skeptical kith and kin.
Perhaps Mizoram can provide the much-needed template for other Indian states to follow- the importance of building basketball from the grassroots upwards, while always keeping the local community at the front and centre.
Meanwhile, I will keep waiting for the Zarkawt BC jersey that was promised to me.