Discover more from Ekalavyas | Basketball
Welcome to Ekalavyas, the pioneering publication dedicated to unearthing the world of international basketball, from an Indian perspective!
Over 3,000 subscribers
Miss India Universe second runner up Naveli Deshmukh recalls her basketball playing days
Naveli Deshmukh, a 22-year-old trained Bharatnatyam dancer turned Miss India Universe 2015 second runner up turned model/actor, seems as far away from the unglamorous world of Indian basketball as one can possibly imagine. But as it turns out, we couldn't be further from the truth.
"I was selected for the Indian U18 women's camp actually," reveals the 5ft 8'' Dekhmukh.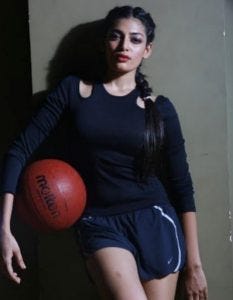 Image courtesy: Naveli Deshmukh
Born and brought up in Aurangabad, Maharashtra, Deshmukh was a natural athlete, competing in, and winning, 200 and 400 metre sprint and relay events at her Stepping Stones school. That's when she was spotted by the school's basketball coach Khimji Patel.
The rest, as they say, is hoops-tory.
"I guess if you have the speed and stamina of an athlete, you can play any sport. All you need is to develop that particular sport's skillsets."
Deshmukh began playing basketball with boys before going on to captain her school team and also represent Aurangabad district in the Maharashtra State Championships through the U14, U16 and U18 age groups.
"I loved playing man to man defense and didn't really care much if I got fouled out. Then in the seventh standard, during a game, I had again got fouled out by the third quarter, and my coach got offended. He stopped talking to me. That's when I realised I needed to take the game more seriously, and I began working on my offense as well."
Deshmukh started drawing attention for her performances, with local Aurangabad media covering her games. She was selected to represent the Maharashtra U18 team, and thereafter, even invited to the U18 India camp at Balewadi, Pune.
But by then, Deshmukh found herself at the crossroads.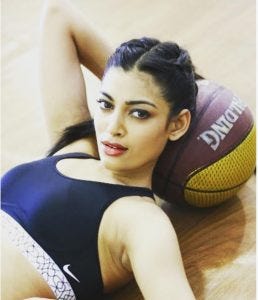 Image courtesy Naveli Deshmukh
"Around the same time as the India U18 camp, I was also selected for an international dance festival in Turkey. I chose the latter," Deshmukh says. "I never thought of playing basketball professionally. It was always for fun. All this [getting selected for Maharashtra, and later for the India camp] just happened along the way."
Being a good student, Deshmukh slowly began moving away from basketball, and enrolled in the BBA course at Amity University, Pune, to pursue her dreams of part time modelling.
The Miss Maharashtra title and Miss India Universe appearance followed, and Deshmukh hasn't looked back since. She's walked the runway at Fashion Weeks and appeared in ads for leading brands like Yamaha and Fashion Big Bazaar. She is also currently Maharashtra's ambassador for the National Service Scheme.
"My basketball days will remain special. It gave me a foundation and made be a better person. It taught me that whether you win or lose, you have to stay neutral."
With most successful basketball players being taller than the average male/female, women basketball players turning to modelling/acting isn't a new phenomenon. Another Miss India Universe Simran Kaur Mundi is now a regular guest on NBA's weekend show Saturday Morning Live. Deshmukh's own contemporary at the 2015 Miss India Universe contest, Urvashi Rautela, has, in the past, spoken about playing basketball for Uttarakhand. Even before Mundi and Rautela, actor Neetu Chandra had already made a successful switch to Bollywood.
To young girls wishing to follow in Mundi, Rautela, Chandra and Deshmukh's wake, Deshmukh has these words of advice:
"Follow your heart. If you are passionate about something then it won't feel like 'hard' work. It's important to have a positive outlook even if you don't make it."