Discover more from Ekalavyas | Basketball
Welcome to Ekalavyas, the pioneering publication dedicated to unearthing the world of international basketball, from an Indian perspective!
Over 3,000 subscribers
The Legend of S Robinson lives on
[Originally published on NBA.COM, as part of its 'Local Heroes' series, around December 2016.]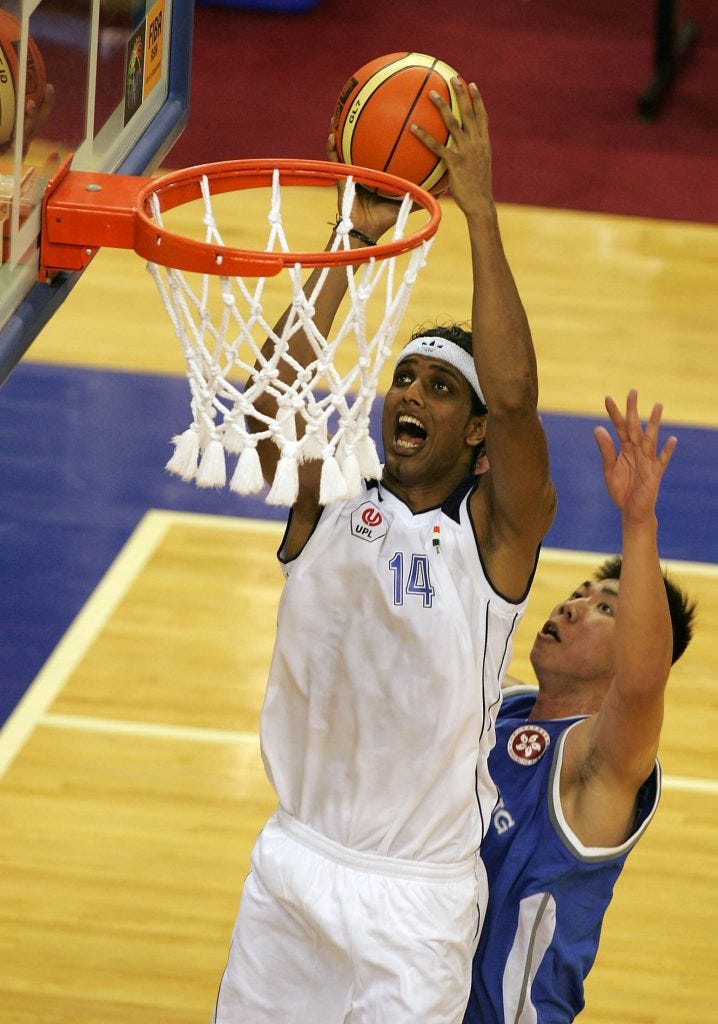 With his trademark white head band and above-the-rim game, S Robinson was an anomaly India wasn't ready for. Image courtesy S Robinson.
"What makes you a great player? Is it the vicious dunks? The haircut? The shoes? The long shorts? The short socks? It's gotta be the shoes!"
So went a famous 1991 commercial where filmmaker (and over enthusiastic Knicks superfan) Spike Lee tries to breakdown the surreal greatness of Michael Jordan.
Several thousand miles away and a decade later, similar awestruck questions were being asked of another, slightly taller athlete. And like Michael Jordan, Sozhasingarayer Robinson Fathimanathan's mystique lives on.
Hoops by chance
"Initially I started with football. But by age 14, I was already 6ft 4 inches tall with size 11 feet. I searched the whole city but couldn't get studs my size so I dropped out," says Robinson, during a sit-down in Chennai over steaming cups of filter coffee.
The city he is referring to is Surat, in Gujarat, a western Indian state known more for its business acumen than sporting prowess.
The Puducherry born Robinson soon migrated to being a forward in another sport.
"I used to play many sports in my school, St Xavier's. One day after class, a man from across the street gestured for me to come over."
That man turned out to be local basketball coach Raju Bhalawala. "I don't know what he saw in me. Even if I missed a day of practice, he'd come home and ask 'kya hua beta (what happened son).'"
"I guess you could say that- 'heere ki parakh sirf johri hi kar sakta hai. (Only a jeweller can assess a real diamond).'"
The analogy is spot on. After all Surat is a world renowned diamond cutting and polishing hub.
At Bhalawala's recommendation, Robinson joined the elite Sports Authority of India hostel in Gandhinagar. His game improved drastically and by age 17, he made his India team debut at an international schools tournament in Delhi. A year later, he captained the Indian team at the 1998 Junior Asian Basketball Championship in Kolkata.
Battling Yao Ming
On one end was the skinny 7ft 5 inch Yao Ming — who would go on to transform the basketball landscape in China; on the other end, the 6ft 8 inch Robinson. Their teams would enjoy diverging fortunes. China, a perennial giant, would win yet another gold, while India would stumble to a 11th place finish. But there was one bright spot for India, the performance of a fearless 18-year-old centre. Robinson had made his mark as one of the top three scorers in the league stages with a penchant for rim rejections. By 2000, he had the distinction of getting selected to the Asian All-Star team in Manila.
He finally got a chance to face off against Yao at the 2003 Senior Asian Basketball Confederation Championship held in Harbin, China.
"I blocked two shots of Yao and became the talk of Chinese journalists, who started calling me Mutombo. But for me it was just about doing what I had to do."
In a league of his own
Back in the late 90s, sports in India still meant cricket. So while the nation could relate to a certain 5ft 4 inch superstar named Tendulkar, Robinson — with his 6ft 8 inch frame, aerial game, straw coloured long brown hair tied in a man bun, white head band and earrings — was an outlier.
Hotly recruited by leading employers after his exploits at the Asian Juniors, Robinson skipped college and joined Indian Overseas Bank (IOB), Chennai.
This marked the beginning of his senior career. Between 1999 to 2004, his Tamil Nadu state team won 5 straight national championships, while his IOB club team dominated at All India meets.  His ferocious facials and flamboyant style earned him a legion of fans.
At most of these events, Robinson was swarmed for autographs, with spectators climbing trees to catch a glimpse of His Airness. His ardent following stretched from the villages of Tamil Nadu to the farmlands of Punjab. "I remember after a tournament in Punjab, the crowds didn't have any paper for autographs, so I signed on people's forearms. When I returned the following year, one of them had converted my signature into a permanent tattoo!"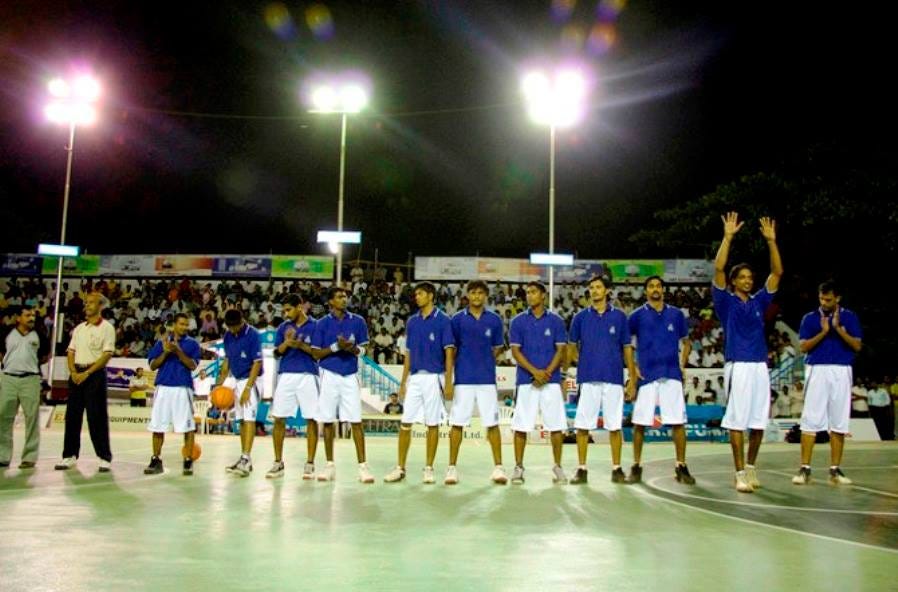 Robinson is introduced to the crowd as part of the IOB club team. Image sourced from S Robinson's Facebook page.
A notch higher
At the international stage, Robinson's brilliance continued and in 2003 he received an offer to play in Iran, one of the toughest leagues in Asia.
An already dominant player, the Middle Eastern experience took Robinson's game to the stratosphere, as he transitioned from playing the 5, to a versatile 3-4 combo forward.
The first victim of his expanded repertoire was continental powerhouse Korea, whom he scorched for 36 points en route to a historic upset at the FIBA Asia Stankovic Cup in 2004. It was a win never achieved before and never repeated since.
Invitations to play professionally in New Zealand followed. Robinson even recalls NCAA offers. "Foreign coaches asked me if I had trained in the US, because apparently the way I moved was just like an American."
But by his late twenties the all-or-nothing style of playing through injuries, coupled with poor handling from physiotherapists had taken a serious toll on his body. To complicate matters, Robinson spoke his mind, which irked administrators and led to suspension.  So he took a considered call to retire at age 31 in 2011.
*
Robinson is now a senior bank manager and doting family man. "On our son's first birthday, he was gifted a small plastic backboard, ring and ball. We had never taught him anything about basketball. So I just hung the board on a grill without telling him anything. My wife and I got the shock of our lives when he climbed up on the sofa and dunked."
While we may never see Robinson lace up again (even Youtube searches of his game highlights return results of "Did you mean David or Nate Robinson?"), there is the enticing possibility of a certain Robinson Jr to look forward to.
***
SUBSCRIBE TO EKALAVYAS' YOUTUBE CHANNEL:
[youtube]https://www.youtube.com/watch?v=tDFEQDT_SWc[/youtube]
[PS. Raw interview conducted by Vishnu Ravi Shankar. Actual feature article written by Gopalakrishnan R.]