Discover more from Ekalavyas | Basketball
Welcome to Ekalavyas, the pioneering publication dedicated to unearthing the world of international basketball, from an Indian perspective!
Over 3,000 subscribers
Laurel School International 44th Kerala State Sub Junior Basketball Championship in Alappuzha tips off to a great start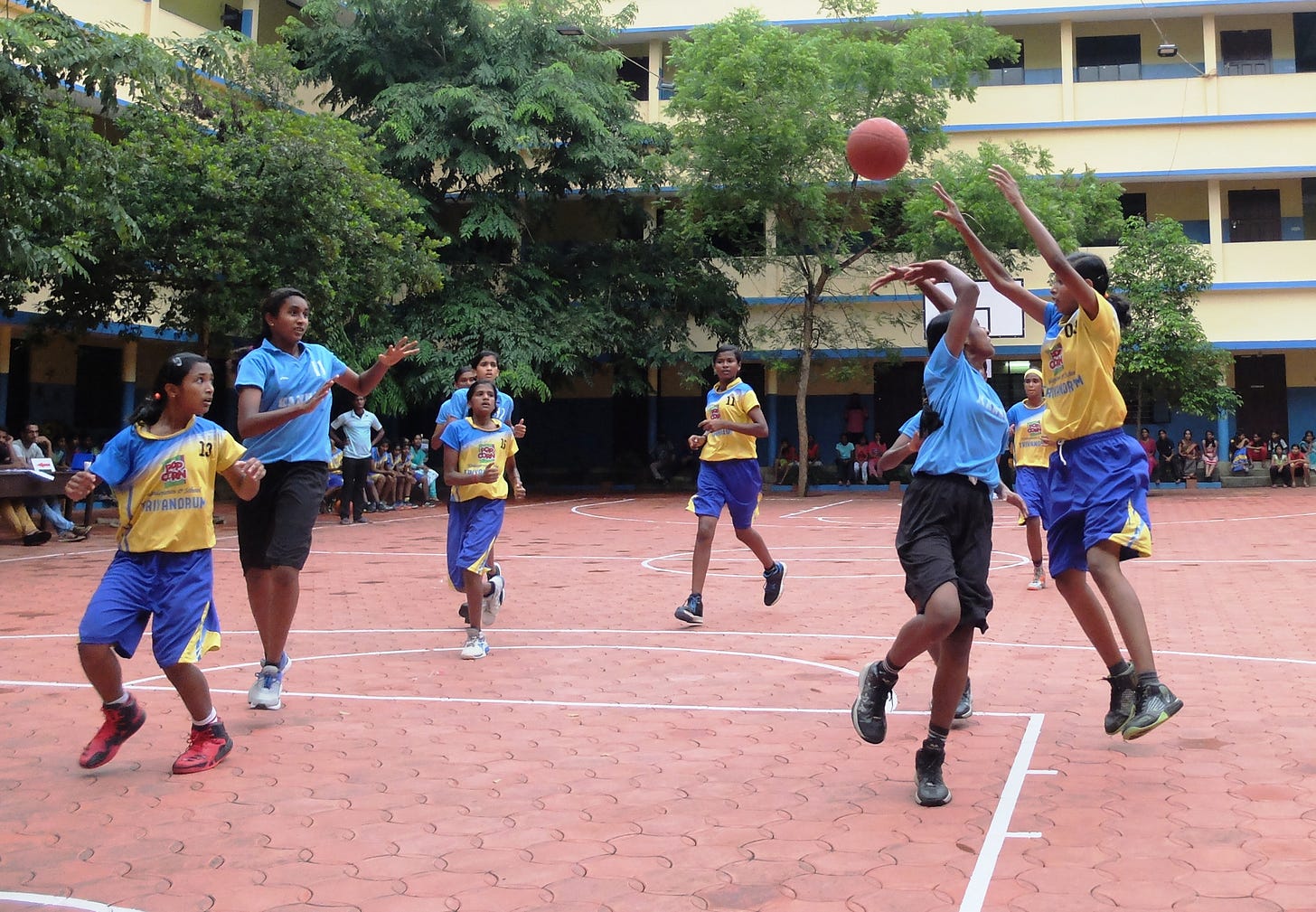 Trivandrum girls in action against Kannur girls. Image credits: Kerala Basketball Association
Alappuzha, 7th September 2017: Laurel School International 44th edition of Kerala State Sub Junior Basketball Championship for boys and girls had a colorful start at the Jyothinikethan Public school floodlit basketball ground. The tournament is being organised by Alappuzha District Basketball Association under the aegis of Kerala Basketball Association. P Venugopal, District Panchayat President of Alappuzha officially inaugurated the championship.
The championship is a prelude to the 44th Sub-Junior National Championship for Boys & Girls to be held at Didwana, Nagaur district, Rajasthan from 8th to 14th October 2017. The Kerala squad for the Junior National Championship will be selected based on their performance in this championship.
Boys and girls' teams from all 14 districts of the state are vying for the honors.
On the inaugural day, in the boys' division, host Alappuzha defeated reigning champions Ernakulam 54-39 while Idukki beat Thiruvananthapuram 69-4. In other matches, Pathanamthitta drubbed Kozhikode 58-18, Thrissur beat Kottayam 34-28, Kannur beat Malappuram 47-36, Wayanad scraped past Kasaragod 36-34.
In the girls' division, defending champions Thiruvananthapuram drubbed Alappuzha 29-1, and in the evening beat Kannur 50-28. In the other league matches, Kozhikode beat Kannur 40-23, Kottayam defeated Kollam 30-21, Ernakulam got better of Thrissur 40-21, Kasaragod beat Palakkad 22-12, Wayanad defeated Malappuram 14-2.
Detailed Scores
Boys
Alappuzha (Rohit Sanoj 19) bt  Ernakulam (Aswin S Nair 19); 54-39
Idukki (Emmanuel T Shaibu 32, Madhav Baiju 23) bt Thiruvananthapuram (George Mathew 18, Anoop St 12, Babri MRaj 11); 69-47
Pathanamthitta (Jermy Sebastian 20, Sidharth S 14, Jordan Cherian 12) bt Kozhikode; 58-18
Thrissur (Athul NA 18) bt Kottayam; 34-28
Kannur (Ashoish P Chacko 31) bt Malappuram; 47-36
Wayanad (Manzil 16, Karthik 11) bt Kasaragod; 36-34
Girls
Kozhikode (Malvika 20, Devika 12) bt Kannur (Ashlin Shiju 18); 40-23
Kottayam (Sabdra 9) bt Kollam; 30-21
Ernakulam (Kezia 14,Hridaya 11) bt Thrissur; 40-21
Trivandrum bt Alappuzha; 29-1
Kasaragod (Naeghsa PV 10) bt Palakkad; 22-12
Wayanad bt Malappuram; 14-2
Trivandrum (Archana S 18, Amritha 10) bt Kannur (Ashlin 24); 50-28