Discover more from Ekalavyas | Basketball
Welcome to Ekalavyas, the pioneering publication dedicated to unearthing the world of international basketball, from an Indian perspective!
Over 3,000 subscribers
Kuch Hoops Hota Hai: The surprising legacy of a Bollywood classic on Indian Basketball
The prominent Kuch Kuch Hota Hai Basketball scenes make you wonder if the movie should have been called 'Kuch Hoops Hota Hai' instead?
It's 1998, and there are only two types of basketball fans in India. Those who know everything about Michael Jordan. And those who know everything about Shah Rukh Khan.
It's 1998. Michael Jordan, the greatest player of his time – and as history would remember it, the greatest player of all time – had just hit his 'final' shot to win a dramatic NBA title over the Utah Jazz in the summer (Two years later, he would return to pro basketball in a Wizards uniform). It would be title number six for MJ, and for basketball fans in India, the image of Jordan hitting the game-winning shot would leave an indelible imprint forever.
It's 1998. Shah Rukh Khan, the biggest Bollywood star of his time – and as history would remember it, the biggest Bollywood star of all time – would star in the super-hit film Kuch Kuch Hota Hai, the first introduction of basketball to a mainstream Indian audience. To Bollywood fans in India, the image of SRK awkwardly dribbling against his eternal screen love-interest Kajol would leave an indelible imprint forever.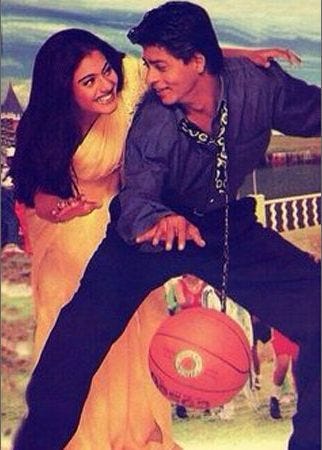 The prominence of Kuch Kuch Hota Hai Basketball scenes stood out
Kuch Kuch Hota Hai didn't take place in India. Sure, we're told that the two major settings of the film – the High School and the summer camp – are Indian, but nothing about them, except the language and the occasional sari, was truly desi. Instead, the film finds itself in a parallel perfect world created by first-time director Karan Johar, a world where East and West collided, where Rani Mukerji knew her shlokas as well as she knew her rock-n-roll. Where High School looked like a scene from the Archie Comics. Where there was no serious crime or poverty or politics. Where the most pressing issues to humanity were love triangles.
Where basketball – not cricket – was India's favourite sport.
There is an adage among hoop analysts that the 'NBA is a copycat league', that a winning system shapes the next generation of teams around the league. This is why big men were all the rage for the Celtics, Rockets, and Pistons in the 80s, the hunt for athletic shooting guards began following Jordan's dominance in the 90s, and small-ball became the blueprint for teams when the Golden State Warriors perfected the model.
Success breeds imitation, and the adage is no different in Bollywood. So, as he was coming off of a role as Aditya Chopra's assistant director in the 1995 Bollywood classic Dilwale Dulhania Le Jayenge, 26-year-old Johar decided to adopt the formula of DDLJ into his directorial debut. Also featuring the Shah Rukh and Kajol combo, DDLJ became one of India's most successful and its longest-running film. During the montage of the hit song 'Mere Khwabon Mein Jo Aaye', Khan gave a brief glimpse of his on-screen basketball "skills", as he awkwardly dribbles and dunks in the rain.
How to make the perfect Indian romantic comedy? A pairing of India's hottest on-screen couple, Khan and Kajol? Check. Exotic foreign locations and expensive international brands? Check. An unstoppable soundtrack with cross-generational hits? Check. Love triangles? We got two of them. The 'coolness' of the West in a clash with Indian sanskriti? All day. More basketball? Hell yes!
The roles of the main cast of characters in KKHH seemed well-defined. A traditionally 'hot' girl, a 'tomboy' girl, and the loveable guy in the middle. Kajol, the typecast 'tomboy', was dressed in the early posters of the film cradling a basketball with her hat on backwards. Here – Johar seemed to be saying – is a girl who does 'cool' the way those in the West seem to do it.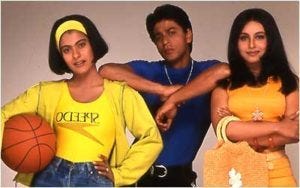 Kuch Kuch Hota Hai Basketball Scenes: Setting a Trend in Bollywood
Johar put together this recipe and created and perfect Indian blockbuster for its time. Upon its release, KKHH was the most successful Indian film of 1998 and one of the highest-grossing Bollywood films ever. It ran in Indian cinemas for 52 consecutive weeks. Overseas, it grossed more than any other Indian film had ever had until that point. It dominated the Indian Filmfare Awards in Jordanesque fashion, winning Best Film, Best Director (Johar) Best Actor (Khan), Best Actress (Kajol), Best Supporting Actor (Salman Khan, in an important cameo), and Best Supporting Actress (Mukerji).
KKHH caught Shah Rukh Khan and Kajol in the primes of their careers as they went on to remarkable fame in the Hindi film industry. Khan, in particular, developed to become the most bankable and popular Bollywood actor worldwide. After directing the hit debut, Johar made some of the most popular and lucrative films in contemporary Bollywood history, including Kabhi Khushi Kabhi Gham, Kabhi Alvida Naa Kehna, and My Name is Khan.
The legacy of KKHH is cemented forever for Indian audiences. But beyond the romance, the comedy, the hit songs, and the fashion trends it set, KKHH also brought basketball into the mainstream Indian consciousness. The basketball scenes from the movie introduced novices to the sport, while fans and players felt validated that their niche sport had briefly become a national sensation.
*
KKHH's used basketball as a major plot device, unlike any Bollywood film before. Anjali (Kajol) and Rahul (Khan) are best friends who bond over basketball. Johar's hoop-romance even pre-dated the 2000 Hollywood film Love and Basketball. However, while Kajol and Khan covered the flirtatious 'love' part well, there wasn't much attention paid to the duo actually learning any real 'basketball' skills.
Never mind that. Early in the movie, we see Anjali and Rahul play in a full-court one-on-one game in a closed gym at their school (Khan was in his early 30s while playing a High Schooler, because Bollywood said so) that soon becomes extremely testy. Rahul, who always gets dominated by his platonic friend Anjali, resorts to cheat and foul to gain advantage. Anjali clearly wins this matchup and holds both a physical and a mental advantage over Rahul. Khan's super-high, slow, one-handed dribble would go on to haunt Allen Iverson forever.
Kuch Kuch Hota Hai Basketball Scenes - Part 1
[youtube]https://www.youtube.com/watch?v=nVjv_50EfNk[/youtube]
The scene also establishes questions over gender roles, which develop as a parallel story-line through the course of the film. Anjali is accused of crying like a girl, and then complains that she doesn't want to be called a girl anymore. She is the third wheel in the romance between Rahul and Tina (Mukerji), but later in the film, when she makes her transformation to a more traditionally 'feminine' woman, Rahul is both attracted to her new avatar while simultaneously missing his tomboy, basketball-loving old friend.
Divya Singh, former captain of India's women's team and now a junior international coach, recalls how the basketball scenes and, specifically, Anjali's character, reminded her of her own youth, when she was that rebellious athlete in Varanasi's conservative society fighting to play a 'boy's game'.
"I remember it clearly," Singh told me. "Kuch Kuch Hota Hai was the third movie I had ever seen. I was a junior player for Uttar Pradesh back then and all the senior players used to say that me and Trideep Rai (Varanasi-bred former India Men's basketball captain) used to play and fight like Anjali and Rahul! Some of those fights even got really serious, and people in Varanasi used to joke that it was our story!"
"I truly loved that movie when it came out!" she added. "I could really relate to it, because I was a tomboy like Anjali. But I also used to laugh at the way Shah Rukh and Kajol played – they should've at least learnt how to play basketball for the movie!"
*
But it's a scene in the second half of the movie that eventually went down in Bollywood Basketball lore. Rahul and Anjali are now 'grown up' and estranged. Tina, Rahul's wife, is dead, but not before passing on a message to her daughter – also named Anjali – to help reunite Rahul with his old friend. The film shifts to the summer camp ('Camp Sunshine') setting, where the daughter is finally able to facilitate this reunion (I'm grossly over-simplifying here. Go watch the movie).
Except now, things are different. Anjali isn't the tomboy anymore: she has exchanged her athletic gear for a 'feminine' sari and seems to have given up on her basketball past. Anjali is also now engaged to Aman (Salman Khan). The old friends find it hard to connect again. It's awkward.
Kuch Kuch Hota Hai Basketball Scenes - Part 2
Basketball to the rescue! The daughter is aware of the friendly basketball rivalry between Rahul and Anjali from their past and, through some trickery and reintroduction of gender stereotypes ("girls can't play basketball?") she's able to get Rahul and Anjali to shed their formalities and reprise their long-standing basketball rivalry at an outdoor court.
The one-on-one, full-court game, appropriately titled on YouTube as the 'Basketball Affair', is iconic, influential, and hilarious. Rahul keeps on his formal shirt and tie. Anjali plays barefoot in her sari (here are a couple of people taking David Stern's Dress Code to much greater heights), which, in 2016 would've definitely been sponsored by Under Armor. After some flirtatious trash-talk, the game begins.
There is obviously no referee in this game, and Rahul is allowed to commit multiple violations in each possession. Anjali, at the 3:20 mark in the video, steals the ball, but must fix her sari before taking a jump-shot (#IndiaBasketball). Of course, no 'sexy sari' moment is complete without potentially-scandalous waist touching, and Rahul obliges, heightening the sexual and competitive tension between the two. Even though it's a full-court game, both seem to be shooting at the same basket. Frustrated by Rahul's sneaky improvements (and continued use of gamesmanship tactics to get unfair advantage), Anjali brings him down with a foul that would've made Bill Laimbeer proud. The two begin to argue the same way they used to as High Schoolers. Anjali gets flustered. The kids begin to chant that "girls can't play basketball" (WTF?). Everyone laughs at Anjali.
Cue song. Cue romance.
*
There have been several great moments in basketball and Bollywood, and I wrote about them in greater detail for my blog six years ago. KKHH wasn't the first Bollywood movie to incorporate basketball, and it certainly wouldn't be the last.
"The basketball quotient in KKHH was a novelty at the time," recalled Jamie Alter, Sports Editor of Times of India Digital and one of India's premier 90s Bollywood experts. "It has not been paralleled since, with the buffoonery shown in Koi Mil Gaya and Dhoom 2's (lame) attempt to make basketball in the rain sexy."
"In 1998, basketball to the mainstream Indian audience was probably limited to Michael Jordan Chicago Bulls versus Utah Jazz and some very rare ONGC v Punjab games on Doordarshan," he added. "So KKHH went a fair way in putting basketball into at least one segment of the public's conscience, even if it was hardly authentic. There hasn't been anything like that replicated with such dedication - though even now, thinking of Shah Rukh and Kajol bobbling along with a basketball makes me chuckle - and no heroine has tucked in the fall of her sari so emphatically as Kajol did during the summer camp face-off."
In 2003, Hrithik Roshan would star in Koi Mil Gaya, which borrowed inspirations from ET, Forrest Gump, and Space Jam in its basketball sequence. Roshan and his team ­- the 'Paandavs' – receive special powers from an alien called 'Jadoo' to dominate their rivals. Please pay special attention to the 7:58 – 8:09 mark in the video, where Roshan completes pretty much the greatest move ever: he intercepts a shot, jumps, does three body flips in mid-air to land his feet on top of the oppositions rim, and then drop the game winner. Incredible.
Three years later, Roshan would be showing off his questionable basketball skills again, this time as super criminal Aryan in the film Dhoom 2. Roshan plays a one-on-one game in the rain with Aishwarya Rai, which also doubles as a metaphor for the international heist lifestyle. It's in this scene that he drops the immortal line – which currently serves as the opener to my Hoopdarshan podcast: "Yeh international game hai Sunehri. Deemag se khela jata hai, gussey se nahi" (This is an international game, Sunehri. You have to play with your mind, not your anger).
But KKHH, indisputably, had the biggest impact. Vishesh Bhriguvanshi, captain of India's men's basketball team, recalled how many of his small town and village acquaintances were introduced to the game of basketball itself because of the film alone.
"This was the first time that basketball was shown in a big Indian movie," Bhriguvanshi told me "It became a 'cool' thing because basketball was looked at as a fancy game, and we felt even better because there were two big stars playing our favourite sport. I had many school friends who didn't know what I did for a living until I said that I play 'basketball, just like that movie!'"
Divya Singh agrees about the film's impact, too. "A lot of youngsters started playing basketball after that movie. And they started dressing like Shah Rukh Khan and Kajol, too. It became a style statement."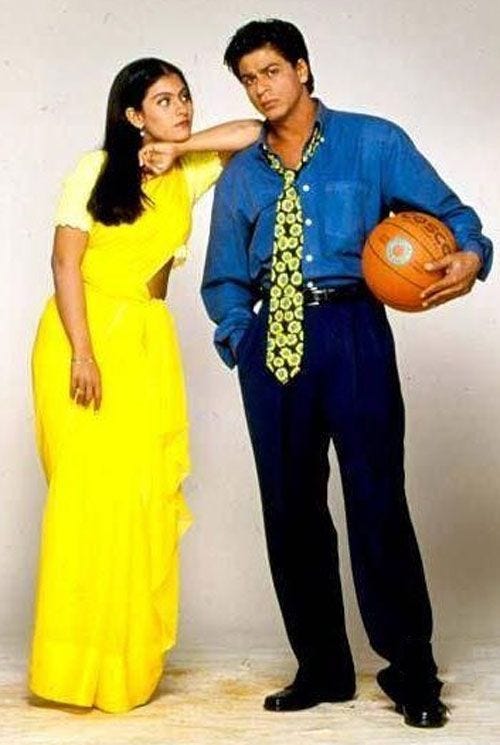 Kuch Kuch Hota Hai Basketball Scenes: Iconic or Ironic?
*
It may still be a smaller sport relative to cricket, but basketball is a lot more popular in India than it was 16 years ago. India continues to steadily improve at the international level and even pulled off a historic win over China in 2014. The NBA has made major inroads in India, opened up an office in Mumbai, and has set up grassroots programmes the country. An Indian – Satnam Singh – has even been drafted into the NBA. Suffice to say, the Indian mainstream recognizes basketball as more than that vaguely 'western' way of Rahul and Anjali to flirt in KKHH.
Yet, the film's continuing legacy on Bollywood and basketball is undeniable. Amar Acharya, an Indo-Canadian and a well-known NBA blogger and masthead for SLC Dunk, told me that continued familiarity with Bollywood helped him share something with other NRIs (non-resident Indians) of his age, and with desis around the world. But the basketball angle in KKHH took it even further.
"Basketball in KKHH codified in my mind the possibility of basketball being a medium infrastructure sport for the middle and upward economic classes of my motherland," Acharya said, "In a place of cricket, Kabaddi, and field hockey, there was something that could be a step up – a sport for the developing classes who themselves were stepping up in line with greater educational opportunities, and a better life than their parents before them."
If basketball in KKHH can represent aspirations for a better future, there could be better days ahead. The big screen adaption of Chetan Bhagat's Half Girlfriend will have its young lead stars Arjun Kapoor and Shraddha Kapoor exploring the cocktail of basketball and Bollywood romance. Meanwhile, the real life story of Chhattisgarh's successful women's basketball team will be an inspiration for another future film produced by Lara Dutta.
Alter believes that KKHH remains Karan Johar's defining movie and the one that helped define, much like its predecessor DDLJ, the landscape of modern Hindi film romances. "So did basketball play a role in shaping the images of two of Bollywood's biggest stars, and undoubtedly the modern era's most famous on-screen couple? Absolutely."
*
Even after the iconic summer camp basketball scene, the KKHH basketball love story doesn't end before one more twist. The game rekindled the Rahul-Anjali friendship, and even laid the groundwork for future romance. But things change when Anjali's fiancé Aman Mehra – played in a memorable cameo by the other Bollywood superstar in the film Salman Khan – makes a surprise visit to Camp Sunshine on a rainy evening.
Kuch Kuch Hota Hai Basketball Scenes - Part 3
Rahul, in his forlorn depression, does what all hoop fans do at moments of stress: he hits the court. Aman sees him practicing, and is terribly impressed by Rahul's awkward basket followed by uncoordinated bounce ups of the ball. In a weird American accent (Aman is an NRI living in London and that was Salman Khan's "research") he says, "Wow wow wow, amazing man, too good, just like Michael Jordan, my man, you're too good."
And with that, he brings the basketball premise of KKHH full circle, perfectly marrying Bollywood's 'Badshah' Shah Rukh with the baddest badshah to ever hit the basketball court: Michael Jordan. Everyone, including India's most famous actor in one of the biggest films of All Time, wanted to be Like Mike.
Fast forward. Tears are shed. One wedding is replaced by another. Cue song.
*
1998 was the summer that Jordan retired, and everyone – from Kobe Bryant and Allen Iverson to LeBron James and Kevin Durant – tried to fill the void. In their own way, Johar, Khan, Kajol, and everyone associated with KKHH tried to fill a void, too. Where Jordan's Bulls dynasty ended, the Johar and Khan dynasty began, starting with KKHH and continuing through to a whole host of similarly-themed romantic comedies.
Soon enough, directors influenced or opposed to Johar's formula found success in Bollywood. By 2016, Michael Jordan and Shah Rukh Khan became crying memes and kids wanted to grow up to be Steph Curry.
But KKHH was never forgotten, and its magic was never duplicated. And as a legion of Indian players and fans will attest, the film's legacy continued to have an unexpected, memorable impact on Indian basketball.

[KARAN MADHOK] 
***
*Hoop Reels is our new column where we review the varied and many instances where basketball played a prominent role in shaping popular culture, via the medium of film and television. Kuch Hoops Hota Hai is the first of this series.
If you've come this far…
Appeal to our readers: Ekalavyas is India's first and only basketball media company. We are not foreign-funded, nor investor-backed. Your support and encouragement have got us this far. We now need your financial assistance to ensure we can keep providing you timely, accurate and important information. Please contribute via https://www.instamojo.com/@ekalavyas​ 🙏🏾. We are accepting contributions as low as Rs. 9/- (excluding a small processing fee charged by the payment gateway provider). Thank you for playing a part in keeping media independent and objective!
Ekalavyas now on Clubhouse! Join us for live audio conversations by following the 'Sports India Basketball' Club.
Ekalavyas now on Telegram! Stay up-to-date on all the breaking news around Indian Basketball, by subscribing to the EkBallIndia Telegram Channel.