Discover more from Ekalavyas | Basketball
Welcome to Ekalavyas, the pioneering publication dedicated to unearthing the world of international basketball, from an Indian perspective!
Over 3,000 subscribers
Kobe scores 38, Lakers beat Wolves 119-115 to end 10-gm skid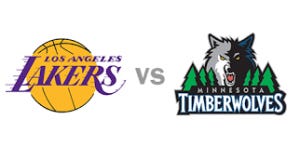 Los Angeles Lakers and Minnesota Timberwolves logos.
Kobe Bryant has lifted the Los Angeles Lakers onto his shoulders countless times over the past two decades, and he rarely flinches under the weight.Even during a demoralizing losing streak in his farewell season, the 37-year-old superstar summoned his skills to carry the team one more time.
Bryant hit seven 3-pointers while scoring a season-high 38 points, and the Lakers snapped their 10-game skid with a 119-115 victory over the Minnesota Timberwolves on Tuesday night.
With Bryant scoring 14 of their 18 points in the final 5:02, the Lakers avoided the longest losing streak in the 16-time champion franchise's history despite blowing a 16-point lead in the second half. Los Angeles had lost 10 straight for the first time since 1994, and Bryant's vintage performance made sure the record stayed shared.
Bryant hit repeatedly from the perimeter in the Lakers' first win since Jan. 12, evoking memories of the best years for the third-leading scorer in NBA history.
After Minnesota took the lead in the waning minutes, Bryant put the Lakers back ahead with dramatic, back-to-back 3s. He also drained a 19-footer with 26 seconds left to put them up 113-110 before making six free throws in the last 16.7 seconds.
Andrew Wiggins scored 30 points and led an impressive second-half surge by the Timberwolves, who have lost five straight and 16 of 18. Gorgui Dieng scored 19 points, and Karl-Anthony Towns had 14 points and nine rebounds.Wiggins committed a turnover with 17 seconds left after Bryant's big jumper, and Bryant salted away the game at the line amid countless chants of his name from nostalgic fans.
Lou Williams scored 20 points and rookie D'Angelo Russell had 18 for the Lakers.