Discover more from Ekalavyas | Basketball
Welcome to Ekalavyas, the pioneering publication dedicated to unearthing the world of international basketball, from an Indian perspective!
Over 3,000 subscribers
The Untold story of Kiloi: India's Basketball Village
[Originally published on NBA.COM, as part of its 'Court Chronicles' series, around December 2016.]
What was supposed to be a lazy morning turned magical.
*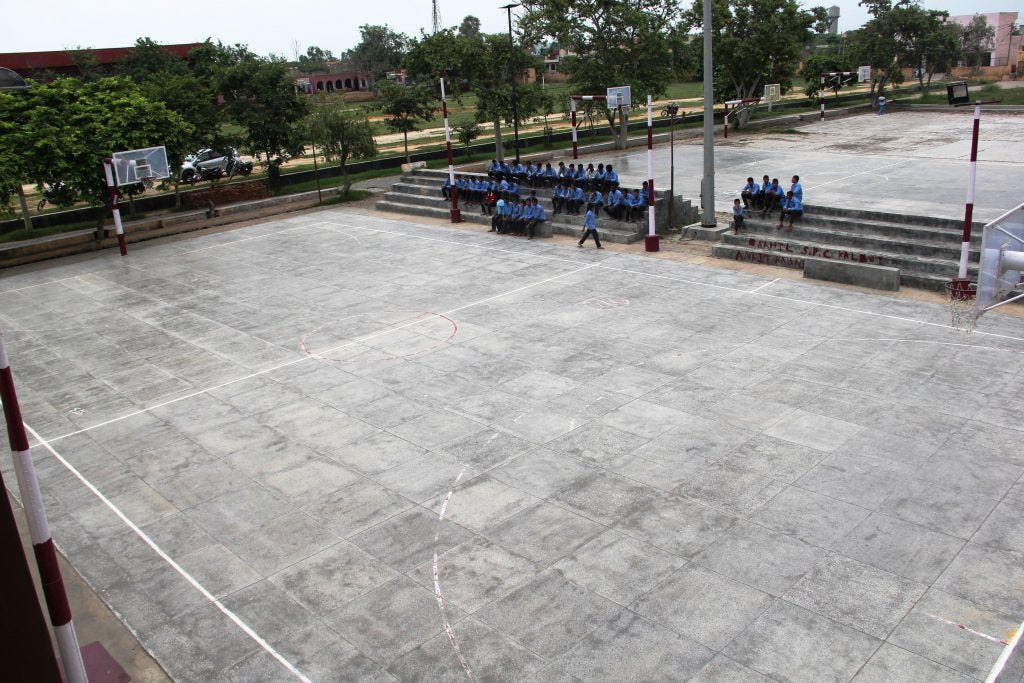 The outdoor courts at Sports Promotion Club, Kiloi
Haryana basketball first came to my attention two years ago, when its men's team dismantled mighty northern neighbours Punjab in the Senior National Championship.
So it was with considerable curiosity that earlier this August I landed in Rohtak for their inaugural All India Club Tournament.
The decked up Rajiv Gandhi indoor stadium — rows of chairs on either side, giant 50ft banners cascading down from the rafters, and dozens of small, colourful posters along the sidelines — pleasantly surprised me.
"Gopal Ji, Don't underestimate Rohtak. We have three indoor courts here!" said Sudhir Hooda, the organising secretary of the tournament, with a twinkle in his eye.
Later, after the rush of media work had ended, I sat down with Mr Hooda and his colleagues.
"Gopal, aapne Kiloi ko highlight kiya?" (Did you highlight Kiloi?), Mr Hooda asked me in Hindi.
"Kiya to hai, lekin utna nahin. Mera main focus matches pe tha." (I did, but not so much. My main focus was on the matches.)
"Bro, you need to highlight. It is a great place," added Navdeep Naseer, Hooda's dynamic young colleague.
I sensed urgency in their voices and recalled one of the green banners that read "Thank you Sports Promotion Club, Kiloi".
My journalistic curiosity piqued.
A visit to Kiloi, the so called 'basketball village', had to be made.
Kiloi- India's basketball village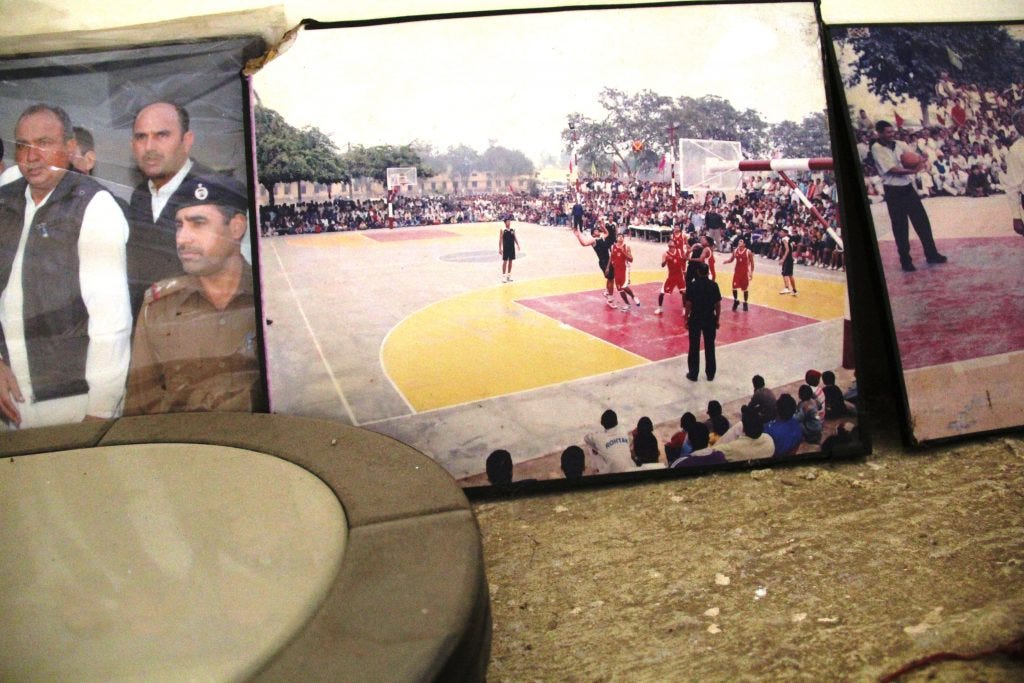 Dusty sepia-tinted photographs of past events and achievements line the walls of SPC, Kiloi's meeting room.
The next morning, I was hoping to enjoy an extended shut eye, when the room door burst open, flooding it in bright summer light.
"Aap abhi bhi so rahe ho?" (You are still sleeping?)
"Get ready quickly, we are leaving for Kiloi."
Twenty minutes later, we were bundled in an SUV, hurtling along at breakneck speed, away from Rohtak town. On either side, lush green paddy fields waved in the wind. Small brick outhouses whizzed past, while content cows and buffaloes ambled and grazed.
Suddenly, our SUV swerved onto a mudroad.
A basketball court popped up on our left.
We lurched ahead.
Another court.
Then another.
And another!
75 odd children in full sleeved navy blue shirts and dark trousers – typical Indian school uniforms – were lined up quietly, gaping as we passed them.
We screeched to a halt. Right in front of us, a giant cream and brown cement structure with deep blue painted letters read: "MULTIPURPOSE HALL INDOOR BASKET BALL GROUND."
All around, farmlands stretched outwards, unmindful of these out-of-place constructions.
We had arrived at Kiloi Khas— India's basketball village.
Robin Hood tales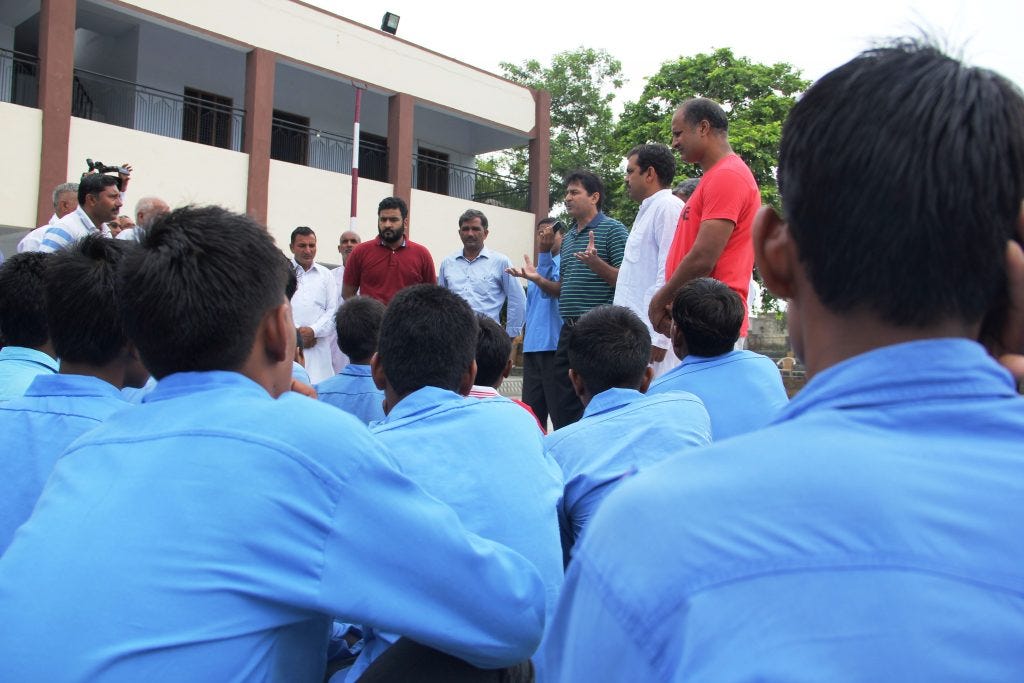 Young kids at Kiloi listen intently as former India basketball legend Ram Kumar shares words of advice.
Basketball was first introduced in Kiloi way back in 1958 by a local teacher named Hukan Singh. What started off as a clay court at a government high school was converted, in 1982, into the cement courts that are seen today.
Upon disembarking, we were swarmed by a sea of white. Elderly gentlemen in spotless kurta pyjamas gathered around, carrying marigold garlands. Hands were folded in namaste, India's traditional greeting.
We were ushered into a meeting room whose walls were adorned with dusty photos, trophies and medals. There was even a sepia tinted picture of a former chief minister striding across the Kiloi courts, perhaps after attempting a ceremonial freethrow.
I moved around taking as many snaps as possible, snippets of chaste Haryanvi conversation reaching my ears:
"This is a sports village. It is our misfortune that it has skipped the attention of the Indian government."
"The talent and respect that kids here have towards the game and their elders, I don't know any other place that has that."
"You come in the evening and you'll find children as young as 4 or 5, bouncing basketballs."
"Our kids are less mischievous because they have basketball as an outlet."
"Over the years, every new club secretary or local official has added to our facilities."
 "This is a true community court. People in the village contribute 10 Rs, 50 Rs each and with the money collected we have built the court."
 "You see the road coming from Rohtak? We took away the rods meant to be telephonic poles and used them to mount floodlights, because we had nothing..."
The voices trailed away as I moved to an adjoining room - a dilapidated shed with rusty weights strewn around. Evidently a makeshift gym in advanced state of disrepair. I returned to the gathering.
"...The struggle is always the most for those who take the first step," acknowledged Mr Ram Kumar, a former India basketball legend, who was part of our five man SUV crew.
The villagers murmured and nodded in unison. The eldermost, evidently the moral authority on all things Kiloi basketball, took Kumar by the arm - his face earning a few more wrinkles as he revisited ancient memories. "Even during times of disagreement, no one tried to break down the court or refuse to make a donation. Even when families fought, their kids still played together here."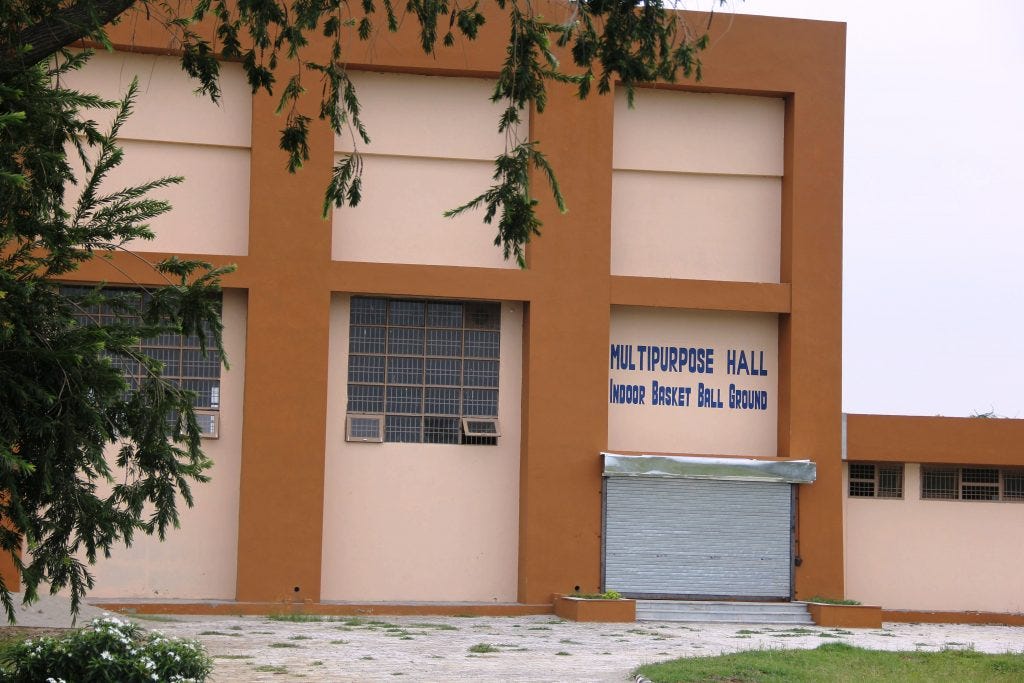 The indoor court at Kiloi with its peculiar signage.
Kiloi could well be the unheralded Mecca of rural basketball in India.
"Around 50 international and 1000 national level players have come from here,"  Mr Sudhir Hooda would later brief me. "Wrestling and Kabaddi were also popular. But with the emphasis on good educational facilities, people got interested in new sports like basketball."
Each day, 350 players practice under the guidance of coach Sushil Hooda and senior players.
Despite Kiloi Khas's accomplishments, there is room for improvement, starting with the facilities. The so called "Indoor Ground" throws up dust with every step, and the floor is littered with pigeon droppings. The outdoor surfaces need to be upgraded to synthetic. The Club still relies wholly on village donations with no corporate sponsorship.
***
As we headed back towards Rohtak and civilization as we knew it, the rustic courts receded in our rear windshields, swallowed again by the idyllic countryside.
We were left with a lingering feeling of mystique, almost as if we had visited Indiana and not some place in India.
Recently turned sexagenarian Larry Bird would have felt right at home.