Discover more from Ekalavyas | Basketball
Welcome to Ekalavyas, the pioneering publication dedicated to unearthing the world of international basketball, from an Indian perspective!
Over 3,000 subscribers
Kerala teams announced for the Khelo India National Level Competition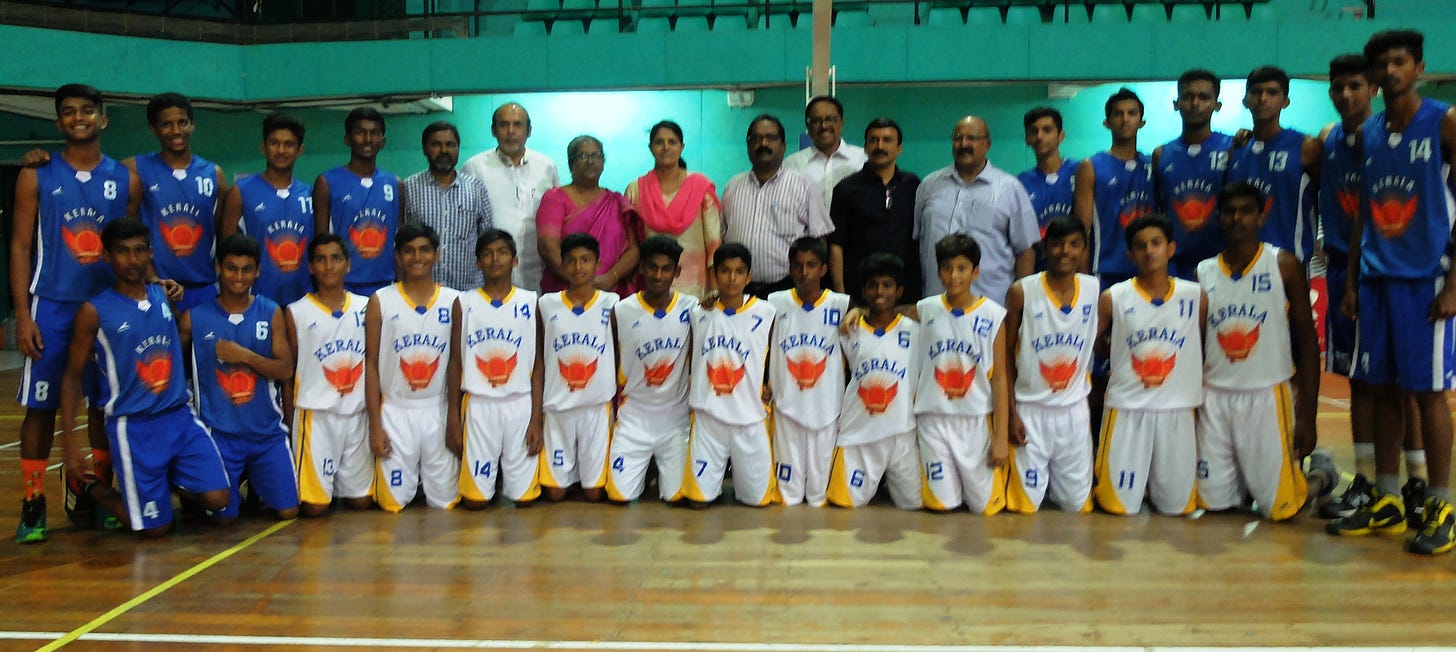 The members of the Boys team representing Kerala along with members of Team Rebound at the Rajiv Gandhi Indoor Stadium, Kadavanthra
Thiruvalla, 9th February 2017-  Sayan Muhammad of Sacred Heart CMI, Thevara and Anjana Paul from Christ Vidyaniketan, Irinjalakuda were named captains of the under-14 teams while Dominic D and Olivia T Shaibu both from Shanthal Jyothi Public School, Muttom will lead Kerala in the under-17 category at the Khelo India National Level Competition to be held in Hyderabad, Telangana from 11th - 16th of February, 2017.
The team will be accompanied by Prem Kumar from Erankulam, Ajith AR from Thiruvanthapuram, and Winny Bestine and Minnu George from Thrissur
Kind gesture from Team REBOUND
Team Rebound - an organisation of former basketball players, came forward to help the teams by sponsoring their jerseys and bearing the expenses of the camp on the request of the Kerala Basketball Association.
The jerseys were handed over to the girls in a ceremony conducted at The Little Flower HSS, Koratty -  where the girls camp was held and at the Rajiv Gandhi Indoor Stadium, Kadavanthra, Kochi, the venue of the boys' camp. The ceremony was attended by Team Rebound President, Muhammad Iqbal; Secretary, Aji Kumaran Nair; Treasurer, Hally Itty Ipe; and former international players Leelamma Thomas, Indu Lekha, Mercy Ignatius, Emily K Mathew, Joshyamma George, Alma Nettikkadan, Shibu Hormis and Ernakulum Basketball Association Secretary Adv. KA Salim.
The teams are as follows
:
Boys U14 Sayan Mohammad K.S (C), Thomas Zacharia (Ernakulam); Paul Thomas, Akshay Kumar V A, Abhinav C K (Thrissur); Nitin Baby, Muhammad Fenzim N. M (Kozhikode); Joseph Roji, Govind Manoj, Jim Paul K (Kottayam); Arjun V (Alappuzha); Joel Vince Mattom (Idukki).
Boys U17 Dominic Varukala (C), Gordy Jais, Tom Jose, Edwin Thomson (Idukki); Muhammad Salih, Edwin John Joseph (Kottayam); Arjun S Nair (Thiruvanthapuram); Allan Gladwin, Jeffen Jolly (Ernakulum); Abhishek Jaison (Kozhikode); Amal Stenny (Thrissur); Charly VS (Kannur).
Girls U14 Anjana Paul Mavely (C), Aleena Antony, Agy Jaison (Thrissur); Gouri Chinnu Koshy, Abhirami R (Trivandrum); Ann Mary Zachariah, Swapna Mari, Aksa Thankam Sajan (Kottayam); Jesly PS (Kannur); Avantika S Biju (Kozhikode); Ann Mary Saji (Ernakulam).
Girls U 17 Olivia T Shibu (C) (Idukki); Jayalakshmi V J, Neethu S, Anagha Shaji, Anasooya Sanal G.N (Alappuzha); Dona Elsa Zacharia, Kavya Jayakumar (Kottayam); Lakshmi K Lalu, Sandra K A, Aparna Sadasivan (Thrissur); Mahima Shibu M (Thriuvanthapuram); Anu Maria CS (Kannur).