Discover more from Ekalavyas | Basketball
Welcome to Ekalavyas, the pioneering publication dedicated to unearthing the world of international basketball, from an Indian perspective!
Over 3,000 subscribers
Kerala Men and Tamil Nadu Women crowned Champions of the 69th Junior National Basketball Championship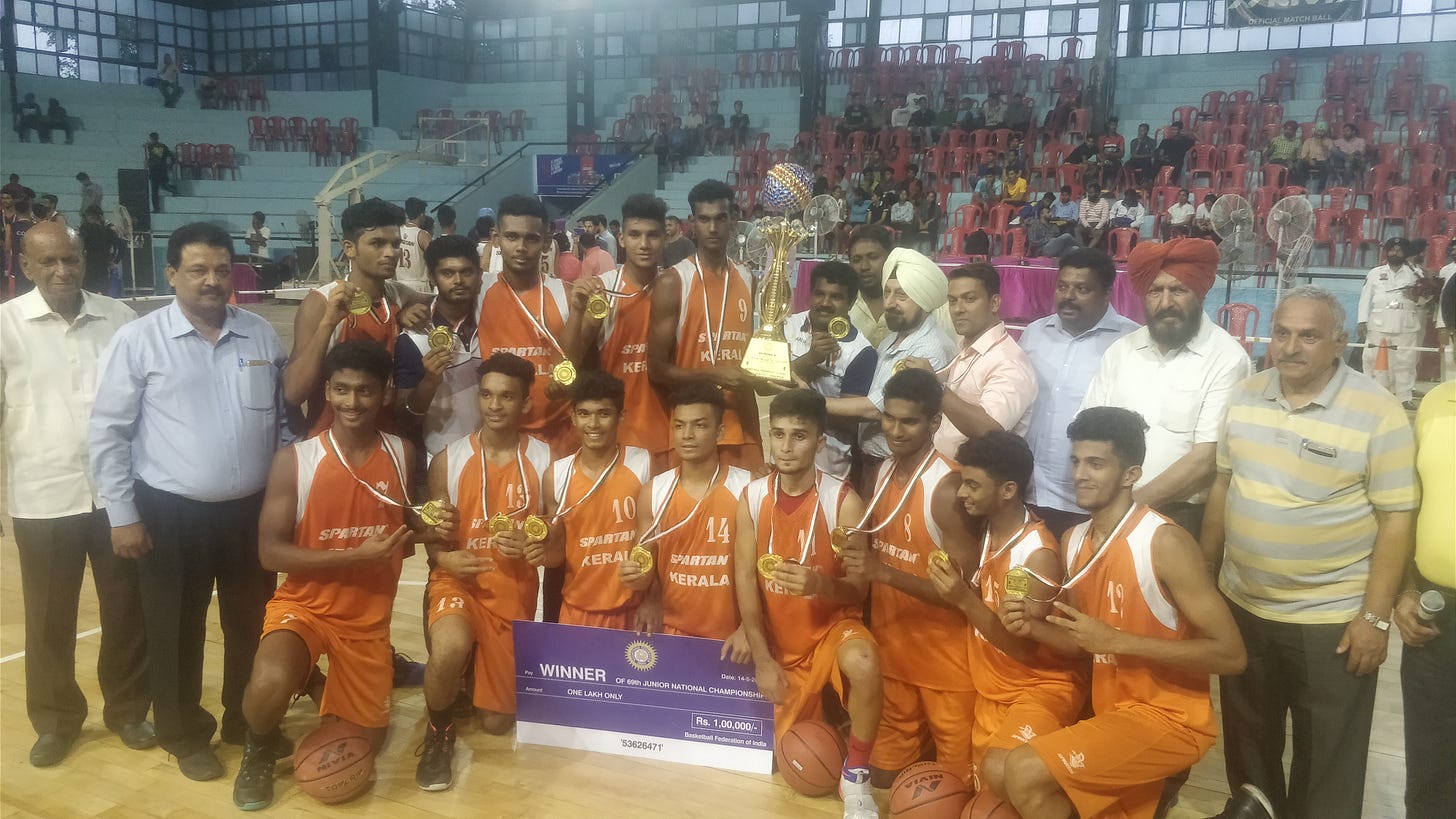 Kerala Men crowned champions of the 69th Junior National Championship. Image credits: Basketball Federation of India.
Ludhiana, 14th May 2018: Kerala Men defeated Rajasthan in an extremely heated Final game. Both the teams were equally capable and competitive. Rajasthan were the favourites as they had defeated Kerala in an earlier game in the tournament, but Kerala's performance in the Semis was stunning. Kerala continued its excellent performance in the Finals and emerged as the Champions of the tournament.
Tamil Nadu Women took home the trophy by defeating Kerala 77-56 in the Finals. The game was expected to be a very competitive one, but Tamil Nadu took lead in the first half and continued to dominate through the rest of the game, thus securing an easy victory over Kerala.
Rajeev Singh from Rajasthan and Vaishnavi Yadav from UP were crowned the Most Valuable Player (MVP) in the male and female categories respectively.
Vaishnavi Yadav retained her excellent form by scoring 53 points and helped Uttar Pradesh women finish 3rd in the championship. Punjab men secured the 3rd position after defeating Delhi with a whopping 53 point lead.
about the championship
The 69th Junior National Basketball Championship for Men and Women tipped off on 7th May 2018 at the Ludhiana Basketball Academy in Guru Nanak Stadium, Ludhiana. The championship is being organised by Punjab Basketball Association under the aegis of the Basketball Federation of India.
results
Men:
Finals:
Kerala 108 (Shanazil 29, Chacko 26) bt Rajasthan 101 (Rajeev 40, Sumeet 16) 
3rd & 4th Place:
Punjab 97 (Rajan 39, Jagshanbir 19) bt Delhi 44 (Aditya 27)
5th & 6th Place:
U.P 83 (Akshay 24, Rishant 12) bt T.N 77 (Arvind 28)
Women:
Finals:
TN 77 (aishwary 17, Pratibha 15, Pushpa 14) bt Kerala 58 (Sreekala 14, Ann mary 12)
3rd & 4th Place:
U.P 72 (Vaishnavi 53, Kavya 13) bt Karnataka 32 (Sanjana 12)
5th & 6th Place:
Maharashtra 59 (neha 27, Shreya 14) bt Punjab 49 (Rajandeep 13, Sakshi 11) 
Final Rankings
S.No. Men Women 1 Kerala TN 2 Rajasthan Kerala 3 Punjab UP 4 Delhi Karnataka 5 U.P Maharashtra 6 T.N Punjab 7 Karnataka M.P 8 Gujarat Gujarat 9 Maharashtra Haryana 10 Chandigarh Delhi
GROUPINGS (MEN)
LEVEL - 1                                      LEVEL - 2                                                                                                       
GROUP "A" GROUP "B" GROUP "C" GROUP "D" GROUP "E" GROUP "F" PUNJAB KERALA TELANGANA CHHATTISGARH GUJARAT WEST BENGAL TAMIL NADU RAJASTHAN GOA BIHAR ASSAM ANDHRA PRADESH HARYANA MAHARASHTRA HIMACHAL PRADESH JAMMU & KASHMIR JHARKHAND KARNATAKA CHANDIGARH DELHI PUDUCHERRY ODISHA NAGALAND MIZORAM UTTAR PRADESH MADHYA PRADESH TRIPURA UTTARAKHAND
GROUPINGS (WOMEN)
LEVEL 1                                  LEVEL 2
GROUP "A" GROUP "B" GROUP "C" GROUP "D" GROUP "E" GROUP "F" TAMIL NADU UTTAR PRADESH DELHI HARYANA CHANDIGARH ODISHA KARNATAKA KERALA GOA BIHAR ASSAM ANDHRA PRADESH CHHATTISGARH PUNJAB HIMACHAL
PRADESH
JHARKHAND PUDUCHERRY TELANGANA MADHYA PRADESH MAHARASHTRA WEST BENGAL UTTARAKHAND GUJARAT RAJASTHAN