Discover more from Ekalavyas | Basketball
Welcome to Ekalavyas, the pioneering publication dedicated to unearthing the world of international basketball, from an Indian perspective!
Over 3,000 subscribers
Karnataka girls top their league group at the 34th Youth National Championship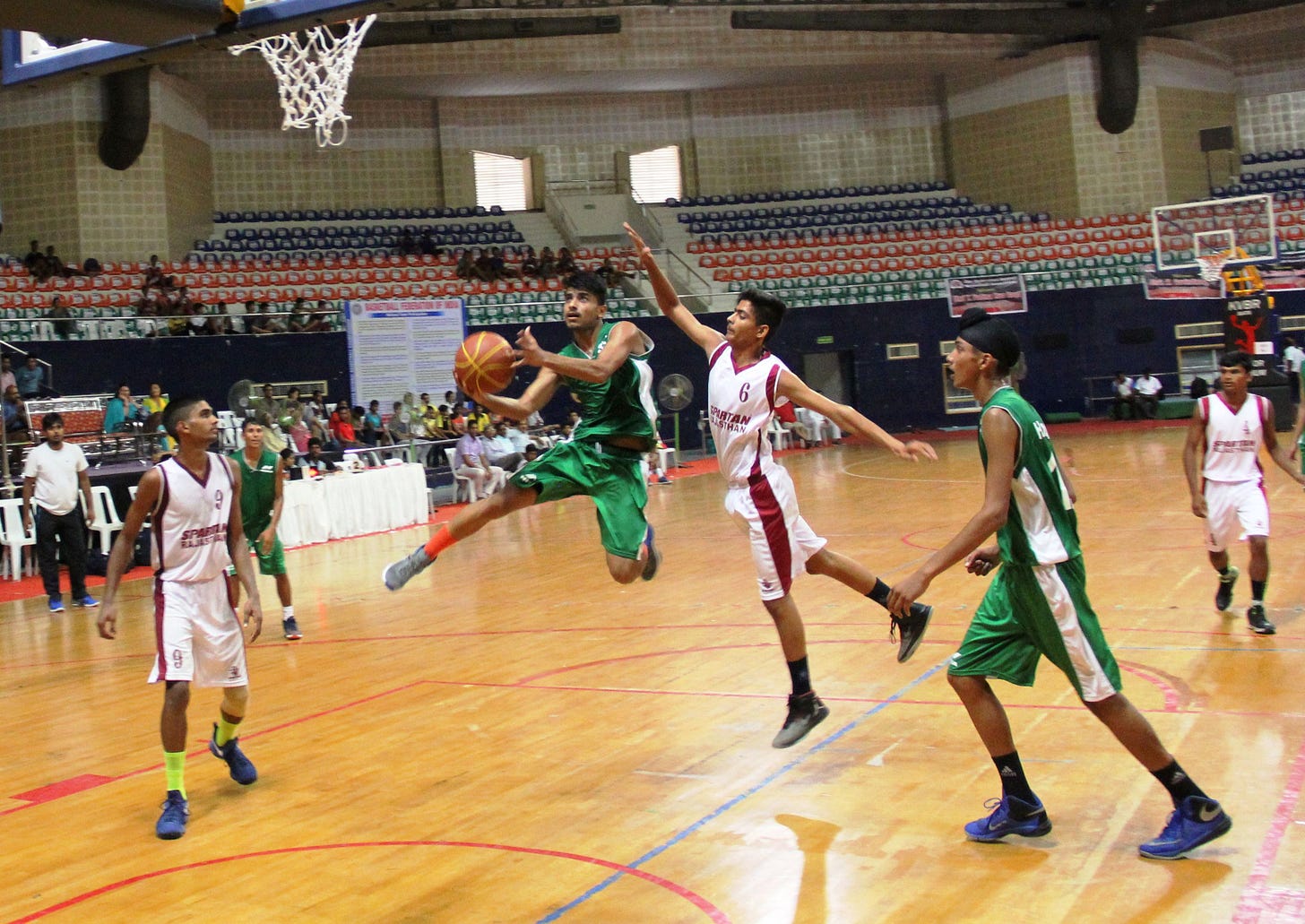 Mukesh of Haryana with an acrobatic move in the paint against Rajasthan. Image credits: Basketball Federation of India
Hyderabad, 4th July 2017:  The 34th Youth National Championship for Boys and Girls entered Day 4 today at the Indoor Stadium, Gachibowli in Hyderabad.
The Championship is being organized by the Hyderabad District Basketball Association under the aegis of the Telangana Basketball Association and the Basketball Federation of India.
Haryana, WB girls elevated to Level 1; TN girls stay undefeated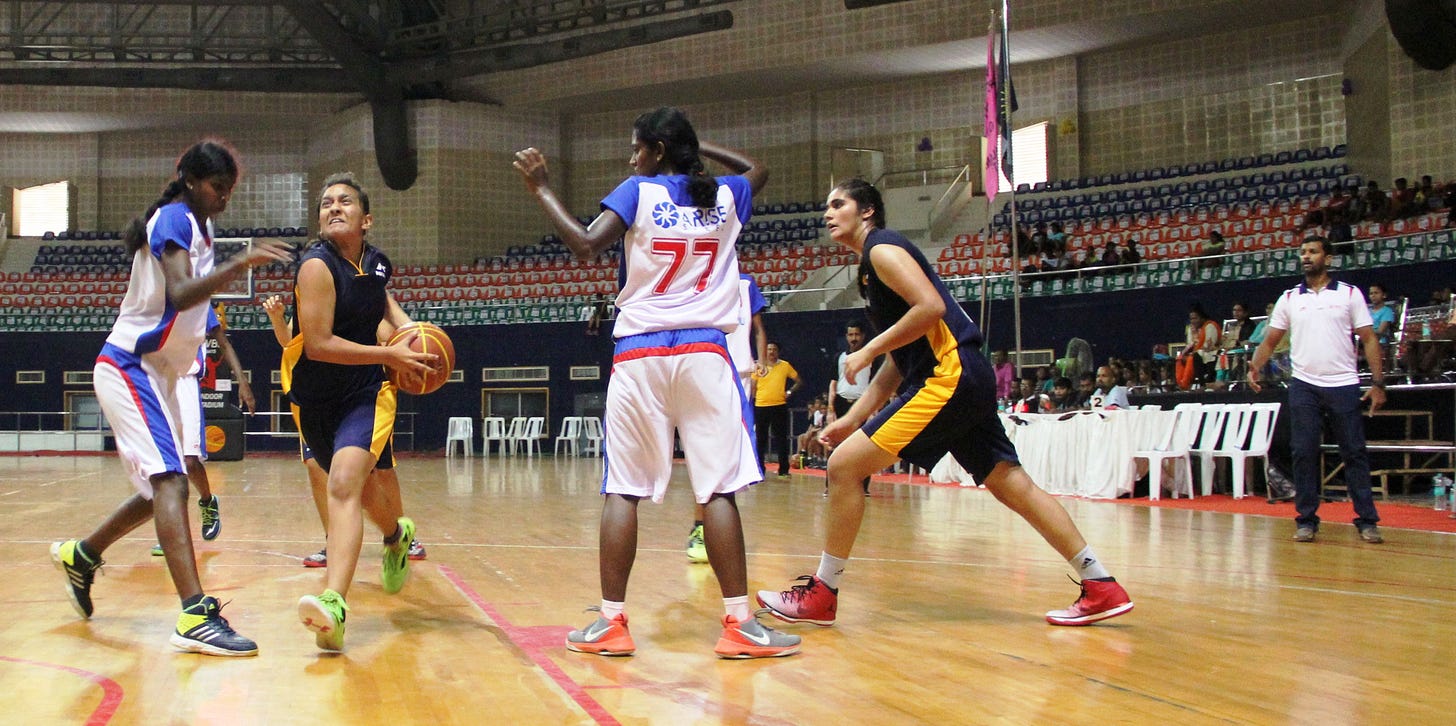 Rajvi Desai of MP fought hard but couldnt prevent the loss to Tamil Nadu at the 34th Youth National Championship. Image credits: Basketball Federation of India
Tamil Nadu girls (3-0) stayed unbeaten by outclassing Madhya Pradesh (2-1) today. Both teams are assured of quarterfinal berths, but Tamil Nadu will look to win its final league match tomorrow against Maharashtra and end the league stages at the top of Group A. From the lower Level, West Bengal and Haryana have progressed to the upper Level 1, and simultaneously securing a spot in the pre-quarterfinals. West Bengal managed to keep a fighting Delhi side at bay, winning 61-58, while Haryana had it fairly easy against Odisha with a 53-41 victory.
Karnataka and Maharashtra girls too posted wins over Gujarat and Rajasthan respectively. The 4-0 Karnataka has finished as the top side in Group B and will take on the to-be-announced 4th placed team from Group A in the quarterfinals.
Kerala and UP boys continue to impress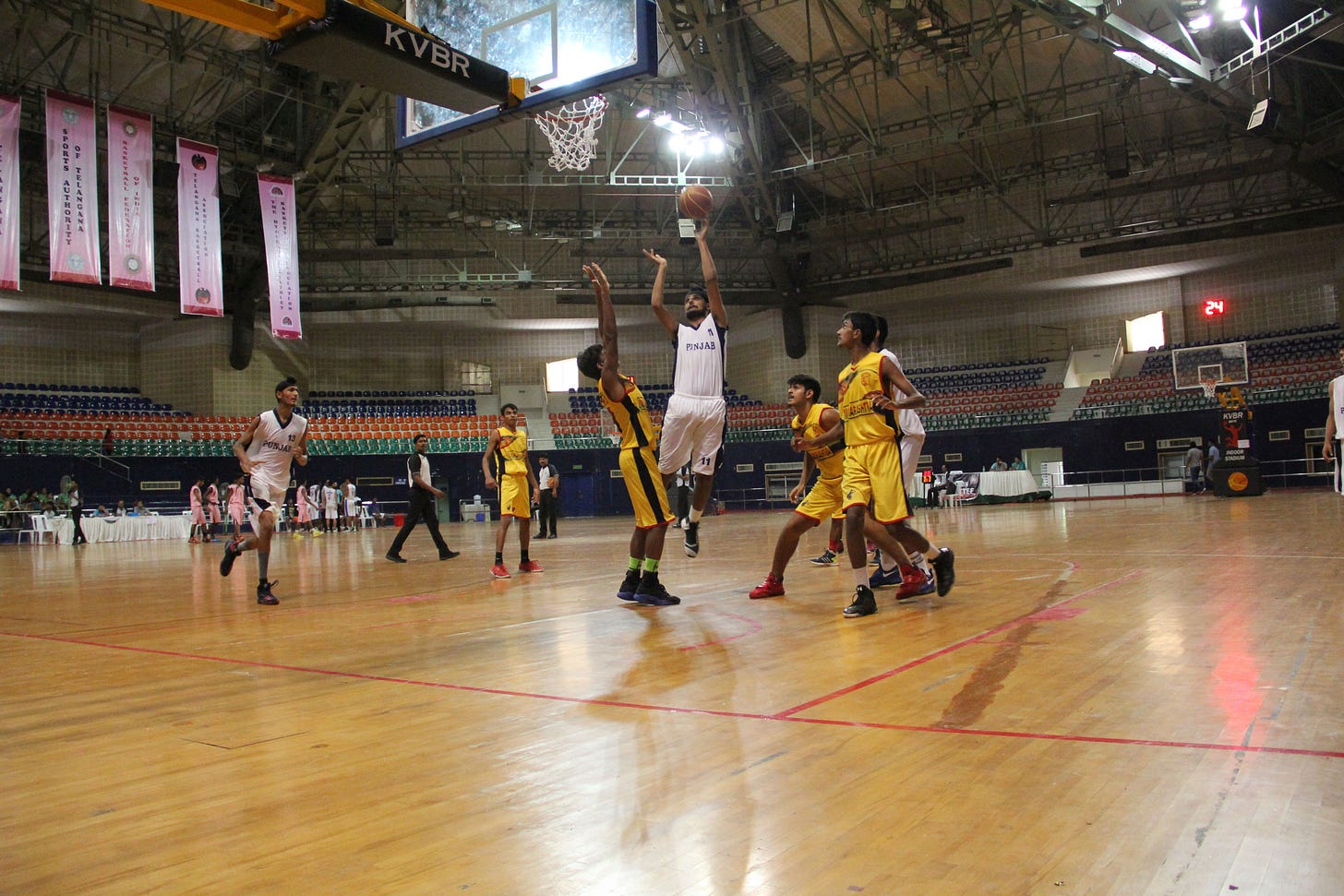 Harsimranjit Singh of Punjab finds some space inside against Maharashtra at the 34th Youth National Championship. Image credits: Basketball Federation of India
In the boys' section, Kerala (3-0) beat Karnataka (2-1) in impressive fashion. The two sides were coming into this game undefeated and guaranteed of knockout berths. But it was defending champs Kerala who showed their class with a 75-45 drubbing of their southern neighbours. Kerala will face Rajasthan tomorrow while Karnataka takes on Delhi.
Later in the evening, in an overtly physical encounter, Punjab boys beat Maharashtra 75-58 to go 2-1 with 1 league match remaining. Meanwhile Haryana boys (2-2) drubbed Rajasthan (1-2) by 21 points to book their spot in the quarterfinals. In Group B action, Uttar Pradesh continued to impress by beating Tamil Nadu and maintaining their perfect 3-0 record.
Results from Day 4 (4
th
July 2017) until 6:00 pm
Girls
Level 1
Group A
Tamil Nadu (Monica Jayaseeli 19, Pushpa 15, Lakshmi Priya 11) bt Madhya Pradesh (Ruchi Patel 14, Rajvi Desai 10) 67-42 [17-17, 16-11, 22-7, 12-7]

Maharashtra (Khushi Dongre 21, Suzanne Pinto 16, Purvi Mahalle 8) bt Rajasthan (Shataksh Rathore 14, Akshita Jain 10) 70-34 [18-10, 20-8, 17-8, 15-8]
Group B
Karnataka (Sanjana Ramesh 19, Reshma Ramesh 11) bt Gujarat (Tanisha Shah 13) 59-38 [18-11, 19-6, 6-10, 16-11]
Level 2 to Level 1 Qualifying Matches
West Bengal (Jyothi Routh 16, Babita Das 13, Liza Deb 12) bt Delhi (Bharti 19, Khushi 18) 61-58 [15-16, 12-10, 17-15, 17-17]

Haryana (Ritika 16, Priyanka Gupta 14, Varsha 11) bt Odisha (Lipramayee Satapathy 16, Pragati Ray 12, Anuradha Seth 6) 53-41 [16-12, 17-13, 11-7, 9-9]
Level 2 Loser's Knockout Quarterfinals*
*This is a standalone tournament for Level 2 teams that have already been eliminated from the main draw
Telangana (Arya A Sreeramaneni 12, G Sandhya 11) bt Goa (Katherine Barreto 4, Naomi Nunes 4) 49-15 [11-5, 22-2, 8-4, 8-4]

Himachal Pradesh (Pallavi Bramla 15, Ananya Sanoria 10) bt Jharkhand (Anu Oraon 13) 50-25 [15-8, 14-0, 12-13, 9-4]
Boys
Level 1
Group A
Kerala (Jerom Prince 23, Joshua Abraham 16, Abhishek Joseph Jason 12) bt Karnataka (Prashant Tomar 12, Pranav 11, Akshan 9) 75-45 [19-11, 26-9, 17-5, 13-20]

Haryana (Kapil Mor 29, Anil 14) bt Rajasthan (Rajveer Singh Bhati 19, Kuldeep Singh 15) 78-57 [13-12, 12-16, 24-19, 29-10]
Group B
Uttar Pradesh (Priyhanshu 34) bt Tamil Nadu (Gokul V 18, G R Balaji 11, R Harikara Prabhu 11) 65-59 [16-12, 15-19, 18-18, 16-10]

Punjab (Princepal Singh 20, Mani Singh 15, Harsimranjit Singh 14, Rajan 13) bt Maharashtra (Tanay Thatte 29, Arjun Yadav 14, Om Pawar 12) 75-58 [20-15, 9-12, 27-5, 19-26]
Level 2 Loser's Knockout Quarterfinals*
*This is a standalone tournament for Level 2 teams that have already been eliminated from the main draw
Himachal Pradesh (Manmohan Singh 16, Abhay Dhadwal 13, Ajay Kumar 8) bt Odisha (Harshvardhan Nayak 10) 51-28 [27-5, 17-7, 3-8, 4-8]

Assam (Salew Kadete 16, Shivam Sunar 10) bt Jammu & Kashmir (Harithik Choudhary 30, Deepak Bhardwaj 7) 59-46 [20-9, 8-12, 14-15, 17-10]

Telangana (Vighneshwar Upadhyay 35, Aman Topno 15) bt Jharkhand (Prabhat Kr Mahato 12, Varun Raipat 11, Sushant Deep 10) 86-49 [15-18, 19-13, 26-12, 26-6]
Pending Results from Day 3 (3
rd
July 2017) after 6:30 pm
Girls
Level 2
Group C
Haryana (Rupal 15, Varsha 10, Priyanka Gupta 6) bt Himachal Pradesh (Ramandeep Kaur 9, Ananya Sanoria 8) 55-25 [14-3, 15-7, 10-9, 16-6]
Group E
Jharkhand (Arpita Mohan 11, Anu Oraon 6) bt Bihar (Kavya Singh 14) 35-31 [14-12, 10-5, 6-6, 5-8]
Group F
Odisha (Lipramayee Satpathy 27) bt Assam (Lakshmi Kachari 13, Juhi Kedia 8) 42-23 [11-9, 16-9, 10-1, 5-4]
Boys
Level 1
Group A
Karnataka (Akshan Rao 23, Prashant Tomar 15, Nideesh Naik 11) bt Haryana (Mukesh 36, Anil 7) 70-66 [21-15, 14-21, 17-15, 18-15]
Group B
Tamil Nadu (Gokul V 27, G R Balaji 14, A Adhisiva 9) bt Chhattisgarh (Saif Ali Khan 19, Harendra Kumar 12) 69-46 [17-17, 20-11, 18-9, 14-9]