Discover more from Ekalavyas | Basketball
Welcome to Ekalavyas, the pioneering publication dedicated to unearthing the world of international basketball, from an Indian perspective!
Over 3,000 subscribers
John Wooden, Legendary Basketball Coach, Still Loved in India
John Wooden, the legendary late American college basketball coach, continues to be remembered and loved half-way across the globe in India.
The following is a first-hand account shared by well-known sports promoter Joy Bhattacharjya, as part of our 'Humans of Basketball' series:
"I do realize it is extremely unfashionable, but a large part of how I have tried to live my life is following my father, and an American farmer's kid, born in 1910. John Wooden was an All-American basketball player who coached UCLA to 10 titles in 12 years and mentored some of the greatest players ever, including my idol Kareem Abdul Jabbar.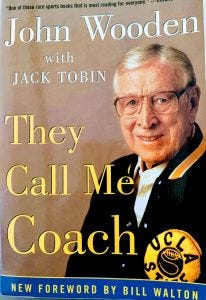 I found his autobiography, They Call Me Coach, in a Golpark pavement bookshop in 1982, and read it about over a hundred times till it was borrowed by a friend in the early nineties, and never returned. It was the closest thing I had to a bible and I missed it.
This year, Jaideep Mukherjee remembered my love for the book, and just a few days back, the Royal Post finally delivered this beauty. Thank you Jaideep, it truly is the circle of life."
Read Joy's original Facebook post here. 
***
If you've come this far…
Appeal to our readers: Ekalavyas is India's first and only basketball media company. We are not foreign-funded, nor investor-backed. Your support and encouragement have got us this far. We now need your financial assistance to ensure we can keep providing you timely, accurate and important information. Please contribute via https://www.instamojo.com/@ekalavyas​ 🙏🏾. We are accepting contributions as low as Rs. 9/- (excluding a small processing fee charged by the payment gateway provider). Thank you for playing a part in keeping media independent and objective!
Ekalavyas now on Clubhouse! Join us for live audio conversations by following the 'Sports India Basketball' Club.
Ekalavyas now on Telegram! Stay up-to-date on all the breaking news around Indian Basketball, by subscribing to the EkBallIndia Telegram Channel.