Discover more from Ekalavyas | Basketball
Welcome to Ekalavyas, the pioneering publication dedicated to unearthing the world of international basketball, from an Indian perspective!
Over 3,000 subscribers
IOB, ONGC through to the finals of the 32nd Federation Cup in Chittoor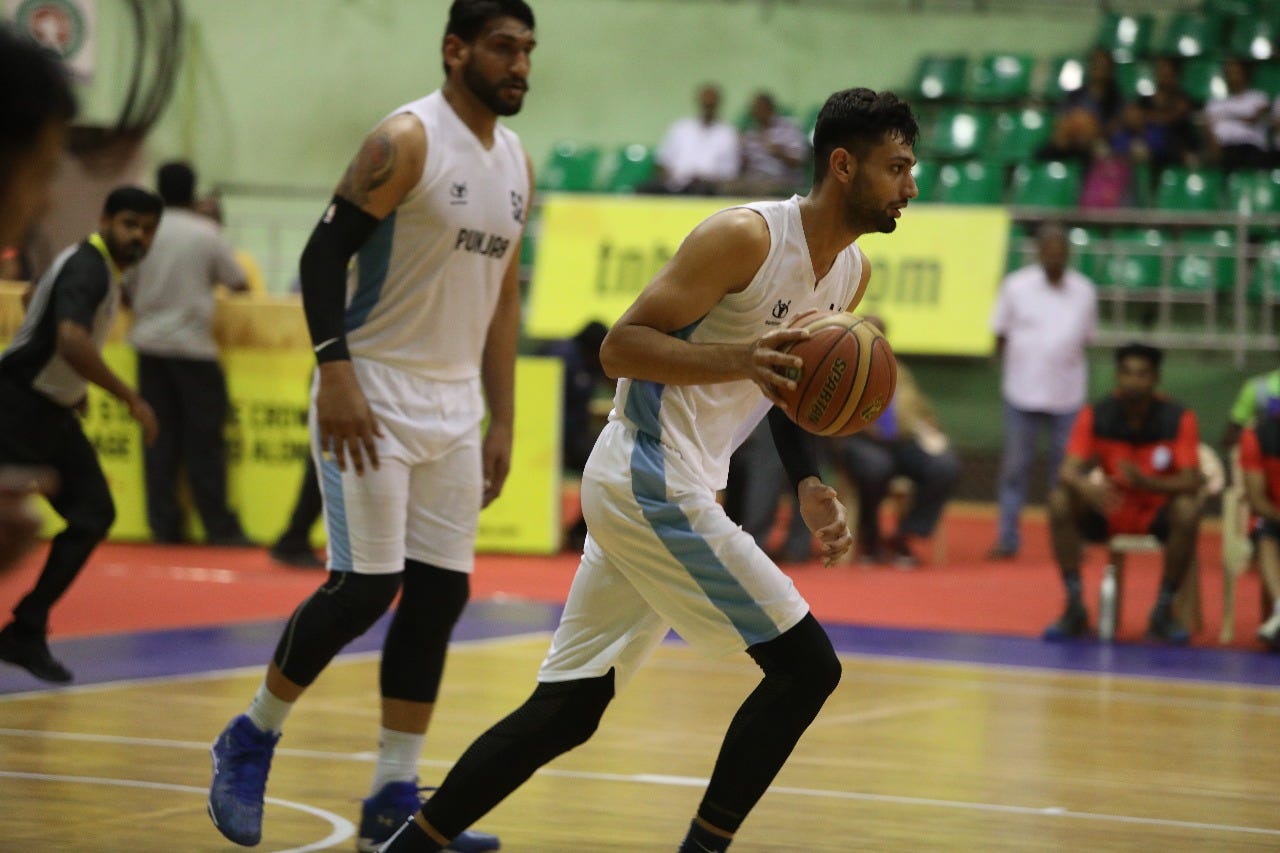 File Photo: Satnam Singh and Gurvinder Gill in action for Team Punjab Police. Image credits: Basketball Federation of India.
Bengaluru, 5th May 2018: The semi-final between IOB Chennai and Customs and Excise, Cochin was thought of as an easy victory for IOB. However, Cochin's excellent performance shocked everyone as they managed to secure a one-point lead by half-time. Nonetheless, IOB came back strong with their experienced player Rikin Pethani and top scorer G Sivabalan and took the game away from Cochin in the second half and secured the place on the podium. The last semi-final of the day saw the defending champions, ONGC, earn a victory over an energetic MEG team in a very competitive game that extended to overtime. The current Indian team captain Yadwinder Singh sealed the game with a clutch shot in the last few seconds of the overtime period.
Just like last year, IOB Chennai and ONGC will face each other in Finals on 6th May 2018.
ABOUT 32ND FEDERATION CUP
The prestigious 32nd Federation Cup has tipped off at the District Sports Authority in Chittoor, Andhra Pradesh on 1st May 2018. The best club/state teams in both the Men's and Women's category are participating in this 6-day long tournament. The championship is being organised by the Andhra Pradesh Basketball Association under the aegis of the Basketball Federation of India.
DAY-5
MEN
IOB 87 (Sivabalan 26, Rikin 23, Prasanna 17) bt Customs,Cochin 74 (Shinu 20, Bony 17)
ONGC 68 (Yadwinder 21, Muin Bek 19) bt MEG 65 (Mayur 24, Rahul 15)
WOMEN
Tamil Nadu 82 (Pushpa 28, Srividhya 20) bt Eastern Railways 64 (Madhu 24, Libina 20)
Kerala 60 (Jeena 20, Rojamol 14) bt Maharashtra 42 (Sakshi 14, Sruthi 9)
6TH MAY, 2018
Team 'A' V/s Team 'B' Group Time Court No. 3rd Place Customs, Cochin V/s MEG MEN 04.30 PM 1 3rd Place Maharashtra V/s Eastern Railways WOMEN 04.30 PM 2 Final Kerala V/s Tamil Nadu WOMEN 05.45 PM 1 Final ONGC Dehradun V/s IOB Chennai MEN 07.00 PM 1