Discover more from Ekalavyas | Basketball
Welcome to Ekalavyas, the pioneering publication dedicated to unearthing the world of international basketball, from an Indian perspective!
Over 3,000 subscribers
Integral Coach Factory dominate Karnataka; register their 2nd win of the 4th Mulki Sunder Ram Shetty Basketball Tournament
The 4th Mulki Sunder Ram Shetty All India Basketball Tournament, organised by the Vijaya Bank, is currently underway at the Sree Kanteerava Indoor Stadium.

The tournament is being played from 31st January to 4th February, and features India's top men's club teams such as Vijaya Bank, Indian Overseas Bank and Income Tax.

Integral Coach factory outplayed Karnataka Men 71-40 in their final league stage match.

The semi-final round of the tournament tips off tomorrow at 5:30 PM
Bengaluru, 2nd February 2018: The 4th Mulki Sunder Ram Shetty All India Basketball Tournament, organised by the Vijaya Bank, is currently underway at the Sree Kanteerava Indoor Stadium. The tournament is being played from 31st January to 4th February, and features some of India's best men's club teams showcasing India's top basketball talent.
The tournament is being played in a league cum knockout format, with seven teams divided into two groups, with the top two of each group qualifying for the semi-finals.
Results from Day 3 (up to 7:15 PM)
Integral Coach Factory beat Karnataka State 71-40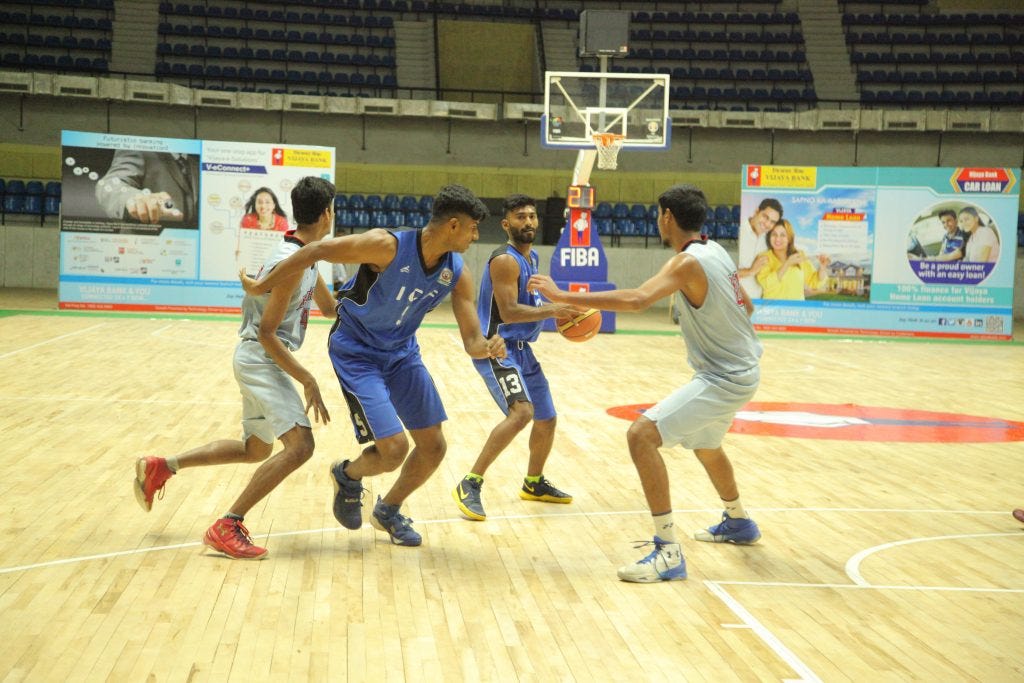 Anto Bethle of ICF runs the pick and roll with teammate Jaya Venkatesh
The final day of league match action at the 4th Mulki Sunder Ram Shetty All India Basketball Tournament tipped off with the Integral Coach Factory taking on the young men of the Karnataka State team. ICF got off to a quick start nailing their 1st two three pointers. P Vijay was yet again relentless in his pursuit for offensive rebounds. The ICF guards played the passing lanes throughout the quarter and came up with some easy steals in the process. Bethle left his mark on the game by dictating the tempo and flow of his team's offence. Karnataka's young guards managed to come up with a couple of steals for easy fast break points but ICF's dominance on both ends meant that the tone for the game was set in the very 1st quarter itself. ICF ended quarter leading 31-11.
The 2nd quarter saw Jaya Venkatesh of ICF share some of the scoring load with P Vijay. Venkatesh displayed his mid-range prowess as he knocked down jumpers with high accuracy. Bethle continued to distribute the ball well and get his teammates involved as ICF added to an already healthy lead. In response, Karnataka decided to run the high pick and roll and attack middle which only backfired as ICF doubled the ball man and forced turnovers. The game entered half time with a 34-point ICF lead, 47-13.
The 3rd quarter opened with a 7-2 ICF run which gave ICF's coach Nazar the opportunity to rest his point guard. In Bethle's absence, the playmaking responsibilities were taken over by K Parma Prakash while P Vijay became the focal point of the team's offence. Jaya Venkatesh continued his hot shooting streak throughout the quarter which helped the coach rest P Vijay as well.
Karnataka coughed up the ball frequently and helped ICF increase its lead to as much as 39 points mid-way through the final quarter of play. The last two minutes of the quarter saw Karnataka play some solid defence and force ICF into turnovers as the game ended 71-40 in ICF's favour.
Final score: Integral Coach Factory 71 (K Mukunth 21, P Vijay 18) beat Karnataka State 40 (Shashank Rai 10) [31-11, 16-02, 13-09, 11-18]
Results from Day 2 (Post 7:15 PM)
Chennai Customs beat Karnataka State 90-75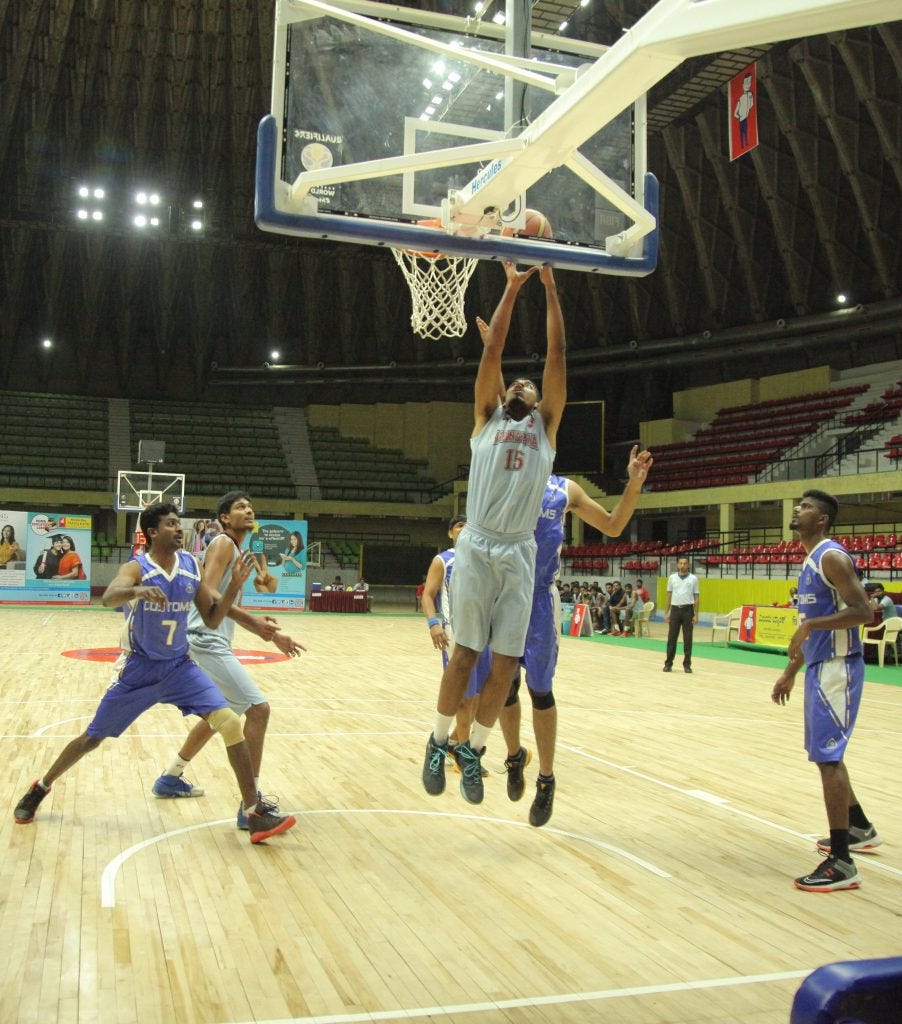 Sowkin Shetty of Karnataka goes up strong in the paint to score
Chennai Customs recorded the 1st win of their campaign by beating the young men of Karnataka by 15 points. The Customs team began the game rather complacently and saw themselves down by 8 points midway through the 1st quarter. A quick timeout helped the team refocus on the task at hand. Post the time out, the Customs teams applied half court pressure defence. The defensive pressure forced Karnataka guards into committing turnovers which helped the Customs team trim down the lead to one point at the end of the quarter, 20-19 in favour of Karnataka.
The Customs team picked up right where it left off at the end of the 1st quarter. The pressure defence coupled with some poor decision making by the Karnataka guards led to open layups for the Customs team. The Customs team continued to pressure Karnataka till they secured a comfortable lead. The team's offensive load was carried by Justin and India international Hariram. The quarter ended with Customs building a healthy 10-point lead, 45-35.
Post half time, the Customs team was in cruise control. Karnataka attempted to make multiple runs but any such attempt was quickly thwarted by the Chennai Customs defence. Steady ball movement for wide open jumpers, coupled with some incredible acrobatic layups from Justin meant that the team from Chennai saw this one out comfortably.
Final score: Chennai Customs 90 (Justin 36, Hariram 19) beat Karnataka State 75 (Shashank Rai 18, Manu Thomas 13) [19-20, 26-15, 26-20, 19-20]
Indian Overseas Bank beat RCF Kapurthala 85-64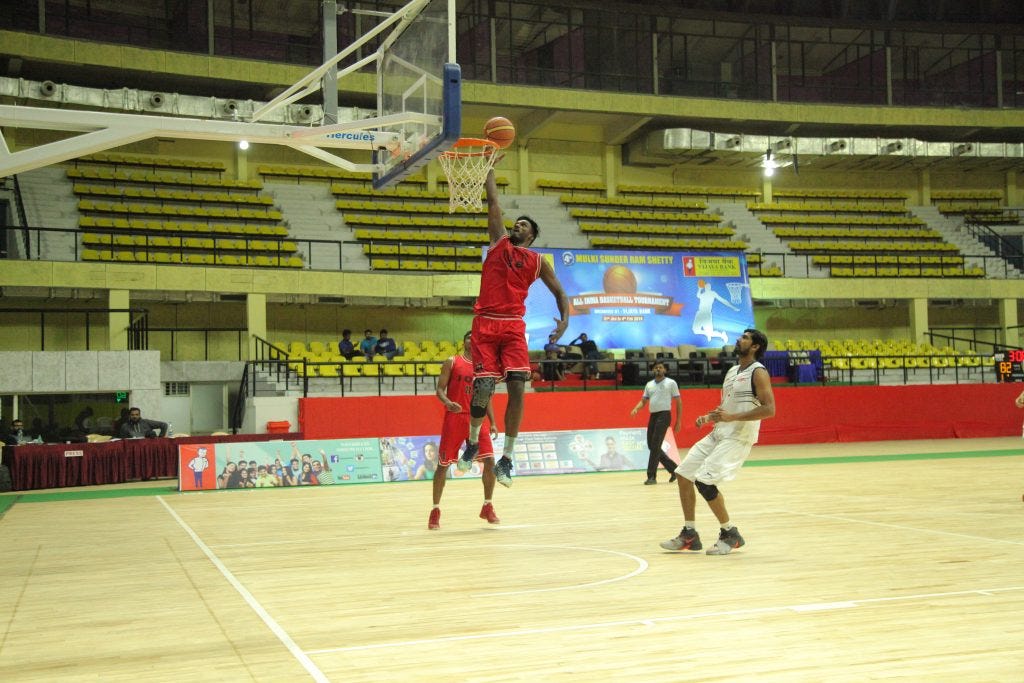 Aravind Annadurai looks to throw one down on the break vs RCF Kapurthala
The Indian Overseas Bank made their much-anticipated debut at the 4th Mulki Sunder Ram Shetty All India Basketball Tournament against RCF Kapurthala, who were looking to bounce back after a defeat in their first game. The game was dominated by the IOB big men right from tip off, Jeevanantham P and Aravind Annadurai ran the floor hard to score a couple of easy buckets. The RCF's interior defence was no match for Jeevanantham who made one hook shot after another. RCF's point guard Balbir Rathore struggled to get on the ball due to Prasanna Venkatesh's man marking which stagnated the RCF offence. However, IOB's defensive lapses and lack of communication meant that RCF's Harmanpreet secured multiple offensive rebounds for easy scores.
As the game progressed, the IOB team hit full stride and began out running, out jumping and out muscling their opponents. Pratham Singh led his team out on the break by pushing the ball. Siva Balan came off the bench and brought in added energy and pace to the IOB offence. The team began communicating better on the defensive end and secured their rebounds.
IOB led comfortably for the entire duration of play and earned themselves a 21-point victory.
Final score: Indian Overseas Bank 85 (Aravind Annadurai 16, Prasanna Venkatesh 10) beat RCF Kapurthala 64 (Harmanpreet Singh 13) [31-21, 19-17, 23-16, 12-10]
Vijaya Bank All India Tournament- Groups and League stage fixtures
Group A Group B Vijaya Bank ICF Indian Overseas Bank Income Tax RCF Kapurthala Chennai Customs   Karnataka State
Sr. No Date and Day Time Team 1 Team 2 1 31st January 2018/Wednesday 5:30 PM Vijaya Bank RCF Kapurthala 2 6:45 PM ICF Chennai Customs 3 8:00 PM Income Tax Karnataka State 1 1st February 2018/Thursday 5:00 PM Income Tax ICF 2 6:15 PM Chennai Customs Karnataka State 3 7:30 PM IOB RCF Kapurthala 1 2nd February 2018/Friday 5:00 PM ICF Karnataka State 2 6:15 PM Income Tax Chennai Customs 3 7:30 PM IOB Vijaya Bank
Vijaya Bank All India Tournament- Past Edition Details
The Vijaya Bank All India Tournament is held in the memory of the Late Shri Mulki Sunder Ram Shetty, a longstanding former Chairman of Vijaya Bank, who was instrumental in the growth of the bank through the 60s and 70s.
The inaugural edition of the tournament was held in 2014 in Malleshwaram, with Indian Overseas Bank (IOB)-Chennai, ONGC, Vijaya Bank and Karnataka State finishing as the top four teams respectively.
The 2nd edition was held in 2015 at the Kanteerava Indoor Stadium, Bengaluru. Income Tax-Chennai emerged winners, with ONGC, Vijaya Bank and Kerala State Electricity Board rounding off the top four.
The 3rd edition was held in 2016 at the Kanteerava Indoor Stadium, Bengaluru. Hosts Vijaya bank emerged winners in a close contest against Indian Bank. Sports Development Authority of Tamil Nadu finished third, while Customs and Central Excise, Kochi rounded up the top 4.
Vijaya Bank- A proud heritage in basketball
Notably, Vijaya Bank is the only recruiter of basketball talent in the state of Karnataka, and has contributed 12 international players to the country, starting with Olympian Gurumurthy Dileep, who joined the bank way back in 1984. Other international players honed by the bank are former India captain BS Gautham (1986), A Rajkumar (1988), S Stalin (1993), G Murali Mohan (1995), Roshan Thankachan (1999), Austin JM D'Almeida (2001), Sanjay Raj (2002), Arvind Arumugam, Rajesh Uppar (both in 2012), Anil Kumar BK (2016). Including these international stars, in all, the bank has recruited 25 national level players, who have represented their bank and the state of Karnataka with great pride and gusto.