Discover more from Ekalavyas | Basketball
Welcome to Ekalavyas, the pioneering publication dedicated to unearthing the world of international basketball, from an Indian perspective!
Over 3,000 subscribers
Indian Sports Movies: Pluses & Minuses
Indian Sports Movies frequently oscillate between the inspiring and the absurd. As such they are full of pluses and minuses.
This was the topic of discussion in Clubhouse #2, hosted last night by Ekalavyas.
https://twitter.com/EkBballIndia/status/1421374579268669441
The panel members were Maurya Mondal (Senior Producer, Star Sports), Akshay Manwani (NBA Commentator & Hindi Film Industry Author) and Karan Madhok (creator of the 'Hoopistani' blog & editor of arts & culture magazine 'The Chakkar'). The session was moderated by Gopalakrishnan R (founder of Ekalavyas).
Indian Sports Movies: Cliches Galore
https://www.instagram.com/p/CSrKl1GpGoF/
Maurya Mondal's narration of his hilarious viral Neeraj Chopra biopic storyline set the stage for the discussion. It highlighted the cliches, predictable storyline and unrealistically choreographed scenes that plague Indian sports movies.
Akshay Manwani, expressed concern over the overt-jingoistic tones that Indian sports movies frequently take. He went on to reflect on the enduring legacy of Jo Jeeta Wohi Sikandar (1992), thanks to its timeless dialogues penned by the late Nasir Hussain, on whom Akshay had written a biography.
See Also: Clubhouse #1 - Will Indian Basketball Teams Ever 'Return' to the Olympics?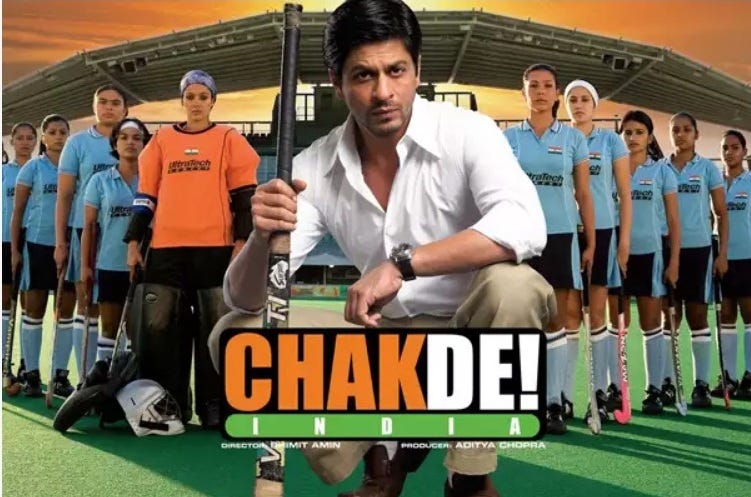 Using Chak De! India as an example, Karan made the pertinent observation that Indians seem more interested in movies about a particular sport than following the actual sport itself.
Gopalakrishnan R highlighted the questionable casting decisions (Priyanka Chopra playing the Manipuri boxer MC Mary Kom), exaggerations (Aamir Khan's character in Dangal getting locked up in a room in the finale scenes) and unrealistic depiction of regional sports tournaments (mainstream media prominently covering the Maharashtra State Boxing Championship in Toofan).
Bollywood meets Basketball
Karan also listed out the top basketball scenes in Bollywood, which includes Kuch Kuch Hota Hai, Half-Girlfriend, Dhoom 2, Koi... Mil Gaya, Chhalaang, Dilwale Dulhania Le Jayenge, among others. Karan also made a mention of regional movies such as Vallinam (Tamil) and Tarunyachya Lathevar (Marathi).
Akshay brought to light the basketball scenes in Phool Aur Kaante (1991):
https://twitter.com/KaranMadhok1/status/1428537516236312580
To be part of future 'Sports India Basketball' discussions: FOLLOW EKALAVYAS ON CLUBHOUSE
***
If you've come this far…
Appeal to our readers: Ekalavyas is India's first and only basketball media company. We are not foreign-funded, nor investor-backed. Your support and encouragement have got us this far. We now need your financial assistance to ensure we can keep providing you timely, accurate and important information. Please contribute via https://www.instamojo.com/@ekalavyas​ 🙏🏾. We are accepting contributions as low as Rs. 9/- (excluding a small processing fee charged by the payment gateway provider). Thank you for playing a part in keeping media independent and objective!
Ekalavyas now on Telegram! Stay up-to-date on all the breaking news around Indian Basketball, by subscribing to the EkBallIndia Telegram Channel.