Discover more from Ekalavyas | Basketball
Welcome to Ekalavyas, the pioneering publication dedicated to unearthing the world of international basketball, from an Indian perspective!
Over 3,000 subscribers
Indian Senior men's team all set to participate in the BRICS Games 2017
China is all set to host the BRICS Games 2017 from 17-21 June 2017 in Guangzhou city.

This year's BRICS games will feature basketball for men, volleyball for women (under- 20 age group), and wushu for men and women.

The tournament will be played in a round robin league format.

India has made two changes to the squad that completed the 5-peat at the South Asian Basketball Association (SABA) Championships.

The training camp for the selection of the team was held at the Sports Authority of India (SAI) Indoor Stadium, Bengaluru from 5-14 June.

India's match schedule is still to be announced.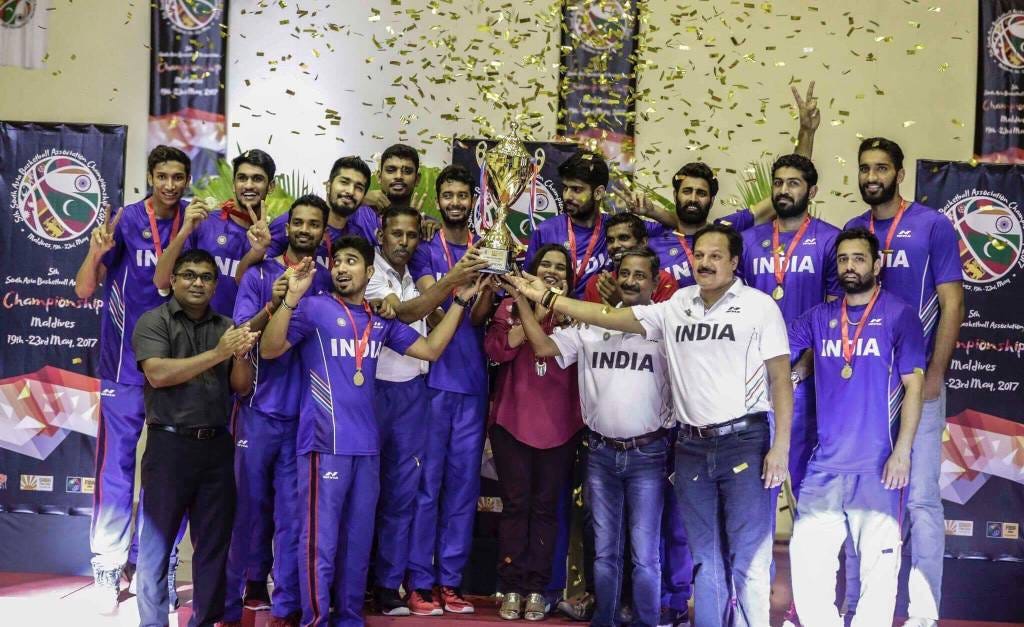 File photo: Team India successfully completed a five-peat of SABA Championships by defending its title in Maldives earlier this year. Image credits: Basketball Federation of India Bengaluru, 14th June 2017: After successfully completing a historic five-peat of SABA Championships, the Indian senior men's basketball team is all set to participate in the upcoming BRICS Games 2017 from 17-21 June in Guangzhou city. The young cagers, along with the under-20 women's volleyball team, and the men's and women's wushu teams will form the Indian contingent participating in the championship. India's training camp for the tournament was held from 5th-14th June, at the Sports Authority of India (SAI) Indoor Stadium, Netaji Subhas Southern Centre (NSSC), Bengaluru with 14 players, and the final selections were made on 10th June. India has retained 10 of the 12 players featured in the 5th SABA Championship. Punjab's sharp shooter Arshpreet Singh Bhullar and star player Amjyot Singh Gill are the new additions to the squad that successfully defended its title in Maldives. Centre Amritpal Singh, who was a big part of the victory at the SABA championships, was unavailable for the duration of the training camp as he was invited to Australia by NBL team Sydney Kings for their rookie camp. The BRICS Games 2017 will help the Indian men prepare better for the FIBA Asia Cup 2017 in August, as it exposes them to higher calibre opponents like Russia (WR 9) and hosts China (WR 14). India's matches schedule is still to be announced. The list of the complete squad is given below.  
INDIAN SQUAD FOR THE BRICS GAMES 2017
Sr. Number Family Name/ Last Name Given Name/ First Name Place of Birth Date of Birth (dd/mm/yy) Height Position 1 Pari Akilan Chennai Tamil Nadu 20/07/1989 180 (5'10.8") PG 2 Hafeez Muin Bek Dharmapuri Tamil Nadu 16/03/1996 190 (6'2") F 3 Sivakumar Prasanna Venkatesh Gobichettipalayam Tamil Nadu 25/09/1992 186 (6'1") F 4 Bukankere Krishne Gowda Anil Kumar Mandya Karnataka 31/07/1989 185 (6') F 5 Singh Arjun Varanasi Uttar Pradesh 8/6/1992 189 (6'2") SG 6 Bhriguvanshi Vishesh Varanasi Uttar Pradesh 13/09/1991 195 (6'4.5") SG 7 Gill Amjyot Singh Chandigarh Punjab 27/1/1992 203 (6'8") PF/C 8 Bhullar Arshpreet Singh Jalandhar Punjab 10/2/1996 190 (6'2.8") SG 9 Bhardwaj Ravi Chandigarh Chandigarh   31/10/1992 207 (6'9.5") C 10 Pandi Jeevanatham Virudhunagar Tamil Nadu 13/10/1994 200 (6'7") C 11 Yadwinder Singh Rasulpur Khurd Punjab 30/12/1986 198 (6'6") PF 12 Pethani Rikin Sajiavadar Amreli Gujarat   02/12/1990 203 (6'8") PF/C
*PG - Point Guard / Feeder, G - Guard, F - Forward, G/F - Wing, PF - Power Forward, C - Centre, PF/C - Post Coaches: Sappaniambalam Baskar (Head Coach) and Sebastian Padipurakkal Joseph (Assistant Coach)
About the BRICS Games 2017
The BRICS Games 2017 is a tournament played among the BRICS countries with a view to developing sports exchange and cooperation, and promoting mutual friendship among BRICS countries. The host country of BRICS summit organizes the annual BRICS games and as China is all set to host the summit in September this year, they are given the responsibility of organizing the games. The choices of the games differ each year and are selected in consultation with the member countries.
Tournament Format
The entire championship is played in a round robin format and the team with the best record at the end of this championship is declared the winner. The round robin format is applicable for all the sports included in the BRICS Games.