Discover more from Ekalavyas | Basketball
Welcome to Ekalavyas, the pioneering publication dedicated to unearthing the world of international basketball, from an Indian perspective!
Over 3,000 subscribers
Stranger Things: 10 Parallels between Indian Basketball and Indian Politics
[Writer's Disclaimer: This article is meant purely as satire to be taken in a lighter vein, and not intended to offend any individual, political ideology or institution. If you are the type that gets easily offended, or are generally incapable of detecting sarcasm especially when it comes to Indian politics, please do not read any further. Readership discretion is advised.]
---
In theory at least, sports and politics should be like oil and water. In the real world however, the two doth mix, and often with disastrous results.
Indian basketball hasn't been immune from this phenomenon, with the 'Congress faction' currently at the helm in the Basketball Federation of India (BFI).
But while politicians holding senior administrative posts in India's National Sports Federations is nothing new, BFI seems to be getting uniquely affected.
It is almost as if the key national political trends over the last decade are getting identically mirrored within BFI's upper echelons.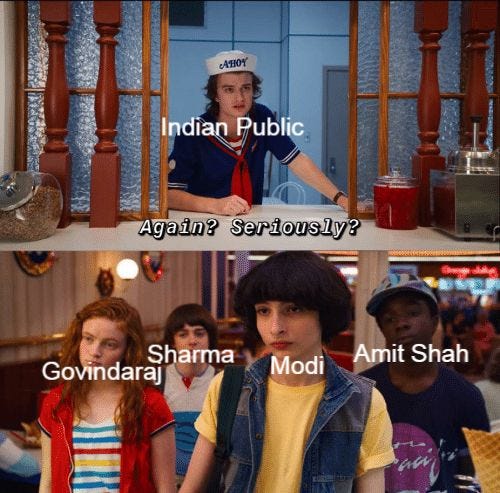 Created via meme-creator.com
Sounds far-fetched and unbelievable?
​
Then read on to discover the top 10 similarities between the current ruling regimes in Indian basketball and Indian politics....
​
#10 Both overthrew dynastic rivals in 2014-15
After two back to back terms of UPA rule that were plagued by accusations of the Government being remote controlled by the Gandhi family, the electorate firmly rejected the Congress for the BJP in the 2014 General Elections.
A year later, in 2015, a similar situation occurred with the Basketball Federation of India, when the erstwhile Roopam Sharma (wife of Late BFI Chief Harish Sharma, who came to power in 2012 riding on the back of a massive sympathy wave) was defeated by Karnataka's K Govindaraj led faction.
​
#9 'Big Twos' in both
The ongoing 2019-20 NBA Season is being hailed for having transitioned from 'Big Threes' to 'Big Twos', which has restored competitive balance to the League.
But 'Big Twos' are nothing new in India.
Whether it is the Modi-Shah combine in the NDA Government or the K Govindaraj-Chander Mukhi Sharma tandem in BFI, both Indian politics and Indian basketball seem blessed (or cursed?) with dynamic duos.
After all, you can't clap with one hand no?
​
#8 Big promises but failure to deliver
The Modi led NDA government came to power on the promise of bringing black money back, and crediting 15 lakh rupees in the bank account of every Indian. As of 5pm this evening, I am still waiting for the "Money Credited to your account" SMS from ICICI Bank.
Meanwhile, BFI's newly appointed President and Secretary General duo too weren't far behind in making their own big ticket announcement: that of launching much awaited Pro Basketball Leagues for men and women.
But in recent months, the BFI has completely backtracked on its promise to start Pro Leagues. It has instead passed the buck onto the players, claiming that "they are not talented enough" to merit a commercially viable Pro League.
https://www.instagram.com/p/B3l1QZcn7_P/
#7 Mainstream media biased in both
Mainstream media is a common punching bag for most of us, and it is no different when it comes to reportage on Indian political or sporting events. It is a common refrain that most news channels have turned into propanganda machines for the ruling political dispensation. Interestingly, the same argument can also be made of media bias towards India's ruling sport, i.e. cricket, at the cost of ignoring many other sports!
https://www.instagram.com/p/BzUvb7snuhV/
#6 Both voted back to power in 2019 using allegedly non-democratic means
Earlier this year, both the incumbent powers- NDA in Indian politics and the Govindaraj faction in Indian basketball, swept back to power virtually unopposed.
And both were accused by rivals of rigging the elections, whether through alleged tampering of VVPAT machines, or, in the case of BFI, suspending key state associations weeks before voting.
https://www.instagram.com/p/BvLneYUBwXY/
#5 Both have failed to create jobs
India's GDP of 4.5% in the second quarter of the 2019 Financial Year is its lowest since 2012-13. Unemployment is at a three year high, and the youth of the country are demanding jobs.
This dire situation is equally true when it comes to Indian basketball. In 2015, due to political in-fighting, Indian basketball's chief financier IMG-Reliance froze all funds to BFI, which has crippled the growth of the game. This has in turn, denied hundreds of Indian basketball players and fans a chance to work as professionals in the sport, whether in on-court, or off-court capacities.
​
#4 Both want to shift the centre of power away from Delhi
When Modi came to power in 2014, he made it clear that he was a regional grassroots leader who didn't belong to the established power corridors of Lutyen's Delhi. BFI too seems to be taking a leaf out of Modi's playbook by moving the centre of basketball activity to Bengaluru. In the last two years, Karnataka's capital city has hosted all five of India's FIBA allotted international tournaments.
​
#3 Both are trying to change the Constitution
Opponents argue that the recently passed Citizenship Amendment Act, 2019 is the first step towards making India a 'Hindu Rashtra'. This can only happen, among other things, by amending the Constitution to remove/dilute the word 'secular' that is currently enshrined in the Preamble.
But while BJP/RSS forces are merely trying to change the Constitution, BFI actually achieved it in 2018, by retrospectively introducing a new rule according to which voting rights of all member units would be predicated on mandatory participation in at least two National Championships in a year, for two consecutive years. Legally speaking, retrospective changes to any law are generally frowned upon, and in this case, led to many of the North Eastern States abruptly losing their voting rights prior to the 2019 BFI General Body Elections.
​
#2 Both prefer international over domestic credibility
Whether it was the controversial decision of the Central Government to allow handpicked right leaning European Parliament leaders to "assess" the situation in Kashmir (instead of granting similar access to domestic opposition leaders), or BFI President K Govindaraj's frequent endorsements by the international basketball body (FIBA), the ruling dispensations in both Indian politics and basketball seem to value international over domestic credibility.
https://www.instagram.com/p/B2uUOAAnmCu/
#1 Future unpredictable for both
Whether it is the question of Modi Sarkaar's increasing right leaning tendencies getting balanced by a united centrist/leftist opposition, or the never ending question of when the Indian basketball community will have its own Pro League, the future of both Indian politics and basketball appears highly unpredictable.
The only thing we can say for certain is that there are stranger things in store for both!
​
---
Editorial Disclaimer: The views expressed in this article are those of the author and they do not necessarily represent the views of Ekalavyas.