Discover more from Ekalavyas | Basketball
Welcome to Ekalavyas, the pioneering publication dedicated to unearthing the world of international basketball, from an Indian perspective!
Over 3,000 subscribers
Indian College Baller drops 80 points in single game
Pune: Indian college baller Yousuf Sayyed made history by scoring 80 points in a single game. This is arguably the second highest ever by an Indian basketball player at any level (male or female).
The accomplishment came in the finals of 'Vedant', the annual inter-collegiate youth festival organised by BJ Government Medical College, Pune.
In the finals against Brihan Maharashtra College of Commerce (BMCC), Pune, Sayyed completely took over, scoring 80 of his team's 85 points, as his team won 85-83. In other words, Sayyed alone almost matched the points total of his entire opposing team.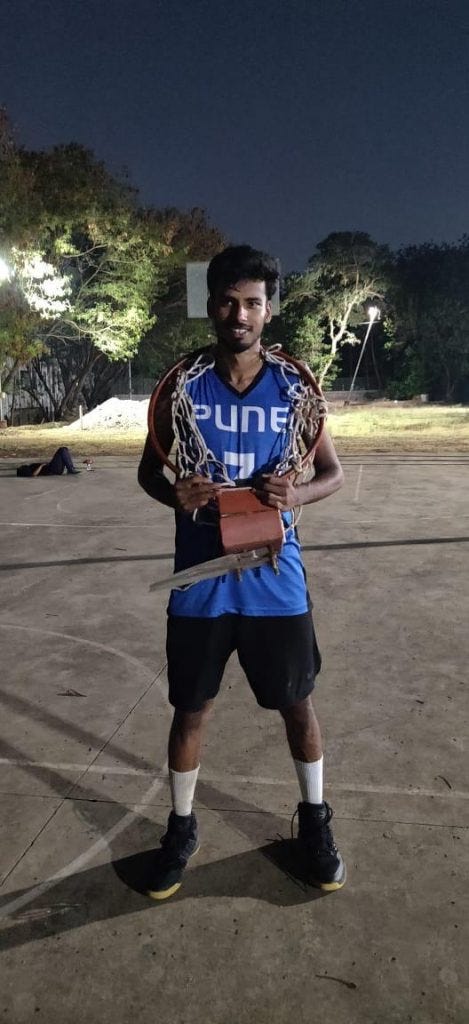 Yousuf Sayyed. Image courtesy: Ashish Kumar
"I wasn't going to play initially, but later agreed because my team was already missing some key players," 22-yr-old Sayyed told Ekalavyas.com. The undersized 6ft 1'' power forward has already represented the Senior Maharashtra State team in the national championships. "I wasn't aware of how much I had scored. The aim was to win the game no matter what. Credit goes to my selfless teammates whose defense and rebounding gave me extra scoring opportunities."
Most of Sayyed's points came via layups and And-1 opportunities. He also knocked down a few threes.
"The best part about Yousuf's game is that he has excellent in-game stamina, and a pure scoring ability. He has a terrific vertical leap and an explosive first step that makes him unguardable. For God gifted players like him, the effort needed to coach them is comparatively very less," Ashish Kumar, Sayyed's coach at the Sports Arena, Dhanori, where Sayyed regularly trains, said.
"I was at home when Yousuf called me saying he had scored a career high. I was expecting maybe 41-42 points and didn't believe him when he told he he'd scored 80. I asked him to send me a picture of the scoresheet!," Coach Kumar said.
Players like Sayyed train at the Sports Arena, and also represent the club in local tournaments. Additionally, they play for their respective college teams. Sayyed is also a member of the Southside Warriors squad that will compete in the inaugural Streetball League later this September.
Other notable single game performances by Indians
#1 108 pts by RT Viswanath [Senior State Level in 1978]
https://www.youtube.com/watch?v=QMl9ZfbFftM
Back in 1978, the diminutive RT Viswanath, only 5ft 5'', scored a whopping 108 points, one of the highest single game scores in basketball not just in India, but worldwide. The Karnataka state player though never got to represent the Indian team. [DETAILS]
#2 71 pts by Vaishnavi Yadav [Junior National level in 2018]
https://www.youtube.com/watch?v=ZS-T0SdvuTc
Hailing from Allahabad, Vaishnavi Yadav came into prominence when she scored 71 points in a single game against Kerala in the 69th Junior National Basketball Championship 2018, which is believed to be a single game scoring record for an Indian woman player.
#3 53 pts by Sunishka Kartik [U16 State Level in 2019]
https://www.instagram.com/p/Bw8f0QIB6B0/
*Editor's note: An earlier version of this article erroneously mentioned that Sayyed had scored 81 points. Thanks to our reader Hemant Godara for pointing out this mistake.