Discover more from Ekalavyas | Basketball
Welcome to Ekalavyas, the pioneering publication dedicated to unearthing the world of international basketball, from an Indian perspective!
Over 3,000 subscribers
Indian Basketball League Announces Key Signings
Indian Basketball League, EPBL, has announced its first round of key player signings for each of its 12 franchises.
Well-known Indian national team players like Jagdeep Bains, Pratham Singh and Prakash Mishra among the first 12 marquee signings

To-be-launched later this year, Elite Pro Basketball League (EPBL) will be the only Indian Basketball League in the 5x5 format

Attractive Player salaries – highest in the basketball circuit so far on offer, besides bonuses, prize money to top teams, players and coaches

EPBL is being organized by Elite Sports India (ESI) – India's largest Professional, University and High School Sports Company – best known for conducting the national AIU University championships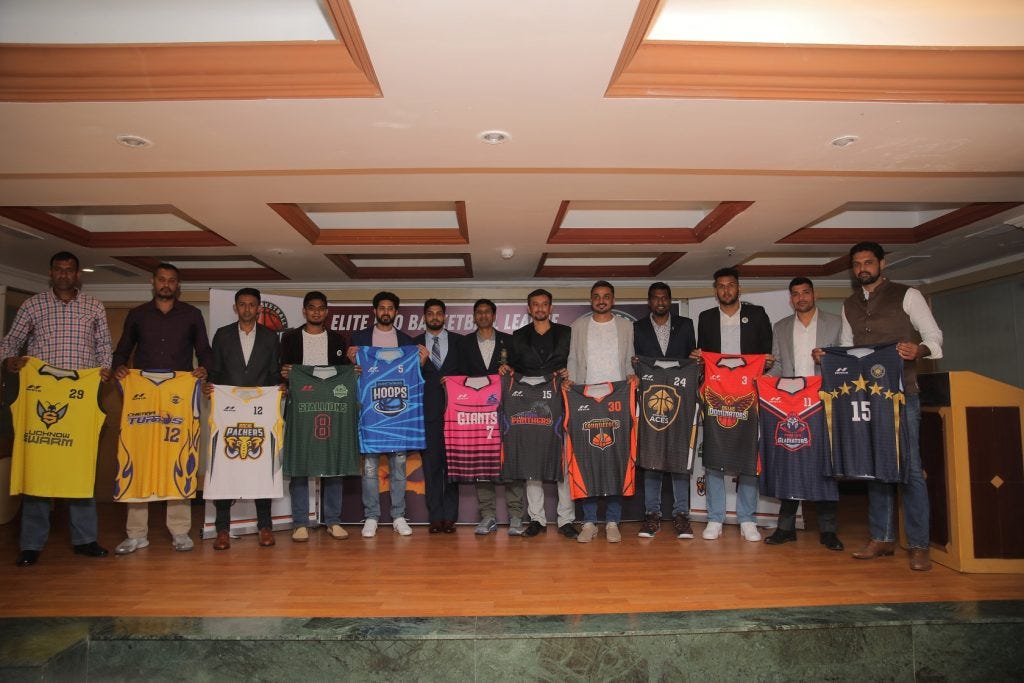 Mumbai, 28th April 2022: India's Elite Pro Basketball League has announced its first round of key player signings for each of its 12 franchises.
The announcements – made periodically from 24th March via EPBL's official Instagram and Facebook pages – were completed by 22nd April. Earlier in March, a special signing event was organized in Mumbai where players also posed for photoshoots in their new jerseys.
First List of EPBL Indian Basketball League's Signed Players
Jagdeep Singh Bains – Mumbai Stars

Pratham Singh – Pune Pythons

Prakash Mishra – Jaipur Giants

Basil Philip – Kochi Pachers

Vinay Kaushik – Chandigarh Conquerers

Arvind Krishna – Hyderabad Hoops

Ram Gopal – Lucknow Swarm

K Ravikumar – Chennai Turbos

Rachit Singh – Punjab Gladiators

Karan Pal Singh – Ahmedabad Aces

Arshdeep Singh – Delhi Dominators

Visu Palani – Bengaluru Stallions
Established India Stars Jagdeep Bains & Pratham Singh headline Indian Basketball League signings
Out of these 12 players, nine have represented India in international events. Jagdeep Singh Bains, Pratham Singh, Prakash Mishra, Basil Philip, Vinay Kaushik, K Ravikumar and Karan Pal Singh have donned the senior India jersey multiple times. Rachit Singh has competed for India at the Asian Junior (U18) Championships. Visu Palani and Ram Gopal are regulars in the national circuit, with the former having been called up to Senior India camps on more than one occasion.
"The signings have already created a buzz on social media, where we asked fans to guess the names based on each player's credentials," Mr Sunny Bhandarkar, CEO of EPBL, said. "Besides the international-level talent we will get to witness, I would also like to highlight the participation of popular Telugu actor Mr Arvind Krishna for his hometown Hyderabad Hoops franchise. Mr Krishna's on-court exploits are sure to rev up his huge fanbase across Telangana and Andhra Pradesh."
Mr Bhandarkar pointed out that EPBL was a fresh start for seasoned performers. "The shelf life of professional athletes, especially in our country remains very limited. So we are keen to provide new opportunities to proven Indian team stars, and EPBL will be a financially rewarding second innings for them. EPBL is committed to elongating players' careers through enhanced incentives and high visibility across platforms."
EPBL Indian Basketball League Tryouts to be held in May
With over 450 player registrations received, EPBL will also be conducting tryouts in May for the remaining roster spots.
"Basketball is a sport on the rise in India. EPBL aims to be a crucial addition in India's basketball calendar to ensure the country's best players maintain their competitive fitness and can contribute in a superior manner to their local club, state and national teams," Mr Bhandarkar remarked.
The tryouts dates and venues will be announced soon.
About Elite Pro Basketball Pvt Ltd
Elite Pro Basketball Pvt Ltd was incorporated in February 2022 under the directorship of Mr Sunny Bhandarkar and Mr Pranav Prabhu. It is owned and operated by Elite Sports India (ESI) which manages a portfolio of sports industry businesses in India at both the professional and collegiate level. ESI is India's largest Professional, University and High School Sports Company that aims to create a pathway from the grassroots to the professional levels.
ESI is the best known for broadcasting Inter University tournaments of AIU (Association of Indian Universities) as well as conducting its own University leagues in multiple sports. ESI also broadcasts many national level sports tournaments for National Sports Federations like Volleyball Federation of India, Handball Federation of India, Fencing Association of India etc.